Global beauty trends for winter 2021
From a smoky eye in Guadalajara to temporary tattoos in Tokyo – five makeup artists share trends from their cities.
|
08 November 2021, 11:58am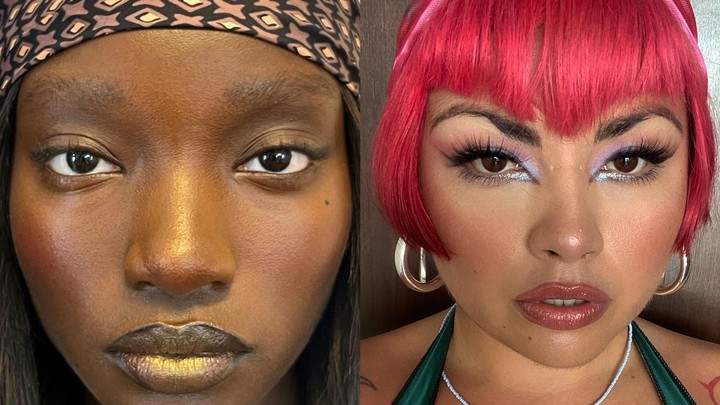 Images via @auroregibrien and @roho7
With a new season comes the perfect opportunity to try something different. For winter 2021, why not adopt Lady Gaga's House of Gucci accent? Or give witchcraft a go? Or maybe just embrace a new makeup look? SS22 brought us beauty moments like bold punk eyeliner, the return of glossy lips and shimmery vampiric skin. But what's going on outside of the shows? Looking for inspiration, we called on five of our favourite makeup artists from cities across the world and asked them to fill us in on some key emerging trends.
Read on for insights from Tokyo, Guadalajara, Paris, London and Shenzhen and learn how to get the looks at home.
Emily Wood, London
Seven years into her career as a makeup artist, Stockport-born, London-based Emily Wood gravitates towards people and projects that nourish her soul. "We're all having our allocated time on Earth and I wanna use it joyfully." she says. And she certainly seems to be sticking by that; painting Sasha Keable's face for her new music video "Killing Me" with Jorja Smith, as well as all manner of models for magazines. A face she keeps coming back to though, looks remarkably similar to her own: that of her sister, the Sex Education actor Aimee Lou Wood, who she's made up for Vogue and beyond.
What's a big beauty trend you're noticing for winter 2021?
London dazzles like no other in winter. A wash of metallic on the peepers to reflect (hiya, pun!) the crisp air and electric essence that sparkles on the city and through our souls. People will be stargazing into your space lids. Imagine you've just swept your finger on planet Mercury and popped the findings on your lids. It's mirror-like and beyond the shimmery-shadow textures we're used to.
Where do you think the inspiration behind the metallic eye look came from?
People are celebrating life and it's beautiful. Why wouldn't you want to look like your eyes are having a disco on the moon?
Got any tips for people hoping to recreate it themselves?
Mehron metallic powder pigment mixed with their mixing liquid. A little goes really far. You need 2mm of powder and a drop of liquid. Use a medium-sized fluffy eye brush, start by applying the product on your lids, really tuck the brush in the lash line so there's no negative space. If you fancy it, gradually defuse and blend the product out and around the eye.
Aurore Gibrien, Paris
Hailing from Guadeloupe and living in Paris, Aurore's passion for makeup shone through from a young age. She remembers watching carnivals with her family each year and, rather than the music and costumes, she found herself drawn to the beauty looks. "I was always fascinated by the different makeup people would wear," she says. These days she paints faces for the likes of Off-White, Versace, Jacquemus and i-D.
Aurore, what's a big beauty trend for winter 2021?
Copper lips and skin. I got inspired by celebrities like Phylicia Rashad, Tamara Dobson or even Diahann Carroll, who always used to wear metallic elements on their faces. I wanted to recreate these looks in a more modern way.
Why do you think copper tones are so popular right now?
I think it is very popular because fashion and trends always come back around. 80s trends are very popular in general right now — whether clothes, accessories or makeup — and copper makeup is directly inspired by the 80s.
Got any tips for people wanting to try out the trend?
I think it's always best to start slow with new trends, which means choosing between lips, eyes or face. For lips, a copper tone lipstick paired with a darker lip-liner and lipgloss would be perfect to create an ombré effect. A touch of copper eyeshadow or highlighter is also very nice, but the most daring of us can also try a full face!

Karla Donato, Guadalajara, Mexico
Also known as Roho7, makeup and nail artist Karla Donato was born in Mexico but raised in California. After a spell living in Mexico City, she recently returned to her Guadalajara hometown and has leant her magic touch to the likes of musician Lido Pimienta and drag queen Margaret Y Ya. And while she's a huge hit locally, there's something about Karla's big time glam aesthetic — inspired by vedettes (Latina showgirls), goth girls and chicana beauty — that connects with people right across the world. "My art," she tells us, "is made with the goal to inspire and empower other women." Mission accomplished.
Karla, what's a big beauty trend you're noticing for winter 2021?
A trend that I'm seeing is a more smoky eyeliner instead of a graphic liner. I personally like it because it is much faster, and you can do many cute colour combinations. I don't think it's a trend specific to Guadalajara.
What do you think prompted the return to the smoky eye?
I got inspired to try it because my sister @lilynailz always does smoky eyeliner looks, and I got tired of graphic liners because it takes so long. I've been seeing more Instagram makeup artists do it recently. It's a very cute makeup look that can be done quickly.

Got any tips for people keen to master it?
For anyone that wants to recreate this look, I suggest using three eyeshadow colours to give that perfect gradient look: one that's light, a medium tone and a dark tone. Blend well. Also, correct it with a flat concealer brush to give the liner a sharp wing. You can do many cute colour combos, pop on some falsies and you're ready to go.

Yuka Hirac, Tokyo
Yuka Hirac started her career as a makeup artist 15 years ago in London. Now back home in Tokyo, she's worked with the likes of Yohji Yamamoto, AMBUSH and i-D Japan on colourful creations that straddle the worlds of art and beauty. "My recent work is experimental," she says. "In establishing my own genre and developing my creations, I always pursue chaos and capture a slightly uncomfortable feeling that everyone overlooks." This is evidenced across her frequent work with the girl group CHAI as well as in a photobook Yuka released last year, 52 Days Visual Diary. "I wanted to show how creation saved my life," she says. Rife with paint blotches, gemstone-heavy doll faces and fake flowers transforming models into mythical creatures, it's easy to see how.
Yuka, what's a big beauty trend you're noticing for winter 2021?
Tattoo stickers! You can make your own that are so original and cool. Also, contact lenses with cute designs are big too. I think they're starting to become popular everywhere now but, of course, in Tokyo there is a manga culture, and so many people wear contact lenses.
Why do you think temporary tattoos are so popular right now?
I think it came from the digital culture of 3D art and face filters that are used by everyone now. Tattoo stickers are so easy to put on for a dramatic and fun look!
Do you have any tips for people planning on embracing the trend?
For tattoo stickers, it's easy to start small and try them on your body first. There are no rules – just enjoy!
He QiuYi, Shenzhen, China
With a long history in musical performance and dance, it was through first-hand experience of applying her own makeup backstage that He QiuYi discovered her passion. The multi-talented young artist then relocated from her native Shenzhen to London to study the craft at London College of Fashion, graduating in 2019 and returning home to start her ongoing personal project, Skin Talks. Exploring human skin, texture and landscapes, she painted her body in the colours from the "rainbow mountains" of Danxia, in the eastern foothills of Gansu Province's Qilian Mountains. QiuYi's other creations include replicating markings from Manchurian shamanism and turning symbols from traditional Mahjong Tong playing pieces into makeup designs.
Tell us about a beauty trend for winter 2021.
I have noticed that traditional elements are becoming a trend now. My conceptual beauty series responds to traditional shamanism. In Chinese folk art, shaman paper-cutting is one of the greatest achievements of the heritage and transformation of shaman culture. Shaman paper-cutting is mainly found in Northeastern China, created during traditional sacrificial activities, characterised with a strong two-dimensional and three-dimensional form, as well as symbolic decorative patterns. The makeup of this series is fully inspired by shaman paper-cutting art.
Do you think taking inspiration from traditions and folk-art is a trend unique to Shenzhen?
Like most conservative Asian cities, Shenzhen has less fashion diversity compared with cities like London, New York or Paris. However, I do see more and more young people wearing Hanfu -- the traditional style of clothing worn by the Han people in China. I've also noticed that some local beauty brands have launched makeup collections with [nods to] Chinese ethnic minorities. It seems that ethnic and cultural roots are a trend nowadays, and that is likely to continue for a while, with the rising ethos of nationalism.
Do you have any tips for people hoping to create a similar look?
As for the traditional deco, you can either choose any graphic and draw it on your face or simply make identical lines with a graphic eyeliner. The studies of colour mix-and-match in traditional art is important as well -- each culture has its own colour assortment to represent its characteristics or values.
Tagged: