Images courtesy of KIMHĒKIM
The Korean designer crafting clothes from hair
Seoul-based KIMHĒKIM gets to the root of his AW22 collection and reflects on his experience at Balenciaga.
Images courtesy of KIMHĒKIM
This story originally appeared on i-D Japan.

"Korean fashion is poetic and simple, but soft and powerful at the same time," says Seoul-based designer Kiminte Kimhēkim. His eponymous brand, KIMHĒKIM – characterised by a minimalist colour palette and staples including trench coats, classic white shirts and wide denim trousers – uses materials and details inspired by hanbok or traditional Korean clothing. In many ways, the brand embodies contemporary Korean chic: the black-and-white chima jeogori is simple; the silhouette is bold. But there's something glaringly unusual about his designs… a number of them are made from hair.

After studying fashion in Seoul and Paris, Kiminte interned for four seasons at Nicolas Ghesquière-era Balenciaga. Impressed by witnessing craftspeople with different skills working together on a single piece, he decided then and there that he wanted his own atelier; his own team creating couture-quality clothes. He launched KIMHĒKIM in 2014 and has since realised his dream, with a studio located in the historical Samcheong-dong neighbourhood of Seoul, surrounded by galleries and museums. The area, a blend of tradition and creativity, is a fitting base for the brand and provides the designer with ample inspiration.

Fresh from showing his textural AW22 collection at Paris Fashion Week, we spoke to Kiminte about his obsession with hair and how he brought his surreal designs to life.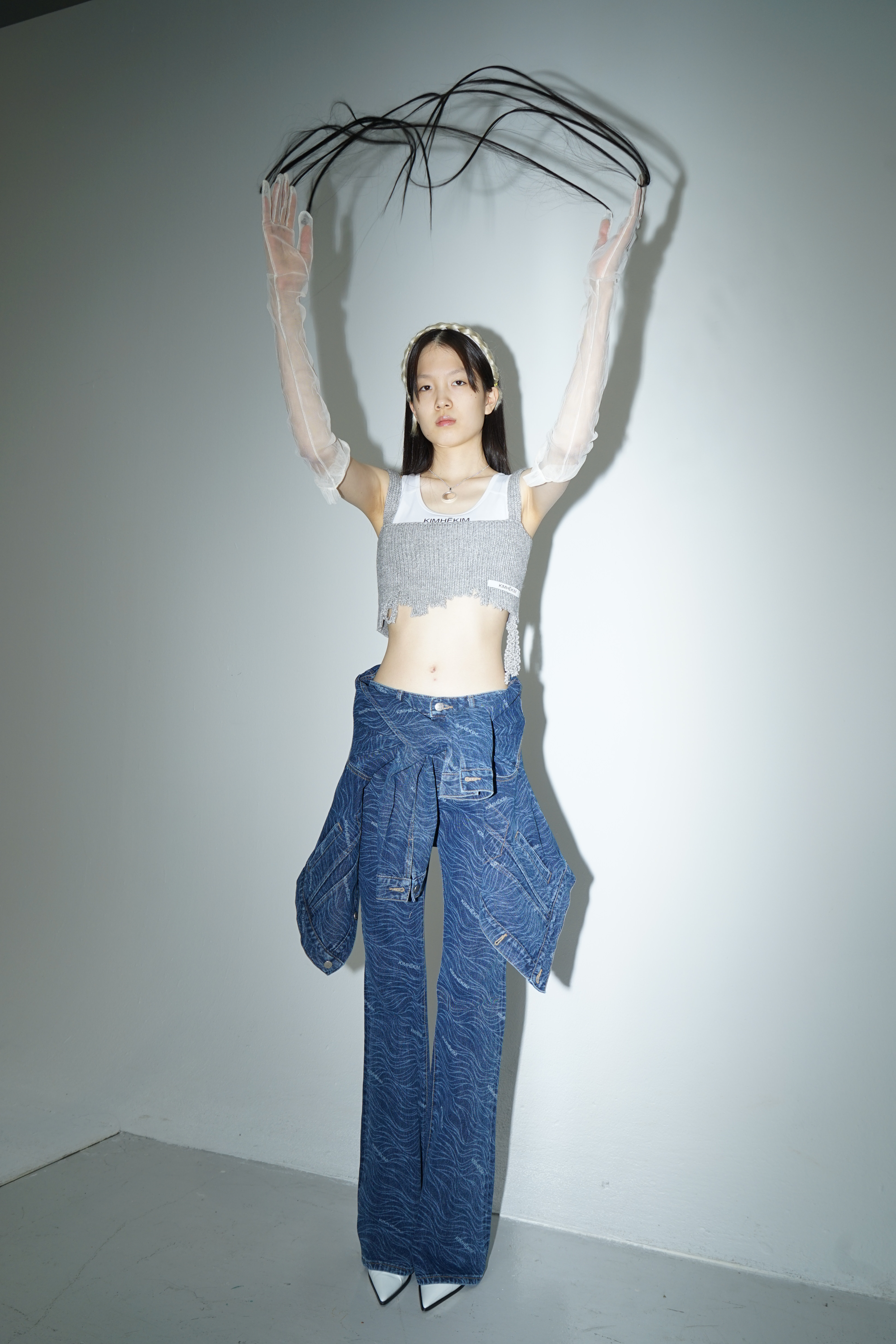 Hello Kiminte! What are you wearing today?
A black sweatshirt from L.E.J and black flannel trousers from NEU-IN.
This season's collection with the hair was breathtaking! How was it created?
I got the idea when I was doing field research with my assistant. We found an old wig shop in the north of Seoul, and while we were exploring the shop together, we discovered a large number of hairpieces that even the owner didn't know existed. As soon as I saw them, I was like, "this is it!". I took them back to my studio and started weaving the hair – but when it comes to making durable clothing from hair, it turns out you can't just weave it. Special techniques have to be incorporated. It took me a whole week to arrive at the final technique.
This collection is called 'obsession no.4'. What is it about hair that you are obsessed with, Kiminte?
I love the feel of my hair. Growing up, I used to play with Barbie doll hair. I also used to braid my cousins' hair, and those are very dear memories for me. In this collection, I used several types of hair pieces: straight hair, curly hair, black, brown and blonde. It was a lot of fun to work with hair of different styles and colours while making the clothes.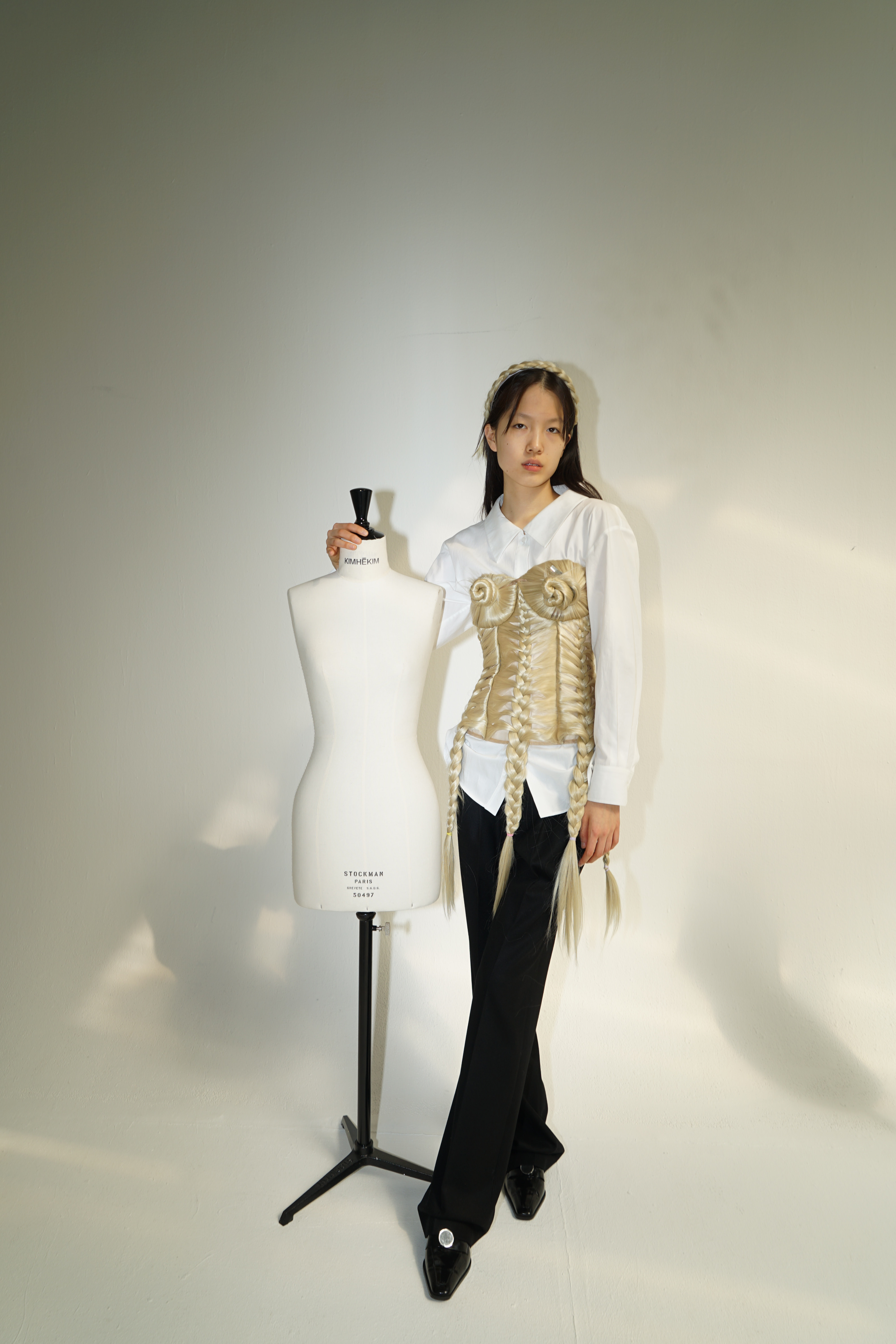 We're also interested in your own iconic hair cut – those heavy bangs over your eyes!
When I stand in front of people as a brand designer, I don't really want people to see my expression. I want people to focus on the collection rather than my face. I have been searching for a beautiful hairstyle that hides my eyes, which led me to my current haircut.
And apart from hair, what else are you into these days?
Lately, I've been into health and skincare. I want to be as beautiful as my collections.
Tell us about your time as an intern at Balenciaga. What was it like working for Nicolas Ghesquière?
I was the youngest person in the studio. I was shy, so I was always hesitant to speak directly to Nicolas. I learnt a lot from moving back and forth between the Maison's design studio and the atelier. I was always overwhelmed by the archives, especially those of Cristóbal Balenciaga, the founder of the brand.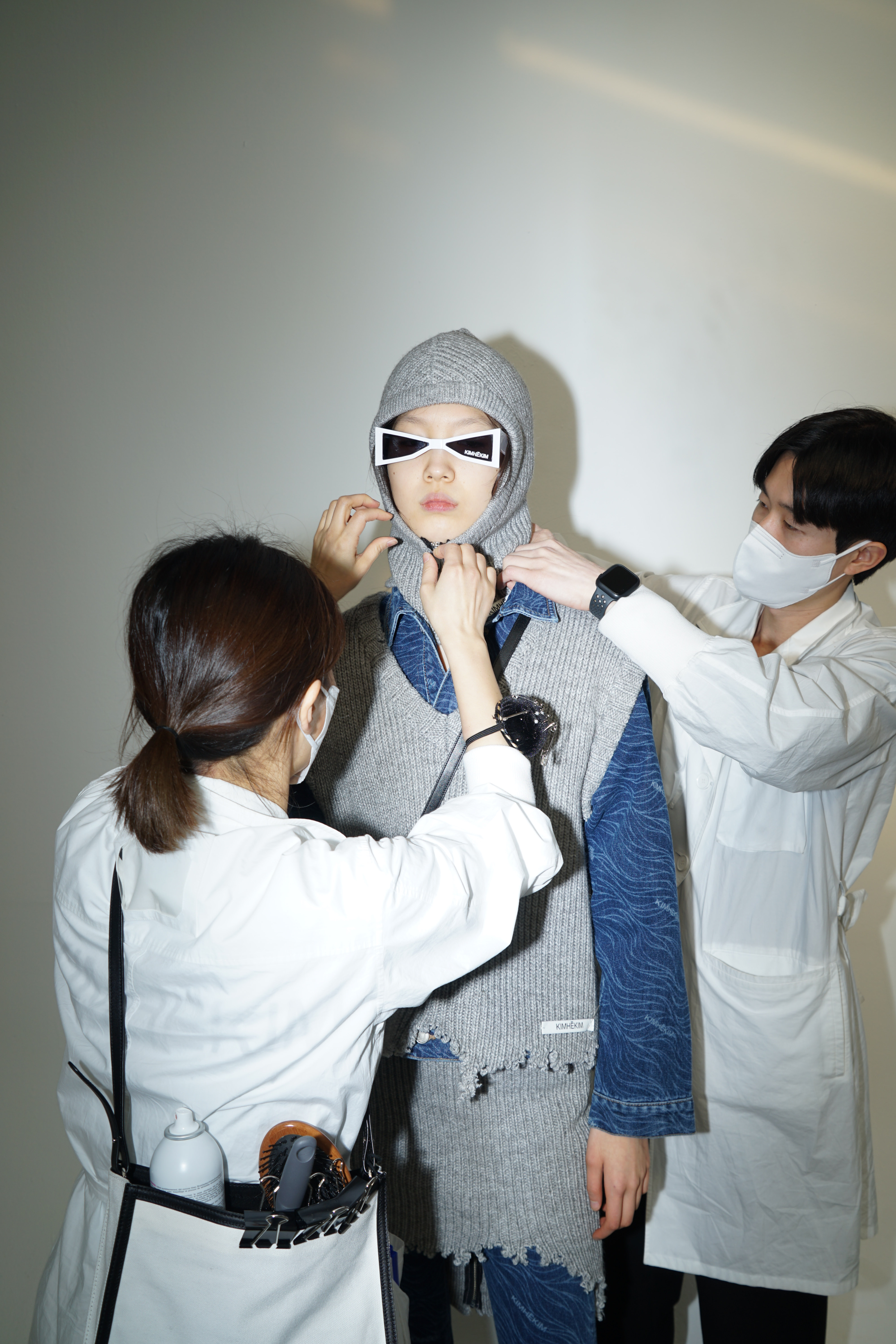 Tell us about the KIMHĒKIM team.
This year, we're working with a team of 10 people. I have a saying in my heart: 'If you want to go fast, go alone. If you want to go far, go together.' My team members inspire me and motivate me when I'm with them. They really mean a lot to me.
We understand that you're also interested in environmental issues. What initiatives are you taking as a brand?
We use recycled paper for the packaging of our products. We have also recently developed shopping bags made from biodegradable plastic. The apparel industry uses large amounts of polyester and plastic in production and packaging. We believe that to achieve true sustainability, we need to reduce the amount of materials that cannot be recycled. We hope that this modest effort will help to improve environmental pollution in some small way.
Rumour has it you've received a number of requests to produce costumes for K-pop idols – are you looking to expand into that industry?
Not at the moment. Although I love listening to K-pop, I feel a big discrepancy between the aesthetic of the industry and the collections I make. As a fan, I enjoy it, but it will be a while before I can draw inspiration from it.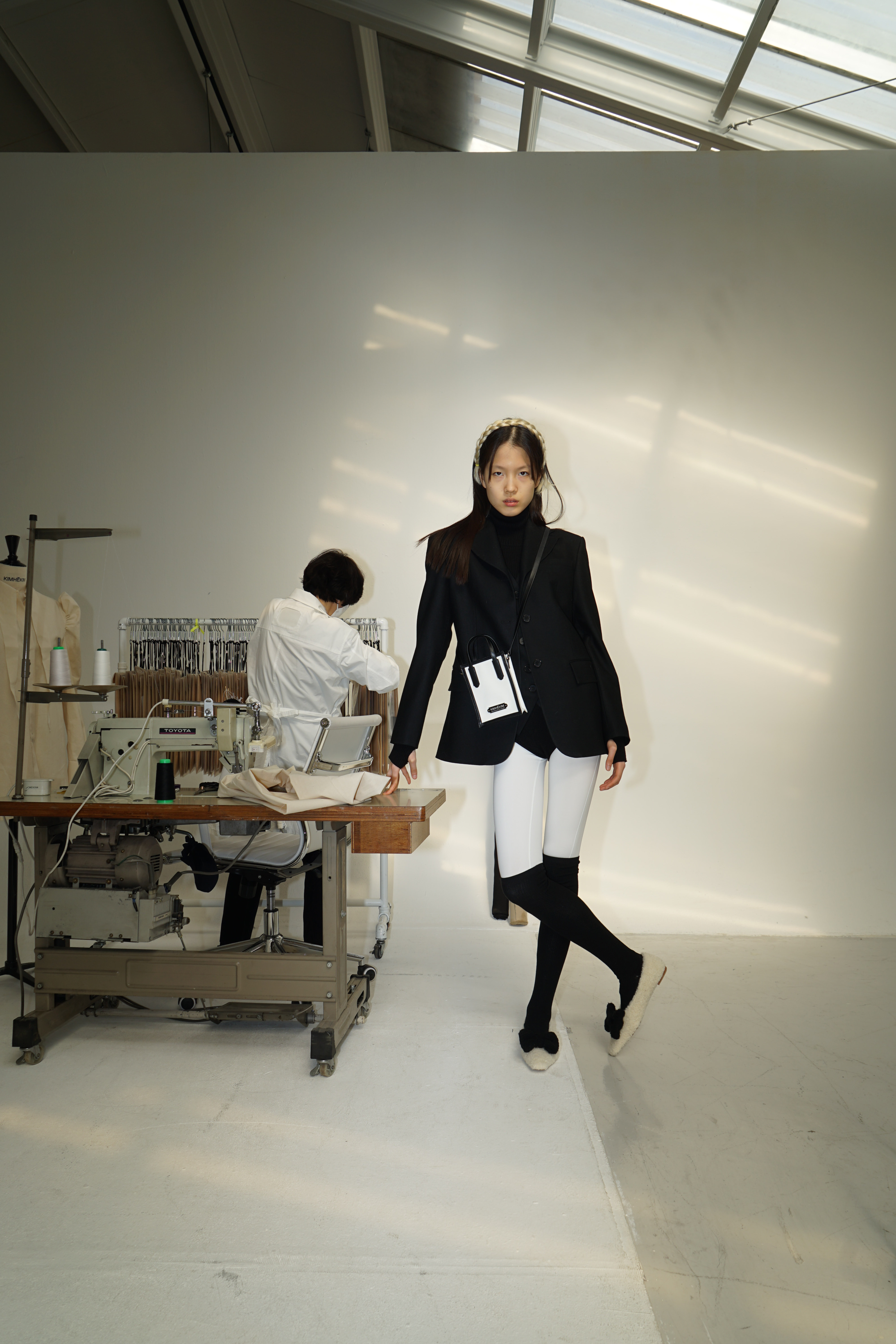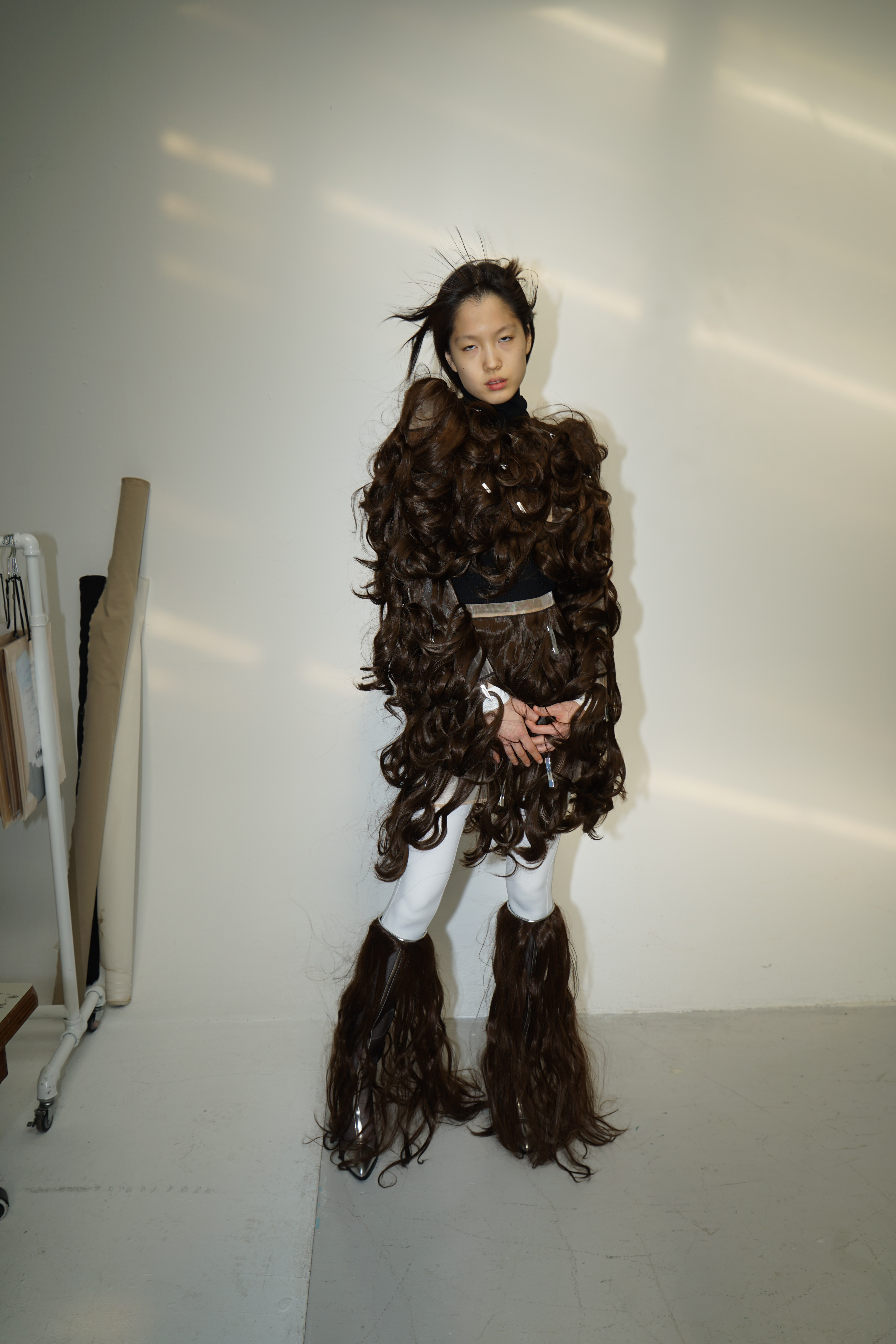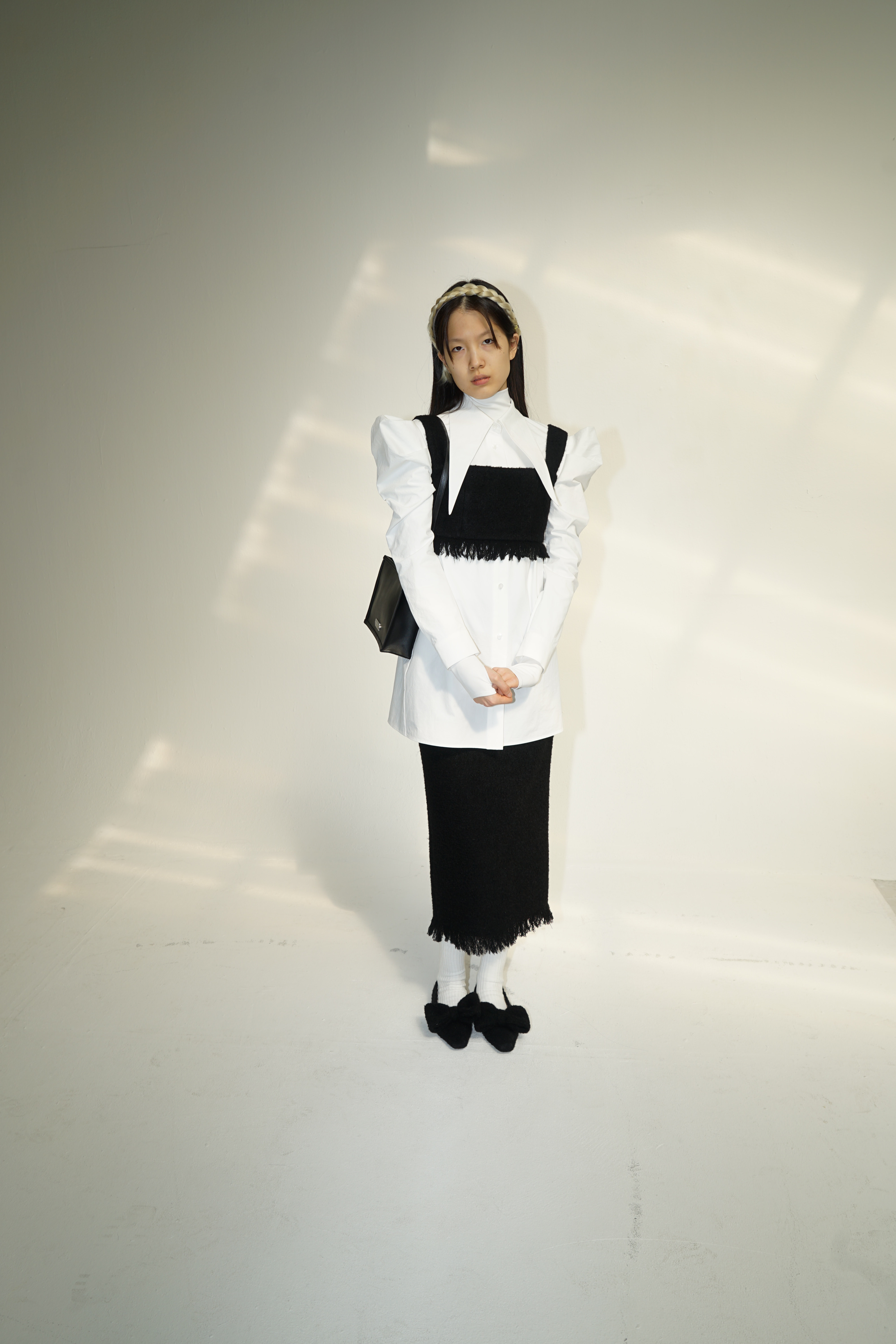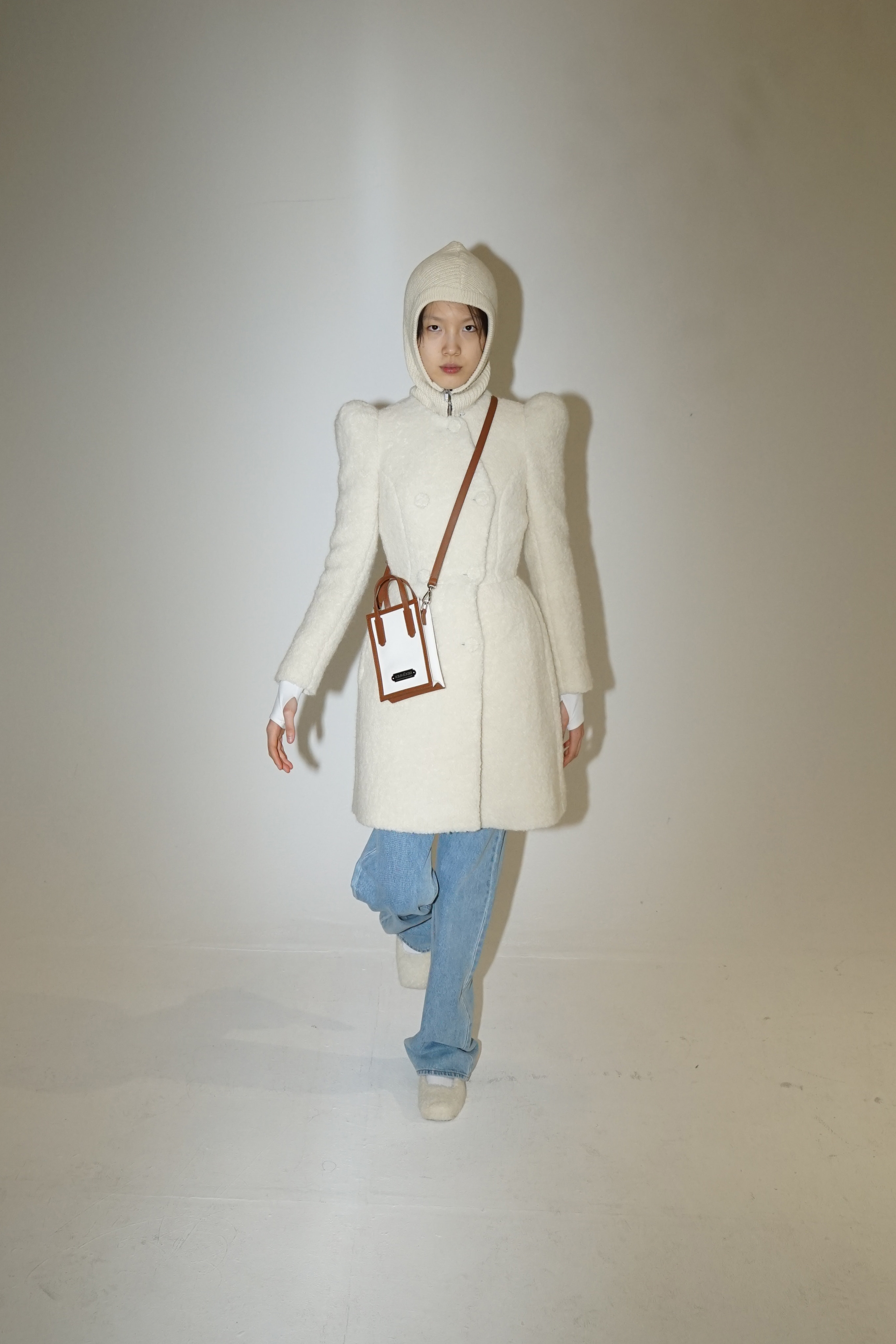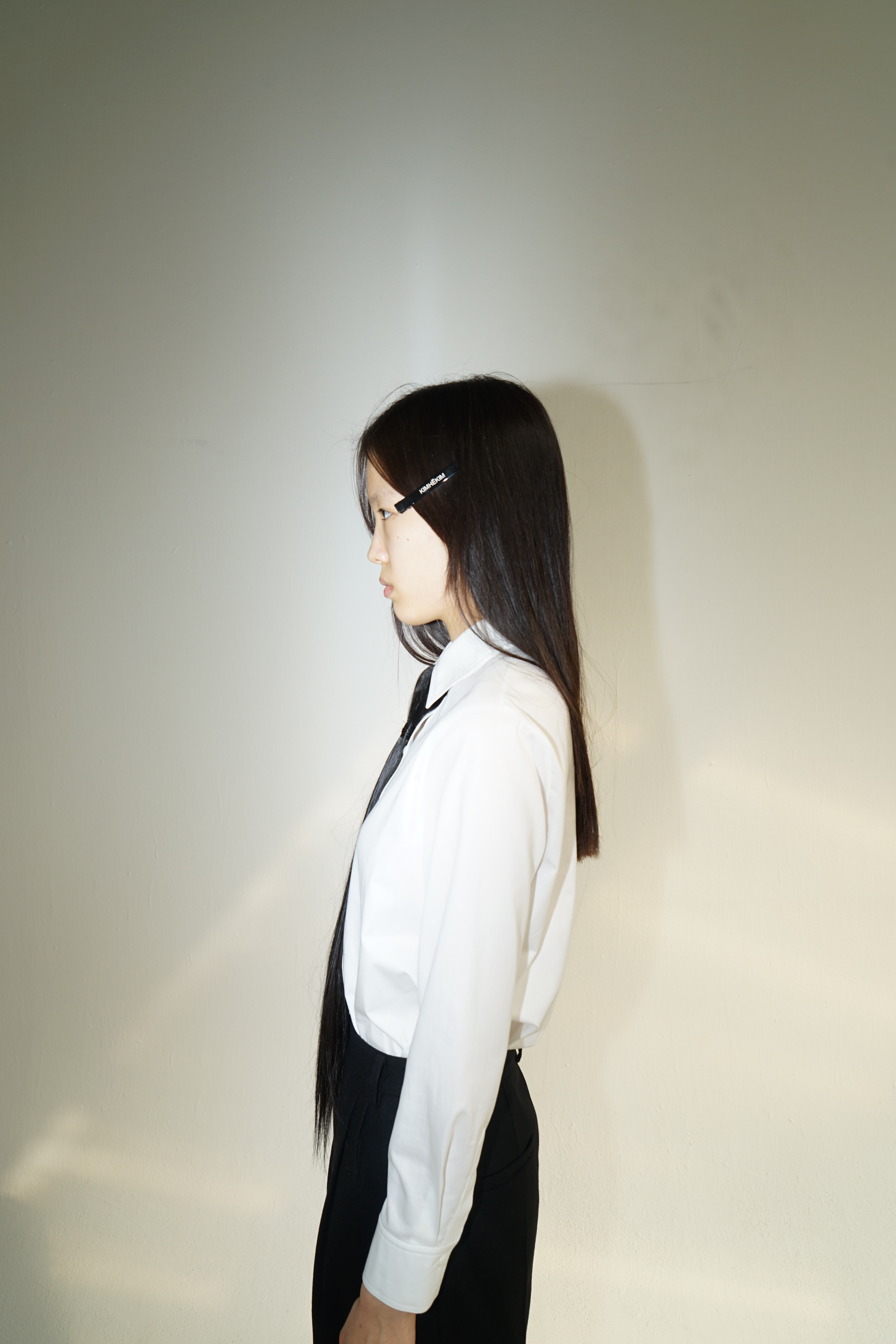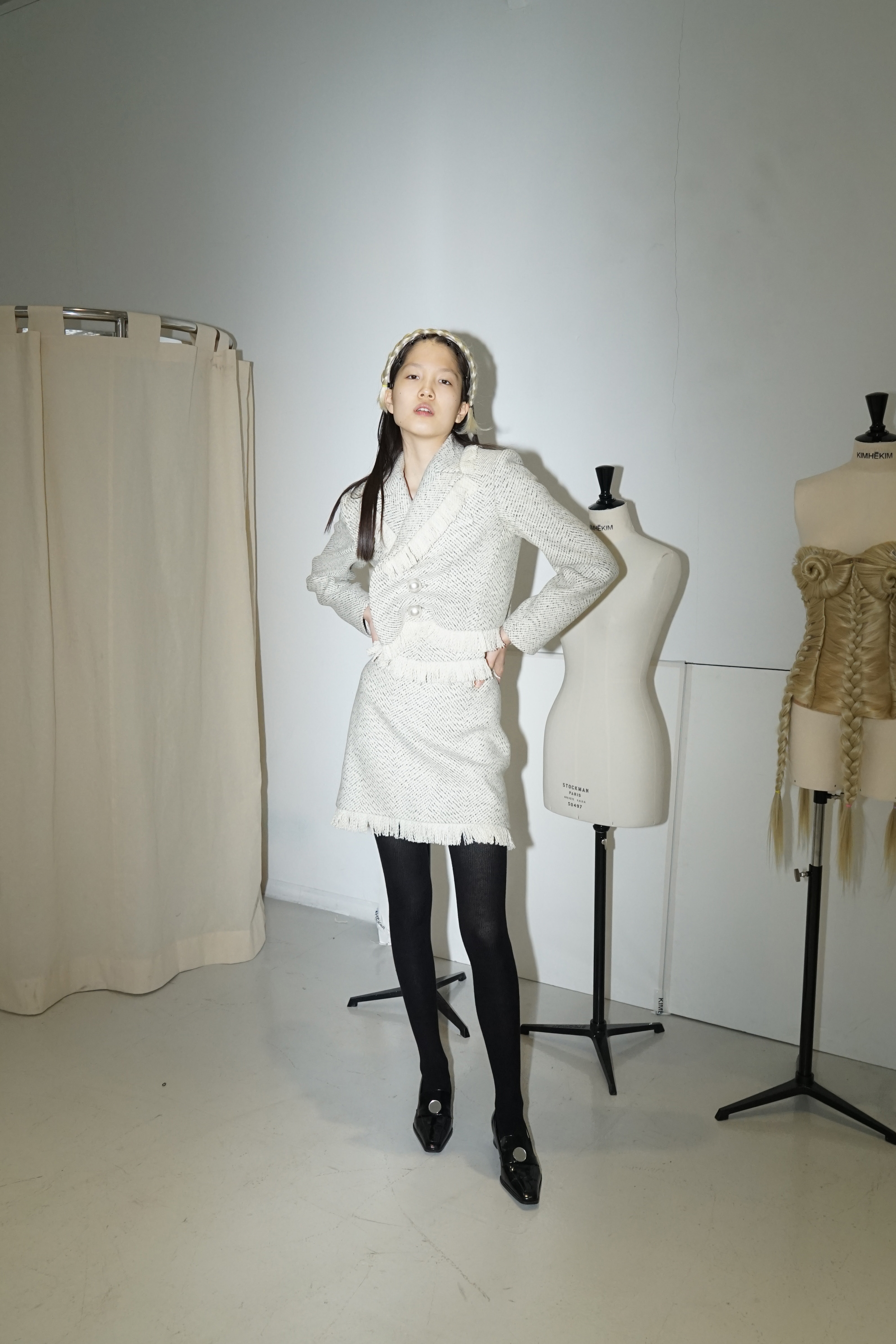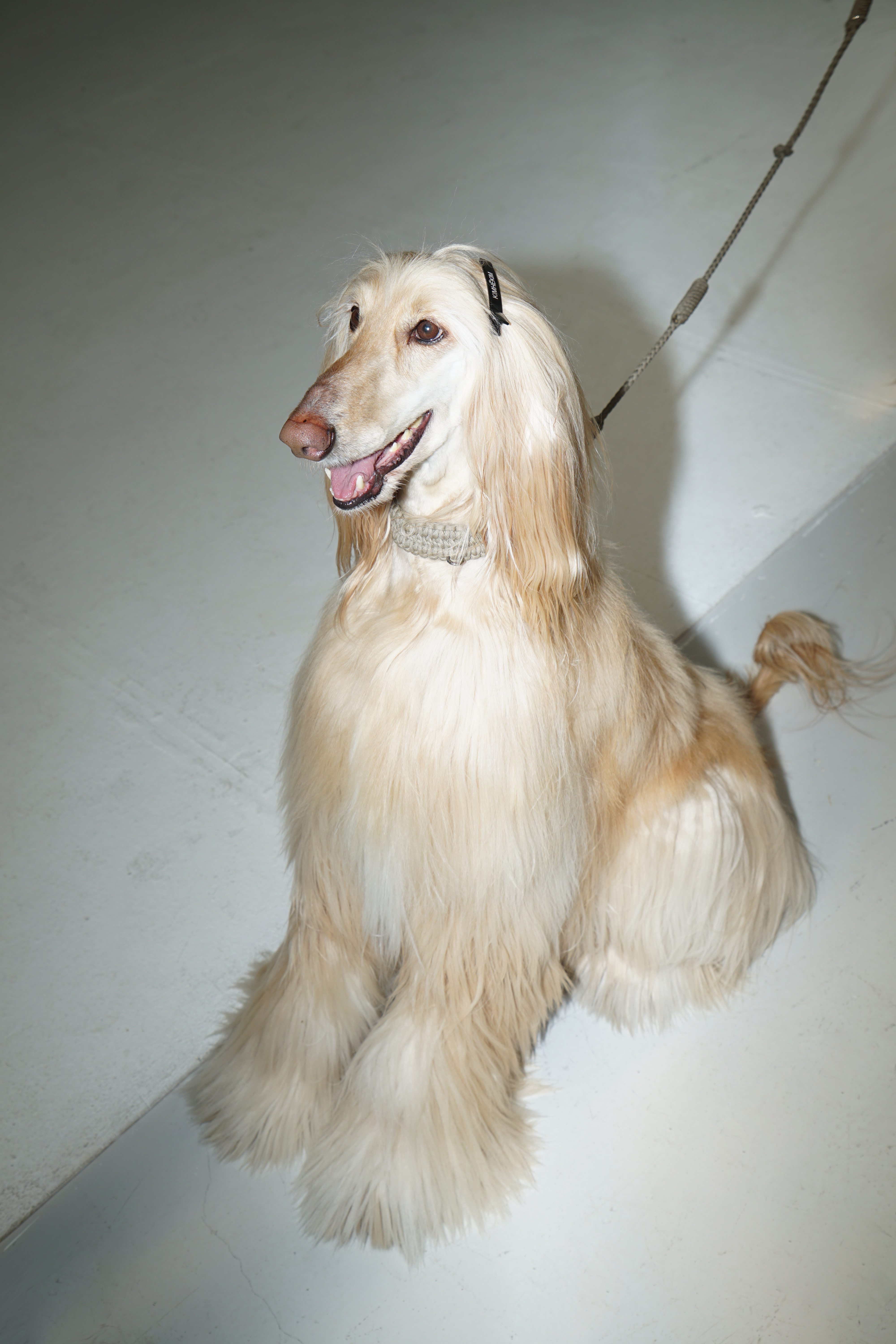 Tagged: