Images courtesy of gorunway.com
Y/Project let its freak flag fly for SS23
Glenn Martens served middle finger jewellery, evil baby prints and a new chapter to his Jean Paul Gaultier collaboration.
Images courtesy of gorunway.com
On a professional level, it's been a good year for Glenn Martens. Between a knockout collection for Y/Project in January, a week-winning couture presentation as the guest designer for Jean Paul Gaultier and his first physical show as Diesel's creative director, the Belgian designer essentially won 2022 in just its first few months. Yesterday, in a show staged in a bucolic garden setting in a secondary school on Paris' Left Bank, Glenn continued that prodigious streak, showcasing a body of work that reaffirmed the deliciously off-kilter, twist-it-and-screw-it-up approach to elegance that has propelled him to his current status as one of the most intriguing designers working in fashion today.
The crux of his approach is a gratuitous weirdness that almost makes you wonder how he's managed to cultivate the increasingly feverish – and increasingly mainstream – fanbase that he has. Skirts were often haphazard compilations of buttoned-together panels of denim that had you do a double-take, wondering if they were skirts at all; thigh-high joots (yes, jean boots) crumpled down to the ankle, while trench coats had multiple necklines, with yanked aside button plackets appearing almost as if they'd been torn. "Evil baby" prints were inspired by, as Glenn told us backstage, a tattoo he once saw on an inebriated Brit-abroad.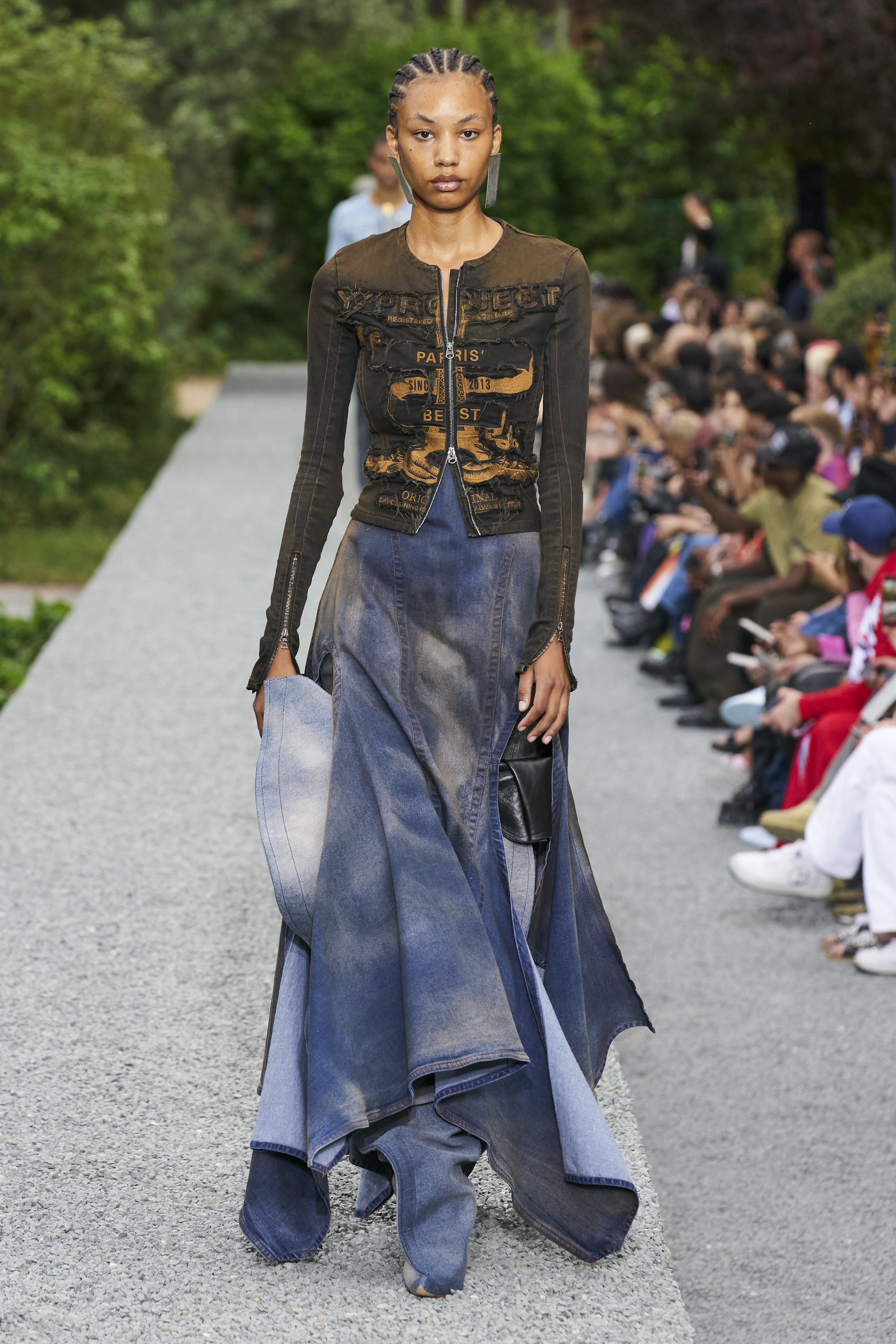 Granted, doing bizarro fashion is one thing — and it's a thing that, in an age of meme-page humour and increasingly esoteric tastes, more and more designers are doing — but what really makes Y/Project's approach so distinct is the attention-to-detail invested in pulling it off. Hulking leather jackets had a time-weathered patina to them, and slick wool overcoats had snap-on front panels, which allowed the wearer to settle on just how distorted they want the end effect to be. Belts and jackets linings were inlaid with stiff wires, allowing them to be twisted to fasten them; denim and leather trousers had waistbands slashed off and reattached by the belt loops, and — in a clever optical illusion — white cotton tanks and scoop-necked hot pink satin dresses seemingly had their straps severed, floating on the chests of their wearers' thanks to the use of invisible fish wire.
The trompe l'oeil — and toeing the line of illusion and reality more generally — is, of course, a cornerstone of Glenn's design vocabulary, and unsurprisingly, it was applied widely here. In perhaps the most exciting development of the season, we saw a return of the buzzed-about ready-to-wear collaboration with Jean Paul Gaultier that debuted last season. While then we saw dresses, suits and denims printed with updated riffs on JPG's iconic nude cyberdot prints, this season saw Glenn draw upon Y/Project's own rapidly expanding archive of iconic pieces. Asymmetric foldover jeans and braid-necked cable sweaters were superimposed onto everything from billowing maxi dresses to suiting and lurid orange mesh tops. While they perhaps felt a little more cerebral, less cheeky than the previous iteration of the partnership, the wink-wink-nudge-nudge spirit that Glenn's made a name for comes through strongly in pieces with viral potential like middle-finger jewellery and cartoonish muscle-chested embroideries on the collars of lightweight wool sweaters.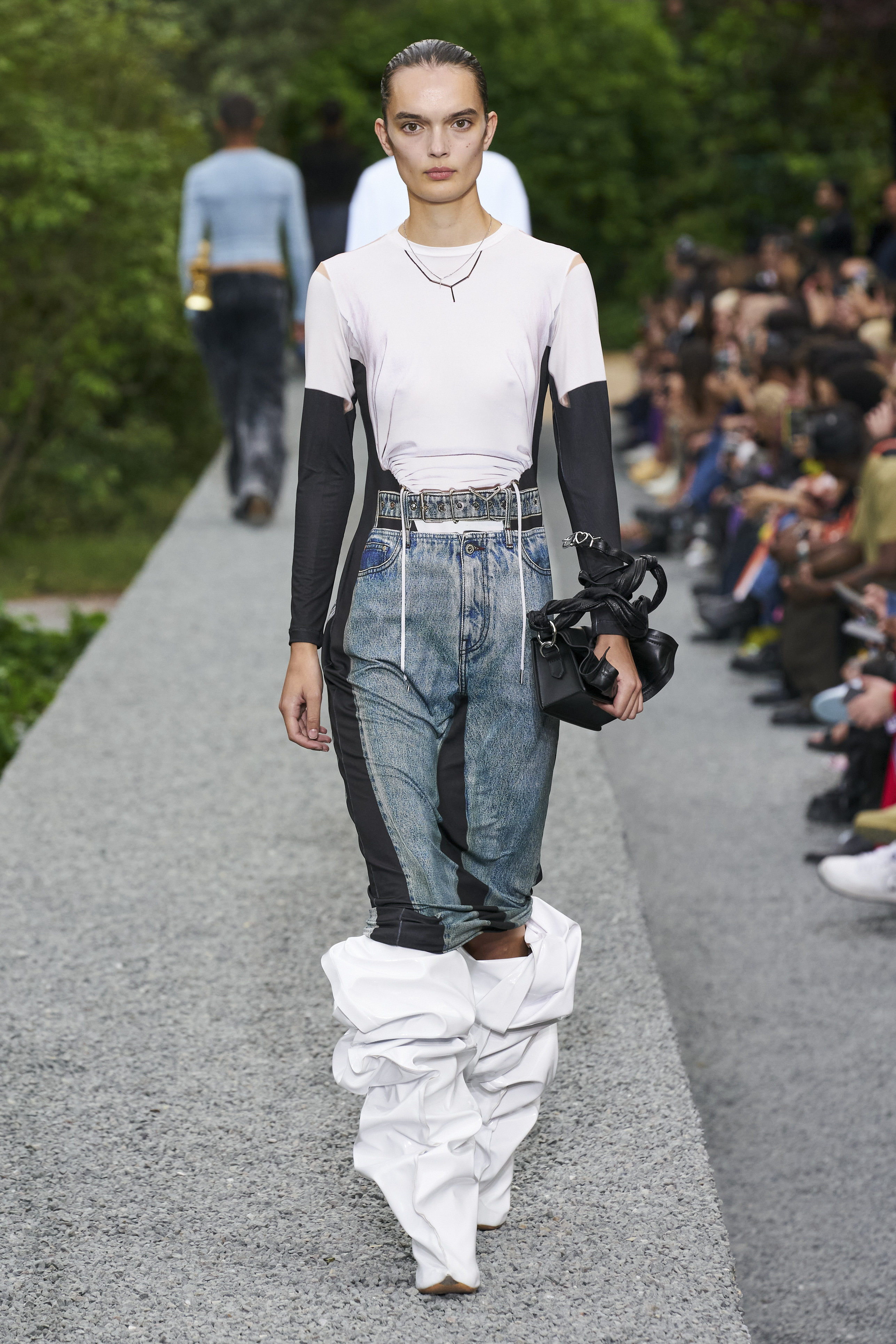 While the ready-to-wear component of Y/Project's Jean Paul Gaultier collaboration continued here, the couture side of things – as far as things currently stand, at least – was a one-off. Those still find themselves pining after the impeccable handiwork and theatrical proportions of the meringue-clumped taffeta gowns and braided satin tops that he showed then, had their appetites sated by what Glenn referred to as a suite of "fake couture" looks that closed things out – including a sleeveless dress composed of tufted lozenges of grey stonewashed denim and even a closing bridal gown with a warped veil – fashion you'd be a fool not to say 'I do' to.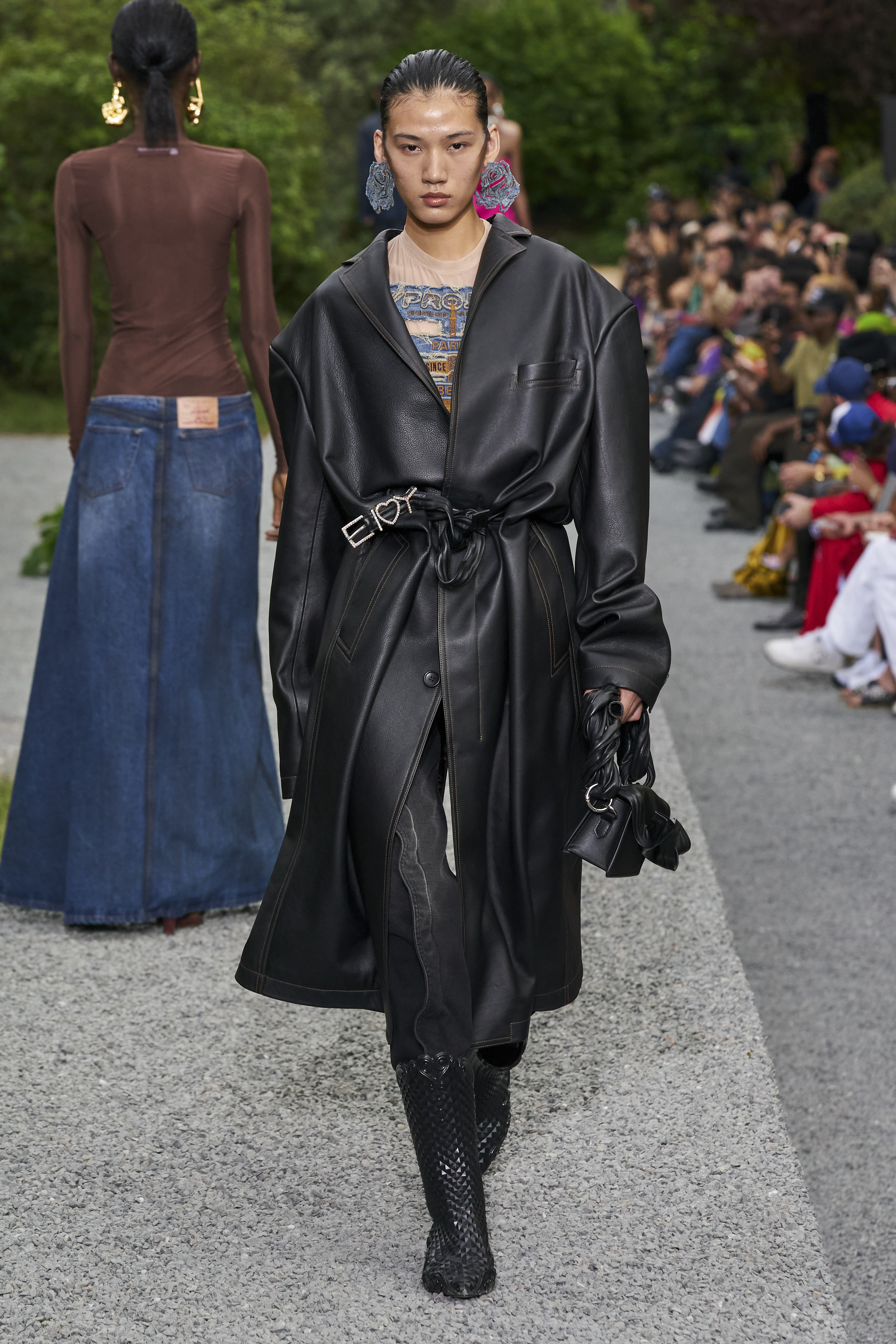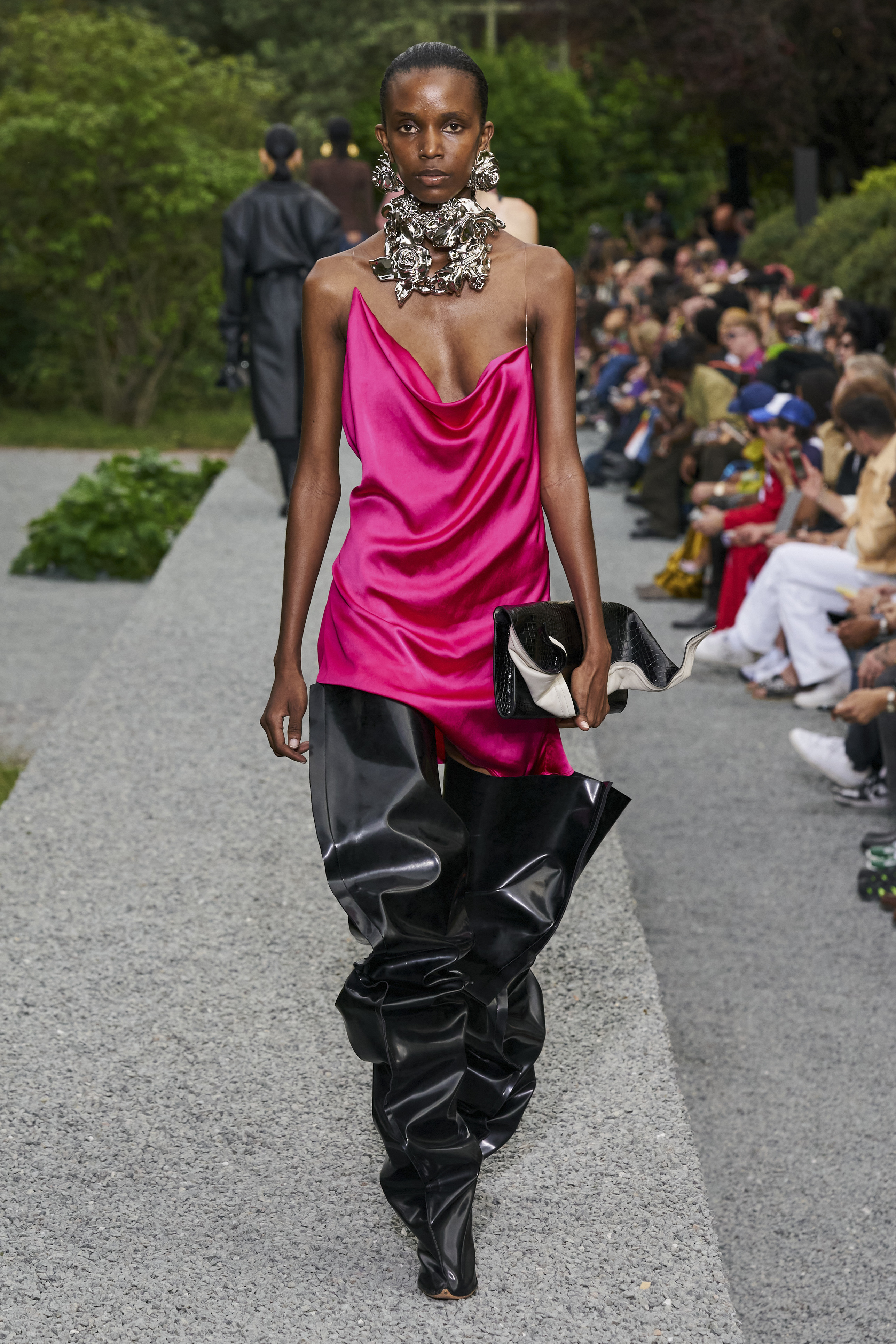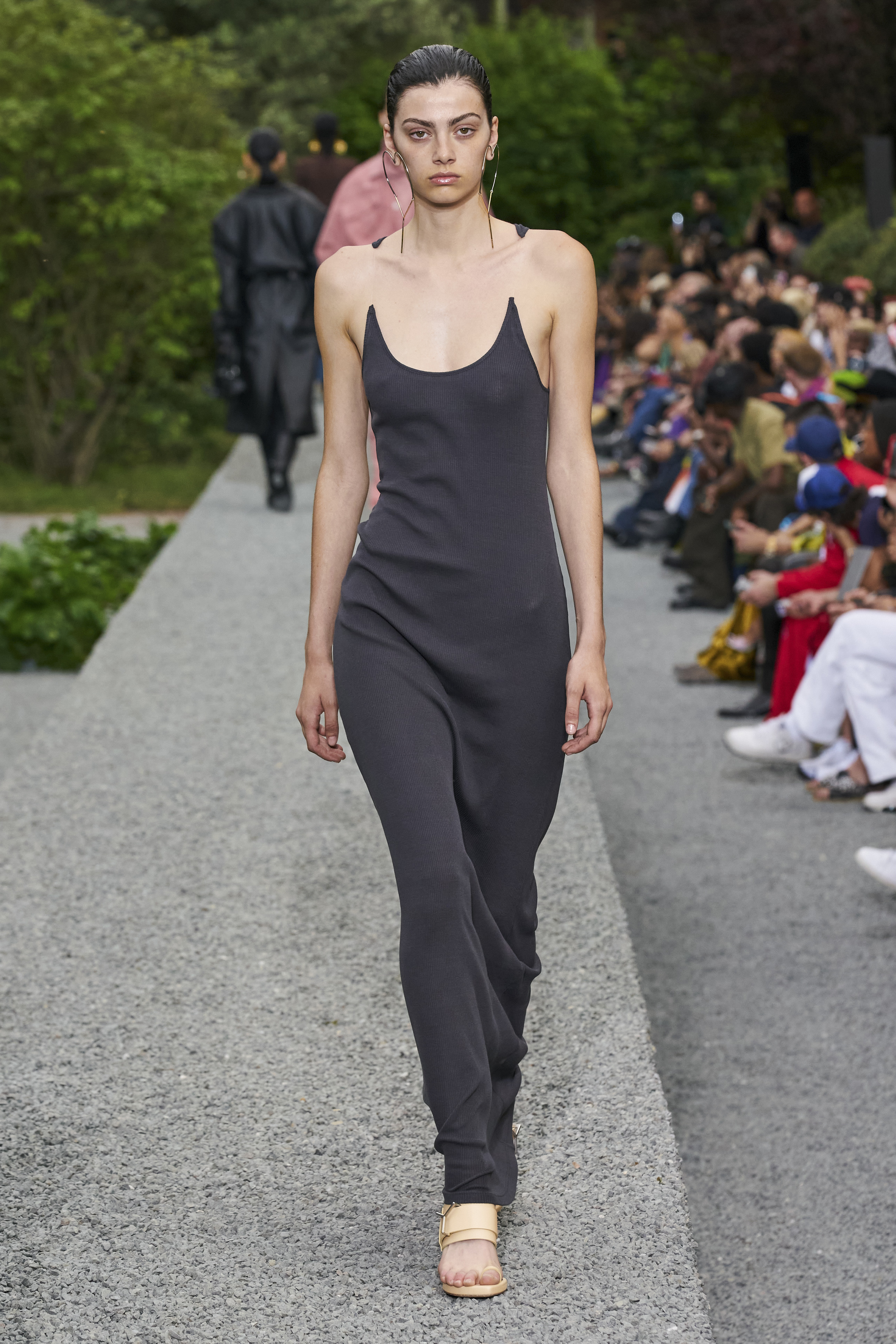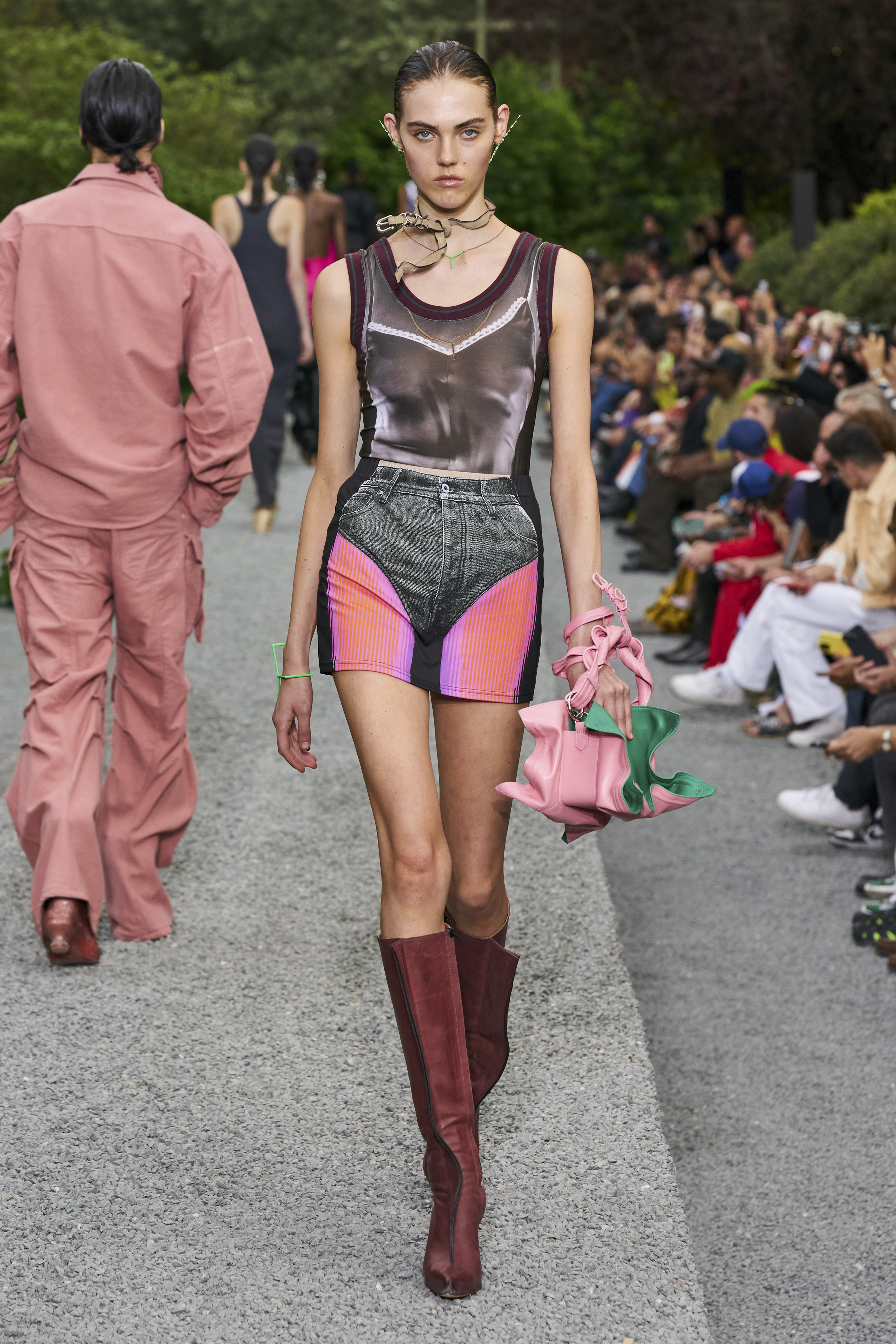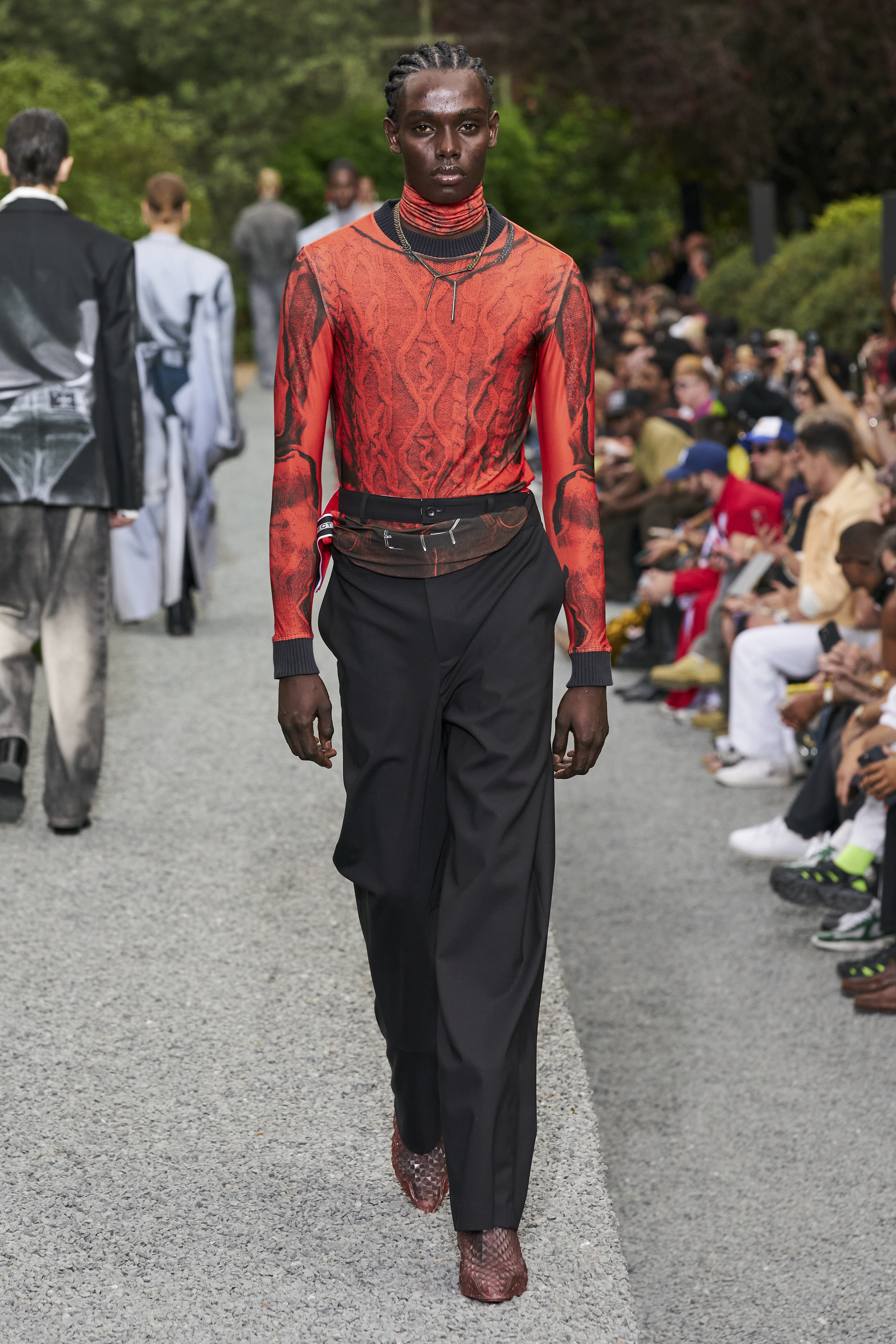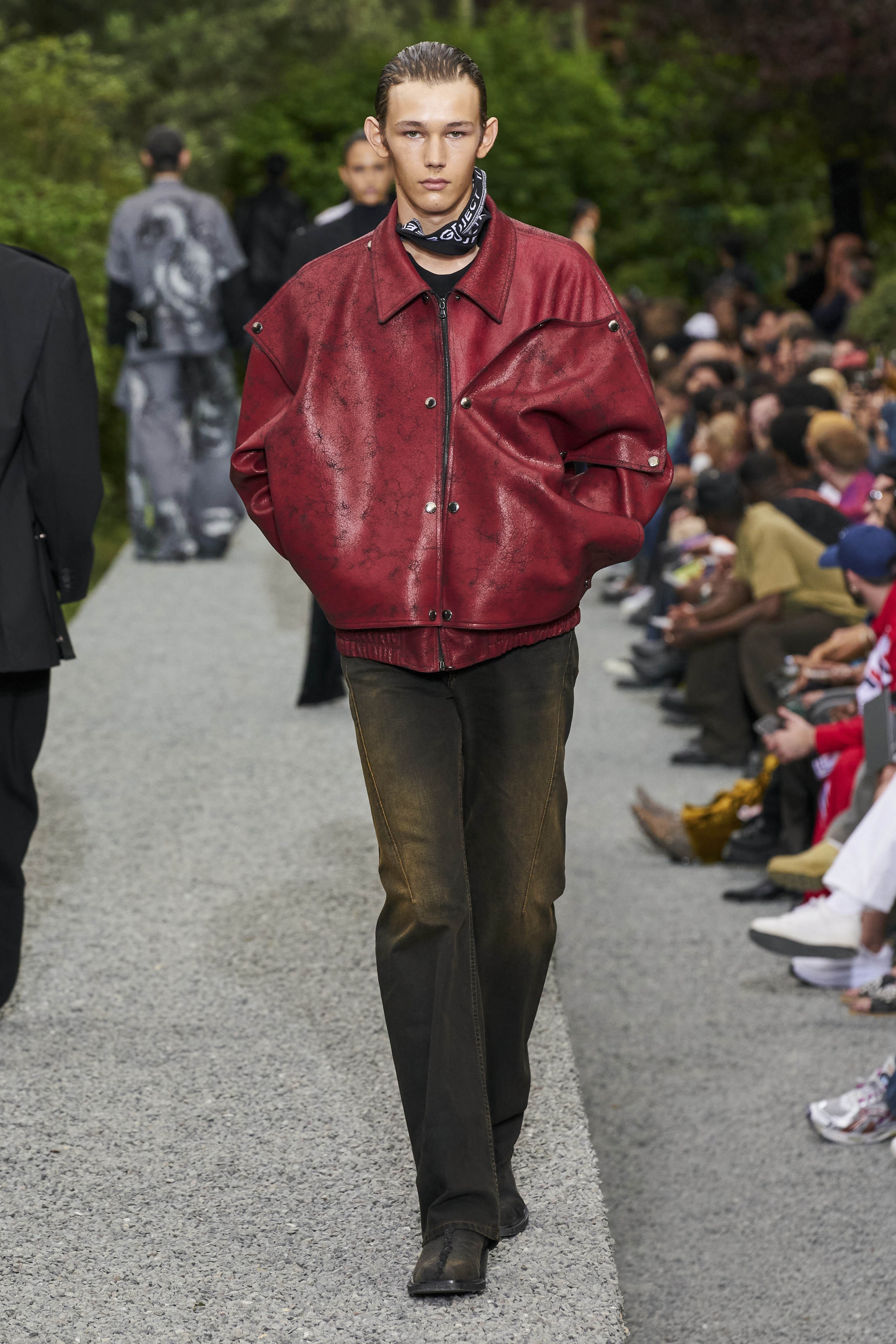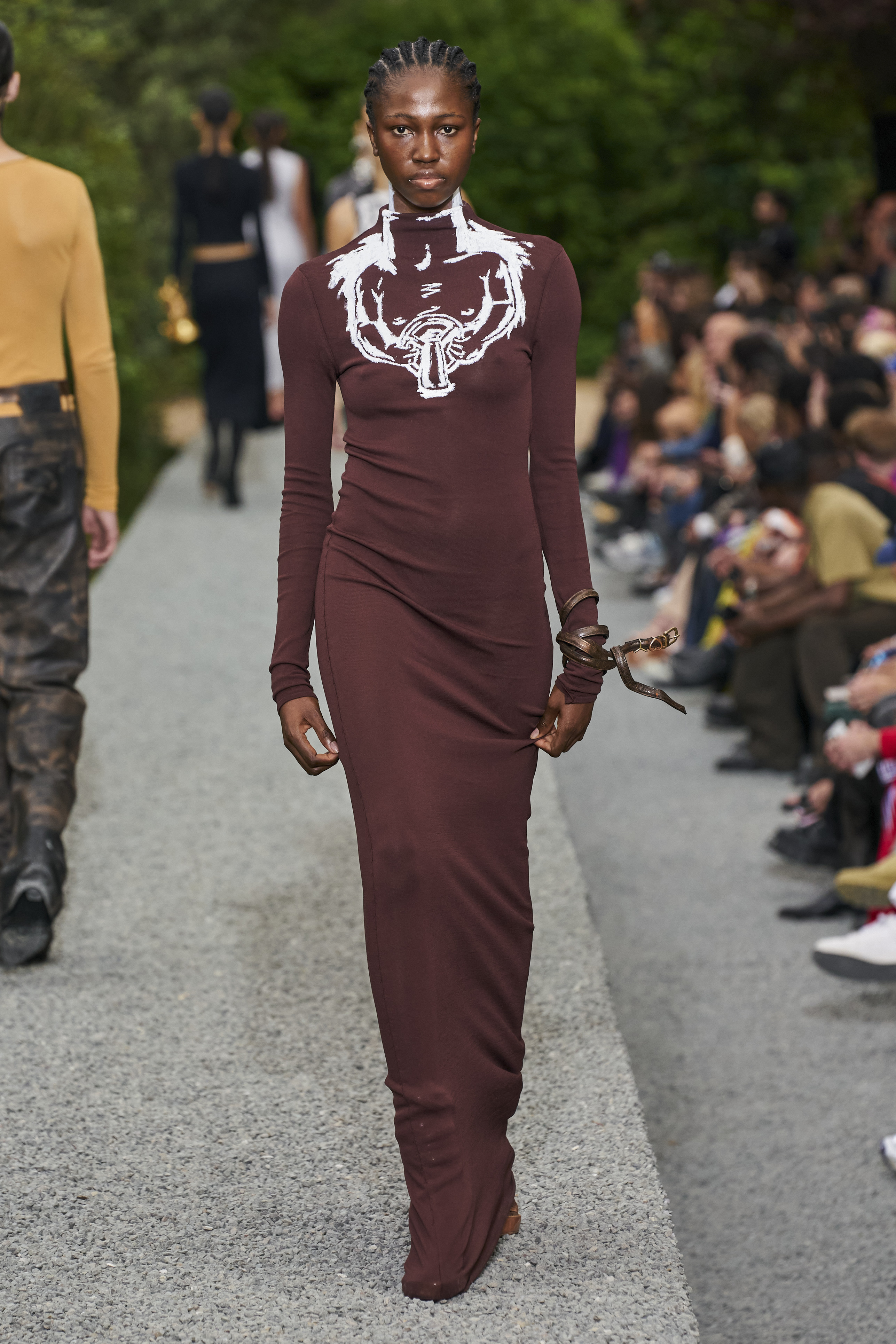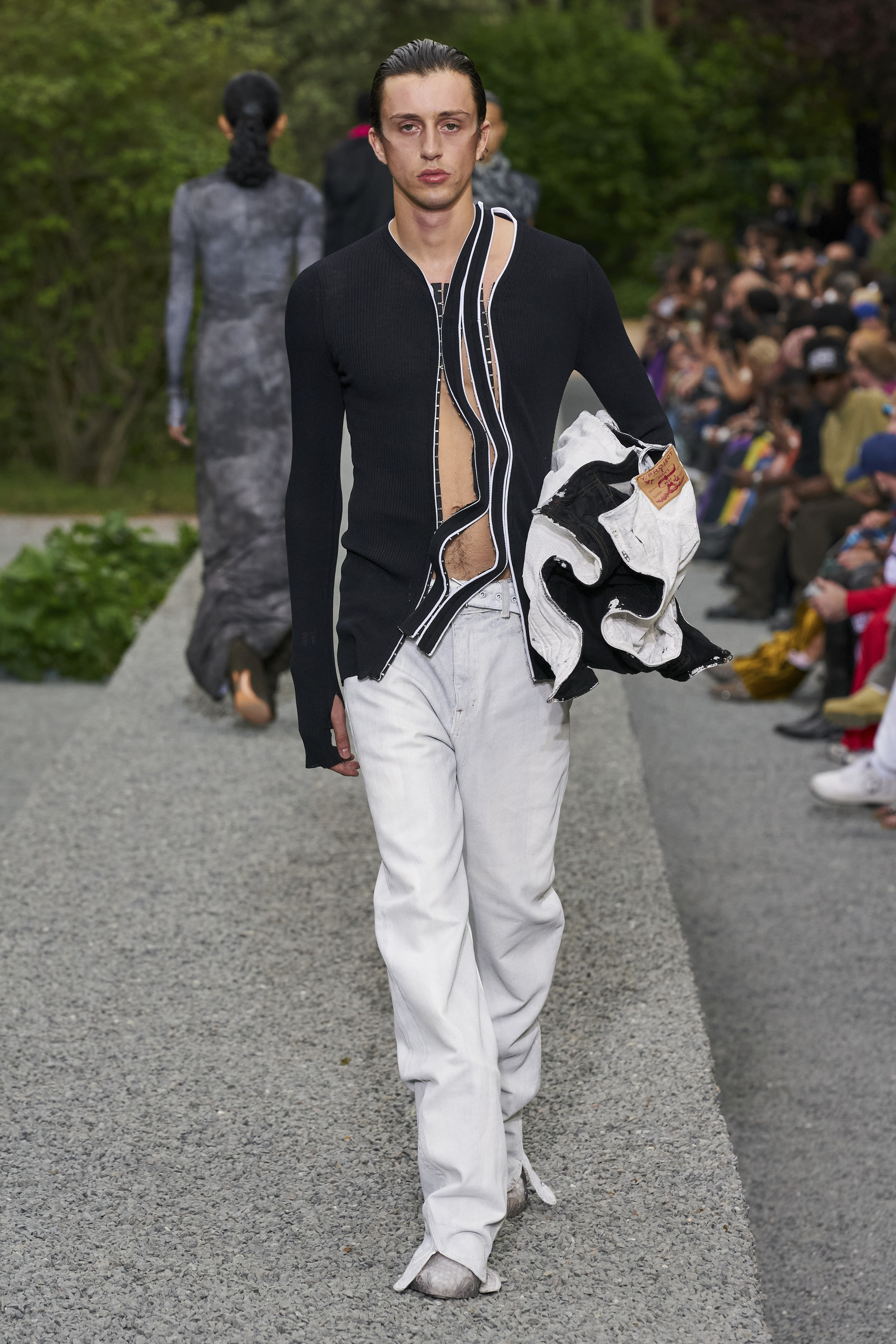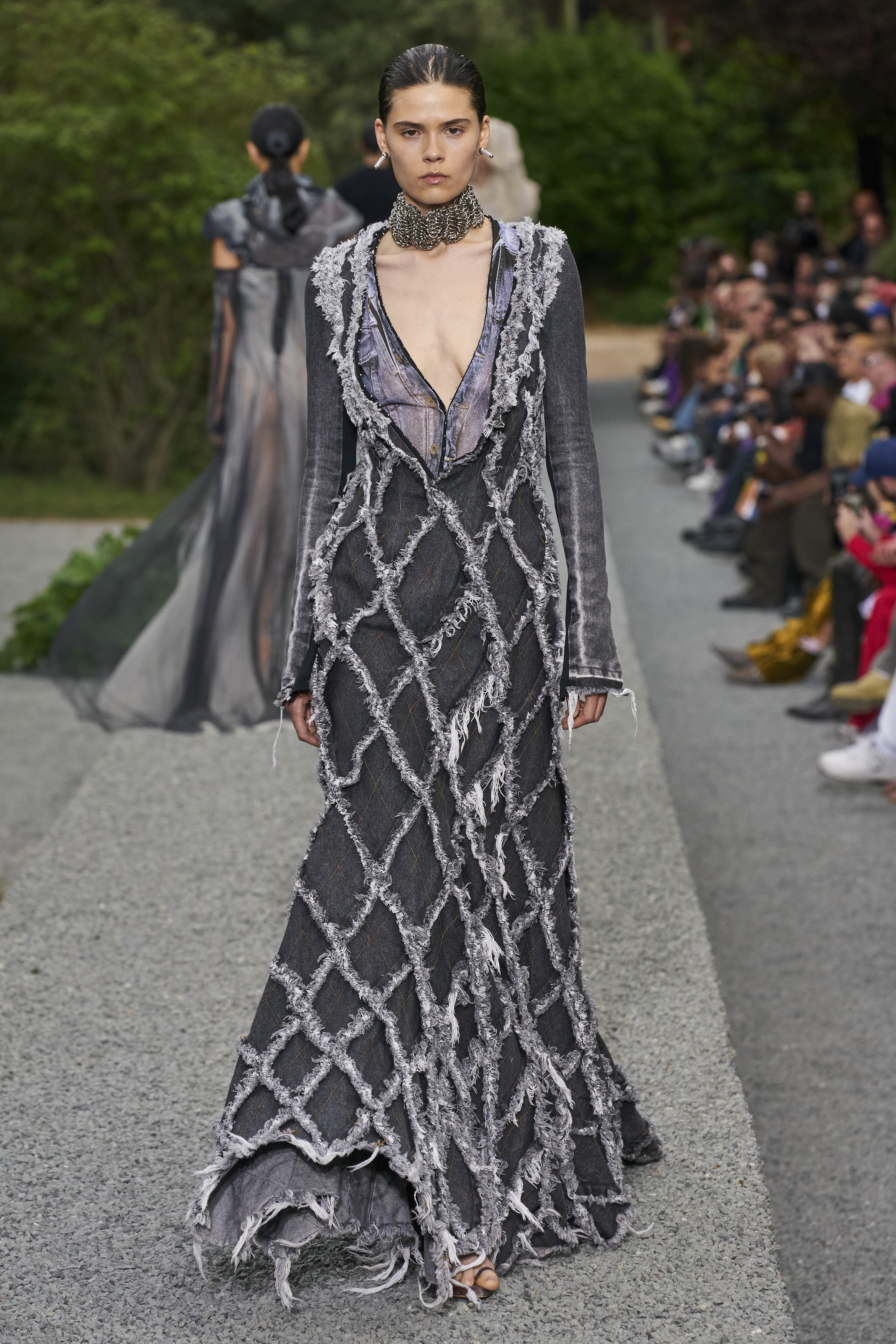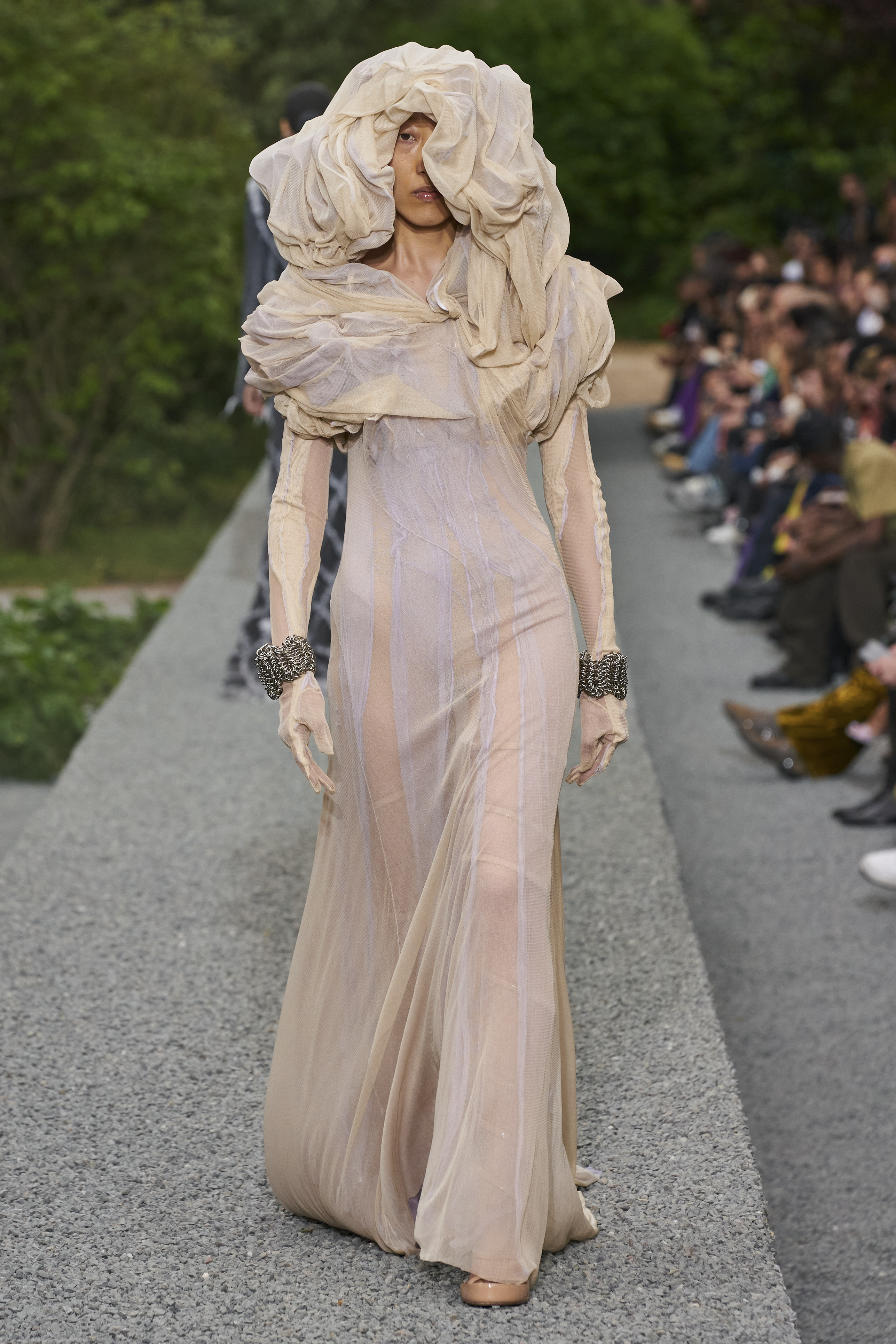 Follow i-D on Instagram and TikTok for more from the SS23 Menswear shows.
Credits
---
Images courtesy of gorunway.com