10 things you need to know about the boundary-blurring rap goddess NAYANA IZ
The India-born, London-raised artist's new single "How We Do" bangs.
NAYANA IZ ("eye-zee", her first name means beautiful eyes in Hindi) was raised in North London but born in India. After a childhood of wishing she lived in her motherland, the English capital might have grown on the 19-year-old musician but she still has big plans to relocate in the future. Though still in her teens, NTS guest host Nayana, who just came off tour with Irish rapper Kojaque, says that she feels at least 100,000 years old. Must be all that hard work she's putting into life, music and the impressive list of extracurricular activities that we'll get into later.
Naturally drawn to making music from day dot, Nayana evolved from playing jazz to joining an indie-pop band before eventually settling on hip-hop, which she discovered via one of her all-time faves, MF DOOM. Ask Nayana -- who has just been named one of BBC Asian Network's Future Sounds for 2020 -- about her current sound and it's all a bit ambiguous. "It's just what I feel," she says, "and I'm always feeling something different". Whatever she's doing, it's working. Following in the footsteps of her incredible grandmother, a skilled Manipuri singer and sword dancer, Nayana fuses all of these cultural influences and lands on something that feels fully representative of who she is.
On exciting new Karma Kid-produced single, "how we do", the Londoner does a beautiful job of taking London rap to India with an energetic statement of intent. "It's a warning to my enemies that I'm on my way, I've got my sword of truth with me." Watch out, basically. She has arrived. "The vibe at the studio was chill when I arrived, but I was bare pissed off because of someone. I turned that chilled vibe into an angry boss bitch one real quick." For the accompanying music video -- check it out below -- Nayana channels a Sikh princess gone rogue. With rapunzel-length plaits, she rides through the city streets in a flower-embellished car wearing a bridal sari ("because I'm married to the music!"), making it crystal clear that she's firmly in charge of her own narrative.
Like what you hear? Get to know NAYANA IZ via these 10 completely essential facts...
1. It all started when baby Nayana made a scene in an Indian restaurant.
"I stood up on the table and started singing and dancing to my then-favourite song, "Shakalaka Baby". I was wearing a top that said it too, ffs. That was the first song I wouldn't stop singing."
2. Then aged just five, she started writing her own songs.
"I only remember one very clearly. It was kinda indie rock called "Down The Same Road" and I wrote it when I was 14. I made the piano part for it and performed it with my band at our school shows."
3. Nayana is part of London collective Nine8, alongside Lava La Rue and Biig Piig.
"We just came into each other's lives one by one, fucked with each other, and now we're joined at the hip!"
4. She reckons that there are similarities between them and a certain fictional crew.
"We're like Power Rangers, for sure."
5. She's currently reconnecting with her Indian heritage.
"I don't know any Indian languages because my parents sadly didn't teach me. You can feel pieces of my heritage at my shows, in production and through my visuals. Eventually, I wanna live and work in India, so I'm learning Hindi, classical Hindustani singing and Manipuri dance this year."
6. And is more than willing to share her Indian classical music recommendations.
"I'm into a lot of Lata Mangeshkar at the moment, especially her pieces when she was younger. She's got the most soulful and angelic voice. The songs I've been listening to the most are "Kare Kare Badra", "Rasik Balma", and "Panchhi Banoo Udti Phiroon"."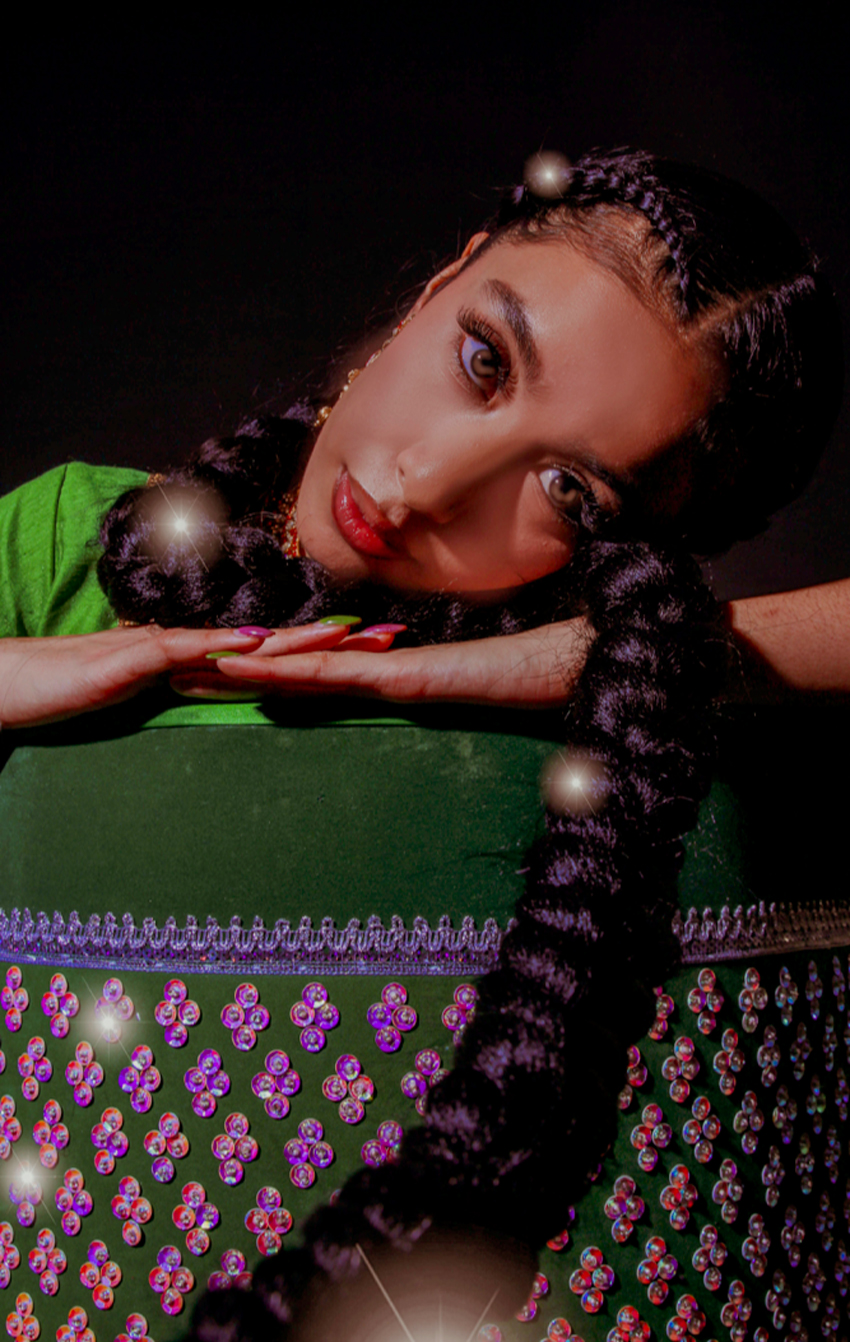 7. Nayana's grandmother was a Thang-Ta sword fighting dancer. For real.
"Bobok started singing from very young. Then she started Thang-Ta, a Manipuri sword dance art. She eventually went on to teach it, along with classical Manipuri singing. She was one of the most humble women I've ever heard of; Bobok had little money but taught her students for free. Even though she's not here with us today, I dedicate all of my work to her -- Bobok's my biggest inspiration and I feel it's my job to carry on her legacy. RIP Bobok and to my other grandmother Nani. I do this to make you proud and I love you both with all my heart."
8. Warning: you probably wouldn't want to get in a fight with Nayana either.
"I'll fuck you up if I gotta. I used to do Chinese Sanda at black belt level. To be honest, I haven't trained for two years now, but this is another thing I'm gonna get back on this year."
9. Her debut EP, smoke + fly is on its way. Expect serious emotion.
"It's me pouring my heart out in the realest and humblest way possible: the anger, the love the sadness the power and all those other feelings that are too long and complex to describe. It's best to just listen for yourself. The title doesn't mean what you think it does. We've got merch and movies coming out with the project too. Not long now!"
10. She's got big plans for 2020.
"I want to carry on flowing, to bring this dream in my lil heart to the big world <3"