Watch the shockingly evil trailer for The Chilling Adventures of Sabrina part 3
All hail the Queen of Hell!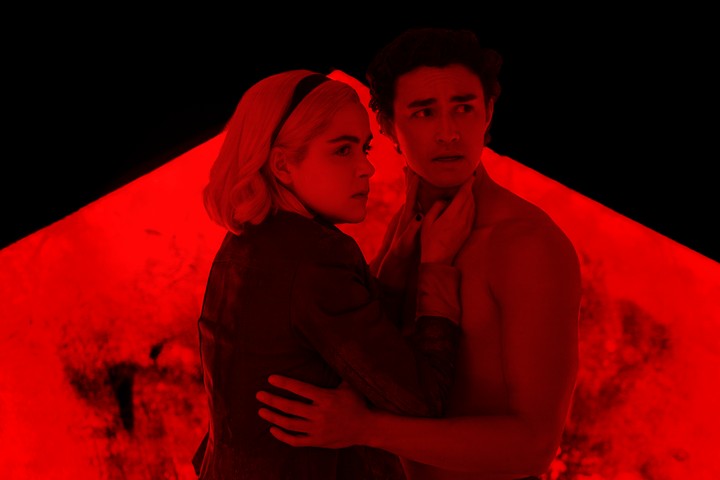 Photo by Diyah Pera/Netflix.
If the first two seasons of The Chilling Adventures of Sabrina on Netflix have taught us anything, it's that being a half mortal teenager turned witch caught in a deal with the devil is tough. And it's dark. Though in season three Sabrina (Kiernan Shipka) will take on an even more evil role as the Queen of Hell in order to save her family, friends, and beloved boyfriend Nicholas Scratch (Gavin Leatherwood), who's trapped in the fiery depths of the underworld. "Hell's under new management now," Sabrina proclaims in the first official trailer, which dropped today.
With the help of her mortal friends Harvey, Rosalind, and Theo a.k.a. "The Fright Club," Sabrina might've defeated her father Lucifer, the Dark Lord, but there's a new evil force standing between her and the throne — the super handsome Prince of Hell named Caliban. As the balance is off in hell, heaven, and on Earth, the young witch suddenly finds herself haunted by bloody monsters in her nightmares and IRL.
Meanwhile a mysterious carnival of pagans and presumably plenty of supernatural creatures roll into Greendale with hopes to "resurrect an ancient evil." Sabrina must find a way to save everyone and everything she loves, and not disappoint her watchful aunts along the way. "Being the Queen of Hell isn't a summer job! You're putting the coven in peril just so you can see your boyfriend," Zelda says.
The third season of The Chilling Adventures of Sabrina premieres on January 24. For now, watch the CAOS ensue in the shockingly evil trailer below.