A Louis Vuitton x NBA collaboration is coming
This is the first in a multi-year link-up between the French fashion house and the basketball league.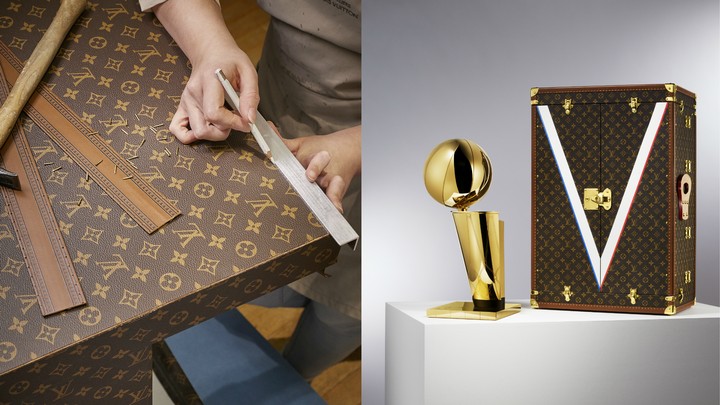 Louis Vuitton
Virgil Abloh has done a stellar job of bending the codes of luxury fashion ever so slightly. Where boundaries between industries once existed, the Off-White and LV menswear head honcho has blurred them.
It's why he's so well suited to Louis Vuitton: a brand that has a history of crossing sportswear and luxury design. Before he arrived, LV had joined forces with FIFA, the Roland Garros tennis tournament and the Rugby World Cup. But they've just announced what might be their most sought-after collaboration since Kim Jones' game-changing Supreme moment: a gigantic, multi-year collaboration with the National Basketball Association.
"We have done other collaborations with other fashion houses before, but nothing at this level and at this scale," Marc Tatum, NBA's Deputy Commissioner told WWD. "We know from social media that our fans follow collabs and are big fans of the Louis Vuitton brand. We know that they're going to be excited about this new partnership and collaboration."
Basketball and fashion have always been intrinsically tied in some way. The walk players take between the entrance into sporting arenas and their dressing rooms have become photo opps for well-dressed sports stars like LeBron James and Dwyane Wade. And at other brands, we're seeing Kim Jones pioneer the 'Dior-dan' sneaker with Nike.
The project's design-led aspects have been spearheaded by Virgil, who's created a capsule collection of luggage, clothing and as-of-yet unannounced accessories for the basketball brand. Marc Tatum said the items he'd created have been inspired by the three key moments in an athlete's life: the press conference, the match and travel. Though no imagery of the collection will drop until later in the year, there is one item -- a piece of NBA history that can't be bought -- that we have been given some details about, and that's their first Trophy Travel Case. Designed by Virgil and crafted in LV's atelier, the monogrammed case lined with NBA-blue took six craftsmen over 100 hours to make, and will be used to transport the Larry O'Brien NBA Championship Trophy. It is, effectively, a priceless part of both brands' histories.
But for everyone else who hopes to get their hands on a piece of the new collection, start saving now: the full capsule will drop in October, just as the 2020/21 NBA season starts.