The A-Z of trans representation in film
In the absence of this year's BFI Flare: London's LGBTIQ+ Film Festival, we take a look at some of the greats -- and the not-so-greats -- of trans representation in cinema.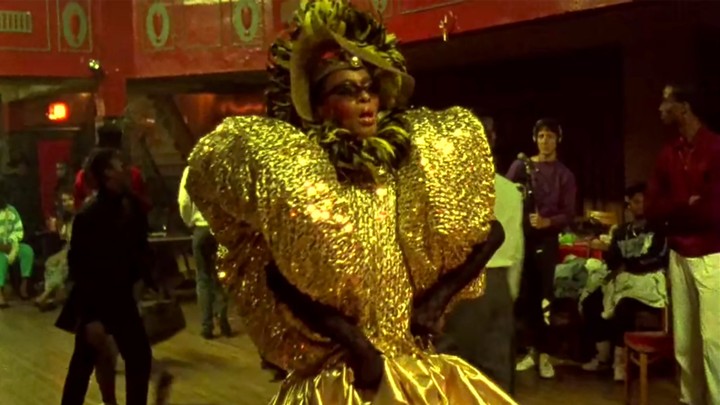 Whenever the concept of trans representation comes up in a discussion about film, the subtext is almost always negative. Every few months, you hear the same old story: a cis actor has been cast in a trans character's role, the trans talent simply didn't materialise during casting, or Scarlett Johansson is back at it again (it being stealing roles that should go to performers actually from those marginalised identities).
One of the reasons why this is such a sore sticking point for many in the trans community is that there are many of us who are deeply invested in film, working both in front of and behind the cameras. So, this list offers a corrective effort, highlighting some of the people and films that have contributed to a fuller understanding of what it means to be trans through the medium of cinema.
A is for Angelica Ross
Best known now for her star-making role as Candy Ferocity on the hit series Pose, Ross is a familiar face to those hungry for authentic trans representation. One of her earliest acting forays was in the Jen Richards' ground-breaking web series Her Story in 2016. She reunited with Richards in Chase Joynt's film project Framing Agnes, a real who's who of trans talent in contemporary American cinema.
B is for Behind Every Good Man
A remarkable short film from 1966 about the life of a Black trans woman living in LA. The very existence of this human portrait is an important reminder that decent representation is really not a huge ask from the trans community, but indeed the bare minimum that should be expected of filmmakers who wish to tackle the subject matter.
C is for Call Her Ganda
There's no getting around the fact that PJ Raval's documentary about the murder of Jennifer Laude, a 26 year old Filipina trans woman, is a difficult watch, especially since it includes real crime scene photos. It is, however, a vital document on the ongoing relationship between transmisogyny and imperialism, and a welcome tool in the fight against it.
D is for Daniela Vega
Although opinion is divided on Sebastián Lielo's A Fantastic Woman among trans cinephiles, a point of agreement is that Vega's lead performance as Marina is absolutely fantastic. In this melancholy film, the actor skilfully navigates the emotional currents as a trans woman in the fallout of her cis partner's death.
E is for Esther Rosenfield
One of the most vital voices of Film Twitter™, Rosenfield has been producing excellent written film criticism that brims with intelligence and rigour. Her essays on Medium and Patreon are an impressive display of the breadth of knowledge trans voices offer to the film discourse; one of her best articles explores the relationship between End of Evangelion and the work of Stan Brakhage.
F is for Sam Feder
Feder has spent the last 15 years chronicling transgender history and politics through documentary. His latest film Disclosure will be examining the impact of representations of trans people in Hollywood on those it most keenly affects.
G is for Gendernauts: A Journey Through Shifting Identities
Monika Treut's 1999 documentary gives trans men and women in the Bay area the opportunity to speak on their experiences of coming out as trans, and the subsequent weight of societal expectations. Like the other documentaries in this list, it's an important act of chronicling, and features interviews with influential trans academics like Sandy Stone and Susan Stryker.
H is for Silas Howard
Howard is perhaps best known as the first trans director to work on Jill Solloway's Transparent. However, such a narrow view does a massive disservice to his career up until that point. Most notably he directed and starred in By Hook or by Crook, with Harry Dodge; a story following two petty criminals on the road that is hands down one of the best films about trans men you'll ever see.
I is for Isabel Sandoval
In the last ten years, Sandoval has been going around the festival circuit as a director. Her latest film Lingua Franca, in which she stars as a trans woman living in fear of ICE raids, should be sought out by anyone looking for the latest and greatest in contemporary trans cinema.
J is for Jamie DiNicola
Jamie DiNicola is one of those hugely talented film-makers whose name should be far better known than it is currently. His 2017 short Spot, which features an entirely trans cast, is a nine minute wonder. Using the frame narrative of young people smoking on a doorstep, the film is a series of vignettes about living as a trans person in 21st century America. Keep a sharp eye out for an early performance from the angel of Pose, Indya Moore.
K is for Kitana Kiki Rodriguez
It's been five years since Sean Baker's Tangerine premiered at Sundance. The film, which follows two trans sex workers on a Christmas odyssey in Hollywood, has endured as a cult favourite thanks to Rodriguez and Mya Taylor's central performances as the duo Sin-Dee and Alexandra. While Taylor continues to pursue a career in acting, Rodriguez has fallen off the radar since 2015. Yet, her contribution as the scene demolishing Sin-Dee can and will never be forgotten.
L is for Trace Lysette
Lysette first came to many people's attention for her role in Transparent, and for exposing the abuses perpetrated by the show's lead, Jeffrey Tambor. Although most of her work thus far has been in television, last year she had a role in the acclaimed Hustlers, iconically shot in the same strip club she previously used to work for.
M is for Miss Major Griffin Gracy
Miss Major is a venerated trans elder whose tireless activism and wonderful personality has been immortalised in documentary. The 2015 film Major! is an invaluable document of transgender politics but, also, of a truly beautiful human being.
N is for Nyala Moon
A young film-maker and writer, Nyala Moon is a name to watch out for. Her work has probed the experiences of rape and sexual assault with great bravery and candour. The ability to delve into such topics with such care manifests most evidently in such films as Bed (content warning: rape) in which a woman wakes up to her partner raping her. Meanwhile, For the Love of Jacob is a moving short about the struggle of coming at as trans.
Oliver Whitney
Whitney is a talented film critic who has written for, among others, Vanity Fair, GQ and A.V Club. In December 2018, Whitney wrote a column for The Hollywood Reporter which was instrumental in giving a voice to the dismay many other trans critics felt at the industry garlanding of Lukas Dhont's frankly execrable coming-of-age film Girl. Absolutely not, sir.
P is for Marsha P. Johnson
A venerable icon for trans people, activist drag queen Marsha P Johnson's life has been the subject of multiple films, for better and for worse. For instance, she was a character in Roland Emmerich's unfortunately white-washed dramatization, Stonewall, in which a cis white boy from a middle-class background is shown to have thrown the first brick. A truer, more heartfelt portrayal is the 2016 short Happy Birthday Marsha!, where Johnson is played by the phenomenal and underserved Mya Taylor.
Q is for The Queen
Made in 1968, The Queen was one of the first documentaries about the ballroom culture in New York. Queens talk about their lives, including access to surgery, and the threat of the draft (this was made during the Vietnam war). Although it may appear dated now, The Queen is a more down-to-earth example of trans representation when compared with other exploitation films of the time.
R is for Jen Richards
Jen Richards is an actor and writer. Her 2016 web series Her Story is a rare example of trans film-making that lets trans women see themselves as worthy of love, whether they are straight or gay. The series charts the love lives of two trans women, one played by Richards herself, and the other played by Angelica Ross.
S is for Sylvia Rivera
When Sylvia Rivera fought her way to the front of a gay pride rally in 1973 to call out a movement that had been leaving her and other trans people behind, she gave the world a vision of what trans politics could be. One that told harsh truths and didn't kowtow to respectability, one that fought for those who were most vulnerable to the violence of the cishet patriarchy. The blurry black-and-white footage of her speech on that day is undoubtedly a treasured representation of transgender rage on screen.
T is for Tourmaline
Also known as Reina Gossett, Tourmaline is an activist and historian, best known for her work with the Sylvia Rivera Law Project, Critical Resistance and Queers for Economic Justice. She can be spotted in numerous films about trans activism, including Criminal Queers and Major!. Alongside Sasha Wortzel, she directed Happy Birthday Marsha! as well as the mesmerising Atlantic is a Sea of Bones, a short about black trans history.
U is for You Don't Know Dick
One of the unfortunate consequences of transmisogyny is that trans men are often made invisible in conversations around trans people. The documentary You Don't Know Dick is a corrective to that erasure, affording older trans men to talk about their experiences.
V is for Vika Kirchenbauer
Artist and film-maker Vika Kirchenbauer has been producing some of the most striking work that explores the collective experiences of trans people in the contemporary era. Her 2012 short, Like Rats Leaving a Sinking Ship, is to-date one of the most searing and psychologically devastating indictments of the medical establishment's relationship with trans individuals.
W is for Willow Maclay
Together with fellow critic Caden Mark Gardener, Willow Maclay has been producing some of the most intelligent writing on how transgender people experience cinema online. Their long-term project, Body Talk: Conversations on Transgender Cinema, transcribes conversation between the two critics, and is a veritable treasure trove of insights into transness and cinema.
X is for Xtravaganza
Paris Is Burning is often considered a landmark film regarding trans visibility. However, director Jennie Livingstone's documentary legacy is one of exploiting the black and latinx queens who appeared in it. One of the small graces of that film is that it has ensured Angie and Venus Xtravaganza will never be forgotten; two trans women who, in a just world, would still be with us today.
Y is for Yance Ford
One of the best and most prominent trans film-makers of the moment, Yance Ford is always an exciting voice to listen out for. His 2017 film, Strong Island, is a deeply personal exploration of the injustices surrounding his brother's death. Ford's work has even been recognised by the Academy, having been nominated for Best documentary in 2018.
Z is for Zorian Clayton
Since joining the British Film Institute in 2016 as a programmer, Zorian Clayton has been instrumental in helping trans films around the world reach a UK audience. Not only does he ensure people have the opportunity to see these films, but he also facilitates critical engagement of them through events and discussion at the BFI.