Illustration Lukas Palumbo
Harris Reed's graduate collection is an ode to opulence
The final year CSM student tells us about creating their fantastical final collection entirely under lockdown.
Illustration Lukas Palumbo
How many people can say their student days were spent interning at Gucci, designing some of Harry Styles best-loved looks and creating an iconic hat worn by Solange (now wearable by you via this viral Instagram filter)? British-American Harris Reed, for one. In the five years they've spent studying at Central Saint Martins, they've already garnered a reputation as one of the most exciting new faces in fashion, propelling industry conversations around genderfluid expression through their work.

Describing their style as 'Romanticism gone non-binary', Harris' BA collection was created, modelled and shot entirely in isolation, with the support of other students and a virtual makeup tutorial from Terry Barber of MAC Cosmetics. Entitled Thriving in our Outrage, the six-look edit sees sharp tailoring and flares set off by swathes of elegant bridal lace, crinoline cages and pompish layers of tulle juxtaposed by the 70s-glam of towering platform boots produced in collaboration with ROKER. The whole collection is a melting pot of opulence, theatricality and fluidity.
We spoke to Harris about what it was like creating their gigantic 'iconic hats' from home and the difficulties of performing opulence without the spectacle of a fashion show.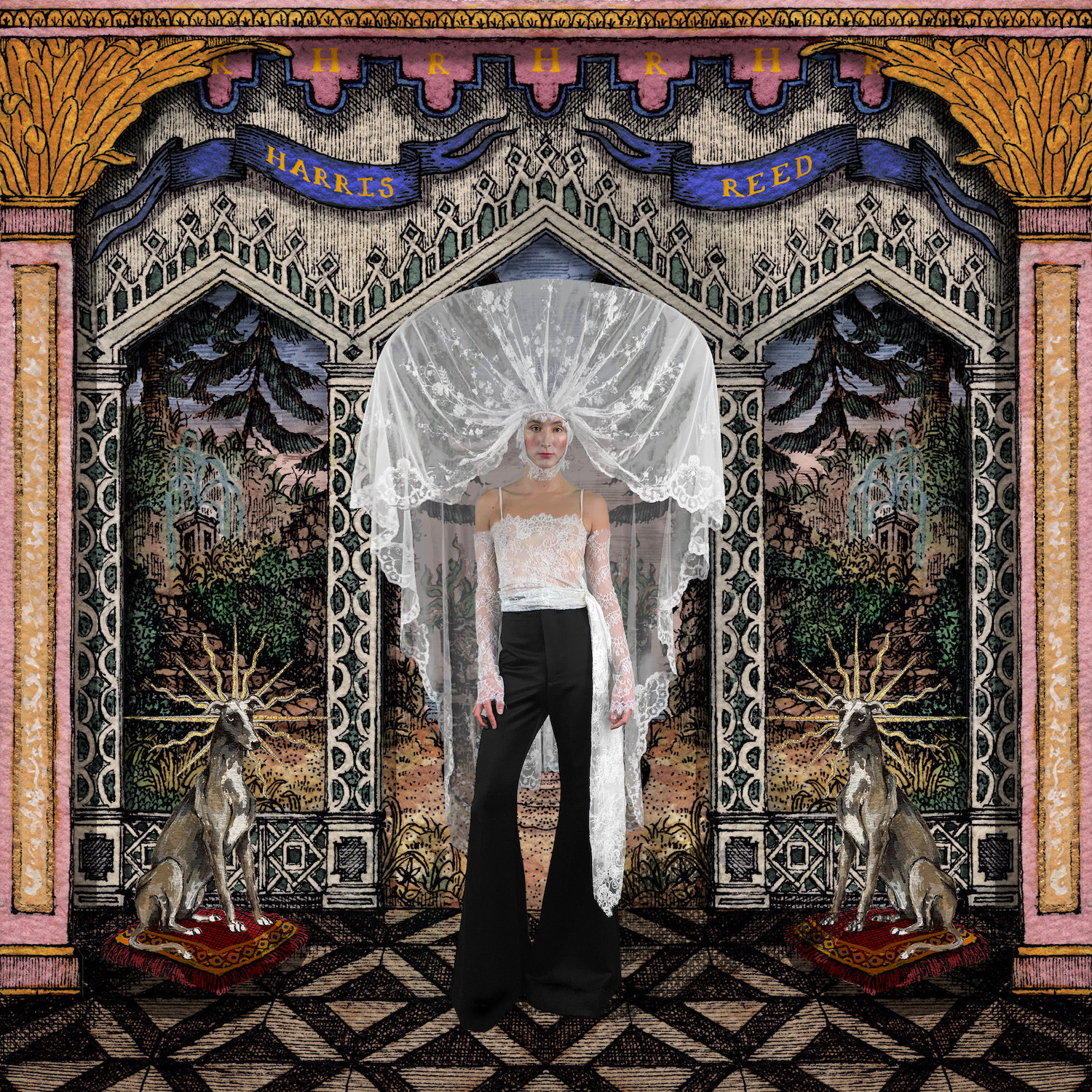 What was the main inspiration for the collection?
I wanted my graduate collection to stand for something and to be the most powerful work I've done so far. I found this article on Henry Paget, 5th Marquess of Anglesey, and he was just the embodiment of eccentric aristocracy -- giving no fucks what people think and being very out, queer and fabulous. He spent the equivalent of two million pounds on fancy dress alone. I was inspired by that level of defiant self-expression and playing with this idea of performance, opulence and not caring what people think about what we put on our backs.
What was it like to construct your iconic hats and other huge pieces completely from home?
It was a big challenge, but it was a really rewarding experience. I had all these giant steel hats welded by jewellery students at CSM in the studio so when we went into lockdown I couldn't get them out of the building! Then at home, I couldn't get buckram cotton, the haberdashery was closed and anything online was delayed. I had to use what I had and remnants from garments I did for Solange, Harry Styles and Ezra Miller. I was using anything; dying, colouring and embroidering it.
Were there any other limitations you found not having access to the school studio?
CSM has incredible resources... industrial heat presses, irons and sewing machines, amazing mannequins, and a crazy amount of table and ceiling space, so I can have pieces that hit almost a storey high when in platforms. I like to dream bigger than life so for me space was the limitation. The giant cheetah print hat took up my entire spare room so I was on the floor underneath it glueing, pinning and hand-sewing the brim. Once it was done we would have to move into the hallway and climb over things. We were also pressing fabrics using irons and hand-held steamers that need refilling every 15 minutes. Other than that I missed the camaraderie of CSM.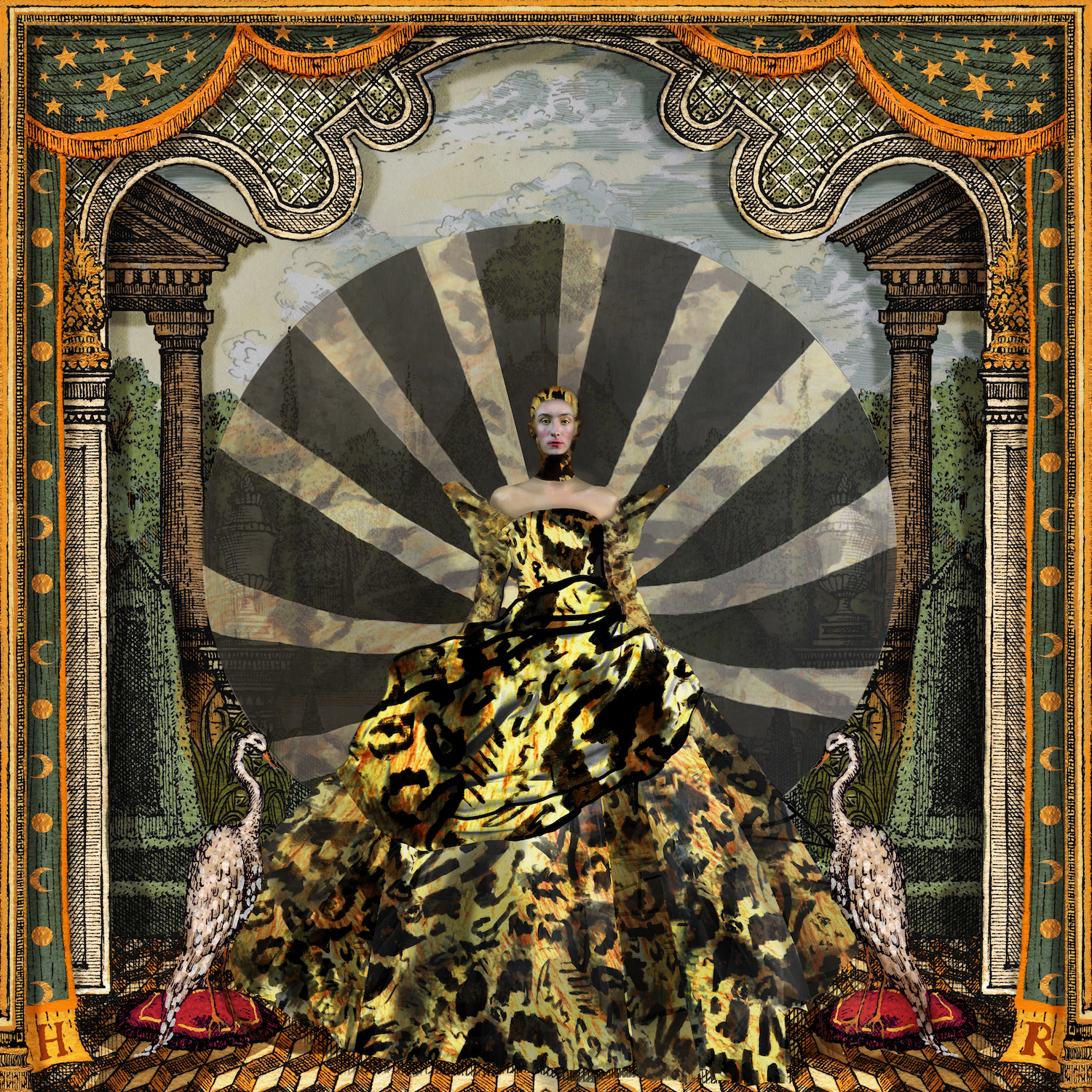 Bella Thomas, a second-year at CSM, helped out with the collection by quarantining with you. How was the process of living and working together?
I mean, I thought it was fantastic, but she might say I'm a neurotic perfectionist! I think we pulled through it together. Some days I was crying and she would motivate me, other days… actually she never really cried, I was the one crying all the time. I could not have done this collection without her. We had only met about two months before and now we were sleeping in the same bed together with one bathroom. It taught me so much about working with another person that closely.
It must have been a challenge presenting such a theatrical collection without the spectacle of a show.
I design for a catwalk moment -- huge silhouettes and hats, and crazy proportions -- so before we even started sewing, we discussed how we were going to give this collection to the world in the space and manner it deserves. Henry Paget turned his family chapel into a theatre and put on these amazing performances and so I reached out to my friend Lukas Palumbo and we went back and forth for weeks designing six lavish theatres. Then over countless nights on the phone, my friend Lauren Deane Hunter animated me into that space. It took on its own form and, honestly, the result we created has made me happier than if we had the CSM show. I worked harder to get my work out in a new way. I hope I've tapped into a new way of showcasing work.
Your collections intend to create a dialogue. What conversation did you want to spark here?
This collection was about escapism. Everyone is inside right now. Yes, the weather is nicer, we can go on more walks and some people might even be going back to work, but we're all looking for an escape. My collections are always about living your most fluid life which just means everyday is a performance whether you're going to a grocery store or a wedding. A lot of people have fallen into the trap of following trends but you should wear what makes you feel fabulous and indestructible. This collection specifically is about utter self-expression and an escape into another, more fluid and opulent world.
Now that you've done your final collection, what are your next plans?
My parents would also love to know! If you had asked me three months ago, I would have said fashion shows, stockists and really pushing this brand. Now, I don't think that a clothing brand in 2020 has to make clothing. I want to continue working with like minded people with the same goals, whether that's Harry Styles and his message of treating people with kindness, or those fighting for women's rights, black rights, or gay rights. I just want to keep doing what I love, continue spreading my message and hopefully make peoples' days brighter.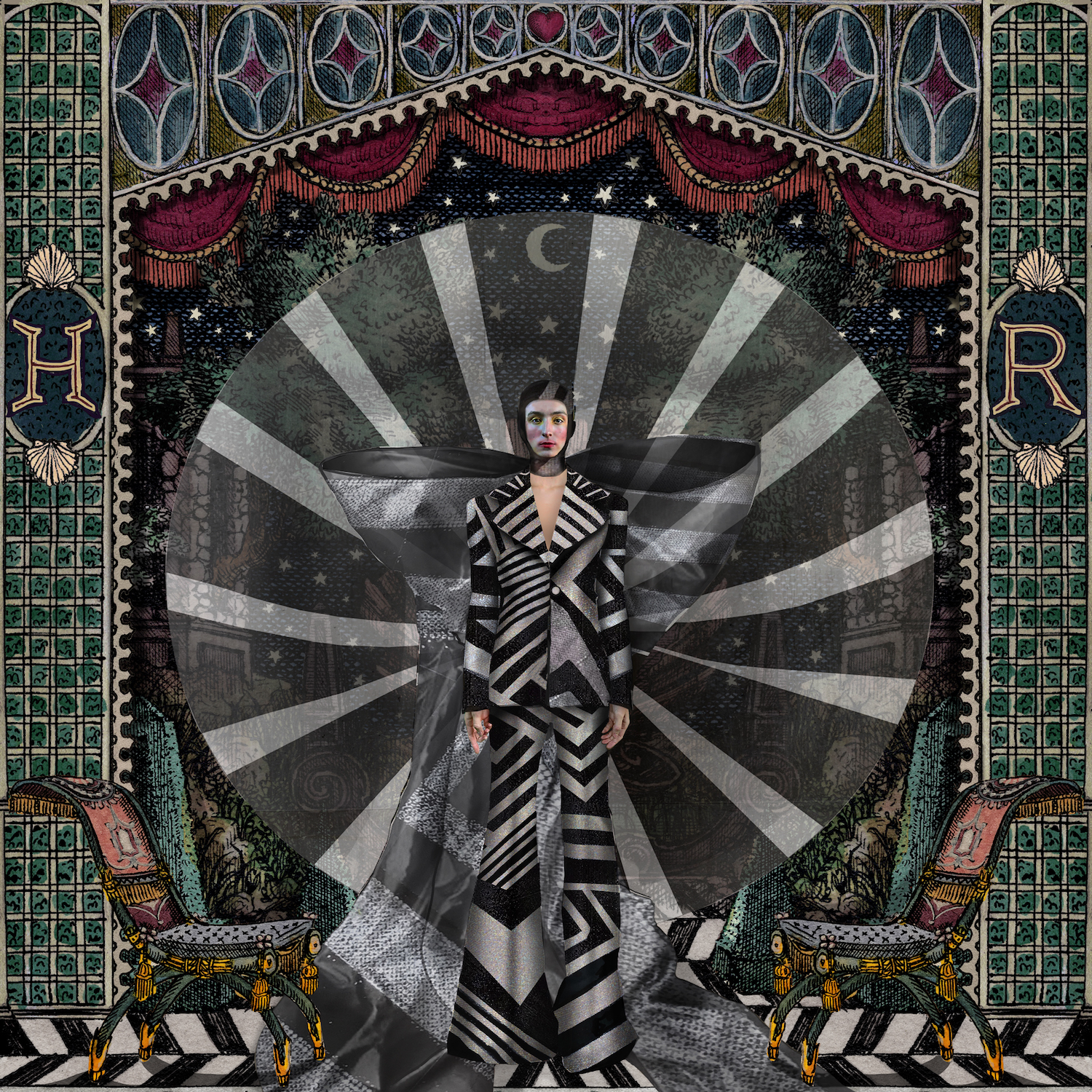 Credits
---
Illustration Lukas Palumbo