Nat and Alex Wolff are just as anxious as you are right now
Following the release of their confessional new single "Glue", the infuriatingly talented brothers discuss what they've learnt from past relationships and why the very notion of celebrity is irrelevant in 2020.
When I call Nat and Alex Wolff, it's 9am in LA and I'm cruelly dragging them out of their usual quarantine routine. They've been isolating together the whole time, along with their girlfriends and a close friend, but they're missing their parents back home in New York. The brothers are very close to their mother, the actor, writer, producer and director Polly Draper; and to their acclaimed jazz musician father Michael Wolff -- both of whom they have collaborated with throughout their careers, first on Nickelodeon's The Naked Brothers Band when they were just 11 and 9 respectively, and later on for the emotional family comedy Stella's Last Weekend in 2018.
Outside of family projects, the siblings -- now 25 and 22 -- have both acted their way firmly onto the radars of people worldwide: older brother Nat via movies like Palo Alto, The Fault In Our Stars and Paper Towns; Alex for his central role in the nightmare that was Hereditary and his coming-of-age directorial debut The Cat and the Moon in 2019, which he also wrote and starred in. The pandemic has held up their latest projects, like Nat's appearance alongside Maya Hawke, Alexa Demie and Jason Schwartzman in Gia Coppola's complicated love story, Mainstream; and Alex will, at some point, star opposite Nicholas Cage in Pig, the story of an unlikely friendship between a truffle hunter (Mr Cage) and his go-to buyer after his pig gets kidnapped. For real.
On top of all that, the prodigious duo have also been releasing music as Nat & Alex Wolff since 2014, with a sound that is ever-evolving: from folk to melancholic synth-pop and on to a more grown-up indie sound reminiscent of The National. The Ohio band (who just worked on Taylor Swift's Folklore), it transpires, are a favourite of theirs. You can hear this in their impressive new single "Glue", a confessional about relationship anxieties disguised as an upbeat and incredibly catchy number that's crying out to be performed live. At some point. When the world stops ending.
Refreshingly, Nat and Alex lack the media-trained polish that all too many grown-up child actors have adopted through years of doing press. Talking over Zoom from a bedroom in their LA home, they're totally natural, very funny and they still 'jinx' each other when they say the same thing -- which happens multiple times during the course of our conversation.
Hi you two! What's "Glue" all about then?
Alex: I wrote it a year and a half ago, about a time when me and my ex-girlfriend were travelling around New York and having a lot of fun, but I was surrounded by a lot of different people and feeling really anxious. That anxiety is where the song came from.
Tell me about the "spiders locked in your brain" lyric...
Nat: That's my favourite line. I love that line.
Alex: I have a condition where there are spiders that live in my brain.
Nat: He had a couple of spiders -- a man and a woman spider. One crawled in the left ear and one crawled in the right ear and they met in the middle of his brain.
Alex: And they were going to parties together and the male spider was having some insecurities and then I just wrote the song. They control my brain still.
Nat: But they had, like, a thousand eggs and they all crawled around his brain and you'd think it was a negative thing, but actually, I think it's helped you with a lot of stuff?
Alex: Literally except for the physical problems.
[Alex waves his left arm about dramatically]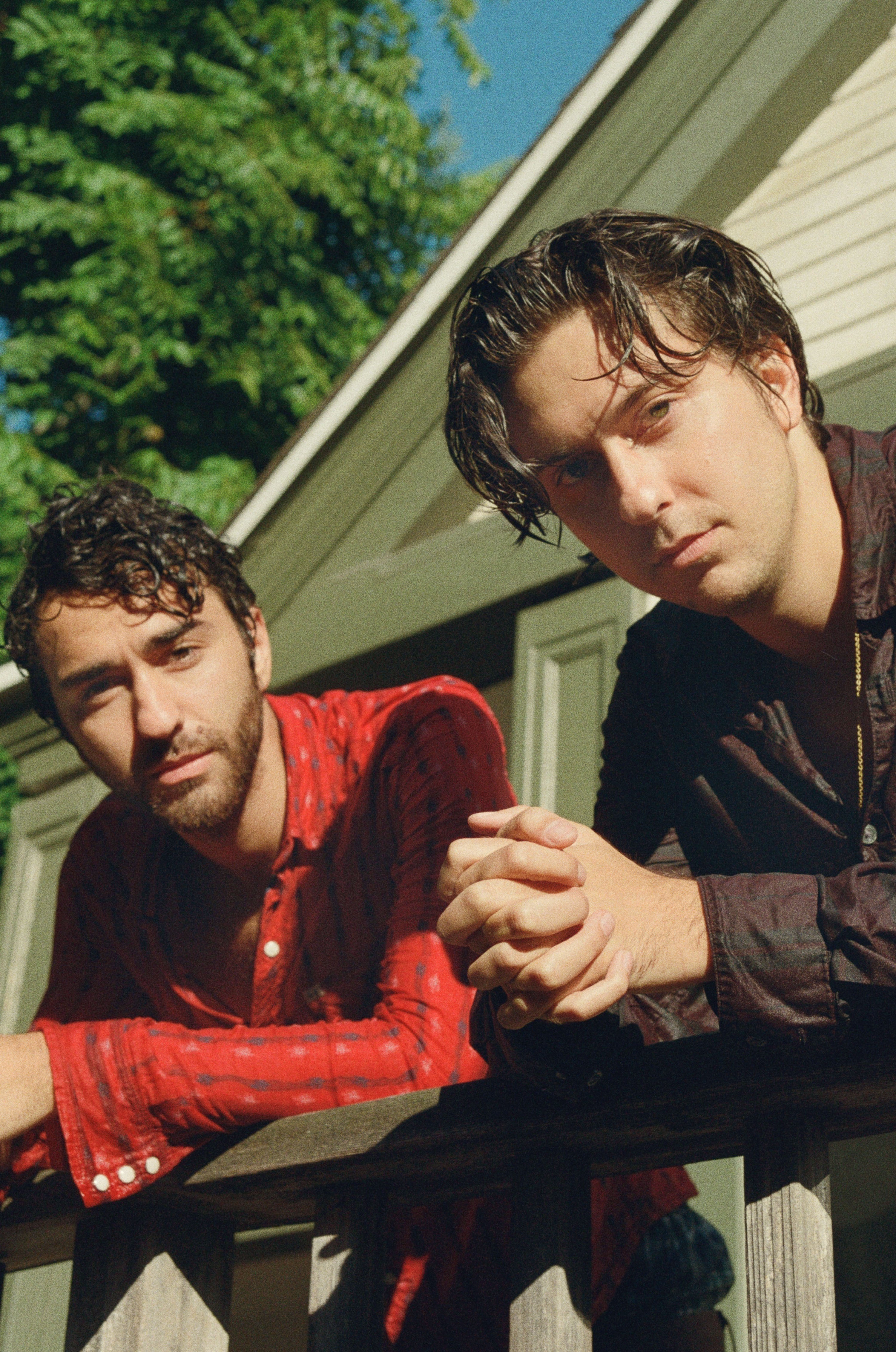 And is anxiety something you two struggle with, generally?
Nat: Definitely. It's been like, our whole lives.
Alex: 100%. I mean, I think everyone struggles with it.
Nat: So in this song it looks like a lot of jealousy or possessiveness in the relationship. And it gets in there and it takes a lot of energy to get it out, just to exist peacefully.
Alex: And it's sort of about how, you know, you can lick your lips and give yourself the immediate relief of talking about it, about how you feel. But sometimes it feels more destructive to do that. So it's like, should I just burn and let it be horrible and let myself be eaten alive by those spiders? Or should I let it out and feel better but maybe not be better?
Nat: Well the thing is, sometimes if you let the spider out, you get it out of your brain, but you actually create some problem with another person. Whereas maybe if you could somehow manage it by yourself, or go do like 150 push-ups or something, then you're not involving somebody else in your anxiety.
So if the song is ultimately about relationship anxieties, I wonder what your past relationships have taught you?
Alex: I think this one, in particular, taught me how to deal with anxiety when it's that all-consuming. And how to do that in a relationship that was very social -- more than anything I'd ever had. It was very different from quarantine. It was in a time where there was lots of partying and friends and new people. And I think you have to find a way to ground your own ego and yourself without talking about it or putting it on the other person and making them feel really bad. It took a lot of learning how to just go into situations like that and not let it completely eat you alive.
Nat: It's also about finding that balance -- and I know that Alex and I relate a lot here -- of not abandoning yourself and your feelings, not dissociating and pushing them down so they come out in more destructive ways. Being honest about them but not necessarily having to involve the rest of the world.
[Alex sneezes a bunch of times]
Nat: Shut the fuck up! Shut the fuck up, Alex!
[Alex laughs]
Bless you. So when do you both feel most confident?
Alex: When we're playing music or doing what we love.
Nat: Yeah, I think that creative passion is the antidote to anxiety.
And what does making music give you that acting doesn't?
Alex: Well, a chance to be with Nat and work together. I think in some ways acting is a form of self-expression, but music is literally all you; you're controlling all aspects of it. It's completely about being true to yourself.
Nat: Acting at its best is self-expression but you're also interpreting someone else's script. When we're doing music together though, I always have the best collaborator, I always have the person I want to work with, who I really respect and also feel comfortable with and don't even have to be polite to.
Alex: I wish he would!
Nat: Yeah, not gonna happen. Not if you're gonna sneeze in the middle of shit…
Yeah, that was rude.
Alex: I held it back as well, for like a full minute!
I think I witnessed that. So how suited to self-isolating do you think you both are?
Nat: I'm a bit of a homebody, so in a way, I feel like I was social-distancing before it was cool. We've actually been quarantining with our girlfriends and one of our friends, but now both of our girlfriends are gone and we're tired of our friend. And Alex is gonna go soon too. So quarantine is about to get a bit more lonely. I don't do that well when it's just me, unless I'm working on a movie or something. Besides that I need people, so THANK YOU FOR TALKING TO US. WE NEED HUMAN CONNECTION.
Alex: I think it all started with our mother…
Nat: Is that a therapy joke?
Alex: Yeah.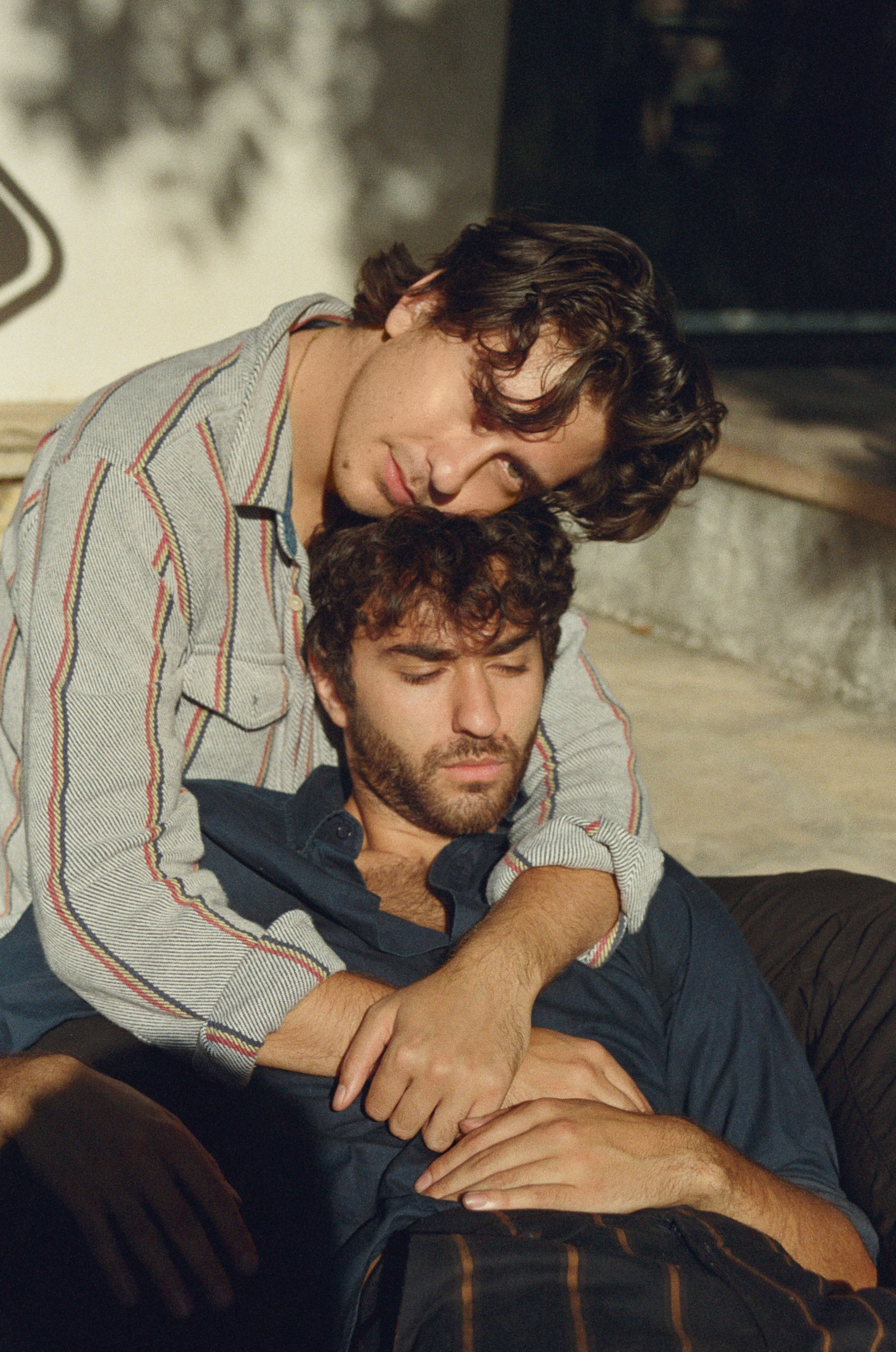 Talking of which, therapy got a lot weirder during the pandemic, right?
Nat: Yeah, I actually do my therapy on the phone. I don't like doing it on Zoom, it's too weird. I was doing it on FaceTime before and I was like… are we both just looking at ourselves?
Alex: I do it on FaceTime and I turn the camera upside down so it looks like it's a shark mouth, and I'm like, 'I'm having a really hard time'. And he's like "yeah, it looks like it." And then I draw a little eye on my chin.
I bet your therapist loves that.
Nat: Oh, my therapist literally just texted me!
Alex: Your therapist also just texted me: "Watch out for Nat today".
Have you found that lockdown has given you some kind of break from 'celebrity'?
Alex: I don't think people really care about celebrity right now. It's just irrelevant and I don't think people really give a shit about fame. With everything that's going on in the world, things that have a greater importance are coming to the forefront of everybody's mind.
It's true. What about work? Have you had acting jobs impacted by the pandemic?
Alex: I'm supposed to go film a movie in a couple weeks but it just got pushed again. It's rough. The entertainment industry seems like it's the last in line in terms of figuring out how to deal with this virus.
Nat: You don't want to make a movie and have people get COVID and die for it, basically. I had something I was supposed to go do that just got pushed back too, but obviously it's worth being safe.
I wonder how you predict things will change for the industry, going forward?
Alex: I mean, the cool thing is that this movie I'm doing was supposed to be a really big movie, but now it's gonna have a smaller crew. With any art, usually it's a little easier when it's a smaller group and there are less cooks in the kitchen. So hopefully that's the case with music and movies and everything; that it's just pared back a little bit. It's like watching clips from the NBA games -- without the fans it feels less exciting, but they seem to be scoring more and it seems more fun and free.
Alex -- apparently you're best friends with Nicholas Cage now. What's the last text exchange you guys had?
Alex: Let me look… ok, so he told me about how he saw a photo of Prince that reminded him of me, and so he bought it and he's gonna send it to me. We both love Prince. He always calls him 'The Artist Formerly Known As Prince' -- always. Nic is a big fan of music too. He's a big supporter of our music and of our dad's music. He listens to all of it.
Nat: Has he heard "Glue"?
Alex: No, I still need to send it to him. Actually, I'm gonna do it right now.
Wait, before you do that. I know you're both big fans of The Beatles… which Beatle do you most relate to and why?
Nat: Alex gives me shit for bringing this up all the time but for my whole life, my dream was to meet Paul McCartney. I used to write him letters and leave them at restaurants that I'd heard that he went to, and I'd always dress as him every year for Halloween. Then, last August, I was at a restaurant and I was seated next to a table that he was sat down at. So I went up to him and I burst into tears. He was so sweet! So good-hearted and excited to hear our music and he couldn't have been cooler. So I talked to him for a bit and then I called Alex and I told him and Alex punched a hole in the wall.
Alex: I didn't punch a hole in the wall, I just punched the wall.
You tried to punch a hole in the wall.
Alex: It was the best moment of Nat's life and the worst moment of mine.