Photography Marili Andre.
Marili Andre's whimsical photos capture the raw spirit of youth
The photographer went back to her childhood home in Greece, her DIY roots and rediscovered the pure, unadulterated fun of fashion.
Photography Marili Andre.
"Basically, it's being limitless and 15 years old, again," Marili Andre tells me, during a late-night Zoom call. The fashion photographer is speaking about her newest body of work, one that she's been building slowly, and rather subconsciously, while quarantining at her childhood home in Heraklion, Greece. Andre's been in the business of fashion for over a decade, from her early days doing test shoots for IMG to snapping top models in blue-chip periodicals. But in the last few months, moving far from the industry's buzz and back into the environs of her youth, the photographer has been rediscovering the pure, unadulterated fun of fashion.
Earlier this spring, in the midst of pandemic-induced stay at home orders, Andre returned to Crete -- an island in her native Greece, in which, Andre describes, "there is literally nothing to do when it comes to fashion and art." Driven by her intrinsic and inexorable urge to create, no matter the circumstance, she built a studio in her parents' house, sorted through her mother's massive wardrobe and set out to find new subjects. "This project comes purely from me being a photographer at heart. I had to find a way to keep doing what I love," she says, before elaborating in apt metaphor. "It's like when a tree wants to grow, but the pavement stops it. The tree just finds a way through the cracks. It's like that."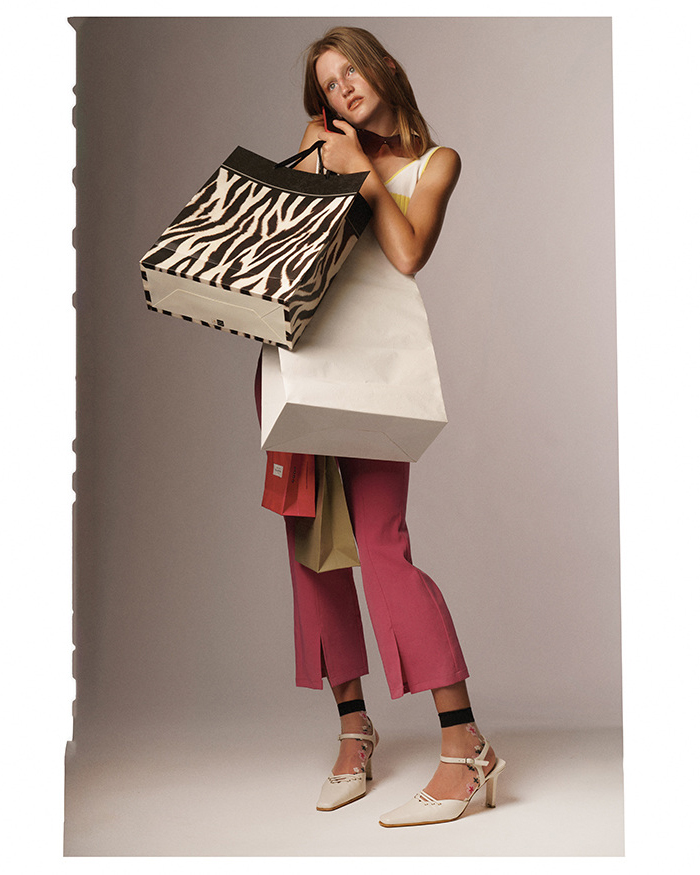 The series -- along with Andre's interest in photography -- is rooted in her youth. "[Being back in Crete,] I literally had to play the game again, the same way I did when I was a kid," she says. "When I was 15, I used to take photographs of my classmates, turning them into someone else with really bad Photoshop skills. I was so driven, nothing could stop me. All of that came back. And it had to come back because I had no choice. If I didn't become that again, I wouldn't be able to make things again."
Andre began scouting nonstop, frequenting one particular café in Heraklion's city square -- "old people go there to have coffee and people watch" -- the aisles of supermarkets and even TikTok -- "which sounds very creepy" -- to find fresh new faces to shoot. Most of Andre's street cast models are teenagers, around the same age as Marili and her classmates when she began taking photographs. And upon speaking about how Greece's beauty standards differ from those, say, in London, where she otherwise lives and works, Andre begins to develop another hypothesis about the youthfulness of her subjects: "I think I'm shooting young girls because, eventually, they will grow up and succumb to these beauty standards: they'll have the nails, they'll have the lashes, they'll have the fake blonde hair. This is the time right before they'll become all that."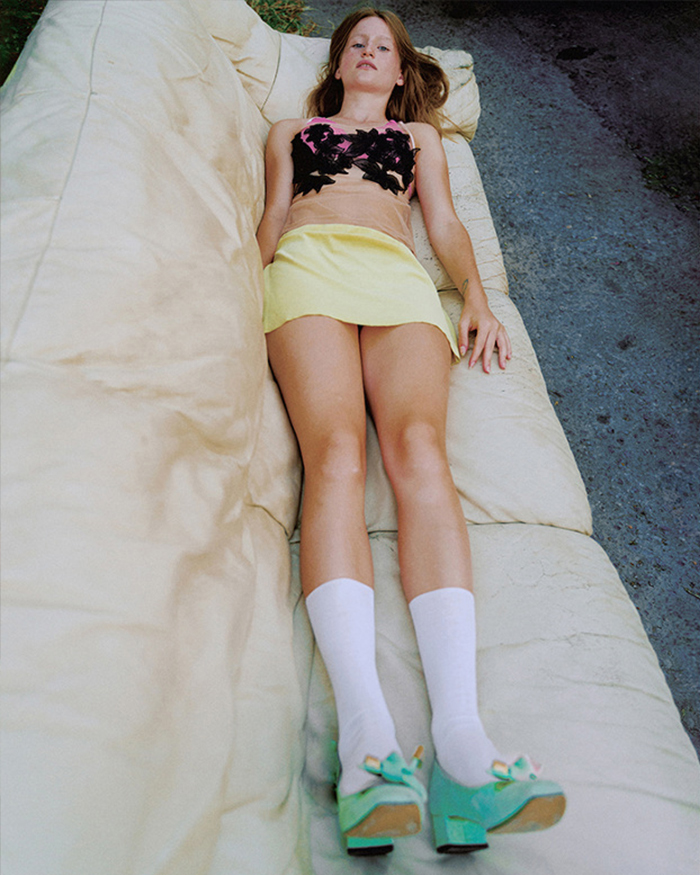 In method, as well as subject matter, Andre's latest photographs capture a certain youthful abandon, the un-self-consciousness possessed by the young at heart. In addition to building her own studio, doing her own casting and taking the final snaps, Andre also acts as stylist and make-up artist for the project -- something she's done in the past, but has often had to abandon to pursue larger, corporate campaigns and editorial work. "[These photographs] embody the excitement a photographer can have when they shoot alone," says Andre, who is summoning both the photographs she took as a teenager and the one on one model tests she loved to shoot for various agencies. "It's like improvising with a guitar. I think you can see that. There's so much fun with the colours. There's no second thought, no set design. It's all very on the spot."
Indeed, Andre's photographs capture the exuberance and attitude of impromptu photoshoots held at adolescent slumber parties, mixing fanciful costume bin clothing with your mother's eveningwear. It's like if Richard Avedon and Twiggy teamed up to shoot a Euro-chic dELiA*s catalogue -- and I say that in the best, most aspirational way. Comparisons aside, the inspirations are all there. At the beginning of quarantine, when Vogue Italia made its entire archive available online, free of charge, Andre spent months poring over each and every image -- "I didn't want to miss a single one."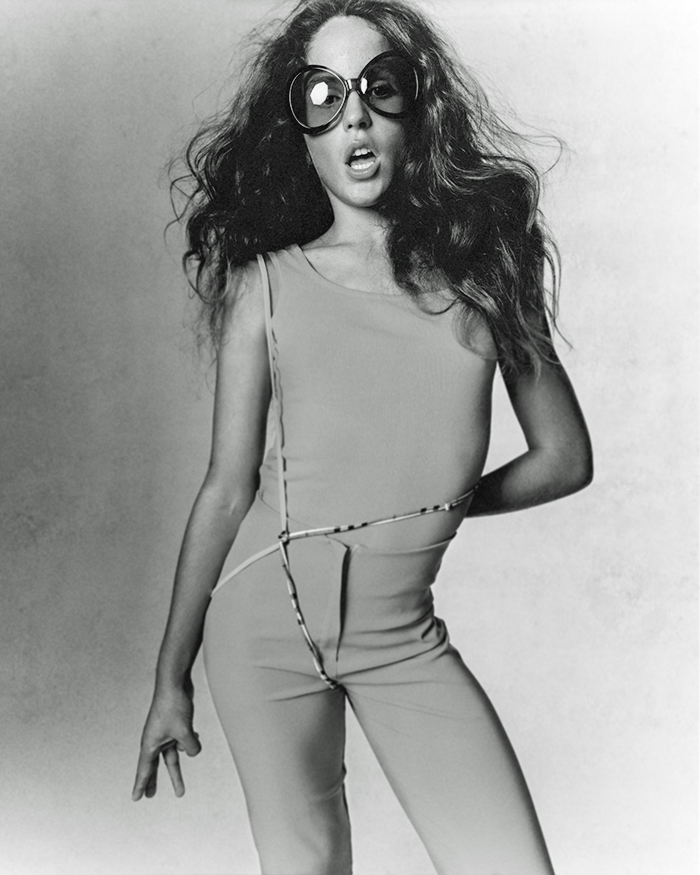 All of the clothing in the shoots are sourced from Andre's mother's wardrobe, most 90s flea market finds, tons of fluorescent bikinis, ruffled silk blouses, colourful leopard-patterned pants. While Andre has come up with new and inventive ways to style her mother's immense closet -- "I'll put bikinis under see-through shirts. She would never do that, my mom" -- she admits that her mother has been an influence on her style. "There's this femininity and glamour to my work, which is definitely influenced by my mom. But there's always a rawness there that makes you feel like this person could be real; they don't look like a fantasy. I think this is because of my self-image. I wasn't one of the pretty girls at school; I was just observing and being the creator. That's the rawness. There's a little bit of me in there."
Away from the fashion industry, Andre is rediscovering what fashion really means to her. "It's funny how different the word 'fashion' is to me now, how different it was to me as a child and how different it was to me when I started freelancing in fashion," she explains. "Right now, I've completely blocked out the idea that fashion exists just to sell clothes. And it has completely become, again, about the pure excitement of putting things together for people to see. I'll shoot the shoes beautifully just because it looks beautiful. It's just a love for fashion that's bleeding into a photograph."