On Punisher, Phoebe Bridgers soundtracks the apocalypse
The LA musician on imposter syndrome, screaming into pillows and her second album.
Phoebe Bridgers has been treadmilling her way through quarantine. As in, she's actually bought a treadmill. She's pacing during our Zoom call in her home in Silver Lake, Los Angeles. "I take a truly sick amount of walks in normal life, so this is helping me," she says of her lockdown investment. "It's terrifying to leave my house -- there are so many people without masks and there are little kids running everywhere."

Last time we interviewed Phoebe was in November 2017 and she had just released her much loved emo-folk debut Stranger In The Alps . Hearing she was in London for a show, we had her walk across a bunch of bridges and rate them. "Oh my god, that was so fun!" she remembers. "That was the best day". A lot's changed for Phoebe in the last three years. She's gone on to join forces with Lucy Dacus and Julien Baker as Boygenius, and collaborate with Conor Oberst on their Better Oblivion Community Center record -- but something that categorically hasn't shifted is just how much she loves her job. "I just get to relax more now," she says. "And I have more confidence. A lot of people are afraid that they'll be changed forever or whatever... and maybe I would change, if I was fucking loaded and surrounded myself with new people."
On the verge of releasing her second album, Punisher, Phoebe is feeling older than her 25 years. "Yeah, I feel 30," she decides. "I learned how to make almond milk. I hang out with a lot of people who're older than me. Every time I'm with a 23-year-old, I'm like, oh my god… Not that I have an old soul or anything, but they have more energy than me and they get TikTok. TikTok is the first thing that I've felt excluded from in my millennial life."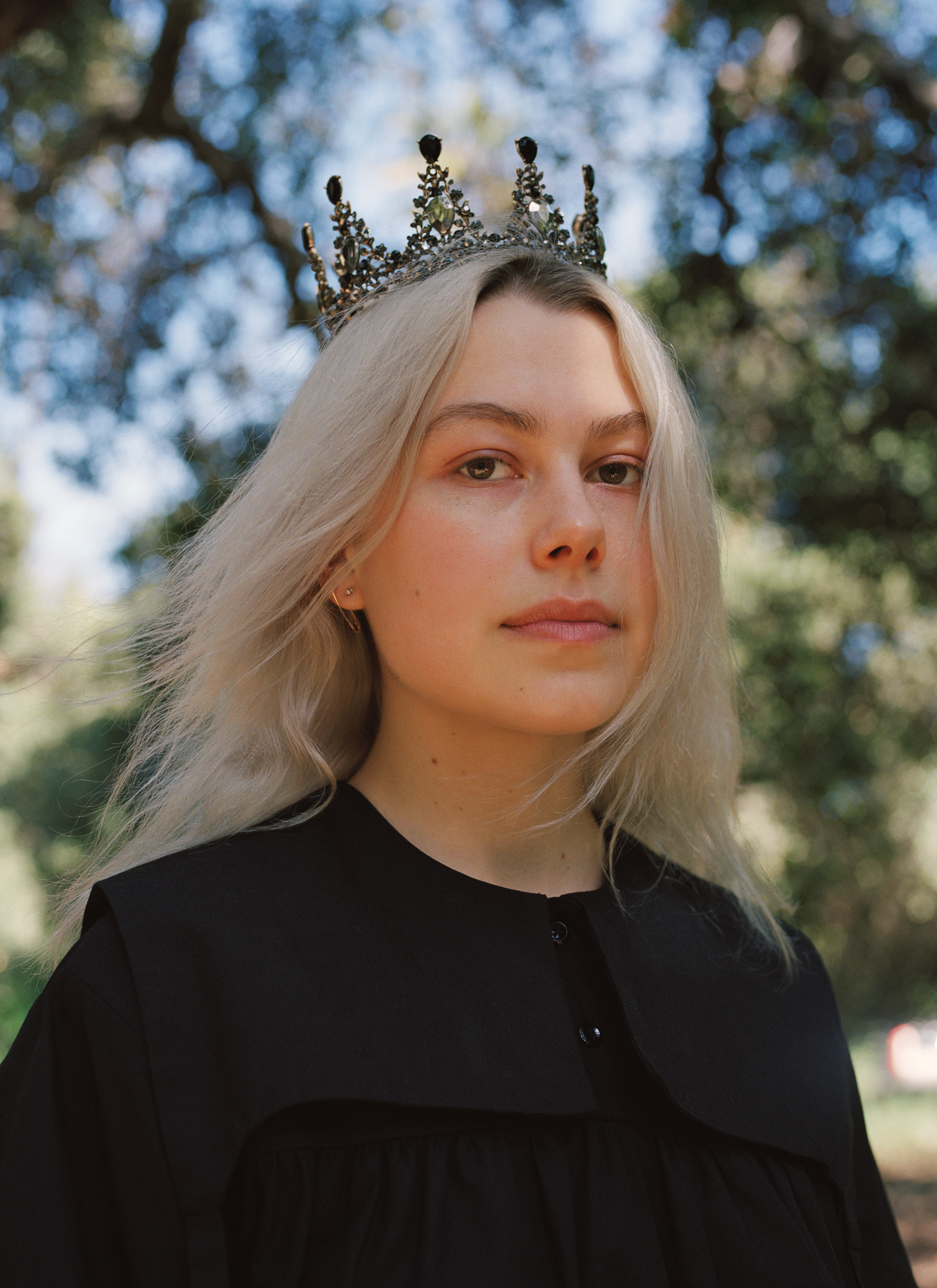 Instead, Twitter (where Phoebe consistently delivers witty one-liners) and the astrology app Co-star are more her scene. This morning's 'day at a glance' message forewarned the artist: Your heart is made only to watch. "I have no idea what that means," she says, deadpan. "Maybe I'm making decisions with my brain right now? I should look into it, because I guess I'm being a little too headstrong and trying to bulldoze through feelings. This time is forcing me to realise that it's actually really important to go back and sort through shit." On her new album Punisher Phoebe does an incredible job of getting started on that front.
Across the record's eleven tracks, she yearns for the feeling of home, exorcises the lingering ghosts of past relationships, crumples under the weight of imposter syndrome, and feels shitty despite getting exactly what she wanted. She takes uncomfortable truths and makes them beautiful and amusing.
"A punisher is someone who doesn't know when to stop talking," she says of the title. "It's like when you're in an Uber and someone's showing you their demos. Sometimes I can put my foot in my mouth too though, so I guess the fear is that when I meet my heroes, I'll be the punisher. It's my nightmare. I'd way rather be judged for being a bitch or shy or any other personality trait than for overstaying my welcome." On the title track, an ode to Phoebe's musical hero, Elliott Smith, she shares this precise concern with the lyrics: 'I wouldn't know where to start/ Wouldn't know when to stop'. "So much of my music has been inspired by him," she says, reluctantly accepting that she'd have been a total punisher if she'd ever actually met him.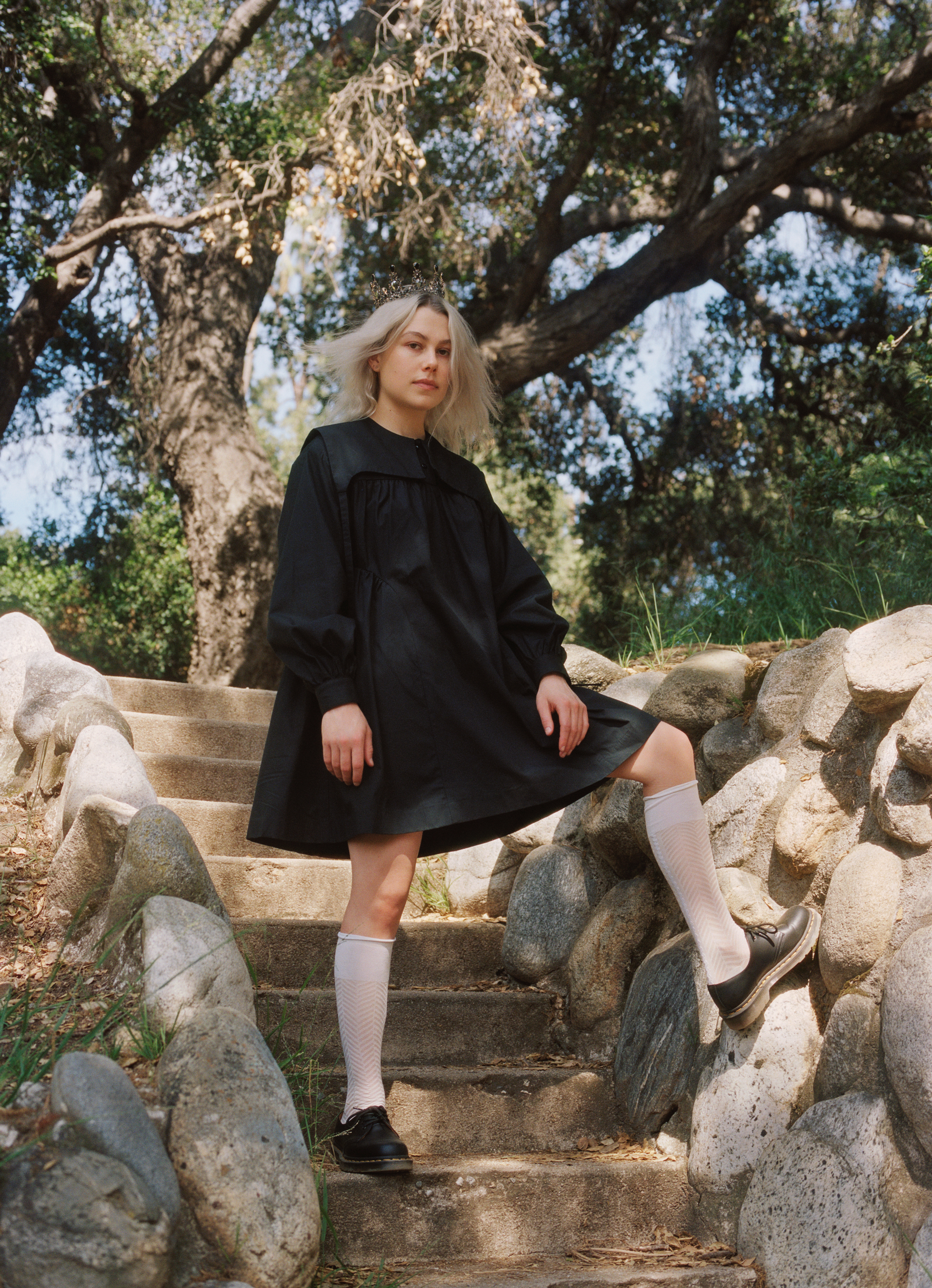 Her debut album was written during a low period, and although Punisher touches on similar themes, there's a lot more going on here, with things even getting upbeat in places. "I have way better of a hold on depression now, which I'm very privileged to say," she continues. "I didn't know if I was gonna be able to do what I love for my job, and now that I can, it's changed my perspective a lot. And you know, I can afford therapy. I feel very lucky and so I'm coming at it from that angle. There's actually a lot of self-help on this record."
It starts with "DVD Menu", a minute-long Lynchian creeper of an instrumental that sets the ominous mood immediately. "I can just picture it on loop forever as if you're scrolling through a menu of a videogame or something," she says. "I also just really wanted to open with an instrumental. I always have. I want to make a whole instrumental album someday." She thinks the record would be a good soundtrack for "something really sparse with like, no words. I'm flattering myself but I would love if it was fucking Portrait of a Lady on Fire or something. That'd be great." And it really would.
With gravelly harmonies from Phoebe's tour manager Jeroen Vrijhoef, the trippy lyrics of "Garden Song" recount a recurring dream where dorm rooms are like hedge mazes, movie screens turn to tidal waves and doctors diagnose resentment via a liver exam. Her little brother Jackson directed its lo-fi music video, in which Phoebe (who hates weed) smoked a bong and allowed him to freak her out. But why? "I'm a masochist," she says. "I have this belief that you should suffer for your art, which I wouldn't tell anyone other than myself. I never smoke weed so I thought that it'd be interesting, and my brother is a stoner, so I knew it'd be easy for him to orchestrate."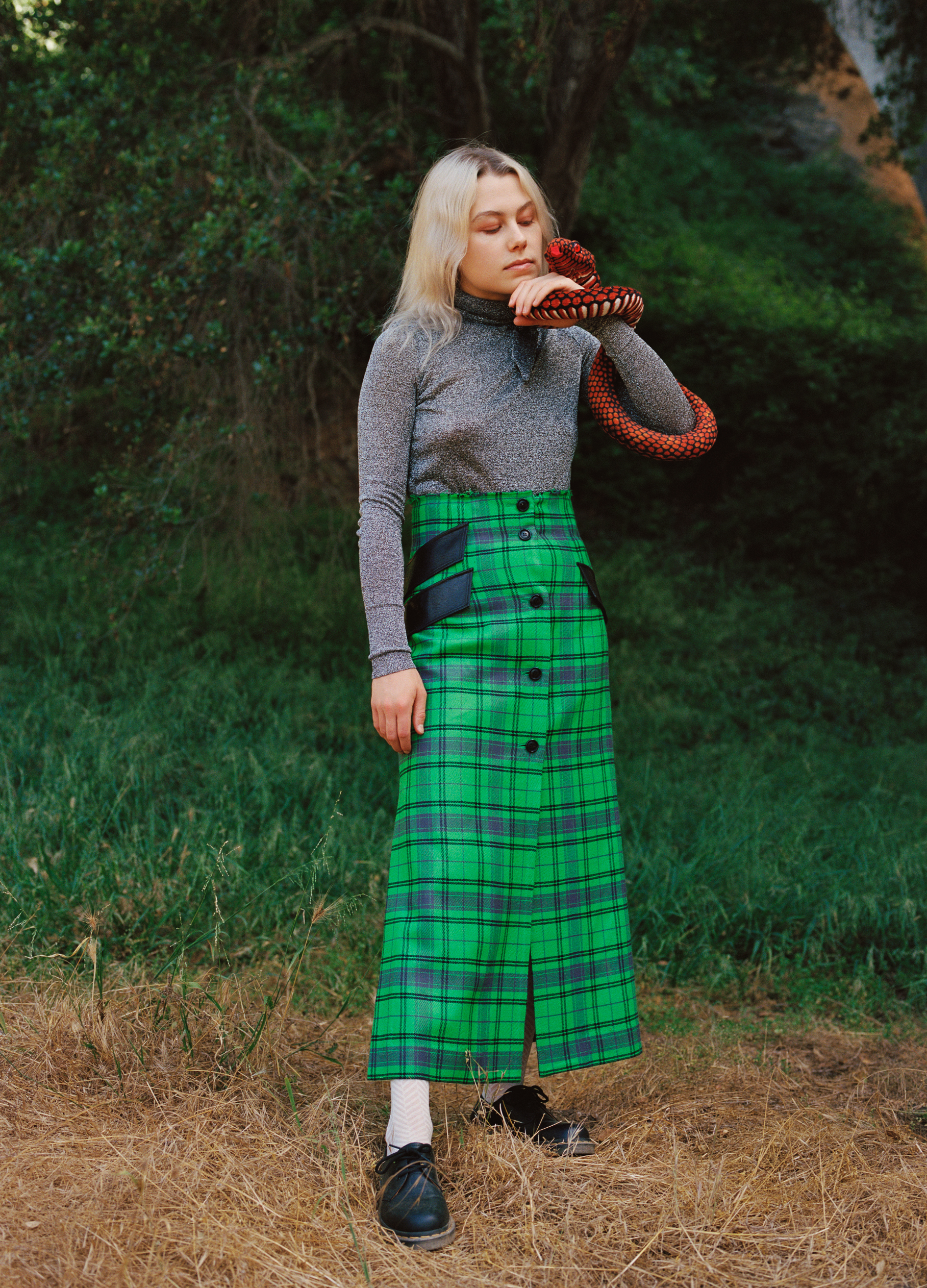 In the music video for "Kyoto", one the record's lead singles and probably the most upbeat song she's ever written, Phoebe soars across Japan via a series of karaoke visuals. The lyrics are inspired by her first trip there in February 2019. Having always dreamed of visiting, she was finally there to perform her music to fans excited to hear it, and yet she still felt sad. Delving into a mash-up of depression, complicated relationships and imposter syndrome, she's just about figured out a way of coping with the latter.
"I think the hardest thing for me is when I stop talking to my friends," she explains. "I realise now that they're ready to champion me all the time. Recently I wrote a song and I sent it to my drummer slash ex-boyfriend slash best friend guy. His whole aesthetic is his bitchy resting face and it's really hard to get a rise out of him. I've seen him cry like one time. And he called me saying, 'THIS IS THE BEST SONG EVER!' and I was like, no, you're lying to me! Just the fact that he's ready to give me a pep talk at any time, that really helps. And it's because I trust him. So if you're around people that you trust…"
Later, on "Chinese Satellite", Phoebe joyfully shares her experiences of disassociation. "Like when I'm on tour and I put on a 'me' costume, when really I feel like wearing pyjamas all day. Or sometimes I'll do interviews about the first record, and I feel like I'm just making up my answers; like I'm answering somebody else's questions. It can sometimes feel like you're straight up lying, which is a super weird feeling." There are positives that come with faking it though, she says: "I approve of pretending to be yourself when you get up in the morning and you don't feel like getting up, when you feel like staying in bed."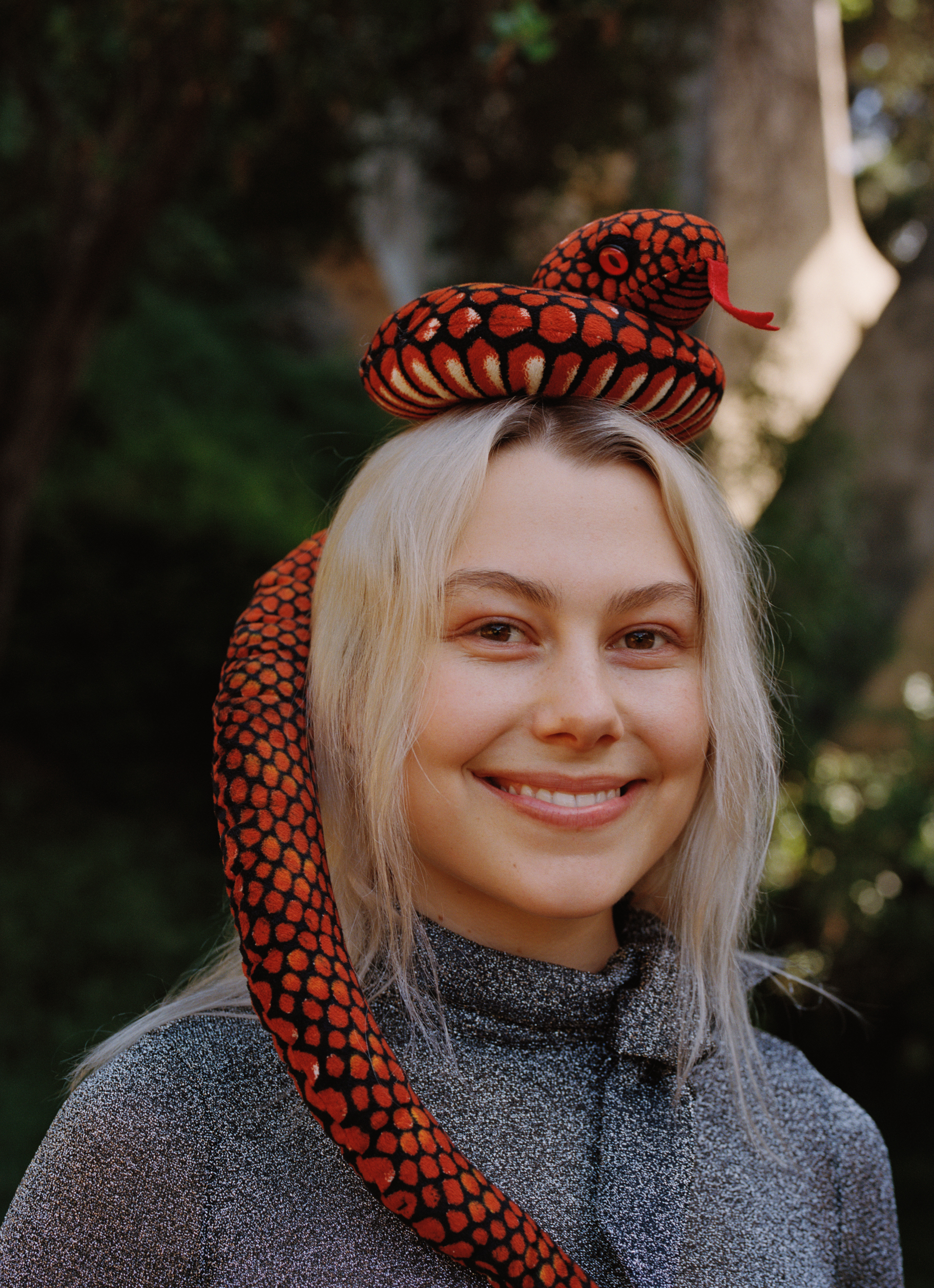 "Chinese Satellite" -- which once had a big corny chorus "like a bad version of U2 or Coldplay" before it got saved by cinematic strings -- ends with Phoebe mournfully wanting to go home, a destination she's still attempting to locate. She quotes a lyric by her musician friend Noah Gundersen: "'Home is not a person or a place/ but a feeling you can't get back', I mean, I think everybody is on the same page about that. And I want it back! I think I do get it back sometimes, it's just hard when you often only know in retrospect." Does she feel at home right now, self-isolating in her little Silver Lake house? "I kind of do. When all the uncertainty is no longer in my memory, when I'm looking back at all of this and I know how it ends -- good or bad -- I think I will be nostalgic for this time. Like, wow… I was really at home. I was really cooking and cleaning and feeling and writing."
The rest of the record continues to lean gently in the direction of different genres. "Graceland Too" (one big positive affirmation inspired by making good decisions on MDMA) swings more country, while Phoebe finds the melancholy acoustic "Moon Song" so sad that she always skips it when listening to the record. Then there's "Saviour Complex" with its wistful talks of an emotional affair paired with dreamlike strings. "Halloween" and its rockier counterpart "I See You" both reference the hospital by her house, and the ambulance sirens that persist through the night.
Album closer "I Know The End" is appropriately something of an apocalypse song. A failing relationship quickly swells into global end times as Phoebe drives off into the sun with the windows down, yelling along to an America First rap-country song while government drones (that may well be alien spaceships) descend on the horizon. Set to an increasingly hectic orchestral arrangement, she has resigned to the fact that the world has gone to shit and we're all on our way out.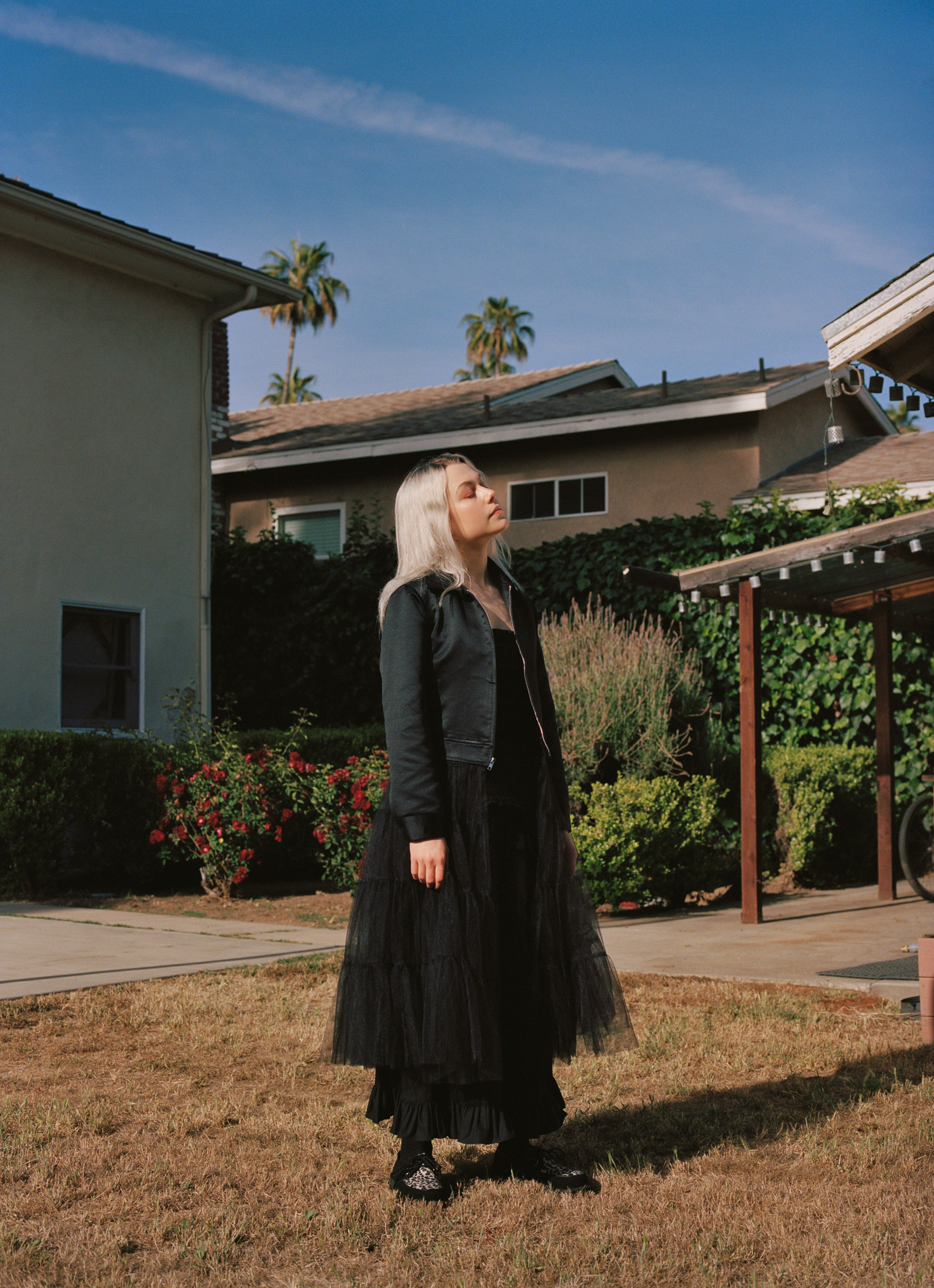 As the track builds and builds -- with vocals chanting "The end is here" -- Phoebe lets out a pained, prolonged scream. "Conor Oberst was in town and I love the way that he screams in Desaparecidos," she remembers, "so I asked him to teach me. He was like: there is no teaching, you just do it. I was pretty sure if I tried to scream, it wouldn't come out right, or it'd come out like Tom DeLonge. But I tried it and was immediately addicted. It felt great. I wish I could do it right now but I'm afraid the neighbours would call the police."
It's a shame there aren't more places you can scream your pain out without concerning people, Phoebe suggests. "I've done it in a pillow or in my car," she says, "that feels good. That was like two days ago." Given the immense emotional outlet songwriting provides, I wonder whether she sees the practise as work or therapy or something else entirely? "I think it's both…" she says. "And I think the fact that I've connected both those things is a total lifehack. I actually feel like my brain doesn't make any fucking sense and I rarely make sentences in my head, so it's amazing to me that I can even speak because it's just a bunch of grey matter, shifting in weird dreams all day."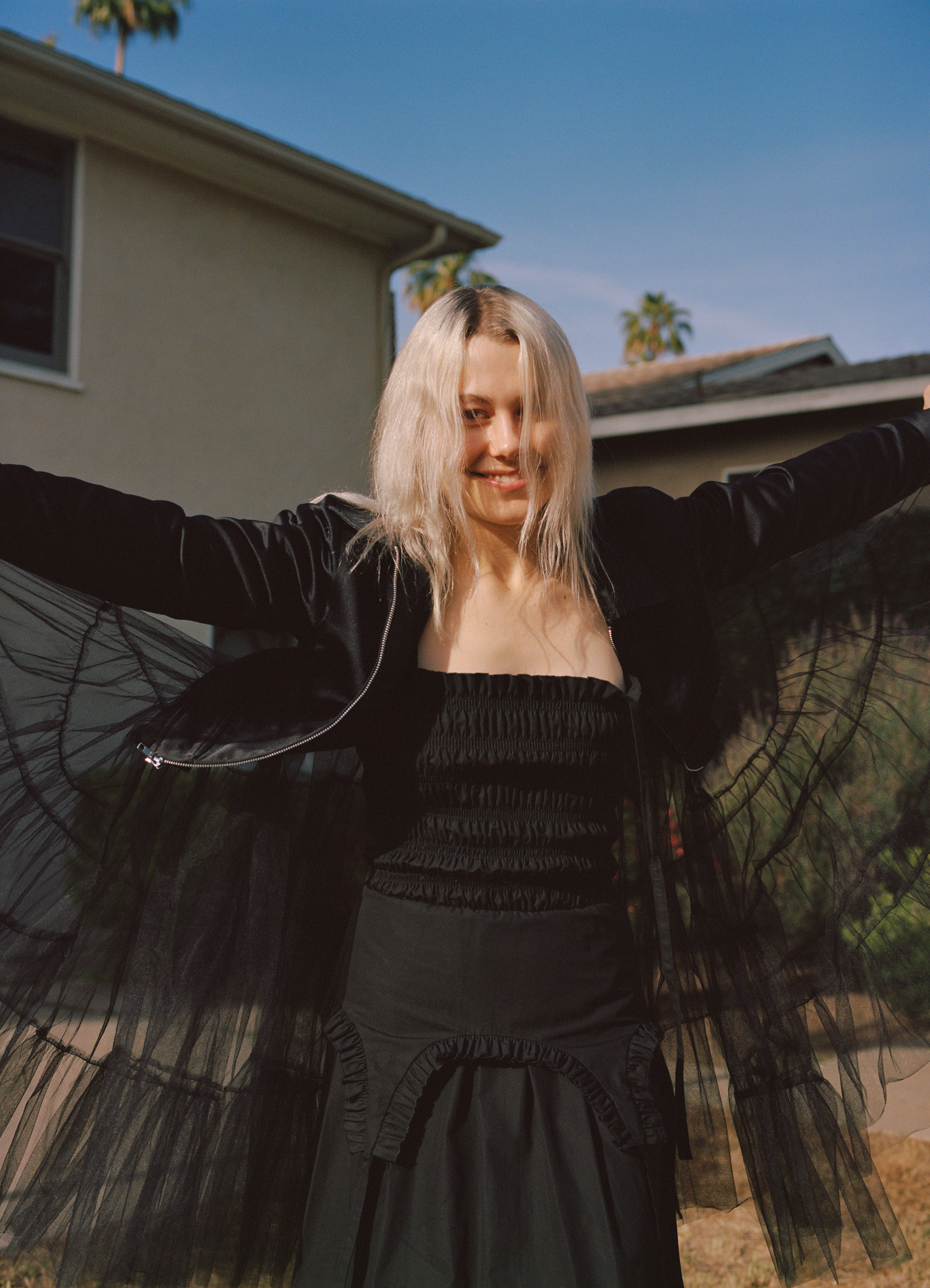 Punisher by Phoebe Bridgers is out 19 June via Dead Oceans and it is incredible.
Credits
---
Photography Daria Kobayashi Ritch
Styling Gena Tuso using Sandy Liang