Louis wears shirt Prada. Trousers Marni. Shoes Boss.
Timothée Chalamet stans, meet Louis Partridge
The 17-year-old actor on the rise stars alongside Millie Bobby Brown in Netflix's new mystery movie, 'Enola Holmes'.
|
22 September 2020, 9:00am
Louis wears shirt Prada. Trousers Marni. Shoes Boss.
Louis Partridge loves Call Me By Your Name. The actor, 17, says over the phone in early August, when the air outside resembles the scorching summer heat of the atmospheric 2017 film. He says working with the director, Luca Guadagnino, would be a dream for him. "I heard he doesn't audition any of his actors," Louis gushes, explaining Guadagnino's artistic process. Instead, Louis says, he just sits them down and tries to learn about them as people. "I think the level of trust that would go into that is pretty great."
Not unlike Timothée Chalamet's character Elio, Louis is a music lover who's been spent the summer holiday teaching himself how to play piano and cycling through quiet city streets. He's quarantining at home with his family in London, and has been indulging in activities he wouldn't normally have time for as a working actor, such as binging the TV show Succession and learning the theme song for fun. Isolation has made him more active. He participates in regular workout sessions with his dad, and even ran his first ever 5k last month. "I don't think I'd do that again," he says, laughing at the memory.
At first glance, Louis' life looks more normal now than it ever has before, but brush up on the young actor's resume and you'll quickly realize that normalcy for him is life in front of a camera. He's balanced working as an actor and going to school since 2016, when he landed the role of young Henry Bates in the film Amazon Adventure. Since then, he's scored major roles in Paddington 2 and the Netflix period drama Medici, all while maintaining high marks in his classes and a regular social life. When he found out he got the part of runaway Lord Tewksbury in the new Netflix film Enola Holmes, he was in school, on his way to an exam.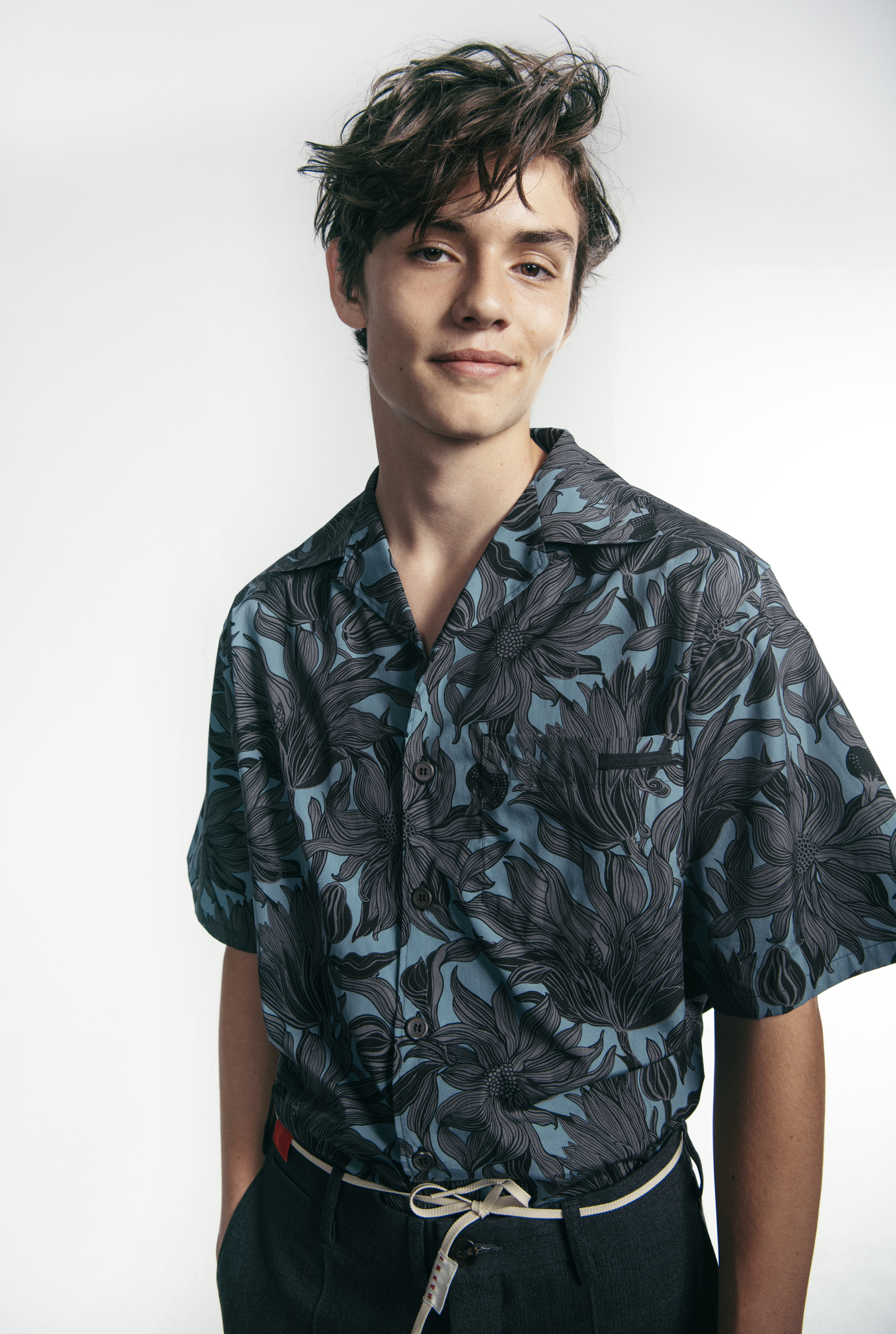 "It felt pretty amazing but I had to sort of pinch myself," Louis recalls. "If you had told me last year that I'd be doing a movie with Millie Bobby Brown, Helena Bonham Carter, Henry Cavill — I would not have believed you, that's for sure."
Based on the Nancy Springer novel, Enola Holmes follows detective Sherlock Holmes' rebellious teenage sister. When her mother disappears, Enola, played by Millie, sets off on a mission to find her, outwitting older brothers Sherlock (Henry Cavill) and Mycroft (Sam Claflin), and finding empowerment in her newfound independence along the way. Though the movie takes place at the beginning of the women's suffrage movement in the UK, its themes are undeniably modern and universal. "It touches on everything," Louis says. "Individualism, female empowerment, speaking out [against injustice], family dynamics — there's so much that's relevant to our lives today, and so much to draw from."
Enola meets Louis' character, the young Viscount Lord Tewksbury, when he's also on the run from his family. A handsome dreamer with a good heart and sunny disposition, he's a nice companion but noticeably out a little overwhelmed when it comes to surviving crises and solving mysteries. Louis describes him as bouncy, witty and "sort of confident, but not really," which was a duality he felt he could connect with.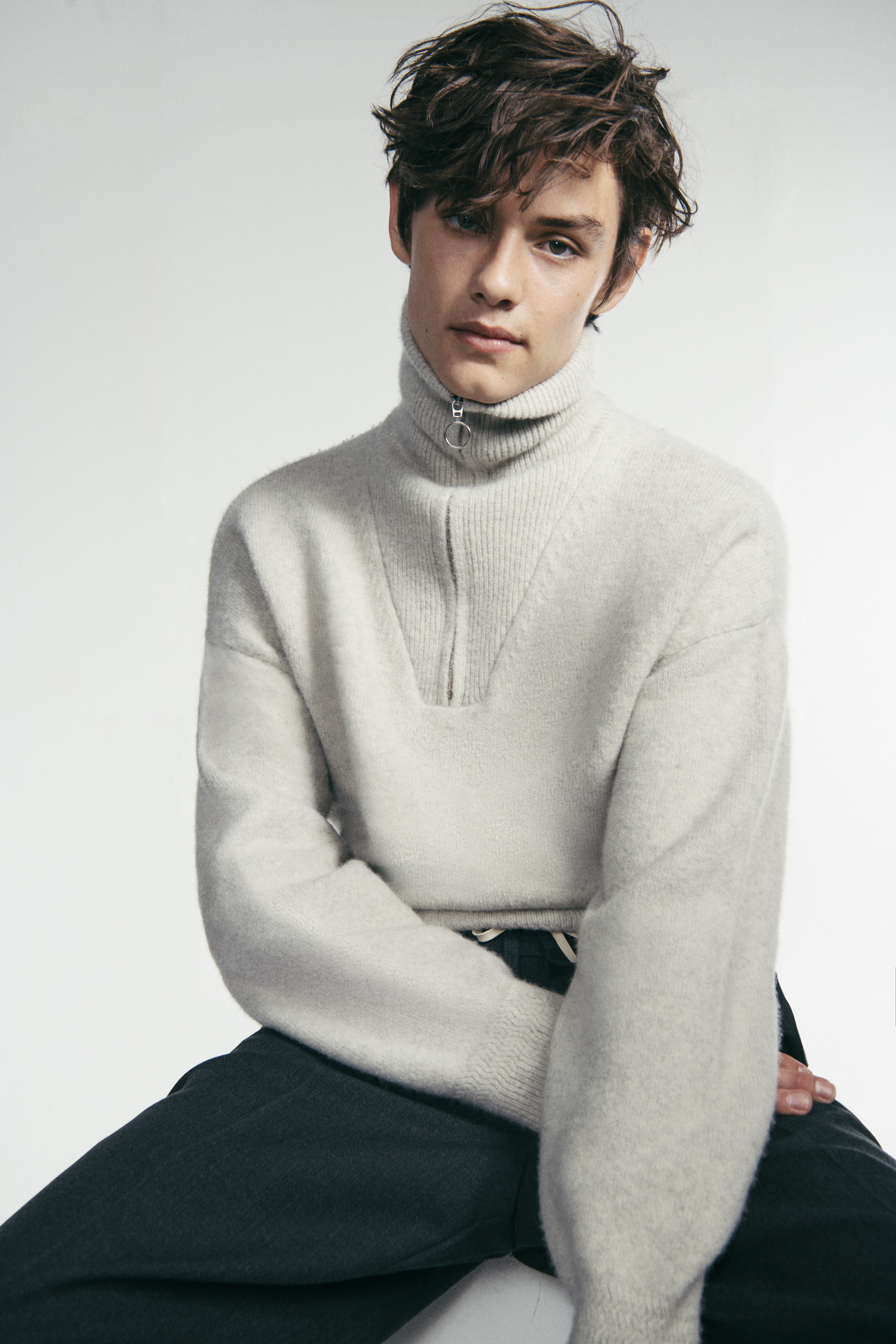 "He believes in something, which is so important," Louis says. "The original script had him written as a bit of an airhead, but we wanted him to have depth and to be genuinely striving for something. It makes a massive difference when you're trying to get into character. As an actor, if [a character] doesn't stand for anything, you can only go so far."
After Enola saves Lord Tewksbury from grave danger, their fates become irrevocably intertwined. For Louis, that meant spending a lot of time with Millie on and off screen. "From the beginning she was very easy to be with, which was super helpful for me when I was completely stressing," he recalls. "Having her as a friend gave me a sort of freedom to try new things, because I knew if I did something wrong she would just laugh and it would be fine."
During filming, Louis and Millie were 16 and 15, respectively, marking Enola Holmes as Louis' first role as an "adult." The distinction was a little strange for Louis, since Millie, his closest friend in the cast, still required a chaperone. He tells me a funny story about a time the pair was caught eating lunch together between takes: "Someone came up to me and was like, 'Sorry, but we can't actually legally allow you to be sitting in Millie's tent because she's a minor," he remembers. "Even though she's literally only a few months younger than me." But being so close in age amidst a cast of older, more experienced actors only tightened their bond, especially considering Louis was rarely on set with anybody else. Without Millie, he says, he would have given a much different performance.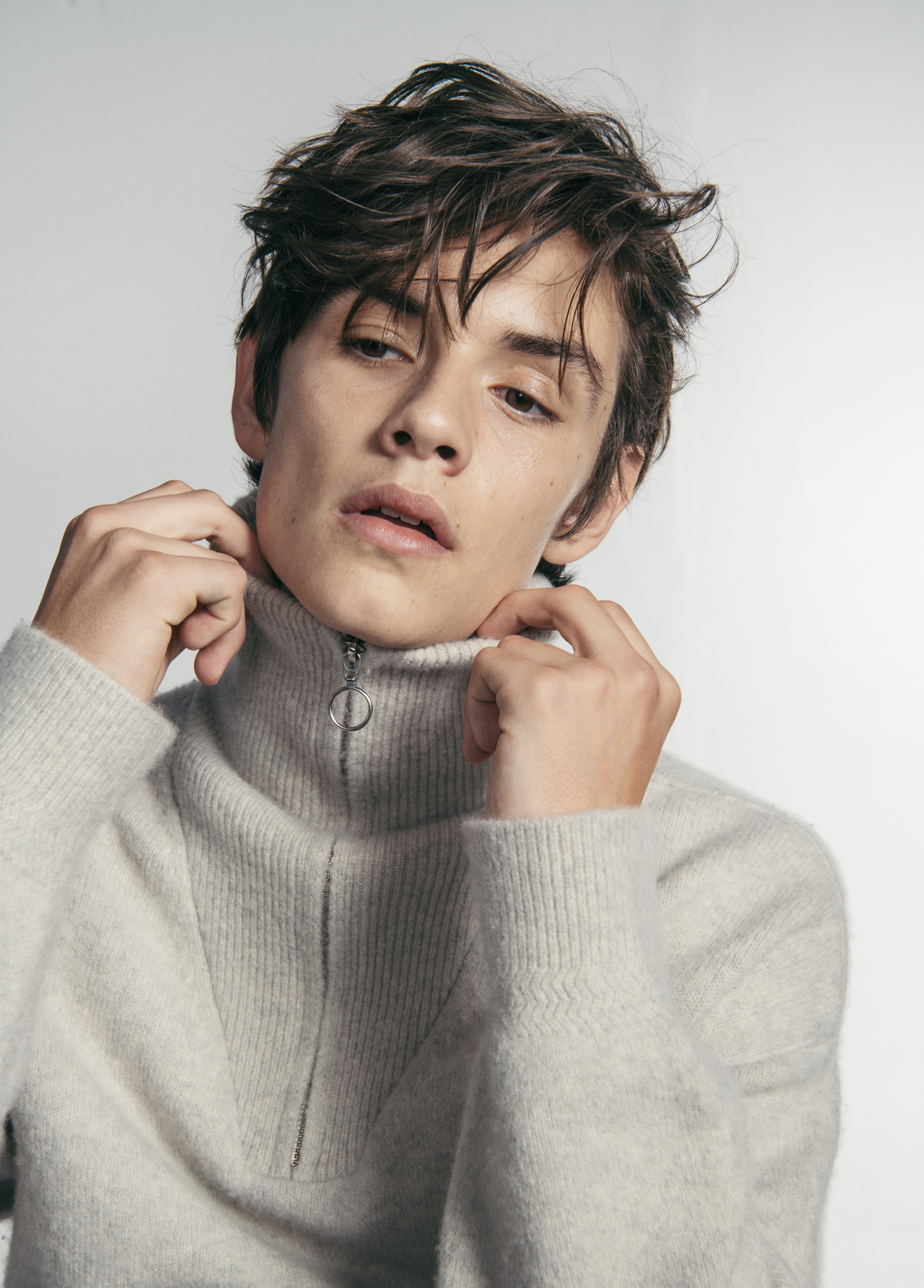 "If I was acting with people that were older and I was trying to impress [them], the energy would've been different — less relaxed," he says. "But Millie is so high-energy, and working with her is never dull. She's also so good at switching into character. There are moments where we're laughing and talking before they call action, and then bang, she's there immediately."
Since the pair's fast chemistry facilitated a relaxed on-set atmosphere, the most difficult scenes for Louis to film weren't the emotionally intense ones, but the most logistically complex. For example, in a scene where Enola and Tewksbury are picking flowers, Louis was tasked with remembering their scientific names. "They kept changing the names last minute, so I had different ones to remember and I kept forgetting them," he laughs. "But all the other scenes came quite naturally with Millie."
The longer we speak, the more apparent it becomes that Louis' friendships are extremely important to him. In fact, not getting to spend quality time with his best friends has been one of the hardest things about life in lockdown. "I realized how much you need them," he says. "Even school, going into school every morning, you know, it's a bit of a bore. I would love to go into school for a day now, just to see everyone and be social."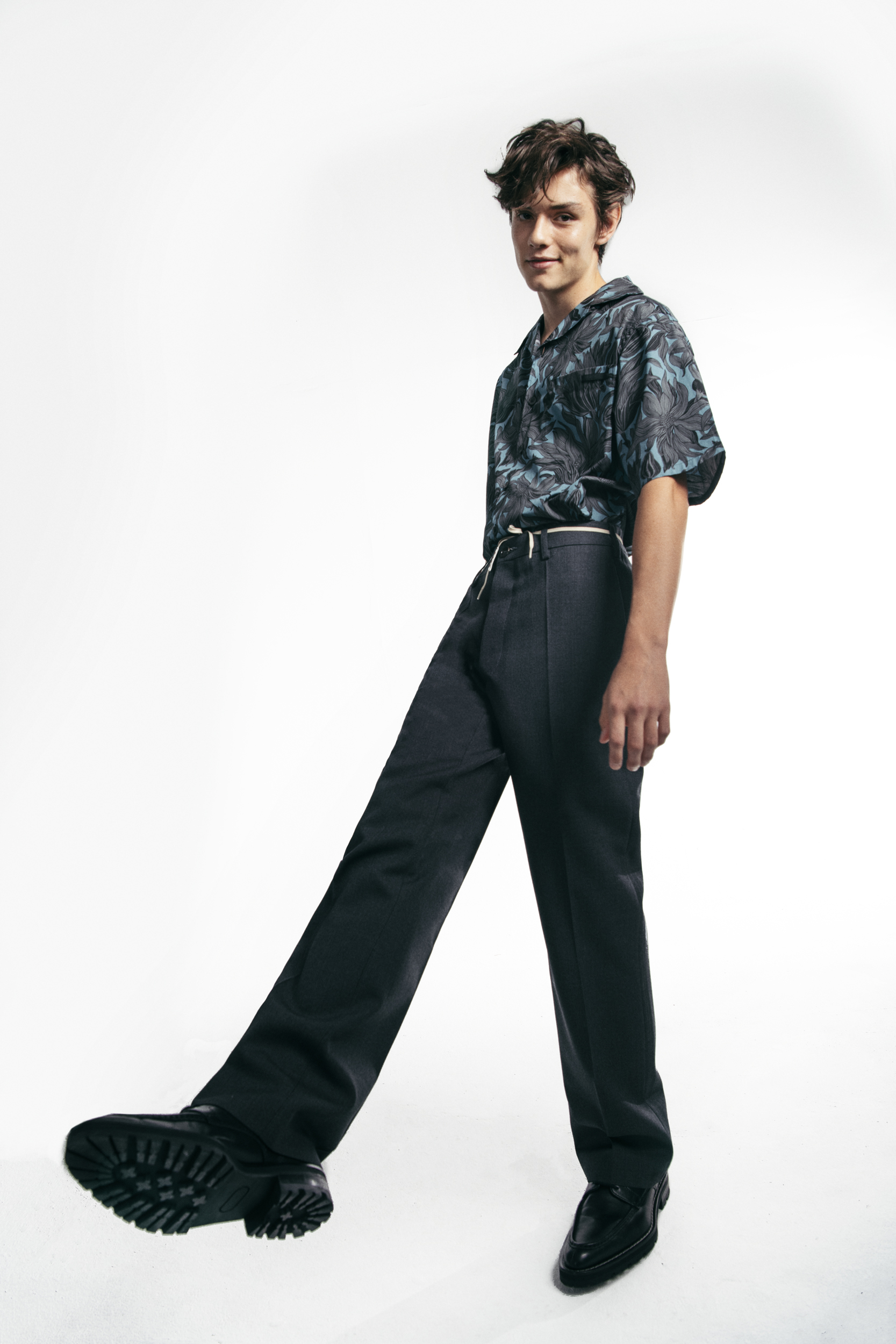 Fortunately for all of us, Louis and Millie remain friends in real life, and though they're on different continents, they still get to see each other on a regular basis. The two have been doing virtual press to promote Enola Holmes, which premieres September 23 in over 190 countries. It's certainly a huge deal for Louis, who's never acted in a film franchise of this magnitude before. To help calm his nerves, he's been wearing his lucky socks around the house: a plain, tan pair his character wears in his first scene with Enola, and the one thing Louis took home from set. He just wore them yesterday, he tells me, during a press event over Zoom. "They're the same color as his suit — nothing special — from somewhere very cheap. But they're sentimental."
While Louis genuinely enjoys the press circuit, right now, he's just as excited to be a student. This is his last year in school, since he doesn't have any plans to go to university. After graduation he wants to act full-time — he confides that he already has some pretty exciting projects in the pipeline. Sadly, he's not allowed to tell us what they are, but judging by his compelling performance in Enola Holmes, I think it's safe to say we can expect big things.
Credits
---
Photography Joseph Sinclair.
Styling Fabio Immediato.
Hair and makeup Brady Lea