Photo by Pete Still/Redferns.
7 of Sade's most iconic outfits
The Nigerian-British singer (and CSM grad) defined uniform dressing with Levi's jeans, men's shirts and backless looks.
Photo by Pete Still/Redferns.
Sade is a star as singular as they come. The daughter of a Nigerian father and English mother, Sade (née Helen Folasade Adu) was born in her father's home country and raised in her mother's, where she studied fashion -- at Central Saint Martins -- before emerging to form the eponymous band that would make her an international icon. Blending and blurring the lines between soul, smooth jazz and minimalist pop, Sade has crafted a musical legacy that has endured for nearly four decades. And just as eternal (and understated, cool and elegant) is Sade's uncompromising personal style. From her smoldering, velvety voice and inimitable lyrical delivery to her signature gold hoops and back-grazing braid, there's no one like Sade. Here, we illustrate the illustrious singer's career with some of her defining looks.
"Smooth Operator" music video, 1984
Despite what her illustrious musical career might suggest, Sade came upon the profession of singing quite serendipitously, when she was asked by friend and manager of English jazz-funk band Pride to become the band's interim lead singer. With Pride, Sade co-wrote what would become her band's US breakthrough single "Smooth Operator." It was actually this song that would cause Sade to leave Pride, at the harried requests of numerous A&R people, in order to form her own group. In the video for the single, Sade serenades nightclub guests wearing a bat-sleeved dress, the first backless look of many more to come…
Performing in the Netherlands, 1984
Did you know that prior to singing, Sade studied fashion at Saint Martin's School of Art -- the same college that would go on to become the illustrious Central Saint Martins? It's not really surprising, then, that the singer has pulled some huge looks throughout her career. Like this 80s-leaning -- though no less classic -- outfit: a white and black polka-dot blouse cinched with a chunky buckled belt. Also, note the use of leather drivers gloves to hold the mic. Major.
Casual style, 80s
Red lips, rope braids and huge golden hoops. Like any true style icon, Sade had her signature beauty look down pat. And the same could be said about her wardrobe. The singer possesses an incredibly strong sense of personal style, seen in her preference for minimalist statement pieces (backless dresses, vinyl trench coats) and timeless staples (big white shirts, jeans), and tendency to repeat outfits during stage appearances and photo calls, or while off-duty. Here, Sade wears her signature beauty look with a Canadian tuxedo, complete with her favourite Levi's jeans.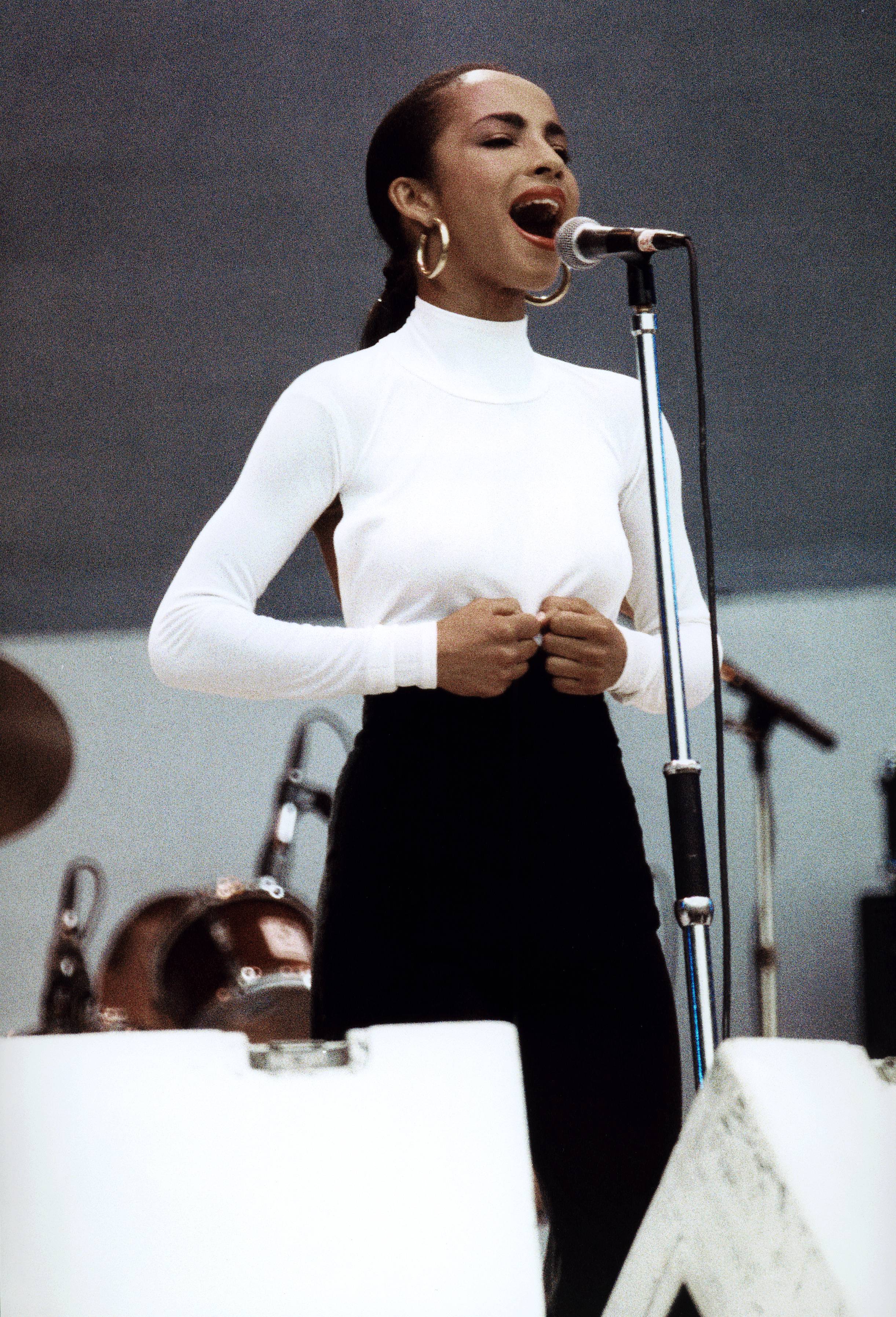 At Live Aid, 1985
During the third chorus of smash single "Your Love Is King" at 1985's Live Aid Concert, Sade slipped off her black, bedazzled bolero to reveal a completely backless turtleneck bodysuit. And one of the most famous looks of all time was born. The perfect blend of demure and sexy, nostalgic and modern, this Sade look has echoed throughout the halls of style -- designer moodboards, social media feeds and magazine editorials -- for decades, and continues to do so. Like capturing lightning in a bottle, a look this good, this endlessly covetable, only comes around once in a lifetime.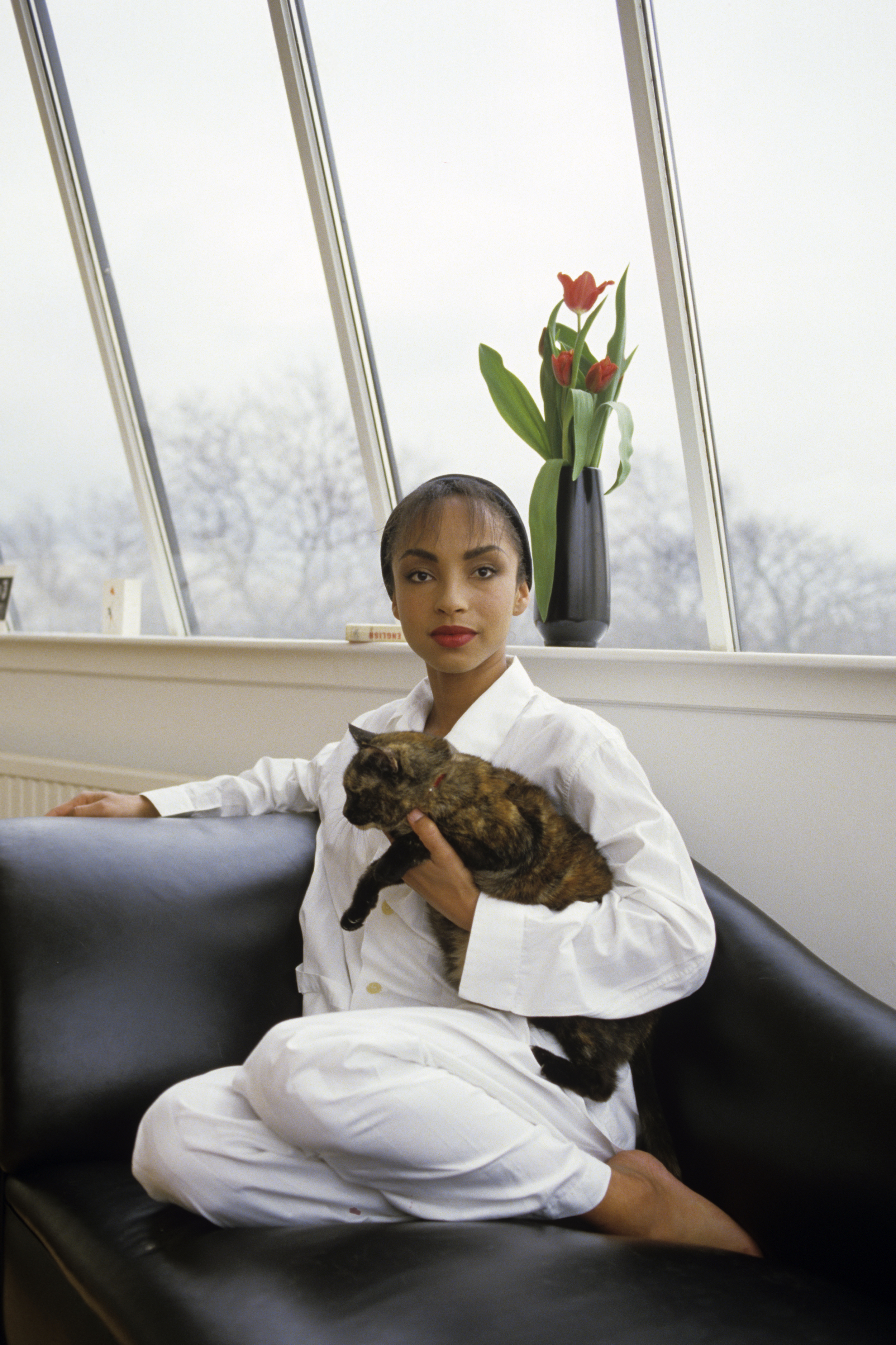 At home, photographed for Paris Match, 1985
During the press tour for Sade's debut album Diamond Life, the often press-shy singer invited French magazine Paris Match into her London abode for a photo session. This rare rendezvous with Sade has spawned some of the most iconic images of the singer's career. Think Sade, smiling, as she shows the cameraman a sampling of her record collection; sipping coffee (or is it tea?) in bed, wrapped only in the stark white duvet; or ballet flats up on the kitchen counter, eating yoghurt. If these photographs are anything to go off of, Sade's at-home style (and interior decor, too!) is just as polished as her stage outfits. And nowhere is this embodied more than in the singer's sleepwear of choice: a matching set of crispy white cotton pyjamas.
"Cherish the Day" music video, 1993
An example of one of Sade's immaculately minimalist looks, this cropped chiffon set, skirt slung low, guitar slung lower, became the defining look of Sade's Love Deluxe era. Worn here in her "Cherish The Day" music video, the singer later put on the same outfit to perform "Bullet Proof Soul" on late night TV and on the album cover of the single, itself.
At the Love Deluxe World Tour, 1993
Of course Sade had to go big for the Love Deluxe World Tour. For the concert series, the singer wore a bedazzled version of her "Cherish The Day" two-piece. Under a single spotlight -- in true jazz singer fashion -- Sade lit up the stage like a veritable disco ball. Here, she belts the soaring "Is It A Crime", arms raised and incandescent.
Tagged: