Meet the class of 2020 participating in the first ever online global design graduate show
ARTSTHREAD are giving students the opportunity to showcase their portfolios online this summer.
|
11 September 2020, 12:29pm
i-D has teamed up with ARTSTHREAD to give students of the class of 2020, in any art or design undergraduate or postgrad program, a chance to showcase their work this summer, as part of the first ever online global graduate showcase. Now, we've got some more entries to share with you, with students from all over the world, from South Africa to Estonia. The competition is open to all creative disciples from visual communication, art and fashion to product design, photography and film.
Here are some of our picks - talking from their temporary workspaces in their homes -- meet Paula in Bogotá, Maja in Stockholm, Haley in Salt Lake City, and Joslyn in Toronto. They are the future, whether it be photography, ceramics, or industrial design, on what seems like the cusp of a whole new era.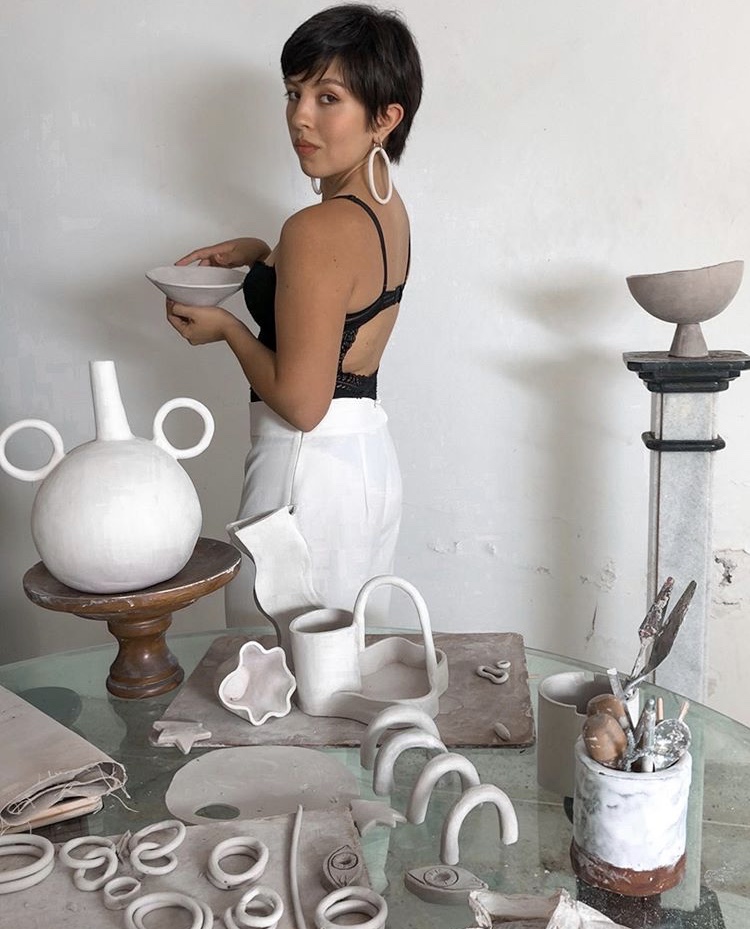 Paula Pardo, 25, BA in Visual Arts, Universidad Javeriana, Bogotá
Where are you? Describe your workspace.
I have moved back to my mom's place in Cali, Colombia, I work mostly in the garden where I have set up my studio, with some tools and a table I built by myself with stones from the garden and a large board. I have a shelf where I put some of my finished ceramics and tools; at the moment I have some of my final project pieces hanging from the roof. I am surrounded by plants, animals, and trees.
What is the name, theme, concept, and final outcome of your graduate project?
My final project name is Topographic Anatomy. That's a term I borrowed from medicine; it is the study of the layering structure of the body and the relations between these structures. I related this concept to the fragmentation of a body; my own that happens to be socially defined as a female body due to its geography on the surface. I was looking, without knowing it, into the beliefs that define a body and what it means to be a woman's body; more specifically to be a naked woman's body in front of an audience, as a shell constructed by a sequence of parts. I used clay because it was directly connected with the idea of the earth and somehow with the idea of "home"; in Colombia many houses are built using a series of raw clay fragments that come together to form a whole, as does my body.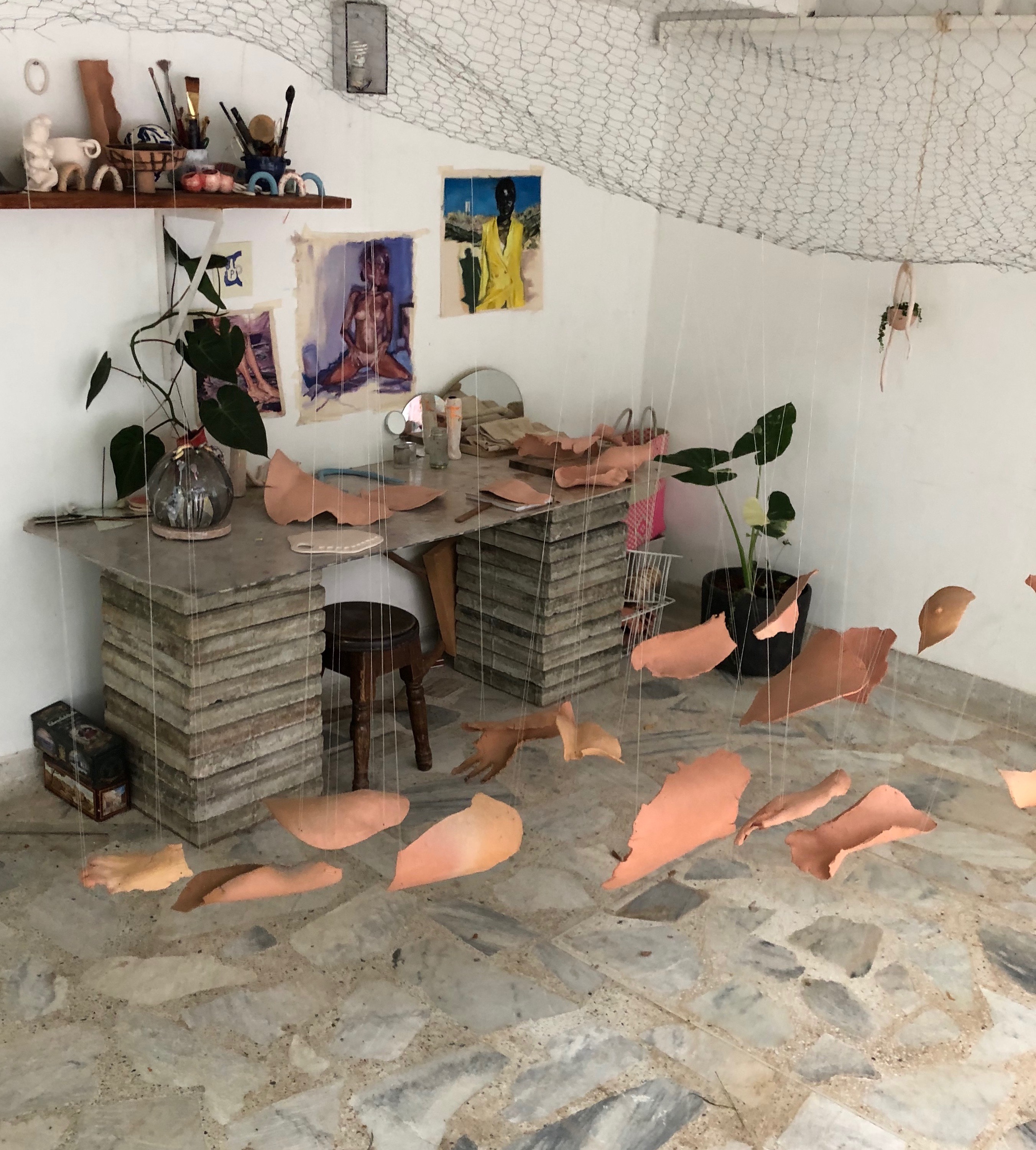 What do you wish someone had told you at the start of your graduate project?
Trust the process and have fun. At the beginning, I was struggling with the idea because I was not believing in myself, so ironically I started making ceramics to help me with the anxiety of not "knowing" what to do, and it ended being a ceramic installation because intuitively that was the language I was looking for.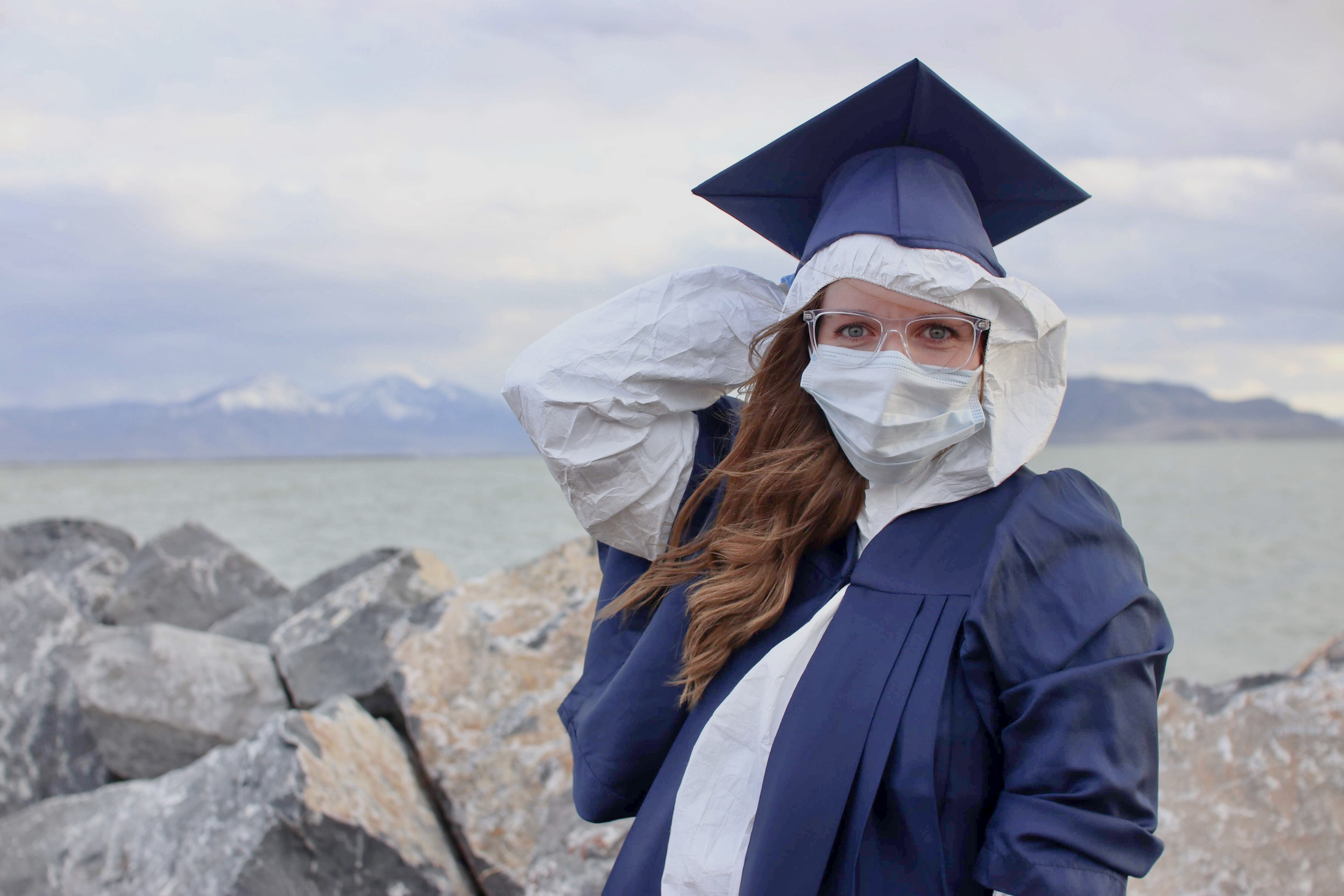 Haley Zimmerman, 25, BFA Industrial Design, Brigham Young University, Salt Lake City
Have you had to produce less work? Has this been a positive or a negative?
In one sense I haven't been as productive as I normally am... mostly because working alone in my bedroom and staying in one room was driving me nuts (I thrive on human interaction), so my productivity went down for a while. However, moving spaces and being able to set up my own office has already helped a ton.

What are your hopes for the future?
My biggest (hopefully soonest) hope is to successfully launch my company! It is scary and a bit stressful doing everything by myself (from product design, manufacturing, now to the business side of things). I have to make decisions by myself. Either way I hope to make a positive impact on the world through sustainable design practices that make a difference for those who need it.
Joslyn Panasiuk, 23, Honours Bachelor of Photography, Toronto
What is the name, theme, concept and final outcome of your graduate project?
The name of my graduate project is 'category: HUMAN'. It's an ongoing series focused on challenging society's view of transgender men. I use lenses that blur and distort thereby frustrating my viewer's attempts to identify the subject and their gender. I also place my subjects in brightly hued environments that are almost theatrical; their own stage where they can portray themselves as they wish to be seen. In doing so, I can express my personal frustration with the ways in which the trans masculine community has been unfairly stereotyped. I feel it is our responsibility to accept how individuals in this community want to be seen.
**What's one thing that has helped you get through the past few months?**Rest and being OK with not doing anything.
What are your hopes for the future?
My hopes for the future are continuing on with this project and to have it reach a bigger audience. Eventually, I would like to start a new project that focuses on the butch community.
What are the most positive learning outcomes from this process?
That process work and planning are very important to having a fully rounded idea. That having a purpose to your project and doing it on something you're passionate about is a huge asset to yourself and the people that are a part of the project. That at the end of the day, even though I made this project, it would only be an idea if it weren't for the time and effort my subjects put into it with me. This project is as much about me as it is about them.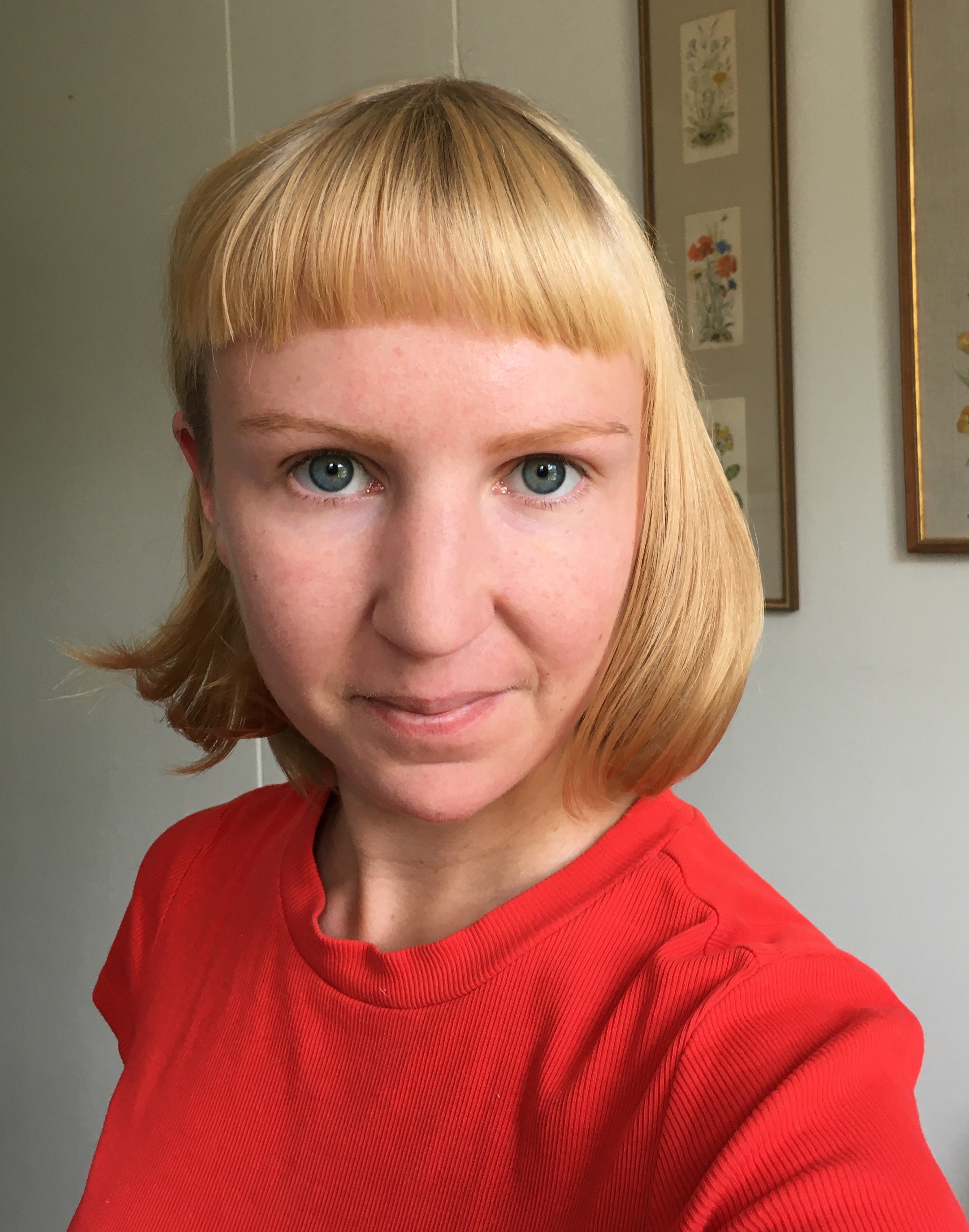 Maja Bäckström, 27, Master Craft, Konstfack University of Arts, Crafts and Design, Stockholm
What is the name, theme, concept and final outcome of your graduate project?
My project "Flower heart" consists of five portraits printed on fabric with hand embroidered floral motifs. The flowers were chosen based on their symbolic meaning from the 1849 book 'The Swedish Language of Flowers' and how that meaning correlates to my relationship to the person in the photograph. For each portrait there is an embroidered book and a pair of embroidered gloves, intended for viewers to wear while flipping through the book. I wanted to explore the therapeutic qualities of embroidery. I began working on the project directly after finishing a therapy program for eating disorders, and the self-portrait 'For me' became a continuation of that. Working with it forced me to spend a lot of time looking at my body — not in the mirror emphasising the flaws, but with an image that couldn't be changed. I was trying to just accept it, leave old unhealthy thought patterns behind and focus my mind on the repetitive work of stitching. The other portraits are an investigation into how embroidery can be used to manifest love and care for others and let that love live on in the world after we leave it.
What do you wish someone had told you at the start of your graduate project?
Don't get too hung up on the graduation show. Try to look further than that — it isn't the end, it's just the beginning. Even though it felt like a massive disappointment when the graduation show was cancelled and it took me a while to get over the fact that we would miss out on having a show.
What are the most positive learning outcomes from this process?
I have learned to appreciate the things I have, for example exploring my close surroundings more. I realised I live 15 minutes away from a beautiful forest, where I have spent a lot of time this spring and summer. I have realised how important contact with others is, not just for my wellbeing but for my work, but also how draining some social interactions can be. Not having to travel two hours per day on public transport has given me so much more time and energy to focus on my work, and that is something I want to strive for in the future, having my work place close to my home.