Kerwin Frost just announced his first annual Telethon Supershow
Featuring special guest appearances from Lil Nas X, Kehlani and Ian Isiah.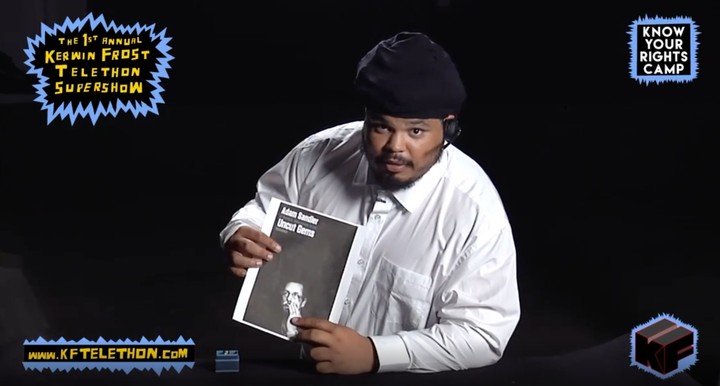 You would've thought that comedian, radio host and DJ Kerwin Frost already had enough on his to do list, what with his new Apple Music show, his Kerwin Frost Talks! talkshow and an ongoing design collaboration with Adidas. But no! Turns out your favourite influencer's favourite influencer is always keen to do more. Today Kerwin announced that he'll soon be launching the first ever annual Kerwin Frost Telethon Supershow, which promises to be "an epic 12-hour, fully-produced variety show" to benefit Colin Kaepernick's Know Your Rights Camp -- an organisation founded by the quarterback and civil rights activist that spreads awareness of racial injustice.
The telethon (and who doesn't love a telethon?) will be streamed live from The Berrics skatepark in Downtown LA on August 16, with performances from and interviews with some of Kerwin's musical friends including Lil Nas X, Kehlani, JPEGMAFIA, Mac DeMarco, Shek Wes, Jaden Smith, A$AP Ferg, Ian Isiah and more. Want to support? Not only can you tune in live on the day to donate to the very worthy cause, but you can also help out by investing in some very nice merch. Yep, Kerwin has created a series of sweatshirts and T-shirts with his face on them, made in collaboration with everybody's favourite Cactus Plant Flea Market and available here from tomorrow, August 11.
For the big spenders and serious collectors out there, the multitasker has also organised an auction selling items such as Post Malone's dress from his Nirvana tribute concert and Adam Sandler's Star of David ring that he wore throughout Uncut Gems. There's also a giant artwork by Cali DeWitt, the actual Cactus Plant Flea Market mascot and many more priceless prizes.
Tune in to the telethon and help Kerwin Frost reach his $5M target, with everything going directly to the Know Your Rights Camp.
Kerwin Frost's Telethon Supershow will be broadcast on TikTok LIVE, YouTube and Twitch this Sunday August 16 at 12PM EST. Direct donations can be made to Know Your Rights Camp now at KFTelethon.com