15 albums to look out for in 2018
With rumoured releases from Jayoncé, Grimes and Stormzy, 2018 is looking good for music.
|
02 January 2018, 12:11pm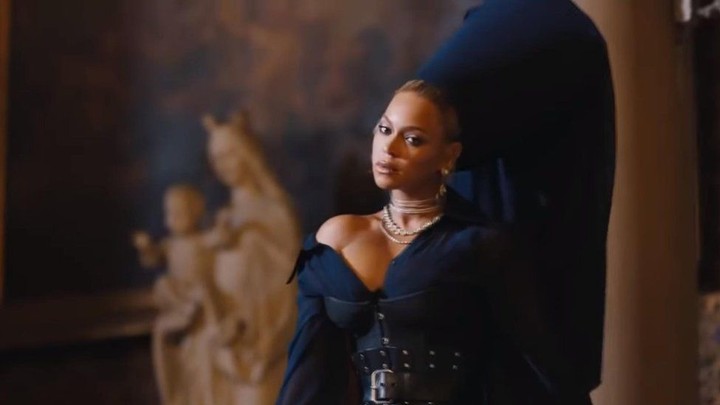 Jay Z, Family Feud
Selena Gomez, as yet untitled
Last year was one of break-ups, make-ups and serious health issues for Selena. But, always making time for her art, it was also one of beautiful Petra Collins visuals and killer singles Bad Liar, Wolves, and Fetish ft. Gucci Mane. Having poured her heart into her music, she's promised us an album very soon and we're holding her to that.
Suggested album title: Running with the Wolves
Wiley, Godfather 2
Wiley follows up his number two charting album from 2017, The Godfather, with a part 2, due March 2018, that promises to be as ferocious as its predecessor. We've already heard the JME-starring I Call the Shots and Bar ft. Scratchy and D Double E, and they're as firmly rooted in 140BPM, strange synths and ice-cold 8 bars as The Godfather was. Promising a lengthy 20 tracks, we can't wait to hear what songs Eskimo Dance (a string of classic reloads from the scene's finest, perhaps), War God (more Dizzee dissing?) and, of course, Fashion Week (a review of SS18 from Wiley himself, perhaps?) hold. Whatever happens, we're sure he'll be back with another banger.
Stormzy, as yet untitled
Not content with having won 2017 in its entirety, Stormzy's clearly not planning to sit on his laurels in 2018. He warned us back in Oct on 4pm In London that work on the second record had begun, and he confirmed this on the red carpet at the MOBO's in November: "Second album. I'm not stopping. Another body of work." We predict more pained peons to his past life, more gospel, more unpredictable collaborations and plenty more Flipz!
Suggested album title: Road Signs & Shares
Jayoncé joint album
As Hov explained to the New York Times recently, a joint album between Mr and Mrs Carter was actually recorded a couple of years back. But then there were "those" Becky indiscretions and Beyoncé instead decided to release the edifying Lemonade. Fair play tbh and tbf. Many of those records still exist, he let slip, and boy do we want to hear them. We know from past experience that Jay-Z + Beyonce = magic, from the Tupac nodding 03 Bonnie & Clyde, the uptown funk of Dé ja Vu or the slippery slidey Drunk in Love. And lest we forget, potentially the best collaboration of all time, ever -- Crazy in Love. WIth a back catalogue like that, perhaps this album could actually really and truly break not only the internet, but life as we know it.
Suggested album title: Just About Still in Love
Nicki Minaj, as yet untitled
On Nicki's fourth album (her first in three years) the Queens rapper told DJ Whoo Kid that we can expect "a classic hip-hop album." She also promised in an interview with Dazed that this release would go "even deeper than The Pinkprint." With break-ups (Meek Mill), fall-outs (Remy Ma) and new love (Nas), there should be plenty for Nicki to rhyme about on this record.
Suggested title: Tickled Pink
J Hus, as yet untitled
He came in the white Benz and left in the black one, and boy did he leave an impression. With an album not only critically acclaimed but commercially too, Hus and his Common Sense had one hell of a 2017. Like Stormzy, he's not interested in taking a break just yet, with work on album two already underway, which he posted about on Insta recently. " Still in the game with the same ppl I came into the game with & we never needed a link up to get by. We stick to tradition & we provide for the family. Boys 2 Men." Expect more hice, more genre-hopping and, hopefully, more accents. Hus does Hull would be nice next time around.
Suggested album title: Hustler's Anthem
Jorja Smith, as yet untitled
Over the past couple of months, Walsall's Jorja has gone from one to watch to Brits Critics' Choice 2018. Tracks like the gorgeous Blue Lights and the wistful Teenage Fantasy solidified her status as a gifted singer and writer, while the co-sign from Drake and an appearance on More Life didn't harm things either. An album is surely on the cards, with the still unsigned singer sure to want to capitalise off the heat.
Suggested album title: Midnight Train to Jorja
Grimes, as yet untitled
Last summer Claire Boucher told fans on Instagram that she is venturing into "unexplored sonic landscapes," which is exciting to say the least. On 16 December the Canadian artist replied to a fan on Twitter who suggested she drop new music, telling them, "just played label new music they rly dig so hopefully smthn soon." Everything she touches is pure magic, so here's hoping!
Suggested album title: Baby Wolverine
Stefflon Don, as yet untitled
Just missing out on the BRITS Critics' Choice to Jorja Smith, Stefflon Don's star is regardless on the ascent on both sides of the pond. With a couple of Top 10s under her Moschino belt, a collab with Skepta and a UK tour booked in for March, all we need now from the Don is a follow-up to 2016's rambunctious mixtape Real Ting. Signed to Quality Control, home of Migos and Lil Yachty, we predict an album of high-profile collaborations mixed in with some of her UK connects such as Skepta and Giggs.
Suggested album title: Stefflon Don Calling
Dave, as yet untitled
Dave's already convinced us of his greatness via Six Paths and Game Over, two EPs showcasing an almost prodigious talent for telling stories. Still only 19 and with two sold out UK tours, co-signs from Drake and a flair for the piano, the world is at our Dave's feet.
Suggested album title: King David
Camila Cabello, Camila
She's been out of Fifth Harmony for just a year, but Camila's debut solo album is already upon us. Alongside the chart-topping Havana (oh na-na) lead single, the singer has teased collaborations with Charli XCX and Ed Sheeran, as well as Canadian producer Frank Dukes who has played, according to a recent interview with Rolling Stone, a "big part in taking a classic part of Latin culture and combining it with something new and modern. Together we made an album that's just reflective of me in every way. It's what's inside my head and my heart." Out 12 January, it's so nearly time.
Cardi B, as yet untitled
Winner of 2017's most ubiquitous song plans to follow up on her previous two mixtapes with an album proper. We can expect plenty of stripping and Offset, but also perhaps some more serious fare too. Cos she don't only dance, she makes money moves too.
Suggested album title: A Bronx Tale
Dream Wife, Dream Wife
Three years ago we introduced you to "the English-Icelandic girl band making poolside pop with an icy bite". They're still doing it, though now with less ice and more pure Fire. Sprung from an art school project, their Blondie- and Bikini Kill-inspired music has won over hoards of women just as tough and talented as the trio themselves. The fans call themselves the Bad Bitch Club, inspired by a line in Dream Wife's totally fierce Spice Girl-quoting track FUU, which descends into screaming and features a verse from Icelandic rapper Fever Dream. Their eponymous debut album is due out on 29 January, and honestly we can't wait to hear their guaranteed to be empowering new stuff. There's a limited edition blood splattered version of the vinyl too, which is pretty fucking cool.
Migos, Culture II
They might have sufficiently blown up last year, but wait, there hasn't been an album for almost a whole year, which means (given their one per year track record) that we're about to be blessed with Culture 2 on Quality Control Music. Due some time this month, it will feature MotorSport with Cardi B and Nicki Minaj and hopefully many more collabs with Offset's fiancé Cardi, as well as label-mates Stefflon Don and Lil Yachty. Rumoured producers include Pharrell and Metro Boomin.
Charli XCX, as yet untitled
You guys, how amazing was the totally addictive, star-studded Pop 2? And that was just a mixtape. So that means that her third official album is due in 2018, right? Well, about that… "With the album, I don't really know when I'm gonna put it out. Or even if I'm gonna put out an album," she told Vulture last month. "I just don't know. And I think that's what leads me toward making mixtapes. I get so frustrated having to sit on music. I've been sitting on music for my album for so long now that people hacked me and leaked some music." Fair enough, right? "There will be an album of sorts where the main focus, the end goal, is this project or whatever. I think fans need that as well. There's still this nostalgic want for an album. So I will put something out; I just don't know if it'll be ten songs with two lead singles. Or if it'll be 20 songs, or a whole visual album, or four EPs, or a constant flow of demos done in a structured way."
Suggested album title: Whatever Works, Queen
This article originally appeared on i-D UK.