Photography Vanni Bassetti
undercover and takahiromiyashitathesoloist unite in a display of dystopian utilitarianism
Joining forces in an epic back-to-back show inside Florence's Stazione Leopolda, these two visionary Japanese designers turned their clothing into a warning.
Photography Vanni Bassetti
Undercover's Jun Takahashi and TAKAHIROMIYASHITATheSoloist have been friends for years, but at Pitti yesterday, the two visionary Japanese designers got a little closer and presented their menswear collections side-by-side in a unique show in Florence. While the ever experimental Jun Takahashi is a regular in Europe -- with Undercover a fixture on the Paris Fashion Week schedule -- this was the first time Miyashita had shown outside of Japan since leaving his previous label, Number (N)ine, in 2009.
Expectations were high long before the lights dimmed and the first notes of Atmosphere echoed through the vast Stazione Leopolda space. Neither disappointed. Designing in Joy Division soundtracked isolation, Takahashi and Miyashita agreed to play on their back-to-back Pitti Uomo platform by working to the mirrored brief of isolation and order / order and isolation. Both offered dark sartorial warnings of a future ruled by machines. It was all a little Stanley Kubrick directing Black Mirror.
Throughout its 27-year-history, Undercover's motto of "We Make Noise, Not Clothes" has led the design team to create sinister yet playful collections. After he unnerved us all with his warped re-imagination of The Shining for his spring/summer 18 womenswear collection, Takahashi applied his singularly theatrical vision to another Stanley Kubrick classic, 2001: A Space Odyssey. Here, he cut, pasted and manipulated scenes from Kubrick's sci-fi story of extraterrestrials, artificial intelligence and higher planes of existence. From the "I'm sorry Dave, I can't do that" supercomputer HAL 900 becoming a bumbag to directly lifted written warnings on accessories including "Caution: Contains Electric Bolts" and jackets adorned with "Warning: Human Error" and "Computer Malfunction" to film still graphics inviting us to peer back through Kubrick's lens, Takahashi used A Space Odyssey to remind us that -- almost fifty years on since its release -- the film's warnings that AI will one day kills us all are as pertinent as ever. After our recent Netflix Black Mirror binges, we've all asked ourselves if we are creating our own downfall. Will our seemingly insatiable appetite for scientific and technical advancement come back to hurt us?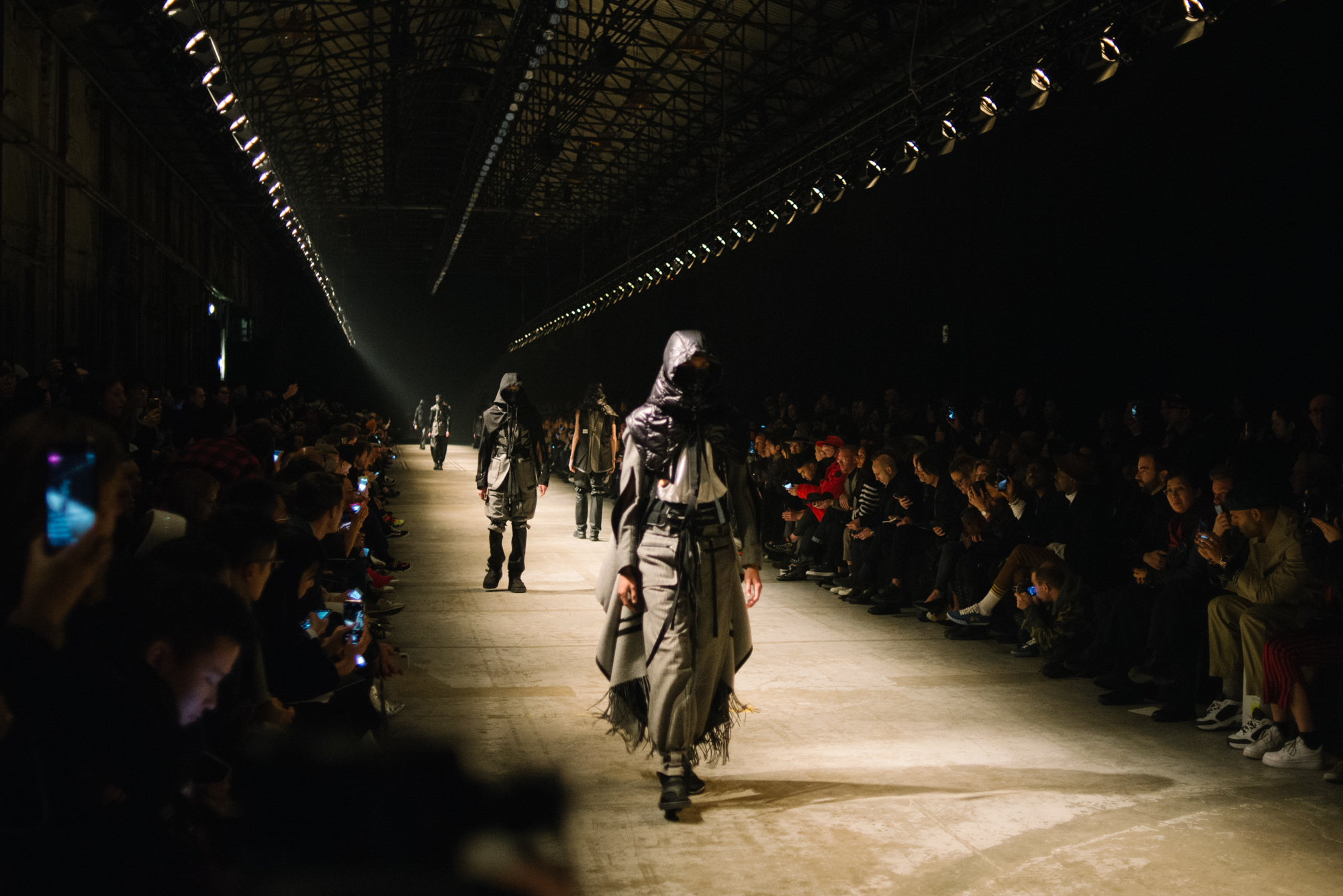 As Jun Takahashi pushed his references to the front of his collection, Miyashita shrouded his in layer upon layer of utilitarian armour. Since launching TAKAHIROMIYASHITATheSoloist in 2010, the press shy designer has allowed his clothing to do the talking. His ideas manifest themselves in detail drenched, heavily handworked, deconstructed tailoring. "I feel more free to design for my own label," Miyashita confessed in a rare interview with Style Zeitgeist last year. "The clothes are closer to my mind than Number (N)ine."
What was on his mind for autumn/winter 18? Only the end of the world as we know it. As familiar forms of everyday menswear and traditional Japanese dress evolved into one another and shape-shifted before our eyes, the result was a uniform for the nomadic ninja of the post-apocalypse. As Donald Trump and Kim Jong-Un posture over whose big red nuclear button is bigger, Miyashita could be forgiven for imagining the worst. The future may be bleak but for those of us that make it, we can at least look badass.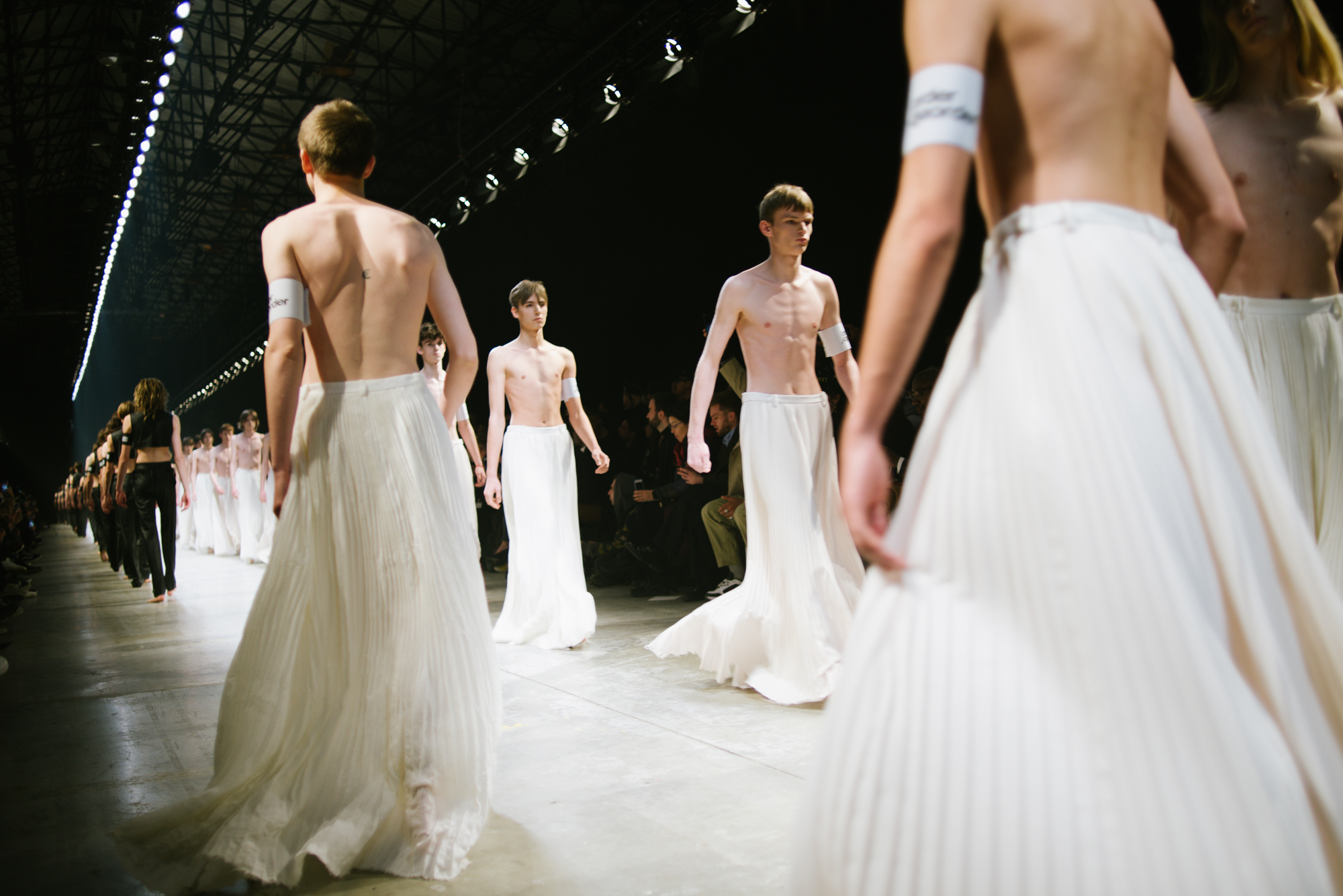 This article was originally published by i-D UK.