Image courtesy Focus Features
the costume designer of 'phantom thread' on creating fictional couture
Mark Bridges realized the immaculate silk dresses of the house of Woodcock for Paul Thomas Anderson's new fashion epic.
Image courtesy Focus Features
Daniel Day-Lewis learned how to sew like a 1950s couturier in preparation for his role (possibly his last ever) in Paul Thomas Anderson's new film, Phantom Thread. Day-Lewis plays Reynolds Woodcock, a monomaniacal mid-century British fashion designer who makes pristinely elegant but uncomfortable-looking gowns for debutantes and foreign princesses in post-War London. Woodcock drinks sencha tea from a Japanese Iwachu cast-iron pot while everyone else has coffee, wears only magenta socks, and is allergic to imperfection. (He nearly casts out his lover and muse, Alma, played by Vicky Krieps, when she butters her toast too loudly at breakfast.)
Day-Lewis, who is a perfectionist himself, undertook a one-year apprenticeship under Marc Happel, the New York City Ballet's costume director, to learn the skills and mindset of a couturier. By the end of his training, he was able to make a perfect recreation of a mid-century Balenciaga day dress for his wife, the filmmaker Rebecca Miller. "Rebecca has worn the dress," Day-Lewis confirmed in an interview with W, in which he also spoke with authority about gussets and draping. "It's very pretty," he added.
"That's not for the faint of heart! Making a dress, but also preparing for the role in that way," says Mark Bridges, the Oscar-winning costume designer who in fact created the jewel-tone satin gowns and little lace evening jackets of the fictional house of Woodcock, along with dressing the rest of the movie's characters. Bridges has worked on nearly all of Anderson's famously meticulous productions. He put Heather Graham in satin booty shorts and gold roller skates for Boogie Nights and helped transform Day-Lewis into a tweedy Texan oil baron for There Will Be Blood.
Bridges and Anderson have listed legendary fashion designers including Cristóbal Balenciaga, Hardy Amies, Edward Molyneux, and Victor Stiebel as the inspirations behind Woodcock and his creations. But the man and dresses in Phantom Thread are a unique (at times unhinged) amalgamation of all these designers' idiosyncrasies.
For research, Bridges's first port of call was the Victoria and Albert Museum in London. "We were really fortunate to have a connection there," he says. "We went to London even before we really started prep for the film, and we were able to go into the museum's archives. We were able to look inside garments, to see how they were made, to see what fabrics were used." On one Balenciaga dress, he discovered an embroidery technique, used to suspend sequins in silk, that inspired a detail on a dress that Alma designs for herself in the film. (The garnet silk cocktail dress she wears during the immediately iconic asparagus scene.)
The V&A proved useful in other ways, too. Two of the docents who oversaw Bridges's archival explorations had, in previous lives, worked at London couture houses. Not only did they share useful details about how a mid-century British couture house functioned (you did not socialize; you got the work done), but Anderson also cast them in the film. The first-time actresses and V&A docents Sue Clark and Joan Brown appear as Biddy and Nana, two of Woodcock's more senior employees.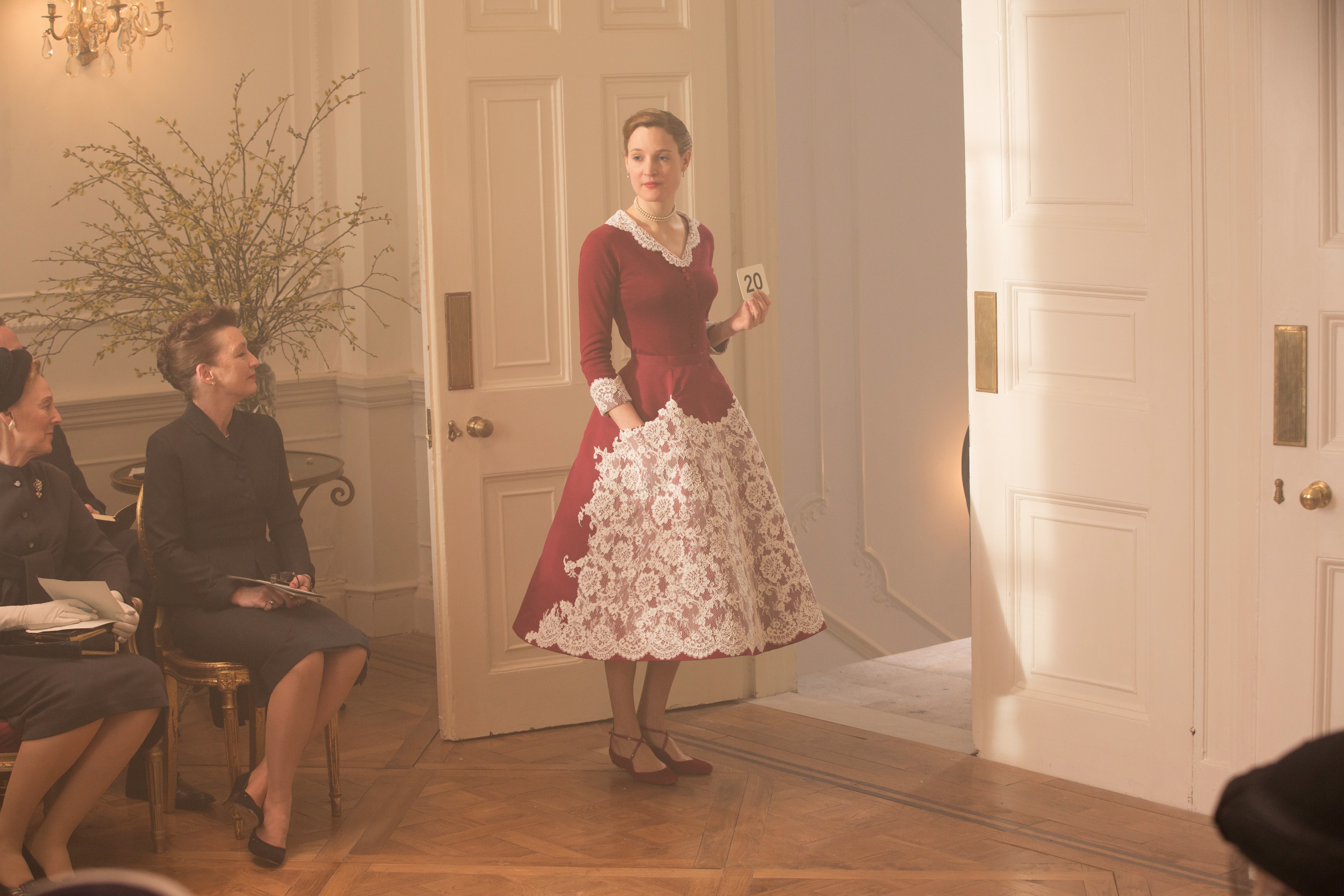 Anderson used an airily grand Georgian mansion on Fitzroy Square to embody the house of Woodcock and, unusually, moved all production for the film into the building (which might be roomy for a family, but not for a full cast and crew). Bridges, meanwhile, set up a fashion studio on Charing Cross Road, a short walk from the set, were he produced the costumes — many inspired by historic garments from rental houses in Rome — with the help of a team of tailors and seamstresses. "We were really dedicated to making it as authentic and magical as possible," he says.
Coincidentally, the building his makeshift atelier occupied was the beloved former home of Central Saint Martins, before the school moved north to King's Cross. "It's slated for the wrecking ball," he says, "it was pure chance we ended up there."
Bridges insists that he never stitches hidden messages into his clothes as the occasionally sinister Woodcock does, but the costumes have their own secret history: they were sewn in the former classrooms of Alexander McQueen and John Galliano.