Moschino. Photography Mitchell Sams.
"a new energy of male and female" – day one of milan autumn/winter 18
Moschino, Neil Barrett and Versace all question the rules of gender dressing, blur boundaries and celebrate individuality.
|
15 January 2018, 10:17am
Moschino. Photography Mitchell Sams.
"I was interested in how the menswear and womenswear could co-exist," Jeremy Scott explained backstage as models picked up frilly tulle trains, peeled out of PVC body-stockings and freed themselves from gimp masks. Throughout his Moschino 2018 men's and women's pre-fall collection, Overt/Covert, Scott teased, twisted and tested the gender binary in search of stimulation and liberation. As Michel Gaubert's techno-filled soundtrack pulsed and pounded, Moschino's message was that while clothes can define us, they need not confine us. This was for the heroes, lovers and fantasy fulfillers.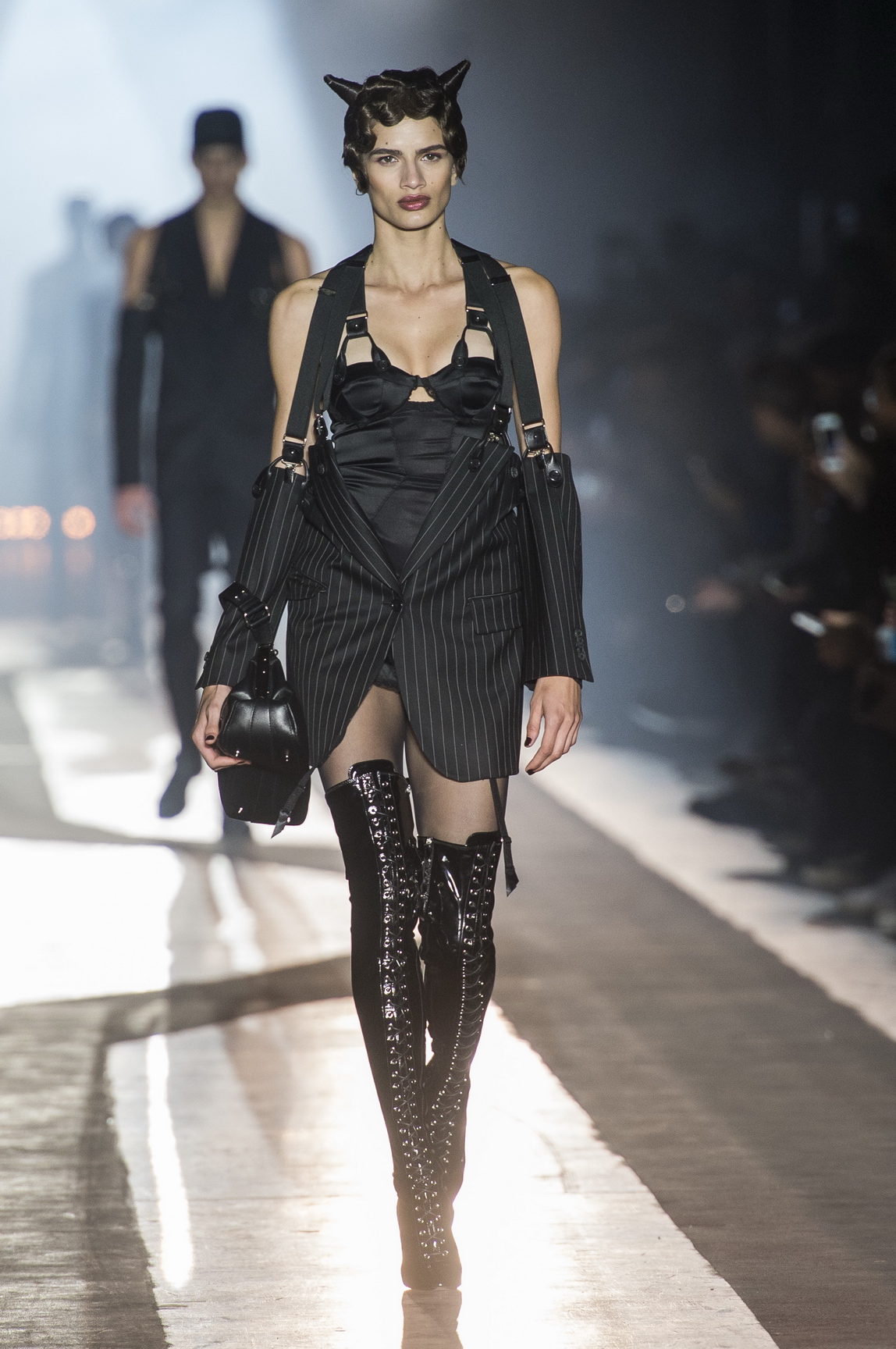 Staples of every buttoned up businessman were smacked with fetishised discipline before being stripped and spanked into submission. The cummerbund becomes the centre to a fitted black dress. Suspenders hold up the bodice of a PVC booted bag-girl-show-girl look. Pinstripe suiting had panels slashed to reveal flesh and wipe-clean fabrications. "I wanted to play around with the idea of mixing masculine and feminine in an assertively subversive way," Scott added. Taking the tropes of menswear, introducing them to womenswear and playing with them –- hacking bits off of suiting and suspending them. He took from womenswear too -- the tulles, florals and corsetry -- before mashing them together. Buff models looked no less masculine for wearing frills or tulle capes and amongst the lashings of latex and DIY safety pinned word collages, the result was a heady cocktail of subversion, perversion, sex and power.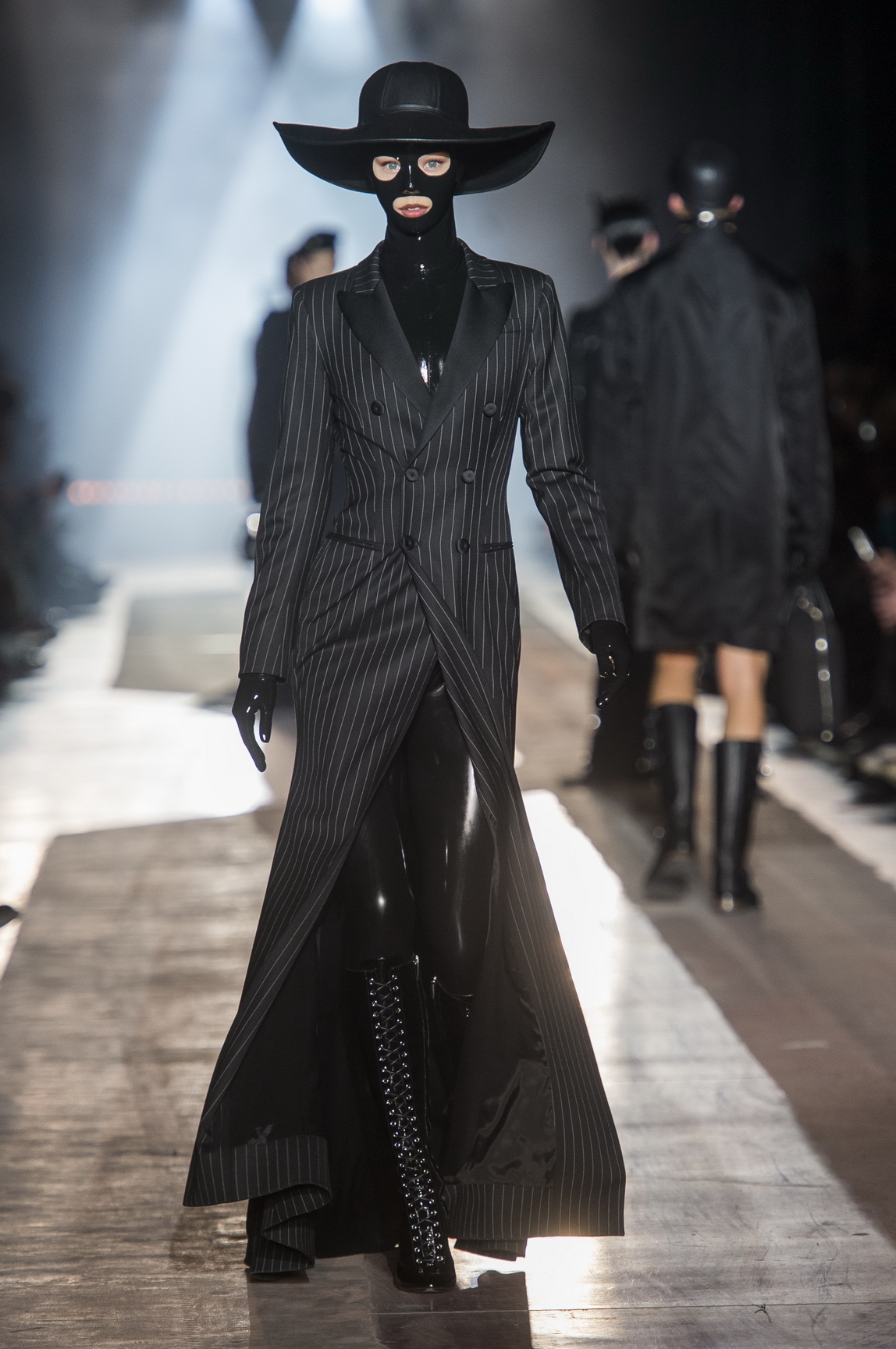 "It was about questioning stereotypes and proposing something new -- a new energy of male and female. So many people, many friends, are challenging the binary." This was no more compelling than in the final look which saw Californian-born gender neutral model Oslo Grace and RuPaul's Drag Race-winning Violet Chachki share a tandem tux. "It's part of pop culture. They have a place, they have a voice. This is today, the actual world we are living in and creating together. The world puts labels on people but we can erase then and present ourselves in how we'd like." This was Scott at his playful, provocative and powerful best.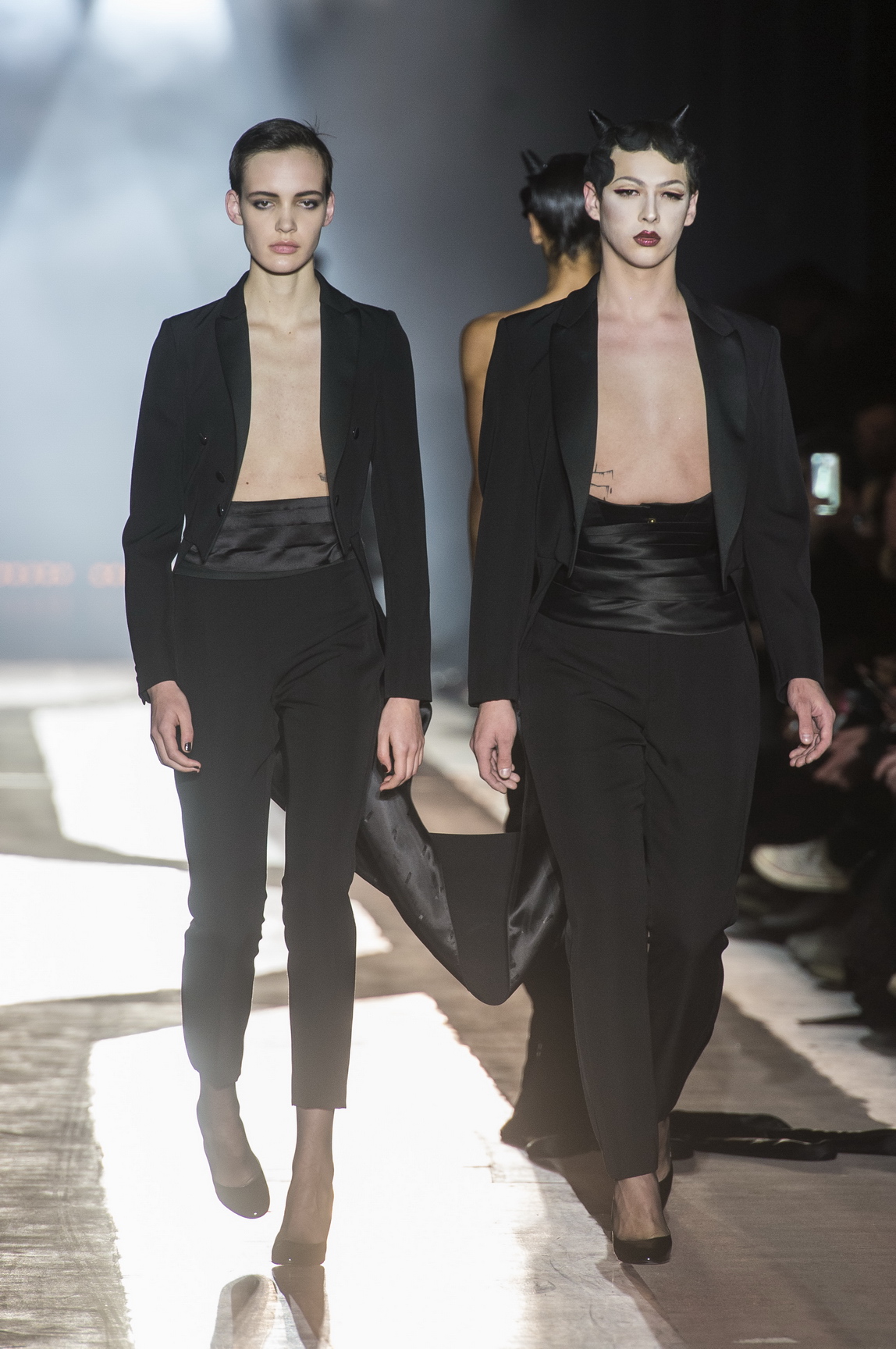 With the show starting mere minutes after the industry's attention turned to accusations against Bruce Weber and Mario Testino, as detailed in the New York Times' must-read investigative piece, the intimate relationship between sex and fashion left us all uncomfortable. So it should. But experiences need to be shared, voices heard, people protected and changes made. However, Moschino was a safe space -- bringing a hidden world out into the open while celebrating a spectrum of sexuality and the power of consensual sex. "Sex is part of our human nature and there's nothing wrong with that as long as it's consensual," Scott explained. "If people are owning their sexuality, there's positive power in that."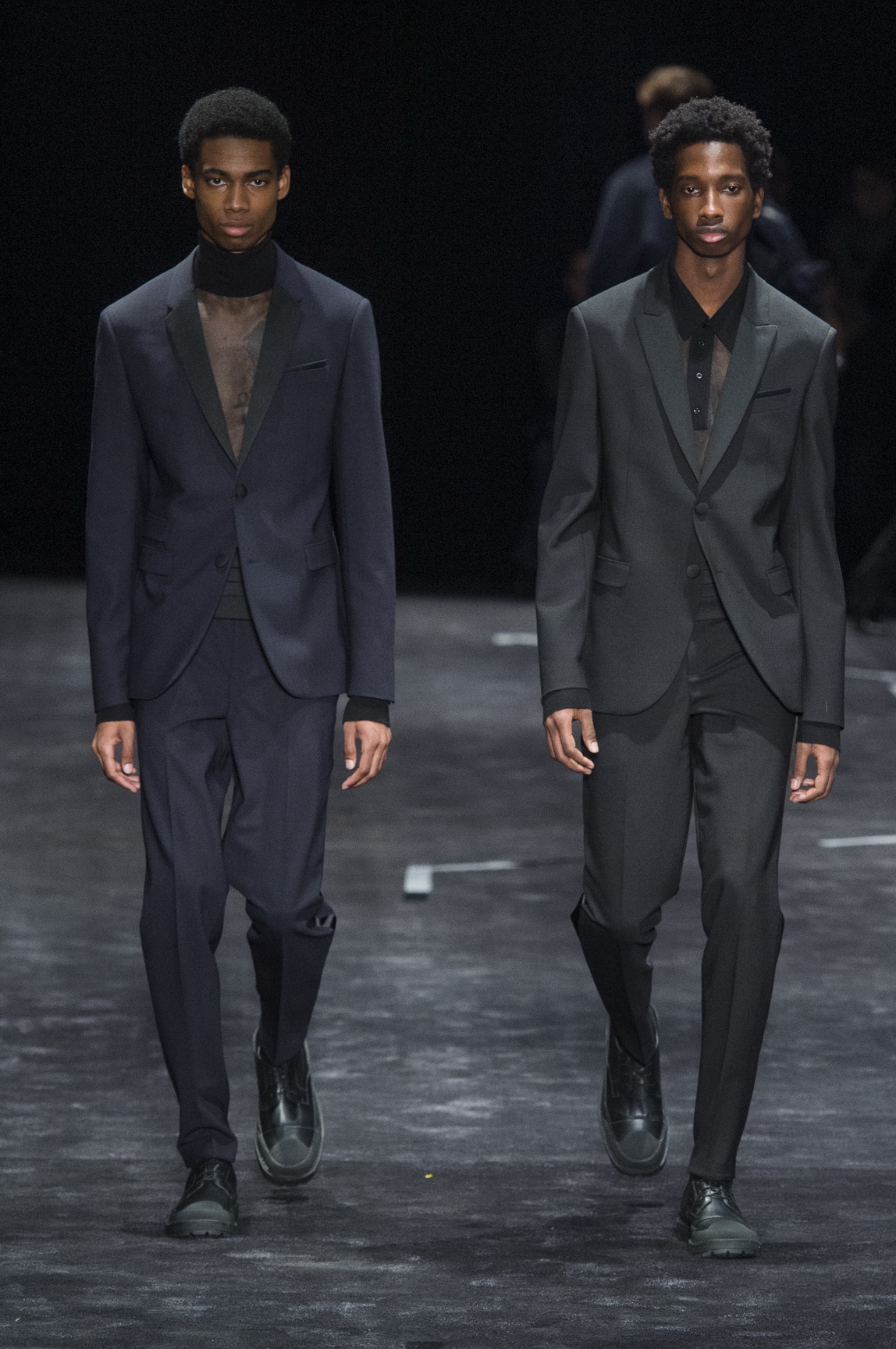 Hidden fetish cupboards aside, Neil Barrett rummaged through the same staples of the archetypal male wardrobe as he too looked to reimagine uniforms, play with the vocabulary of menswear and explore a fresh language in dressing. From the classroom to the office, the club to the battleground, Barrett cut, pasted and manipulated sartorial symbols, combined codes and created new hybrids. The distinct boundaries of tailoring, military, sportswear and streetwear were blurred throughout. The initial inspiration was grounded in the mid 90s, a moment when menswear's proportions and materials were reconfigured and reimagined by a new generation of designers, changing how men dress.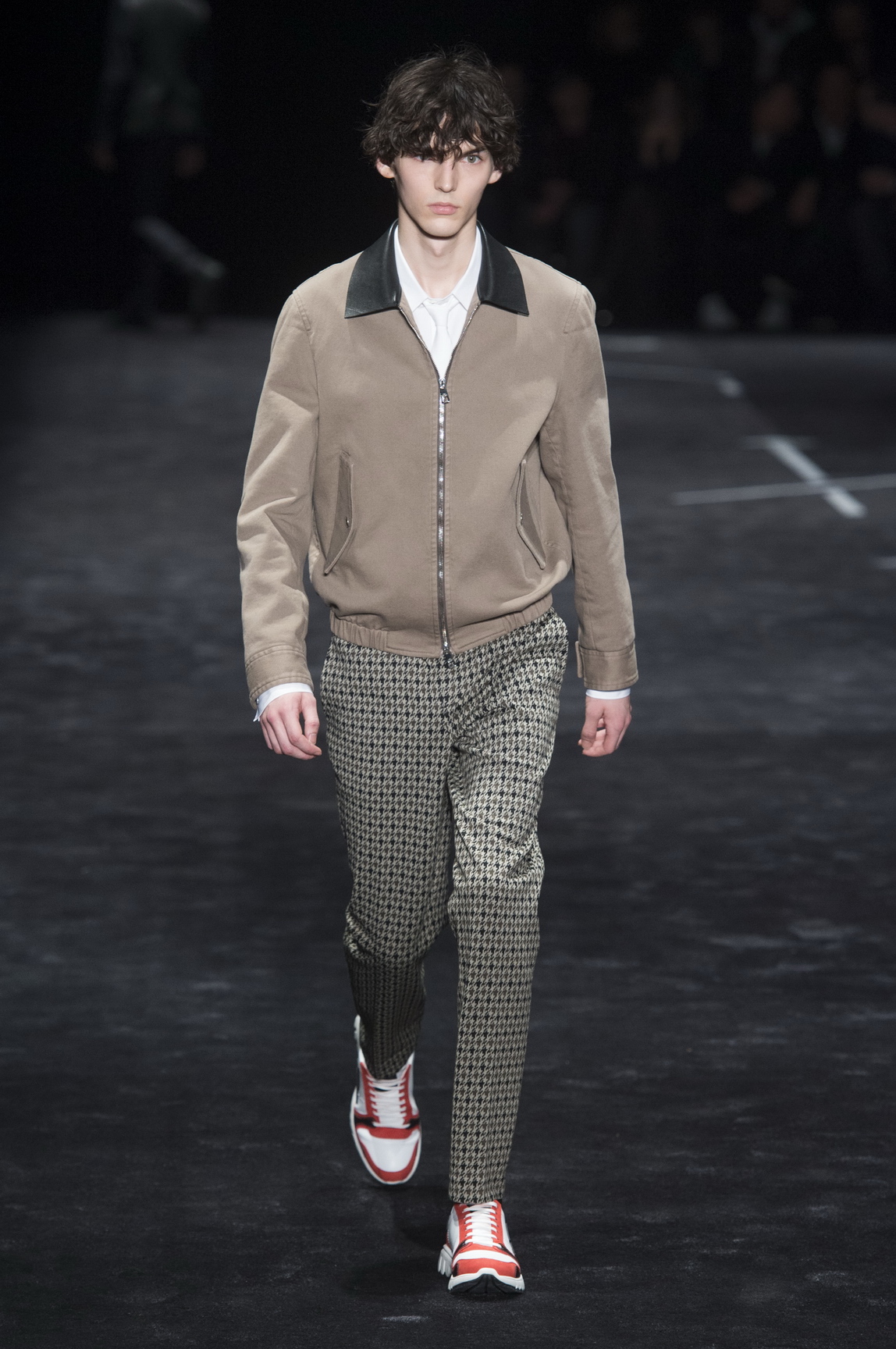 Barrett himself was at the forefront of this moment and movement. So for autumn/winter 18, the mirrors that lined the showspace toyed with proportions and reinvented garments. Parallels were drawn between military tailoring and mid-century couture. Bomber jackets inspired cocoon-shaped outerwear which have a hint of the opera coat, trench coats and tailoring nipped tightly at the waist to construct a near-hourglass silhouette. While Barrett's approach was less overtly kinky, he was asking similar questions to our socially constructed uniforms of masculinity.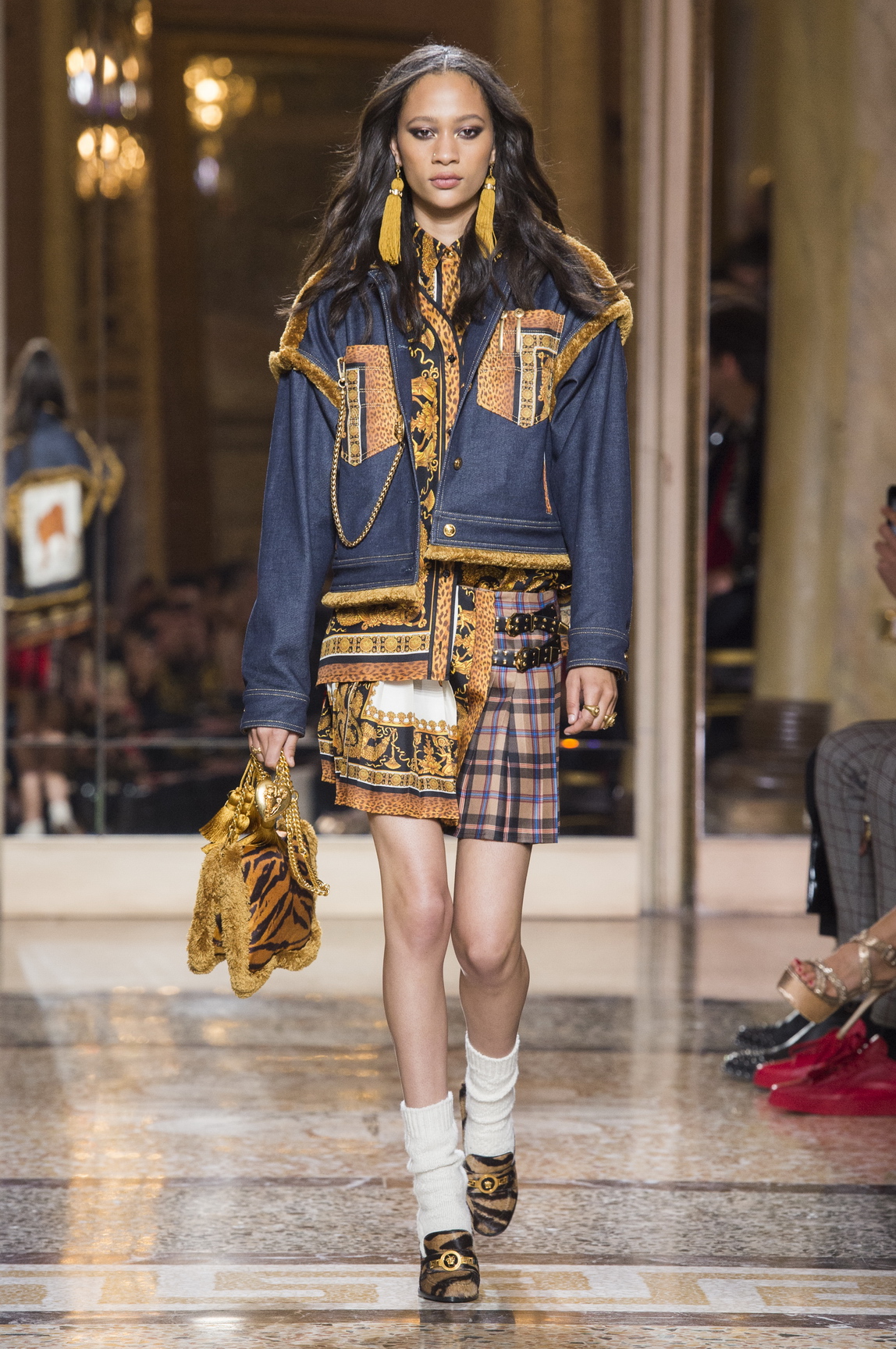 Donatella invited us to explore the house of Versace -- but this was no quiet night in as she roared "go big and go home!" While the family have recently described the the soon-to-be-released American Crime Story: The Assassination of Gianni Versace as a work of pure fiction, Versace autumn/winter 18 invites us through the keyhole and into the family's reality.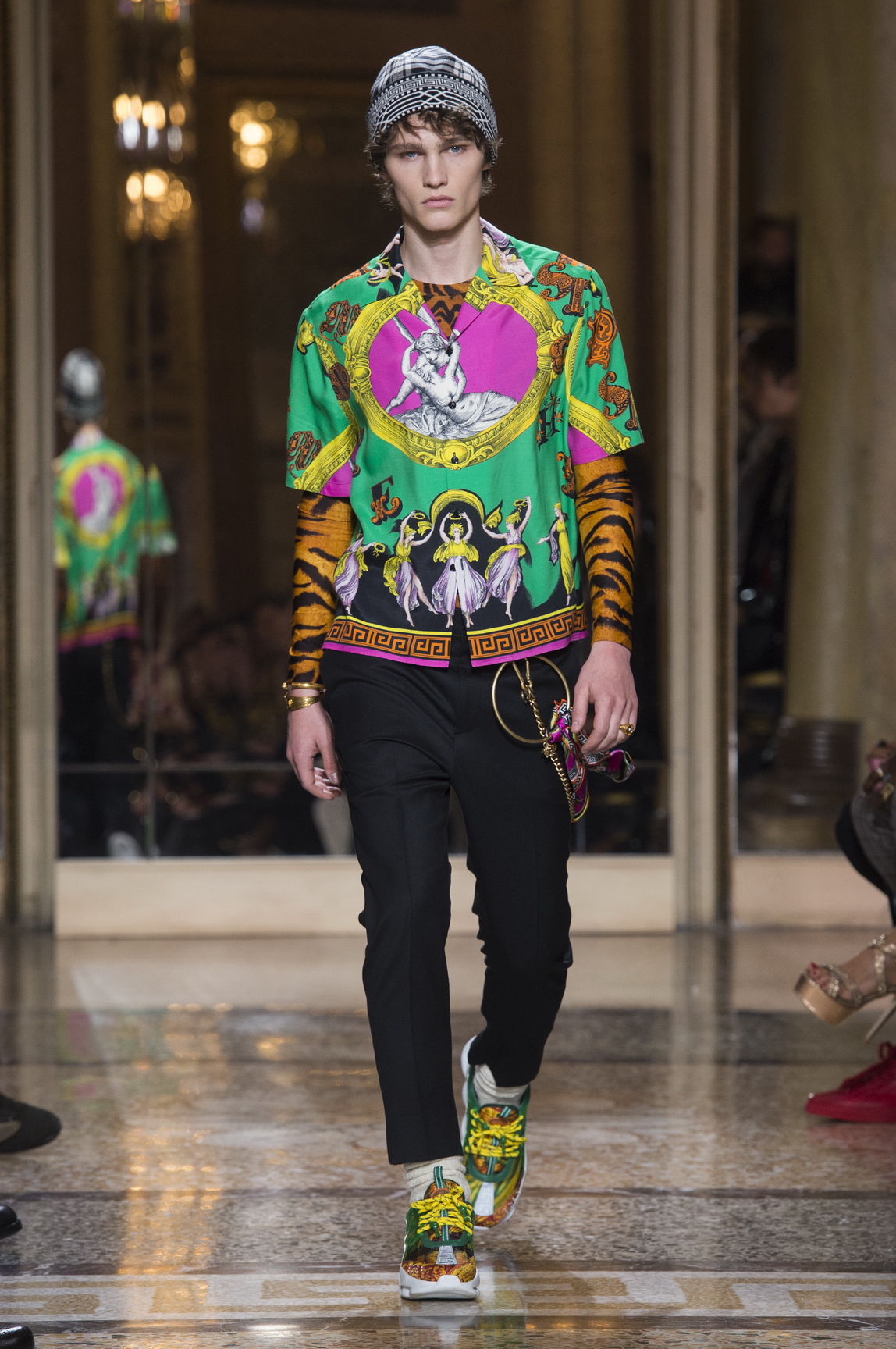 For Donatella, the house is a home, and inspiration is taken from the intimacy behind closed doors at the Versace 'casa'. Accessories were crafted from lush interior elements. Heritage velvet prints adorned clutches, travel bags recalled velvet curtains, and bracelets were crafted from cutlery. A Chesterfield-style couch from Versace Home was re-born on outerwear and accessories featuring couch button details on leather and velvet. After the epic spring/summer 18 womenswear show celebrated the life and legacy of Gianni, this menswear show was all about embracing your inner Versace, Versace, Versace. With a look-at-me personality that's taken to another level, the message was question the rules, ignore the boundaries and celebrate the art of individuality.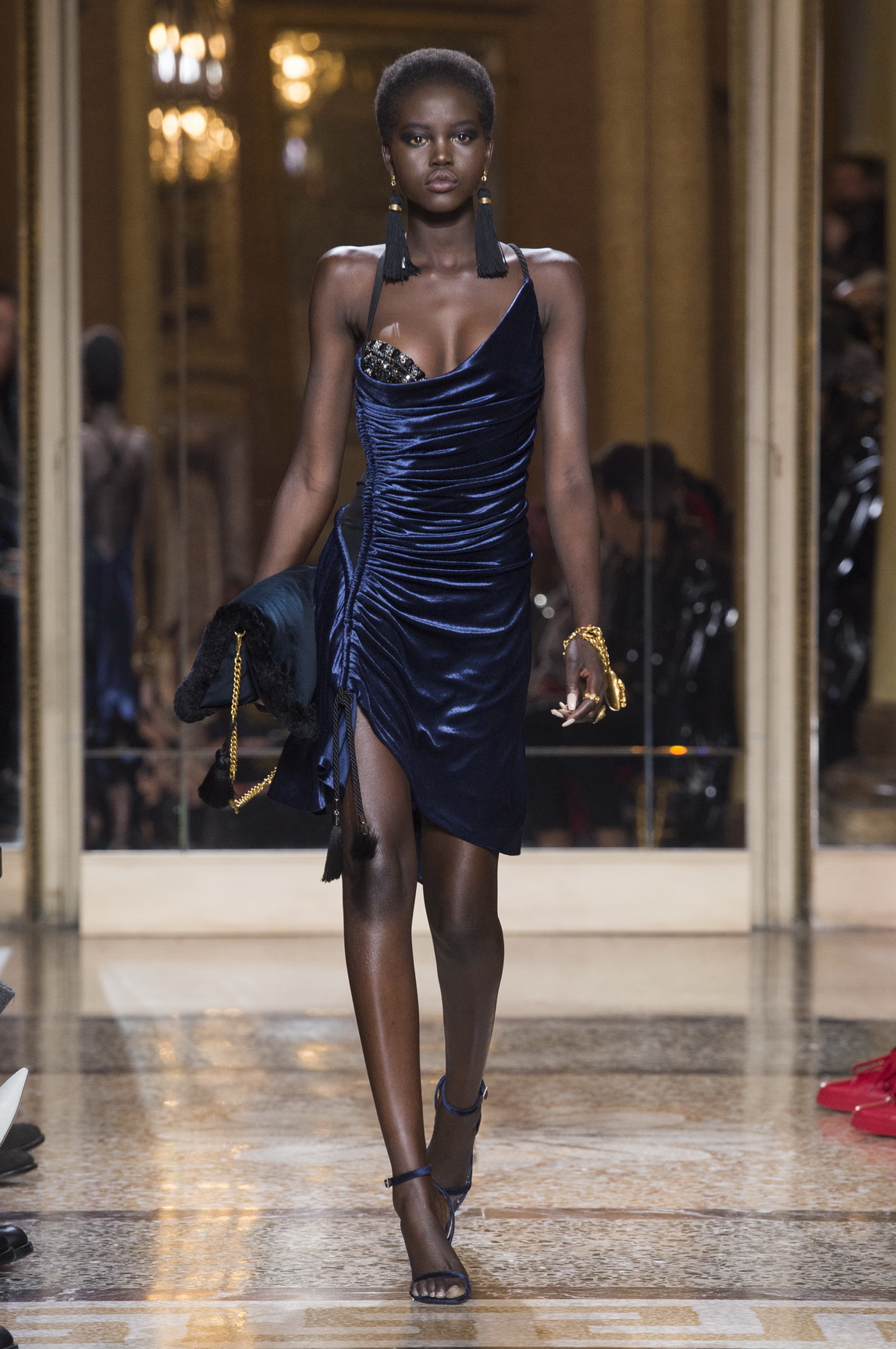 This article originally appeared on i-D UK.
Credits
---
Photography Mitchell Sams