Photography Mitchell Sams
fendi actually showed umbrella hats on the runway at milan fashion week
On the final day of Milan autumn/winter 18 men's show, Silvia Fendi went mad for monograms, actually did umbrella hats and turned their show space into an airport.
Photography Mitchell Sams
In The Long Dark Tea-Time of the Soul, Douglas Adams wrote "it can hardly be a coincidence that no language on Earth has ever produced the expression 'as pretty as an airport'. Airports are ugly. Some are very ugly." Every show season, the fashion set's frequent flyers see plenty of ugly as they travel in and out of the major fashion capitals. On the final day of Milan autumn/winter 18 men's and just before we all made our way to Linate airport, Fendi transformed its catwalk space into the prettiest and most playful airport possible. Against a departures board and 'Nothing to Declare' arrivals backdrop, a Generation Game-worthy carousel looped a variety of vintage Fendi cases, Fendi-stickered boxes and even, a monogrammed pram, as Silvia Venturini Fendi unpacked and repacked more than just her house's signature luggage. "We wanted to return to the Fendi roots, to explore the Fendi identity," Silvia explained backstage. From the FF logo to Pequin stripes, the Fendi stamp to the Fendi yellow, this collection had every strong house signature alongside a sprinkling of Silvia Venturini Fendi's own.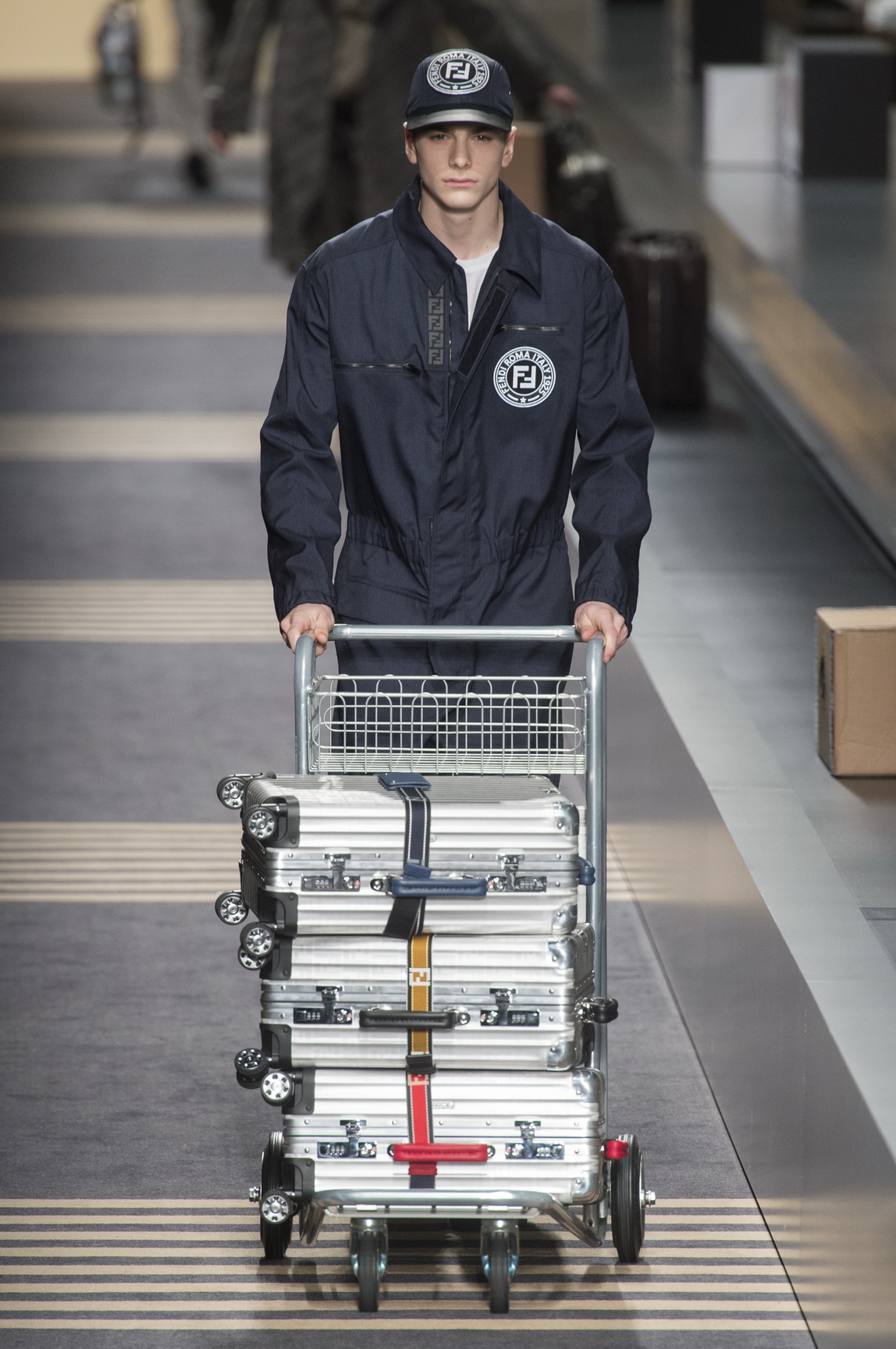 By the moodboard of references pinned backstage, she pointed to a black and white photograph of the family's first store -- opened by her grandparents on Rome's Via del Plebiscito in 1925 -- before reading out its sign. "Luggage, trunks, umbrellas. It was about returning to these items and seeing what's changed in almost one hundred years." So what did she think has changed and do they look like now? Well, after losing one-too-many standard umbrellas, Fendi turned them into headwear. Elsewhere, bags become wearable and the contents of the carry-on fully reversible -- from the roomy intarsia blousons to the rubber anoraks, ultrasound duvets to the lounge suits -- with each single piece able to become two so we can pack lighter. "When I travel through airports, I'm always daydreaming about catching another plane to another exotic location," Fendi explained.
"When you travel, comfort is everything," she added. "So, the trousers are adjustable -- the elasticated waists mean you can adjust them like baby clothes." Forget first class, it's all about Fendi class. Now, this Fendi greatest hits remix was taken that bit further with the collaboration with @hey_reilly as the Glasgow-born graphic and new media artist took it all, and turned it into a collage which was splashed onto clothing and bags. After fun and fruitful creative coming togethers with Sue Tilley and John Booth, the Insta-collagist caught Fendi's eye after posting a mash-up of its logo with Fila. "When they first messaged, I thought they wanted to sue me but then it was like winning the lottery because they gave me an open brief to just go berserk with the logo," he explained backstage. Impressed by his efforts, not one element was changed for the catwalk. "I love him," Silvia proclaimed, now with a glass of Prosseco in hand. "We share his sense of irony and the words he picked are so important for us." These chosen words echo and seem to grow ever louder in each Fendi men's collection -- family, faithful, freedom, fancy, fabulous.
This article originally appeared on i-D UK.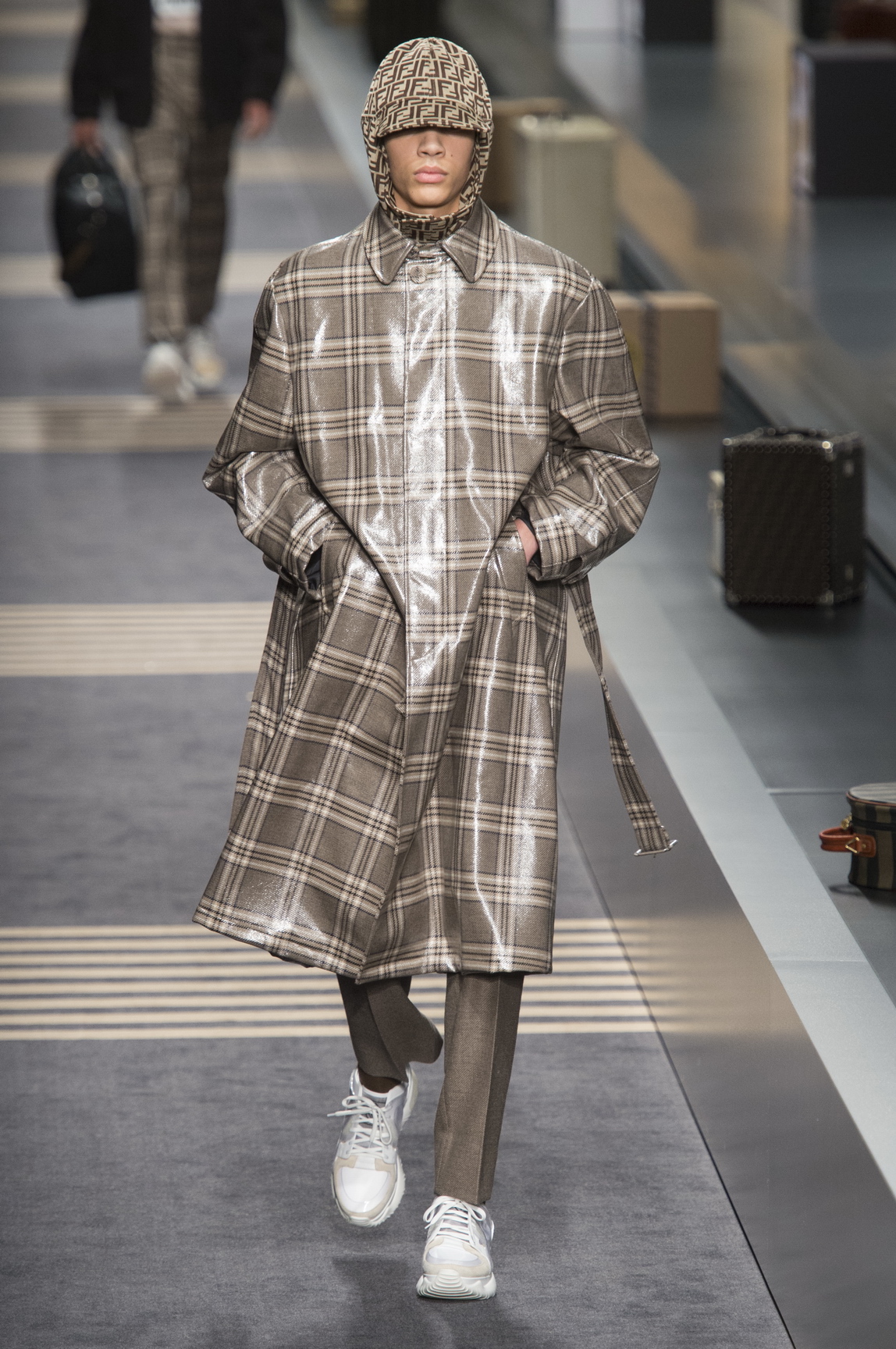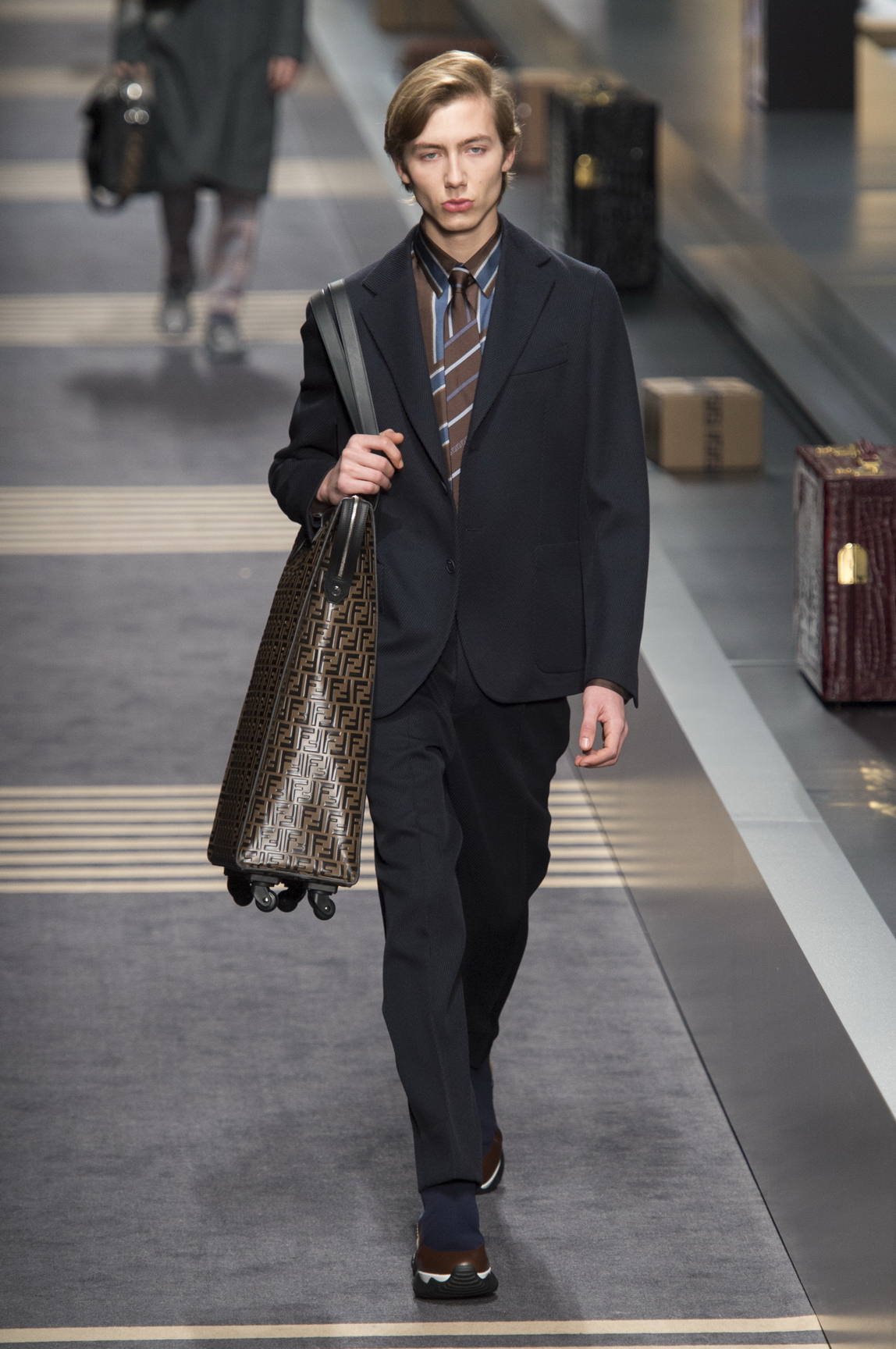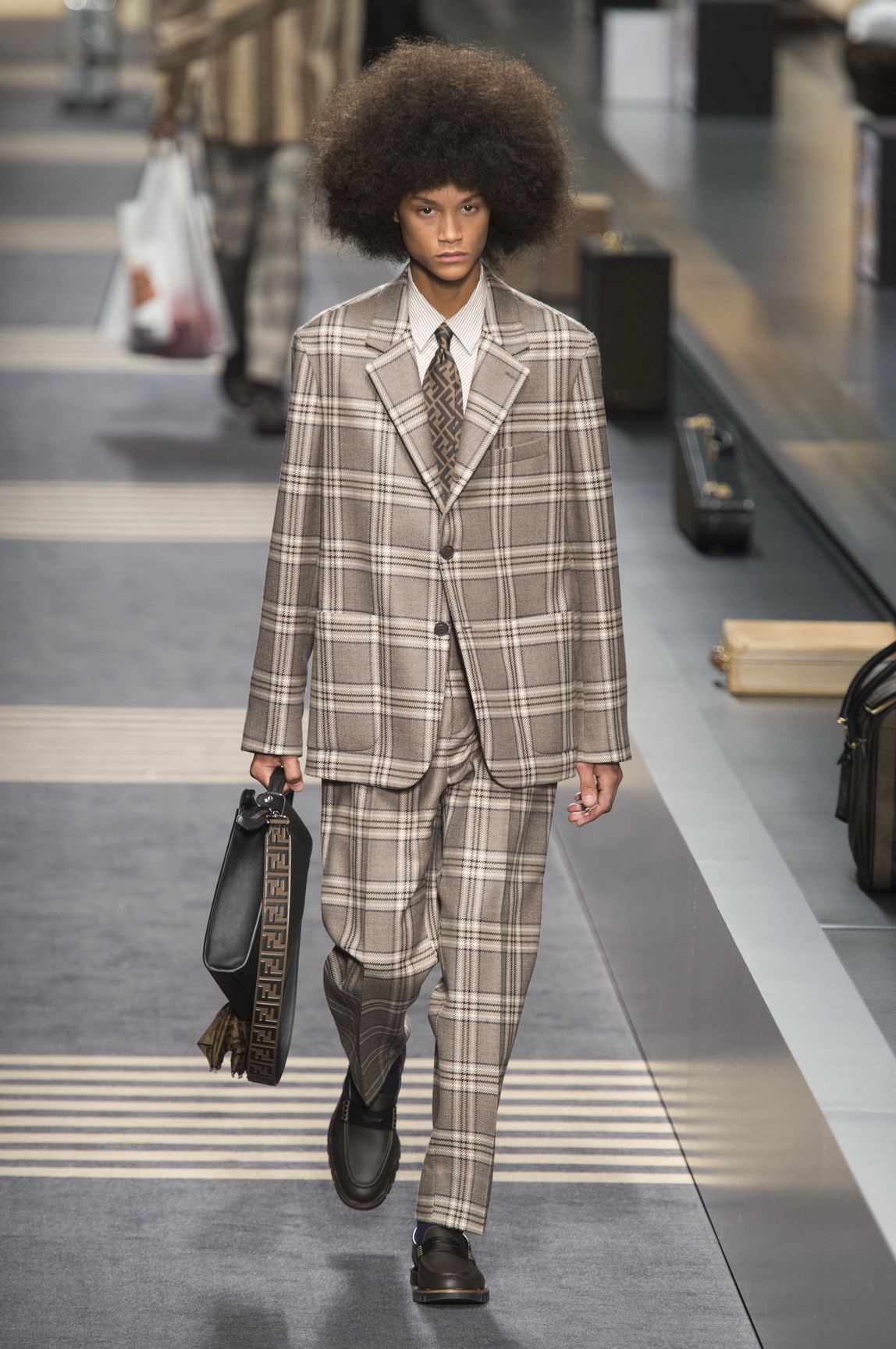 Credits
---
Photography Mitchell Sams