Still from There's Something In The Water
ellen page is checking her privilege and using it for good
The Oscar-nominated star discusses her new documentary following its premiere at TIFF yesterday.
|
11 September 2019, 11:56am
Still from There's Something In The Water
Louise Delisle drives down the main street of her hometown of Shelburne in Nova Scotia, past storybook houses that back onto beautiful forests. As she drives she points out the households -- dozens of them, predominantly owned by people of colour -- in which residents have died or are dying from cancer. There are almost too many to count.

Behind those houses, out of view, lies a rubbish dump that has been poisoning the town's water supply, and for the past few years Louise has spent much of her time fighting against the town's (predominantly white) authority figures to fund a clean-up that could save people's lives. Nobody, it seems, is listening.
This is one of the many shocking scenes that make up There's Something in the Water, the feature length documentary and directorial debut from the Oscar-nominated actor Ellen Page and her Gaycation co-creator, Ian Daniel. Ellen grew up in Nova Scotia, where this -- as well as many other examples of environmental racism -- take place. The news that her idyllic homeland was harbouring a dark, violent secret forced her to sit up, take note, and try to find something she could do about it. Her privilege had to be used somehow, though she knows it's a problem that the presence of a white star could be the only thing that pushes these 'life or death' movements into the mainstream.
"It's fucked up," Ellen says. "It's fucked up that they have been fighting for so long… fighting for decades and then a white actor could be talking about things [and that could invoke change]. It's fucked up." She repeats those words several times to make sure they've registered. She means them: "I'm the first to say that it's fucked up."
Which is why we're here today, on the quiet rooftop of a coffee spot in Toronto, away from the hustle and bustle of the city's world-renowned film festival where There's Something in the Water had its world premiere last night. The immediate feedback has been overwhelming. After the screening donations for those in need started to roll in, while Page quietly announced she'd be funding a well for the town of Shelburne to provide its residents with clean water.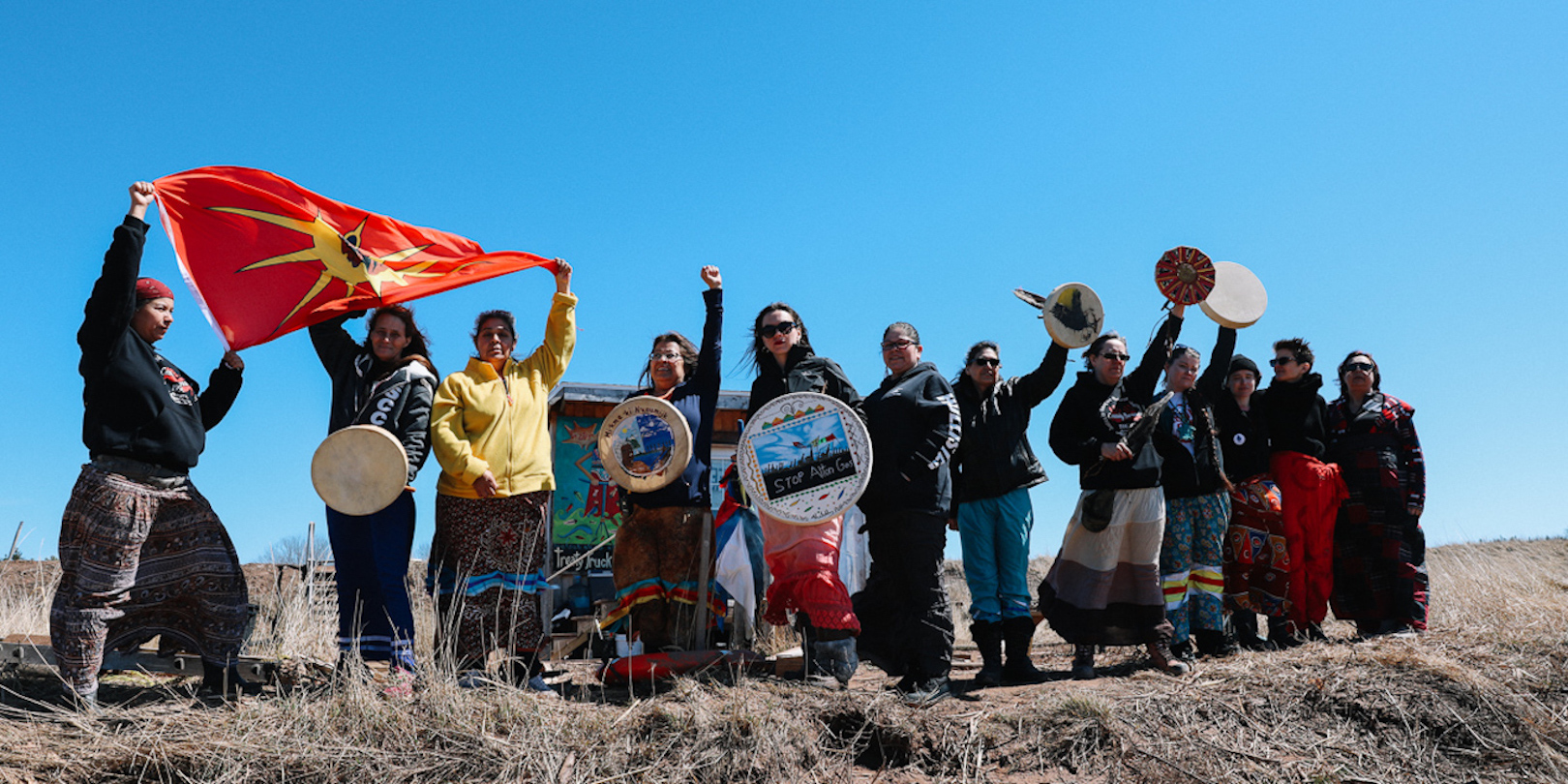 "It's to do with this inherent feeling of wanting to help no matter what privilege you have," Ellen says, her eyes peeking out from beneath a cap that reads "Stop Alton Gas". Alton Gas are a massive energy company that has been pumping brine into the sacred waters of the Shubenacadie river, a worship site for the Sipekne'katik First Nation -- another issue addressed in the film. "The level of privilege I have is significant, and so much of that comes from my whiteness. The reality is that, with that privilege I have, this is absolutely what I should be doing. I knew we had to connect with the leaders of the movement -- the ones we should all be listening to -- and keeping myself in the back seat."
The environmental destruction of Nova Scotia's indigenous communities -- which are disproportionately targeted by conglomerates for use as waste sites in the province -- reached her through a non-fiction book called The Mill. Written by Joan Baxter, The Mill chronicled the conflict that had been going on in the area between the indigenous people and the companies co-opting their land. "Through reading that, I was learning more about environmental racism in Nova Scotia and was like 'Fuuuuck,'" Ellen says, stretching out her syllables in disbelief. "I gave my co-director Ian the book and he read it in a day."
Ellen, Ian and their producer Ingrid spoke to the community's Grassroot Grandmothers, a group leading the fight for change. "Through the conversation with them we decided, 'Let's come up with cameras and put the footage online'," Ellen says. "It felt so urgent. We decided that we should do it and show multiple examples, so the government could recognise it as a systemic issue." The film was originally meant to be a series of short snippets Ellen could share with her following online, but "when we got back, Ingrid, Ian and I were looking through it and thought it could be a feature." Suddenly, Ellen had her feature-length directorial debut on her hands. She hasn't had much time to process it: "We shot this in April. I have no idea how we pulled this shit off. I have no fucking clue."
Coming from the world of Hollywood -- a place where glossy packages and cinematic stories prevail -- Ellen's segue into documentary has been seamless. Her work on Gaycation, that aforementioned VICE series about LGBTQ+ experiences around the world, prepped her well for making something with an equally important message. Throughout, she hands over control to the women behind these protests -- both Louise and Michelle Francis-Denny, who is protecting the Shubenacadie river -- rather than soaking up the spotlight herself: "I hate looking at myself on screen," she squirms.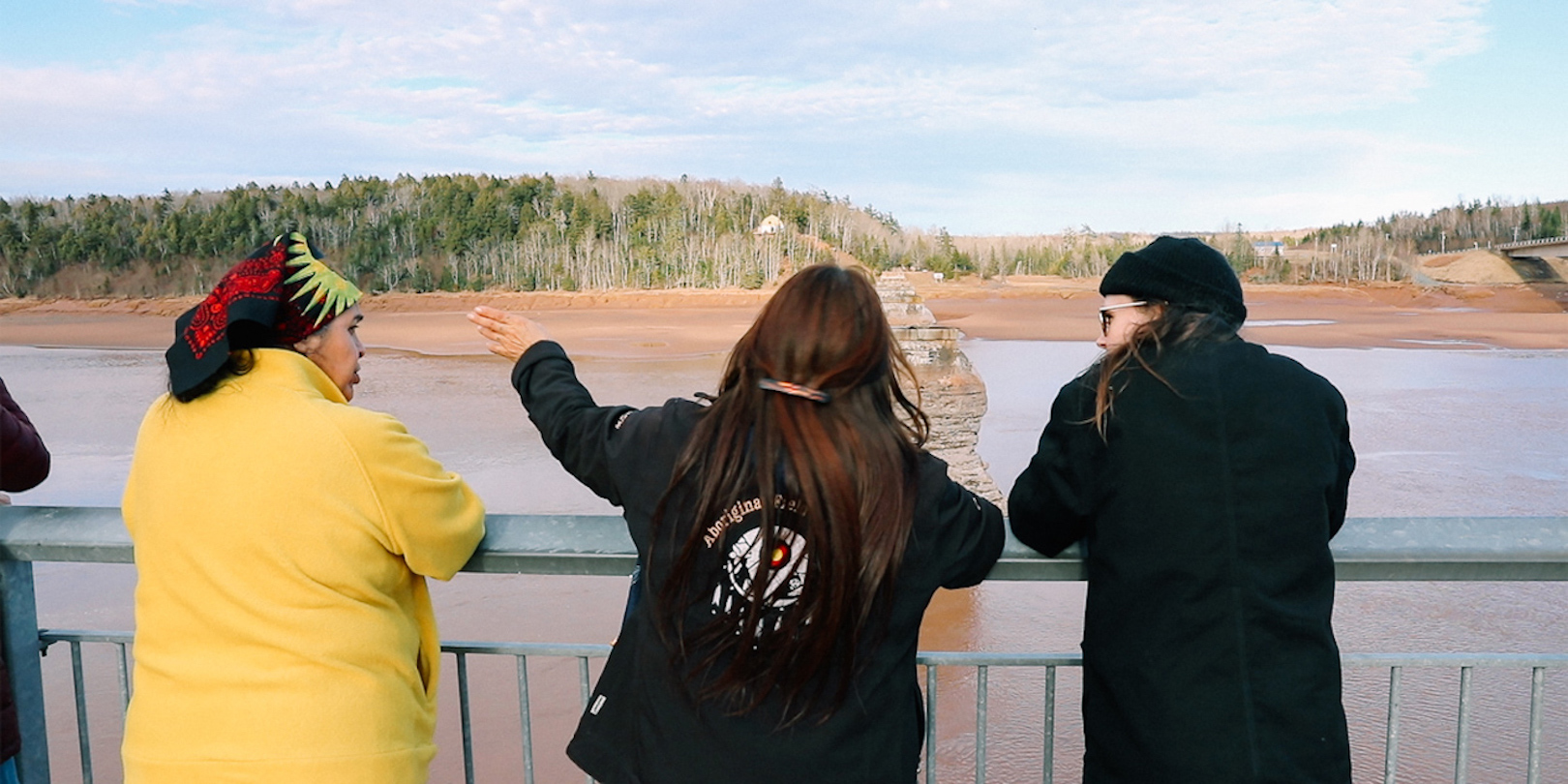 It gave Ellen the chance to take a step back from acting for a bit, though she's knee deep in it again right now, shooting the second season of the hit Netflix series The Umbrella Academy in Toronto at the moment. "I'm so lucky to be working on [that] right now because I just have a blast with an awesome group of people," she says. "It feels nice to have a balance of that, and then having the space and resources to do this too."
Does she think fictional movies and TV shows can effect change like documentaries? "I think it can -- in instances," she points out. "Hollywood definitely pats itself on the back to a very inappropriate degree though. A lot of the time films get made because there's been shifts [in the real world] and they're like…" she raises her eyebrow like a cunning, coercive movie exec exploiting whatever they think is 'woke' before dropping it. "You know what I'm saying?"
"But yes, of course they can," she continues. "A lot of people would share what movie moved them, or woke them up to an issue or someone else's experience. But in terms of Hollywood leading the way? As someone who's grown up in it – nope!" She adopts a high pitched, comically cynical squeak for that word. Is she good at noticing big movie bosses' false intentions now? She thinks for a second, then nods. "I was closeted as shit and really unwell for a while, barely expressing myself. I felt like I couldn't. I just thought that would be my life [forever]. Now I feel like, 'Fuck yeah!' Sure, shit is in code a lot, but now I'm like 'Don't even try it.'" Ellen lets out a heavy breath. Things are better for her, and so she can channel that exhausted energy towards those who truly need it. "It feels nice to, y'know, not give a fuck about what other people think," she smiles.
Tagged: