how london's young designers are weaponising womanhood
Charlotte Knowles, Supriya Lele, Nensi Dojaka and Sinéad O'Dwyer are redefining what feminine power dressing means today.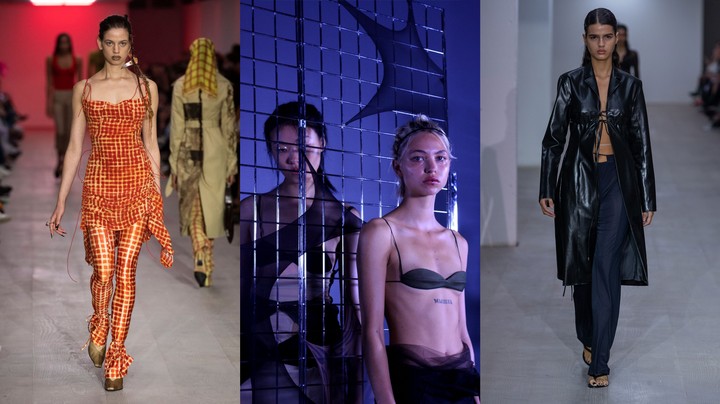 From left to right: Charlotte Knowles, Nensi Dojaka, Supriya Lele.
On hearing the words 'power dressing', thoughts typically turn to the 80s, drastic shoulders and fastidiously cut suits; to names like Mugler, Armani and Montana. Of course, their legacy continues to inform what emboldened women's dressing looks like today, but in London, a new generation of young womenswear designers are redefining the mental landscape of power dressing. With their bold, body-confident designs, Charlotte Knowles, Supriya Lela, Nensi Dojaka and Sinéad O'Dwyer are part of a new generation of designers advocating a hyper-feminine, weaponised womanhood.

Since graduating from Central Saint Martins in 2017, Charlotte Knowles's rise has been impressive by anyone's standard. Founding her namesake label straight out of school, where her partner Alexandre Arsenault joined her after the first season, the brand's hallmark sensual, not sexual approach to womenswear earned them a place in the Fashion East fold. After three seasons showing with the initiative, SS20 marked their first solo show, and with it an injection of fresh combative energy into their assertively feminine silhouette.
"When we started working on the collection, we had just finished showing with Fashion East and felt a little vulnerable fending for ourselves in the industry," explain the pair. "So many unbelievable things are happening in the world around us, affecting us and our brand. Brexit, for example. We were struck with a feeling of helplessness. This collection was about channelling our frustration and vulnerability into something positive and strong. We liked the idea that, in a certain way, our woman felt as threatening and dangerous as a venomous creature."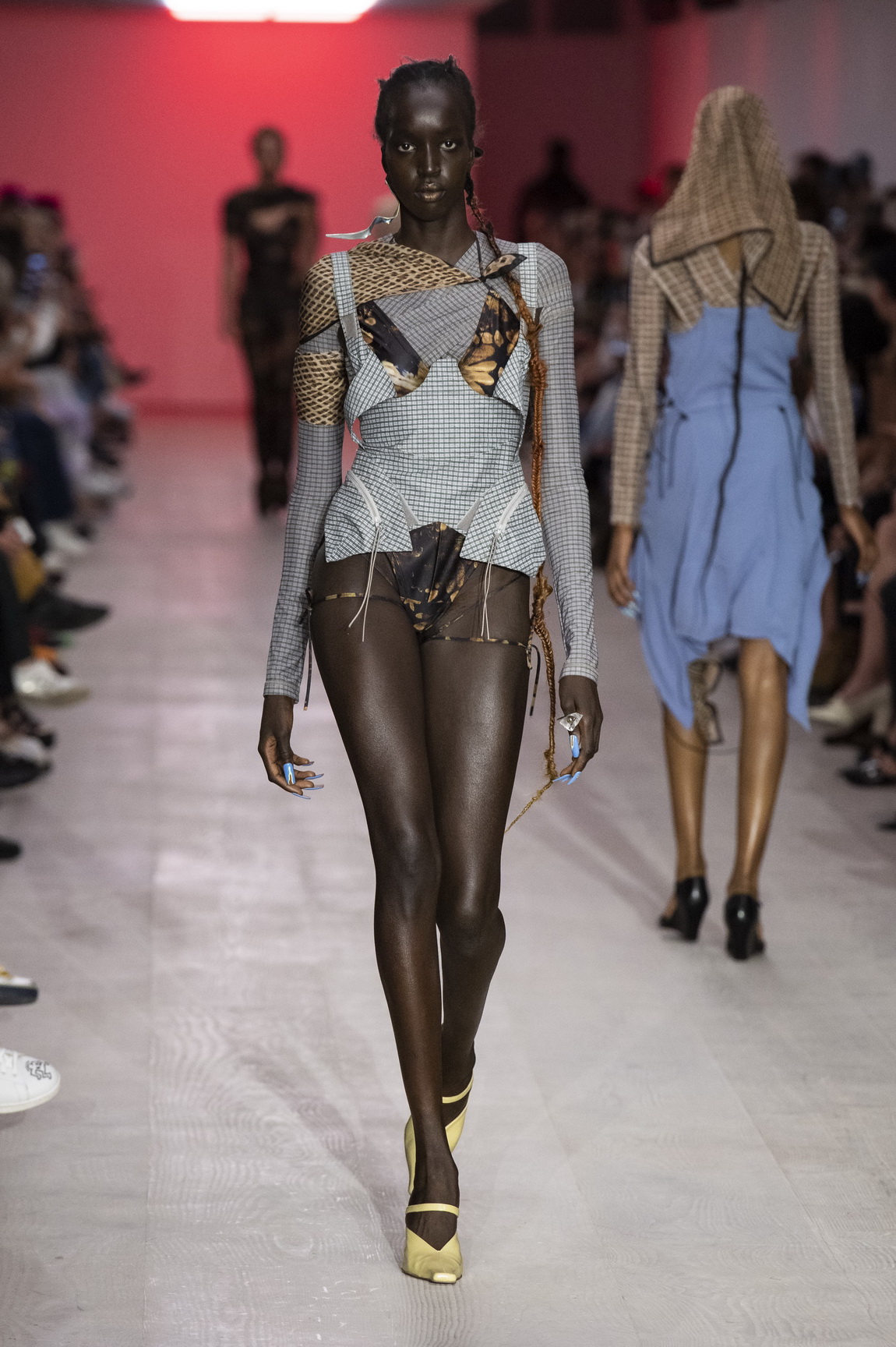 This newly-earned sting is visible in the collection's pared-back militaristic vocabulary: harness-like tops nod to tactical vests, while the panelled leather bodice of a shearling coat interrupts the muffled comfort of the wool to armoured effect. Fit and ready to fight, the Charlotte Knowles woman exhibits unchallengeable self-confidence, a sense of total control, even over elements that you might more readily associate with bodily oppression. Corsetry, for example. "We're from the digital age and use references not for what they embody, but for their symbolism. We like to take the idea of a corset and construct it with super-stretch sporty Japanese fabric, transforming it into something empowering," the pair stress. "Obviously, no one likes what corsetry historically represents, but a lot of people can still appreciate the form. For us, it's the structure and support, the details and references, the streamlined nature, as opposed to the historical connotations of deforming or reshaping the body, that we want to present in our work."
Fellow Fashion East alumna Supriya Lele articulates a similar sense of pride in, and a reclamation of, an innate feminine power, though it would be unfair to consider their practices synonymous. For SS20, Supriya further nuanced her succinct, intellectual approach to design for which the designer has earned renown. The language Supriya builds is a play of juxtapositions: harsh, yet delicately precise; borderline-provocative and at times, demure. "This season, it was really about re-interpreting certain visual codes and combining them with more unexpected elements to create something that felt modern and unexpected," Supriya explains. "We spent a lot of time exploring fabric combinations and in fittings to make sure that the message was just right."
Black rubberised cotton pieces -- an A-line trench, a lapelled bomber, a split-seamed skirt -- offer an almost-fetish-y not-to-be-fucked-with severity. Pieces in sheer silk chiffon tease the eye with glimpses at the bodies beneath. Supriya's Indian heritage is simultaneously esteemed and subverted. Silk pieces -- from dresses to crop-tops -- are asymmetrically draped like abstracted homages to the sari, while a coat and a pair of shorts cut from bleached madras cloth are overlaid with sheer black silk. "My work has always played with notions of contrast, and I love to explore this visually through fabrication. The rubberised pieces symbolise strength, hardness, and a sense of function through the utilitarian aspect of the fabric," she explains. "But they're also there to juxtapose the lightness and the more 'traditional' elements in the collection. It was a way of exploring the struggle of identity and the contrast in the visual landscape of the UK compared to the vibrancy of India." Balancing light, sheer fabrics, traditional Indian motifs, and an incontestably modern doesn't-give-a-fuck flair, Supriya bridges a gulf between tradition and modernity, modesty and self-adulation, with rare intellectual verve. Through her combinations of the artefacts of cultural in-betweenness, the wealth of cultural hybridity is shown from a fresh feminine perspective.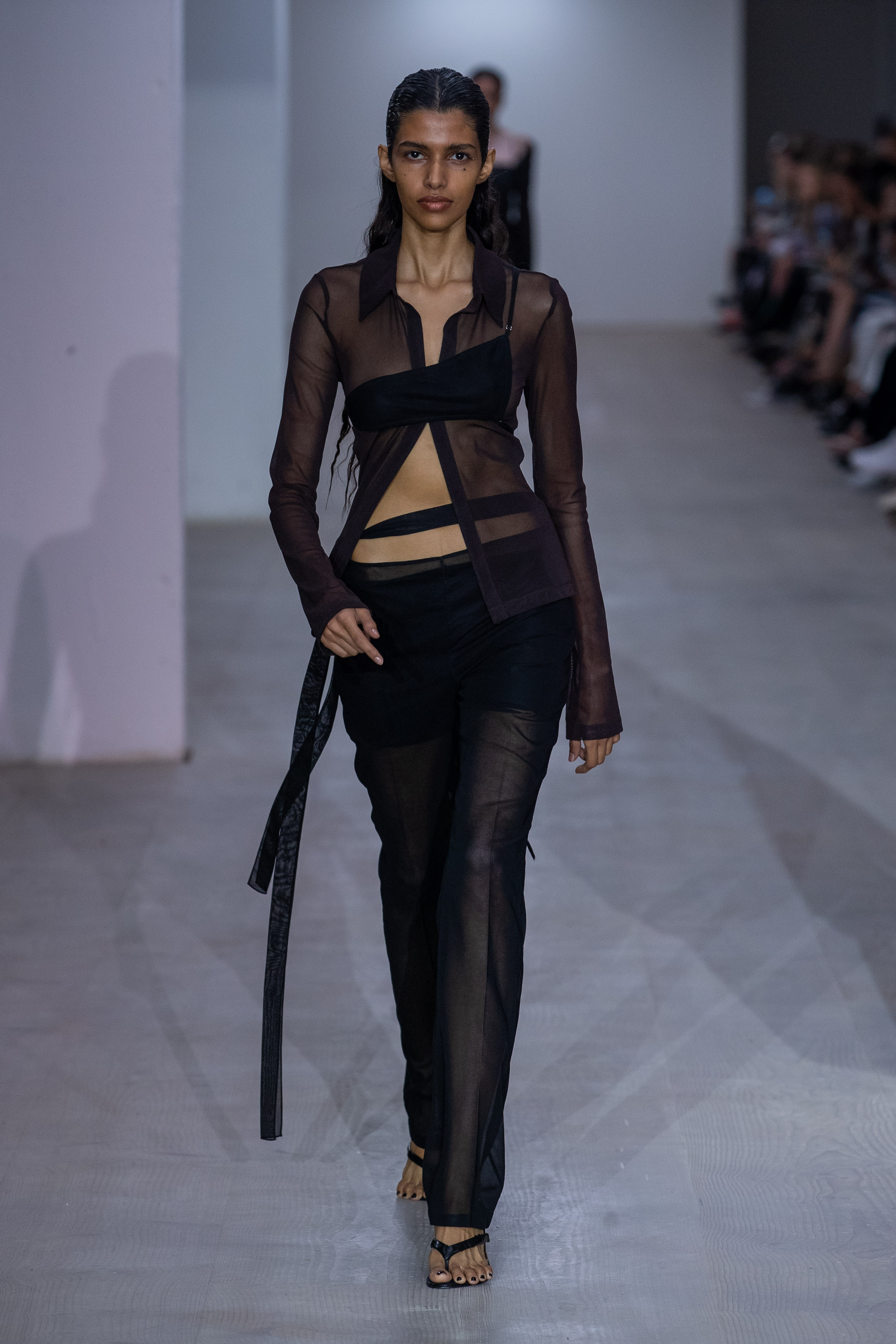 Though she may only have graduated from the Central Saint Martins' MA in February of this year, Nensi Dojaka has swiftly garnered industry attention for her lingerie-based reconfigurations of evening dresses. Marrying fragile textures and geometric bricolage, her work distorts and fragments an otherwise sensual silhouette. "I think my woman is complex and her beauty stands in the fact that there is a perfect balance of severity and delicacy in her," Nensi says. "I try to translate this idea into my clothes, distorting the perceptions that accompany certain materials."
Form-fitting pieces are effectively counterpoised by layered asymmetrical swatches of fabric that almost seem to have been composed to incidental effect. But the grounding intention of the pieces, despite what the raw edges and collage effect may seem to imply, is far from DIY. "I want to break what is expected from the construction of an evening dress. I've mixed luxury finishings with raw details to give it a bit more edge and elevate the image of what the woman wearing this is." And despite the attention that her work may draw to the wearer's silhouette, Nensi's technique works to practical effect, deflecting a pornographic, hypersexualised gaze. "The doubling up helps to keep the effect of sheer layerings while making the garment not sheer. It's a form of protection, I guess you could say. I want to refrain from over-sexualising the clothing and to protect my woman from any associations of vulgarity. I want my woman to be alluring, bold and untouchable."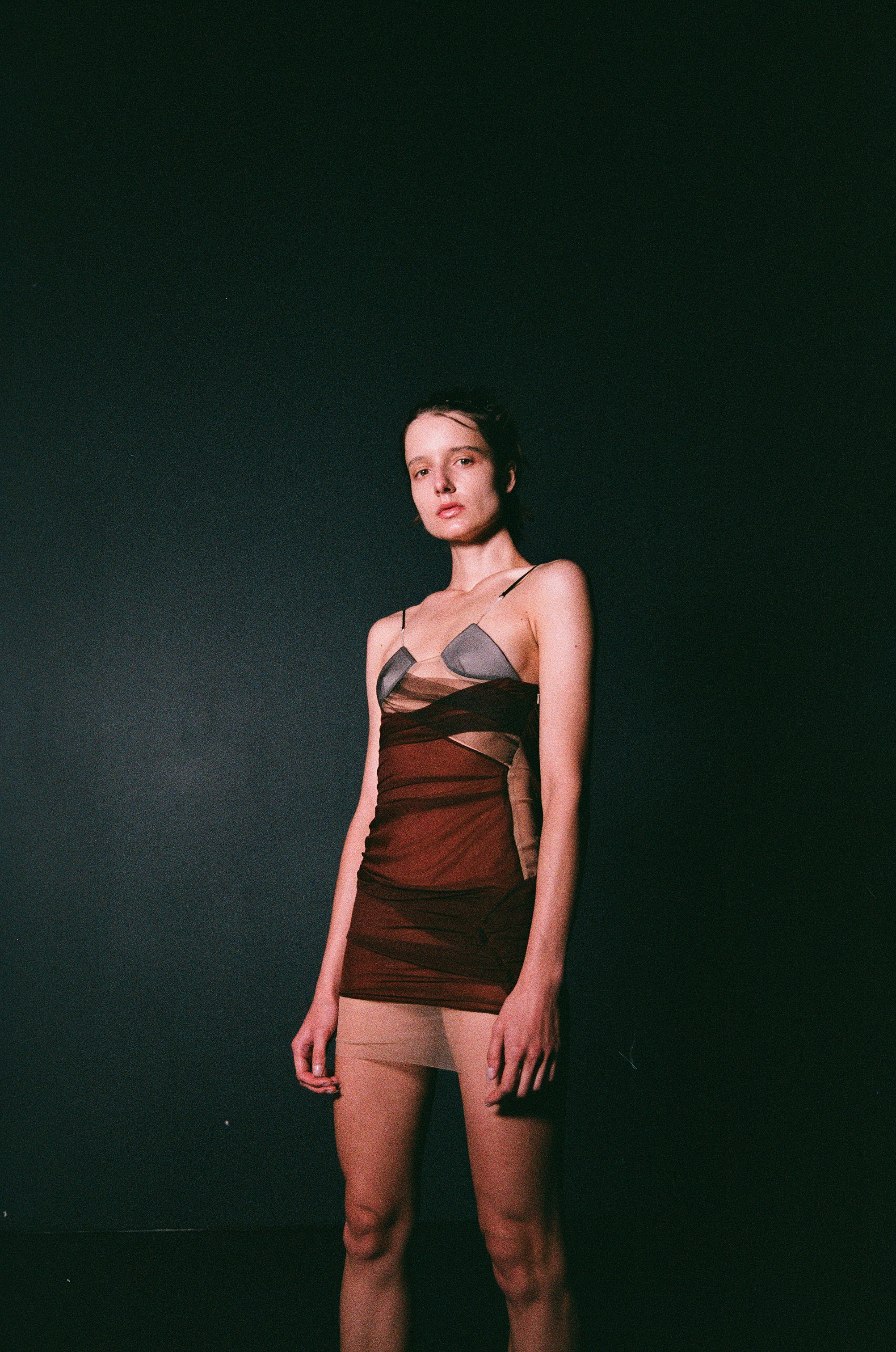 Though the designers discussed thus far may certainly place the body front and centre in their work, few are as uncompromising in their depiction of it as Sinéad O'Dwyer. Graduating from the Royal College of Art in 2018, she was another of the designers making her on-schedule debut for SS20, presenting a new series of vibrantly hued silicone garments, along with the first translations of her practice to ready-to-wear.
While in her graduate work, the designer worked by embedding silk into fibreglass moulds of her muses and extruding silicone through them, this season sees fully-fashioned garments placed into a mould cast from the body of Martina Dolcimascolo. "I wanted to have more physical garments and see how the silicone would distort them," she says, drawing particular inspiration from those awkward moments when your clothes just won't fit as you want them to. "How friends of mine, and myself, experience tops or trousers that push up or pull down when they don't fit properly. Your body's folds, your boobs, your ass, push or pull down the fabric. So I took inspiration from seeing that happen in the mould. The underboob bra, for example, was actually developed from a strip of fabric in the mould: as I pushed the silicone through, it was pushed up over the bust." Beyond the silicone pieces, she's also translated this comical bunched-up effect to long-sleeved evening dresses with exposed bellies, or pieces composed of shirred silk straps that stretch with the wearer, their flesh peeking through at the occasional unjoined seam.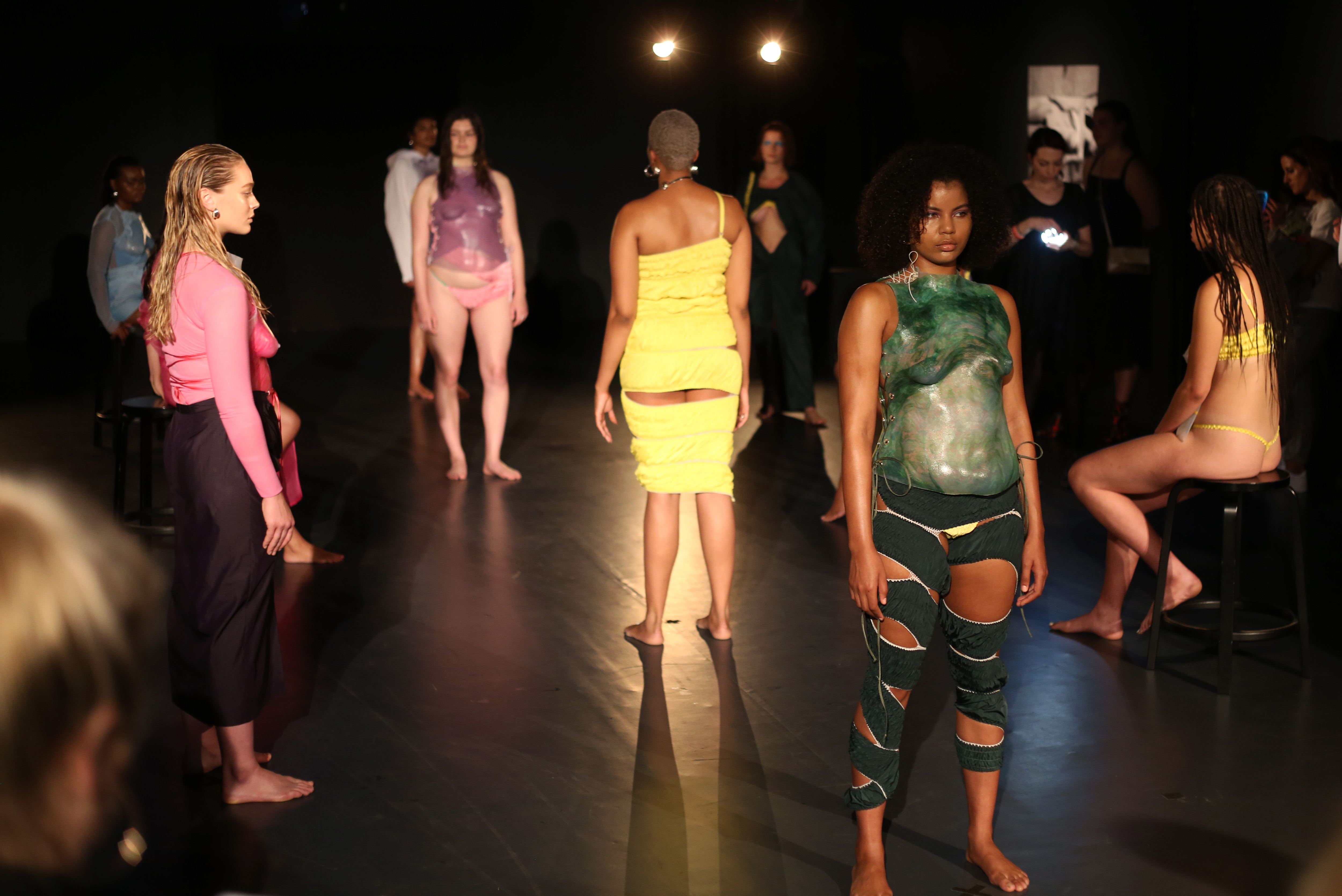 In the age-old fight between garments and the bodies they clothe, Sinéad's work gives the wearer the upper hand. Rather than have them adapt to the demands and constraints of the clothes, power and agency are returned to the one actually wearing the trousers. This shines through particularly clearly with the pieces embedded with bikinis -- a cheeky nod to the paternalistic standard of 'the bikini body'. Her work, however, isn't to be read as a celebration of any particular body type though. "It's not about the physical experience of womanhood, but rather the emotional experience. It's not about being an unconventional size, or being bigger or smaller, it's about combating female oppression and this idea that we should always be striving to be something better," she asserts. "My work is a sort of 'fuck you', and a declaration of pride in your body. I think it conveys the power that comes from women deciding that they don't have to accept the status quo. You shouldn't have to feel compelled to live up to an externally set, arbitrary standard. You should have the control." After all, an object only becomes a weapon when it's under a body's command.