fashion east spring/summer 18 took on fashion's messed-up orientalism
Matty Bovan, Asai, and Supriya Lele each conjured tough, powerful woman to match the challenges of both global politics and contemporary culture.
|
18 September 2017, 9:26am
This article was originally published by i-D UK.
"You've got a great future behind you." This little missive was waiting inside a fortune cookie left on my seat at the Fashion East group show. Put there by A Sai Ta, the designer behind ASAI, it set the scene for a confrontational showcase from London's foremost fashion incubator. There were no straightforward protest symbols or slogans, but make no mistake, this was fashion born in flames.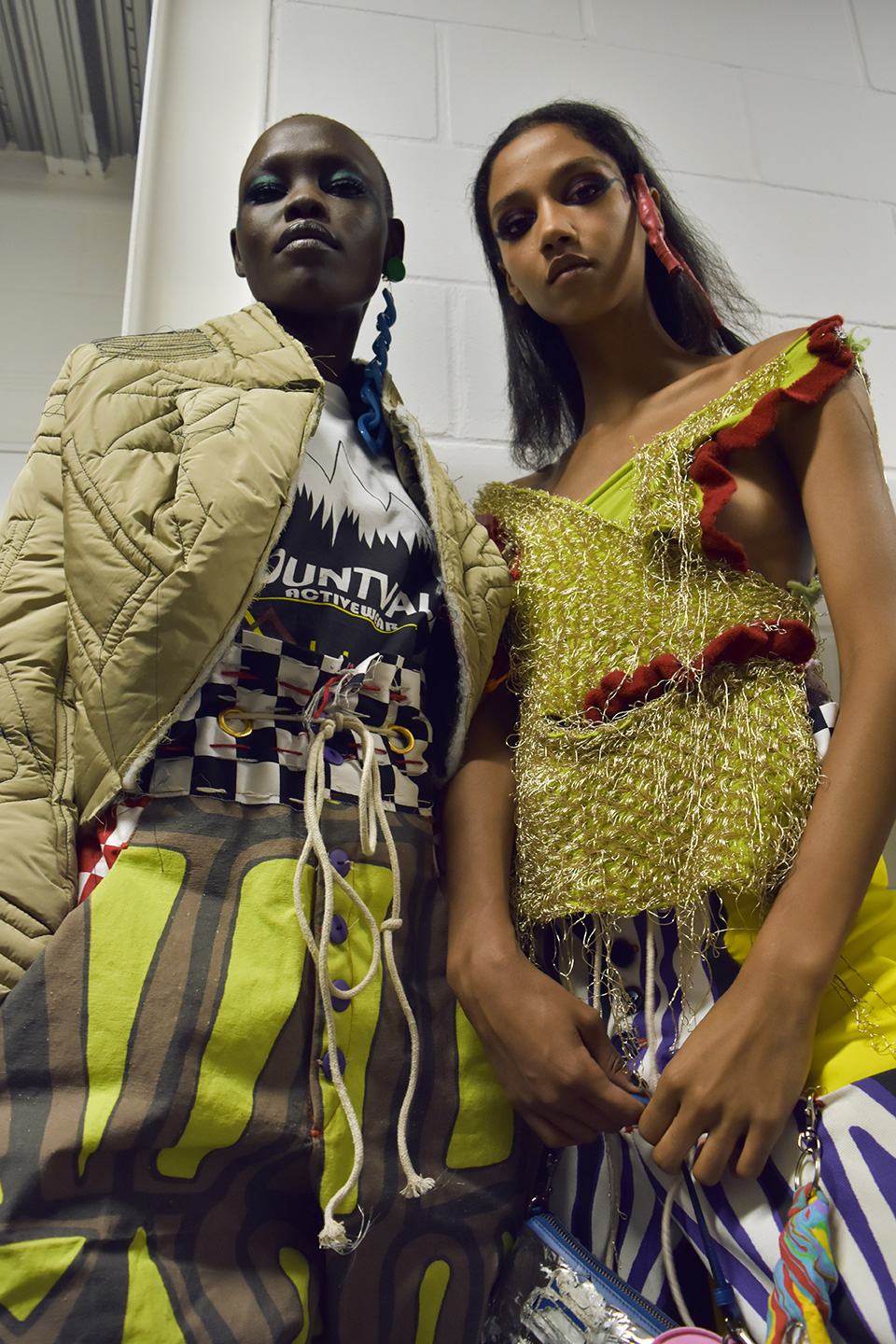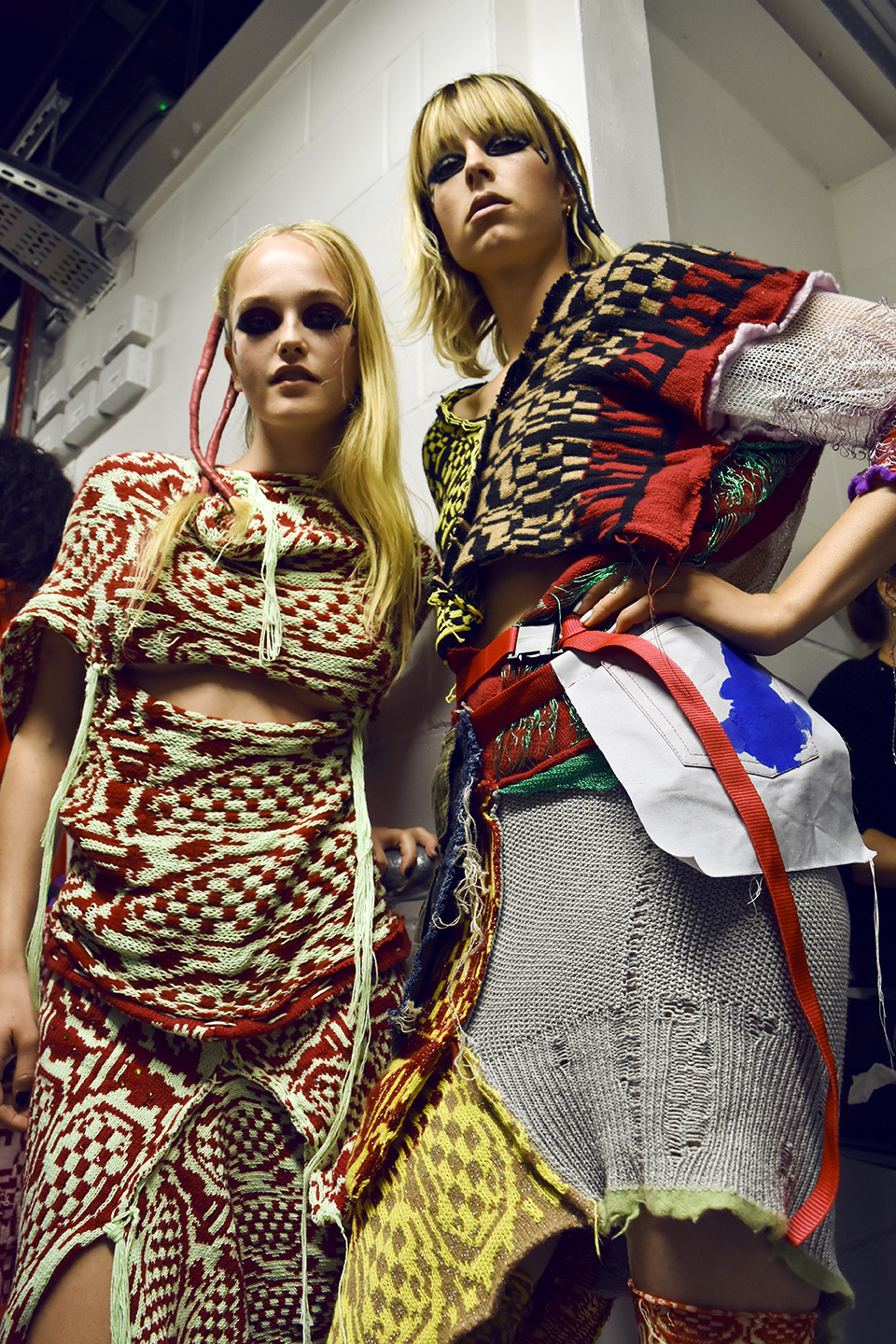 Matty Bovan
"I'm not going to stand on a box and make a big scene, but the economy and the politics in the world do affect how I design, and this is quite an aggressive collection," Matty Bovan said backstage. He revisited the patterned knitwear panels pieced together to make sweaters and cardigans last season, but this time they looked like they had collided, with seams rising up in ridges. They were worn over stiff, protective trousers like those of construction workers.
A checkerboard motocross print from last season returned, along with sports references – lycra shorts and a mountain climbing motif T-shirt. "Sporty elements that are kind of not-sporty," is how Matty describes them. "They always have a function, but they also look amazing; I like the associations," he says, noting that they usually occur in a more masculine, "lads" world. Mesh tutus under spidery webs of glitter-thread crochet were another contradiction in the otherwise androgynous collection. A line-up of supermodels — including Edie Campbell, Jean Campbell, Winnie Harlow, Georgia May Jagger, Grace Bol, and Charlotte Free (quite incongruous for an emerging designer) — provided the cherry on top.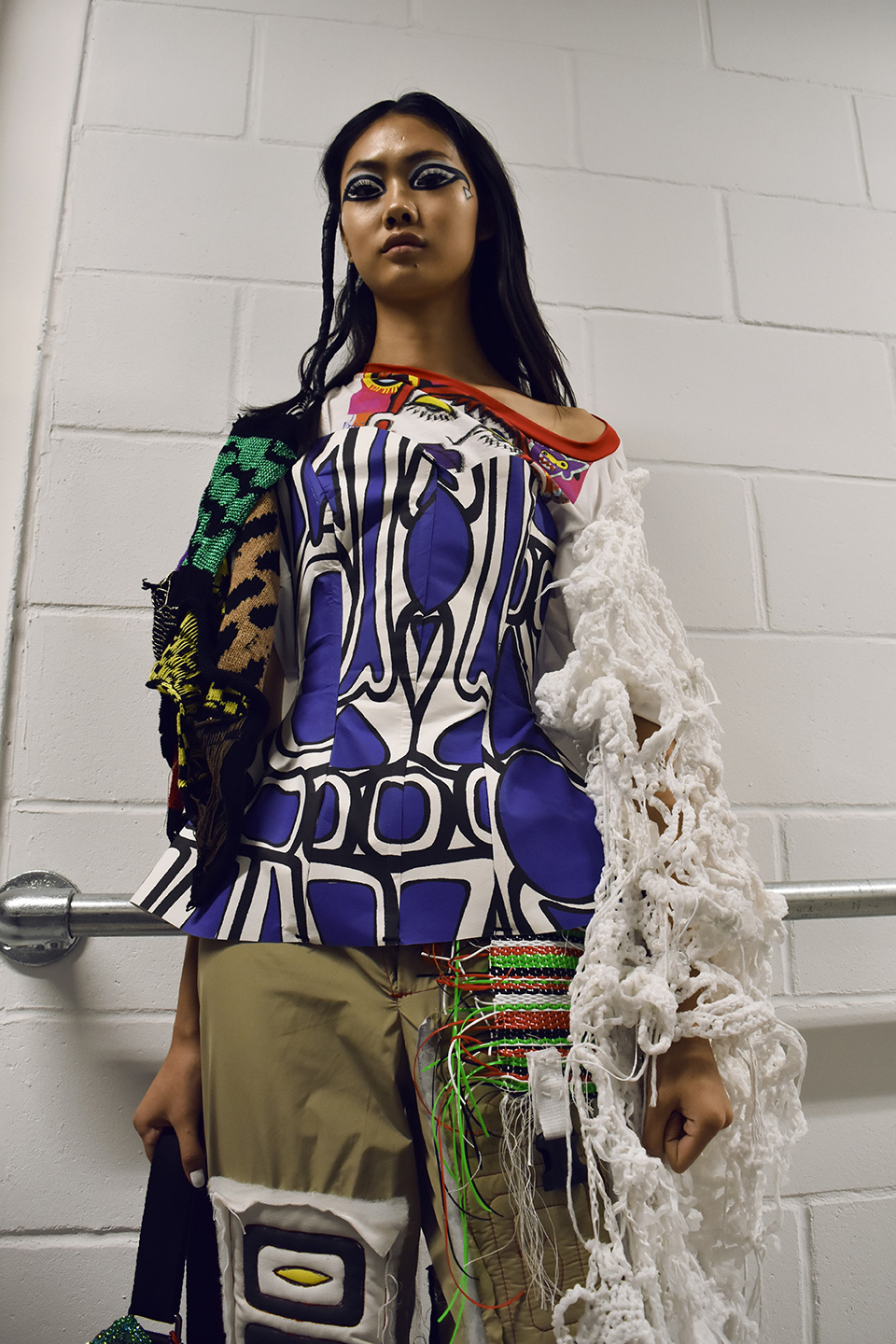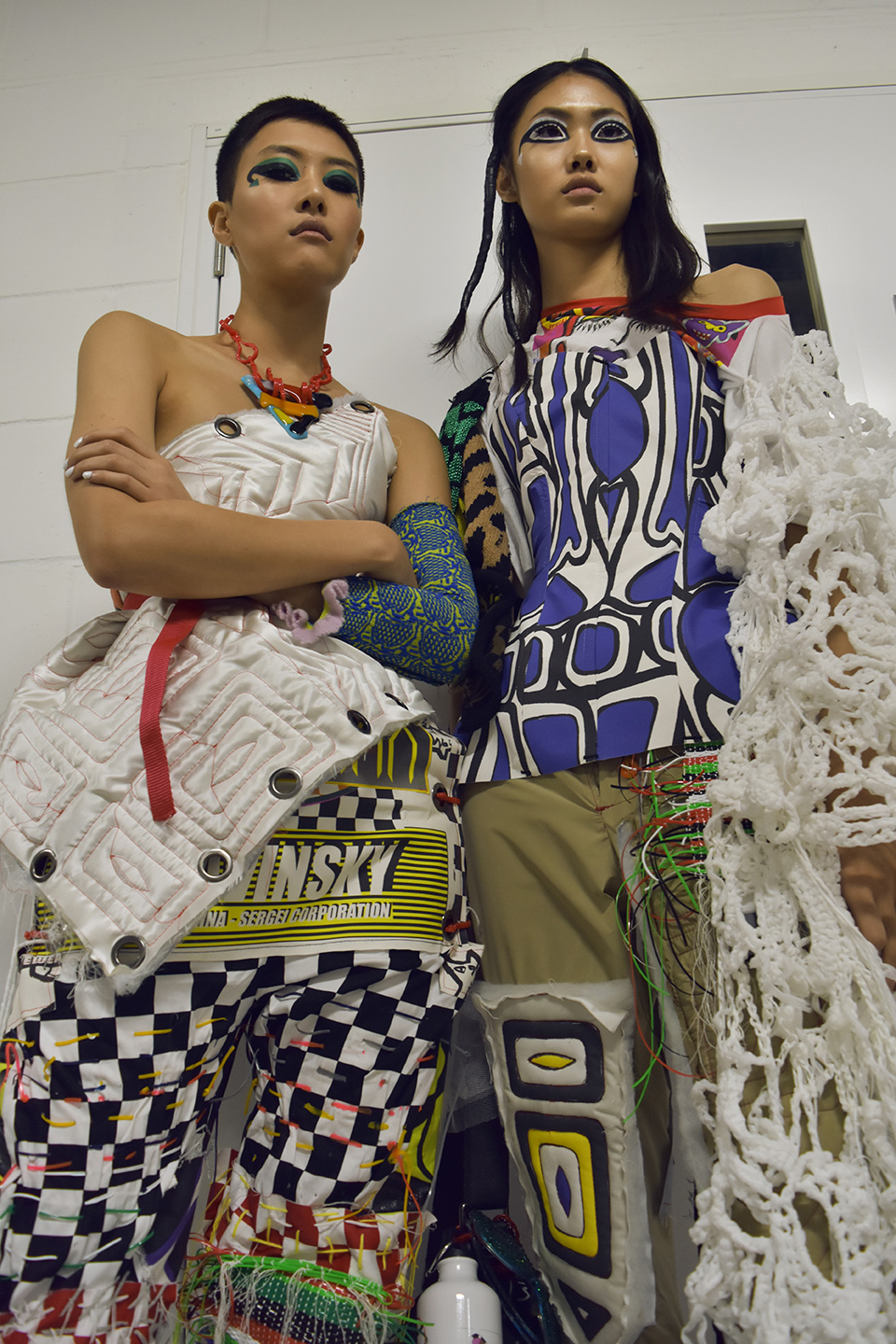 ASAI
Curiously, A Sai Ta also claims he is not a "political designer" (is this the fashion equivalent of refusing to call yourself a feminist?), though he certainly has a strong point of view. The opening music, "Shanzhai" by Fatima Al Qadiri, will have revealed the collection's central concern to music aficionados (and Mandarin speakers) in the crowd. Named after the Chinese term for counterfeit Western products; the song is ostensibly a cover of Sinead O'Connor's "Nothing Compares 2 U" with the vocal in Chinese. Except it isn't — it's a nonsense language that sounds a bit like Chinese.
The collection features thigh-high boots in "china" blue and white, with dragons crawling up the sides, bags came with nunchuck handles, gold jewelry was formed into bamboo, and deconstructed "mandarin" collars peeled away to reveal a red silk lining. "Taking these really obvious "Asian" motifs [and transforming them], so that it's so far shifted away from it's original source of inspiration. Dragons, "chinese-y" things. Being really obvious with it, like: 'Is this how you see Chinese people?'" The collection is a response to reviewers who were surprised that the previous collection didn't look "Chinese" (to them), after the notes arrived in the form of a Chinese Takeaway menu, A Sai explains.
"No one ever calls out Asian culture as appropriation," the South London-born designer of Chinese descent railed backstage. "Dries Van Noten's whole brand is built on Asian aesthetics. Gucci's the same – dragons everywhere. And I'm going to be the one to own that, be the one to make it real China. Because those "Chinese motifs" don't relate to real Chinese people, they relate to the Western ideal that has exoticized these women, as being vulnerable, fetishized." Should Western designers stop using those motifs? "I'm not trying to be political," he insists. "I'm just trying to take ownership, and say, 'Is this how you see Chinese-ness?' Shine a light on it, highlight it. I like how problematic it is." Punk, clearly, is alive and well.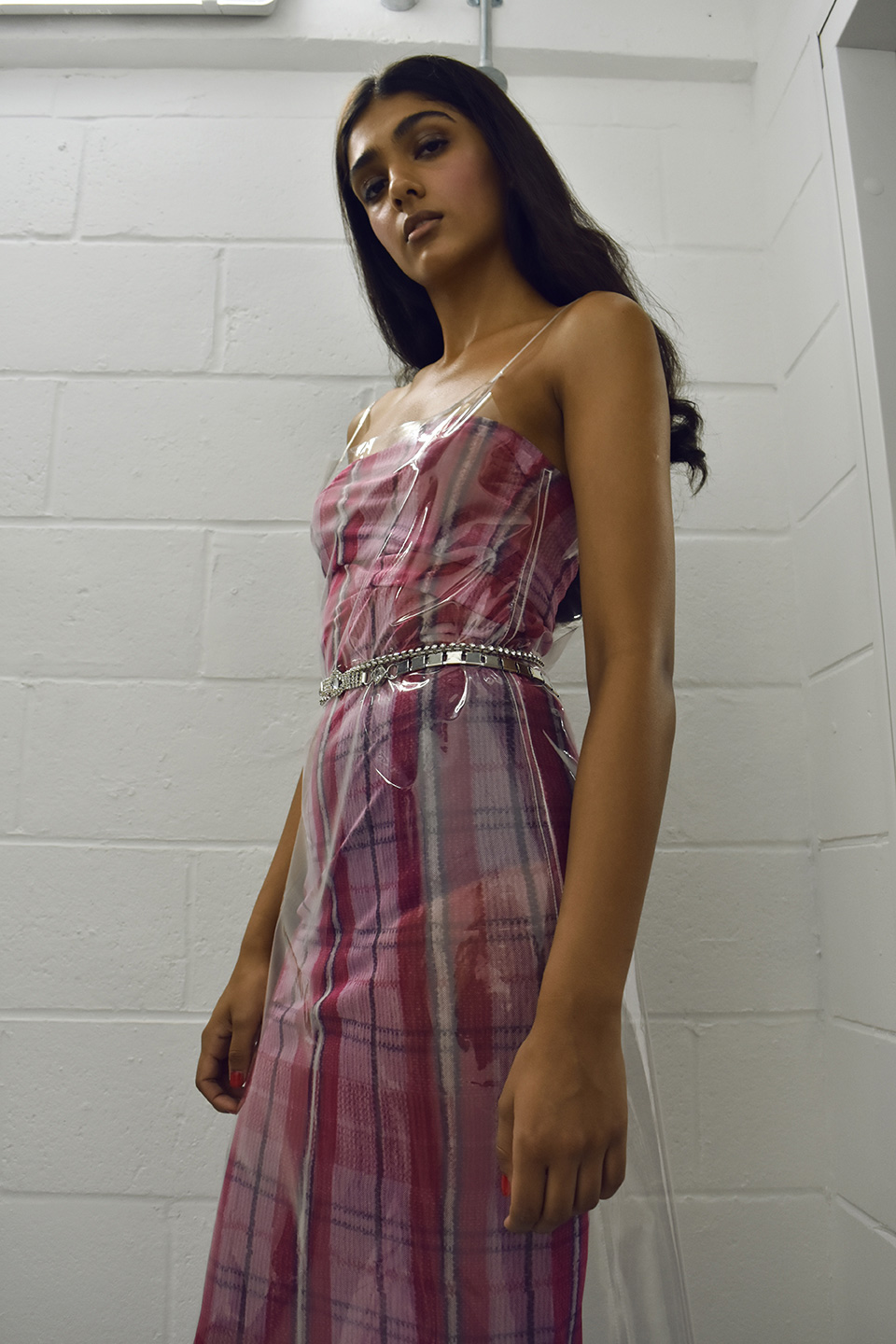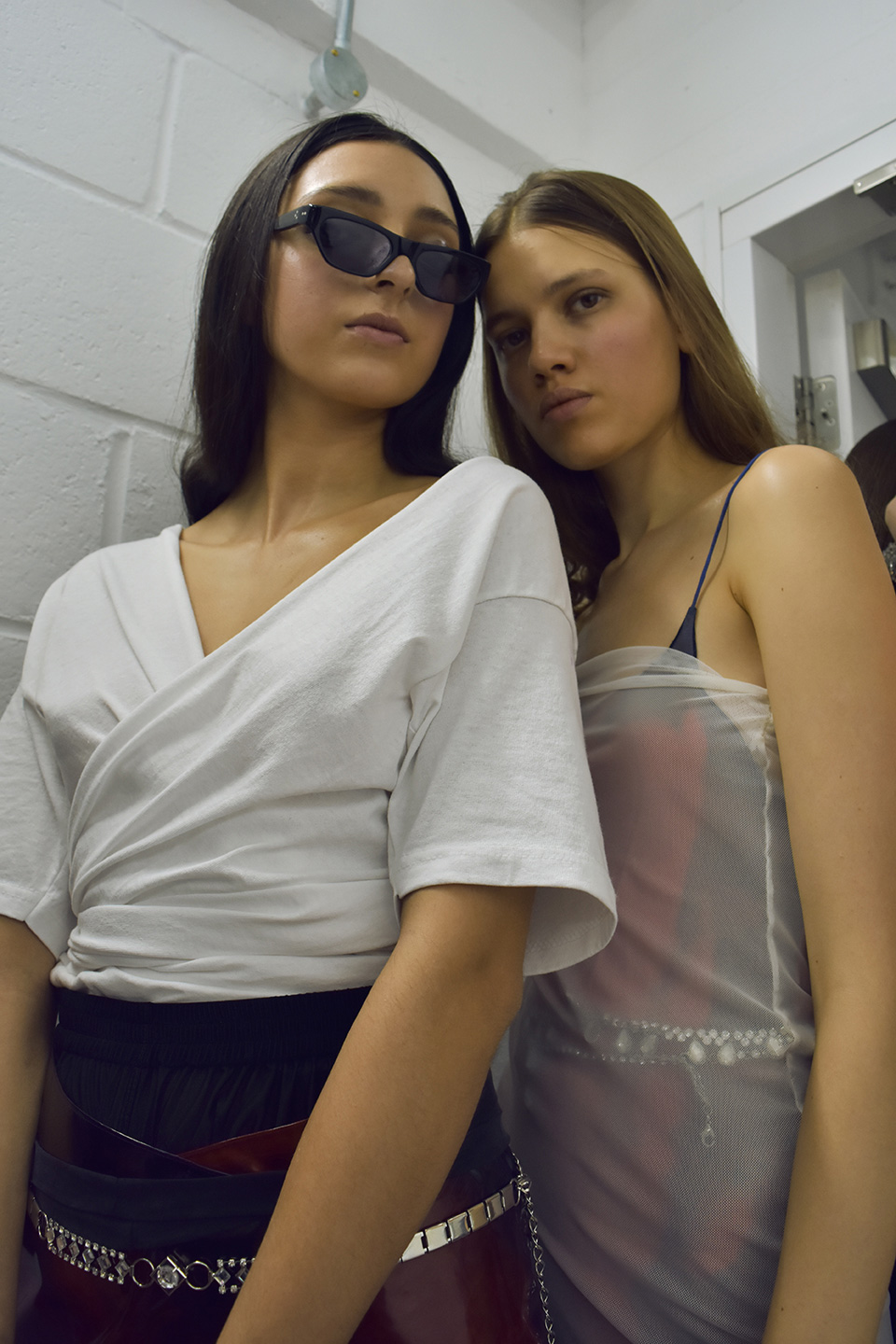 Supriya Lele
After making her Fashion East debut with a presentation last season, Supriya Lele took a trip to visit family in India for the first time in eight years. Her experiences there are reflected in the collection: bright, sari-inspired dresses were twisted at the side to reveal the waist; the flimsy nylons are a nod to cheap nighties seen on market stalls in India; and hand-printed and then plasticized organza trousers, skirts, and jackets referenced the clothes of construction workers. "I was overwhelmed by the speed of development," she explains in the shows notes. "The vision of construction workers free climbing over the scaffolding structures that were covered with tarpaulin and rags represented such an extreme clash of the future and past."
Supriya explains that 2017 has been something of a milestone for her, what with turning 30, beginning her career as part of Lulu Kennedy's prestigious showcase. Visiting India with her mom also gave her the opportunity to reflect on her heritage, and her point of view as a designer. "When we were back in India at my granddad's, I was thinking about my mom now, my mom then," she tells us backstage. "She's 54 now, she left for England when she was 23; left India, which was so different back then, and moved to Ipswich with my dad. The visual landscape must have been so mind-blowingly different." In the collection, this contrast was reflected in the clashing color combinations (black and white, hot pink, red, and blue — a reference to Mary Ellen Mark's blue photographs of Mumbai brothels in the 80s), paired with a "cleaned-out" silhouette. "Imagine going from India to Ipswich," she grins by way of explanation, adding, "I guess my handwriting is that play between the two".