7 reasons why L7 rule
A fact, not a statement: The rock band pioneered feminist grunge punk and were well ahead of their time in the badassery stakes. Here's 7 reasons why they rule.
|
20 September 2017, 11:42am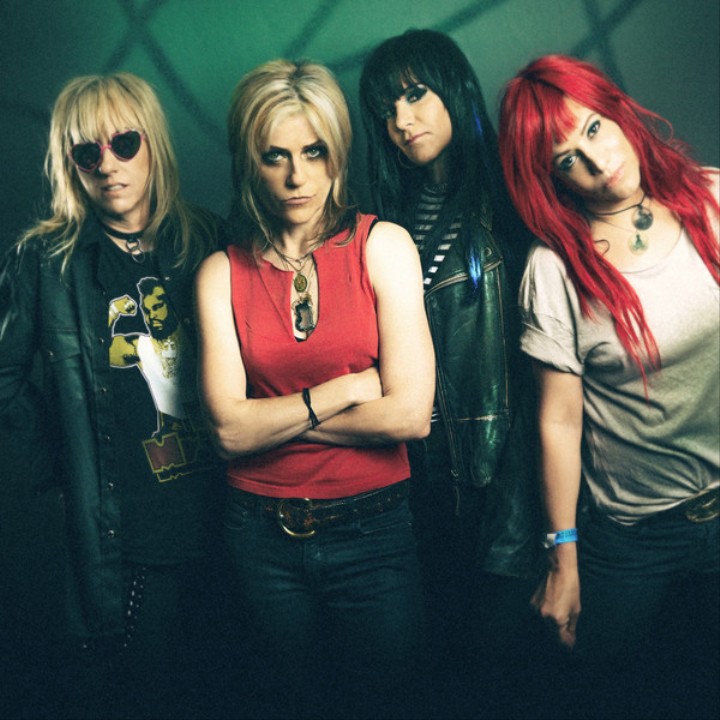 L7 rule. This is not a statement, it is a blatant fact. Since their inception in Los Angeles in 1985 no group has rocked harder than the combined forces of Donita Sparks, Suzi Gardner, Jennifer Finch and Demetra "Dee" Plakas.
Not much has changed since L7 reigned as pioneering feminist grunge punk goddesses back in the 90s -- gender equality is still a work in progress, men are still making decisions about what women can do with their bodies, the gender pay gap is more of a canyon and women in bands are still routinely asked what it's like being women in bands (sigh) -- so it's no surprise that they're getting back together.
Before the internet became a basic human right, L7 were hot shit, gracing the cover of countless music magazines and supporting everyone from Nirvana to Nick Cave and Marilyn Manson. But having officially disbanded in 2001 and with some of the band not even speaking to each other for the last 14 years, their web presence was minimal to nonexistent.
So lead singer Donita Sparks decided to take matters into her own hands to ensure the L7 legacy lives on. First, she made a Facebook page for the band, which then led to a Kickstarter campaign to make a documentary about their history and snowballed into a full blown L7 reunion. Having surpassing their original funding goal, the band are not only releasing the documentary, L7: Pretend We're Dead (which cherry picks from over 100 hours of Sparks home video archive and is a blast), they're going on tour and releasing their first new music since 1999 -- which is possibly proof that there is a god.
If you're still in doubt about their status as icons of 90s rock then here are seven reasons why L7 will forever rule.
That time Donita Sparks threw her tampon at a angry crowd
'Twas 1992, and L7 played Reading Festival. It was one of those years when it pissed down with rain and the place turned into a swamp. The band had to play their set without a sound check and ended up experiencing some sound problems during their set. Unsympathetic to the band's struggle, the crowd got pissed and started pelting the stage with mud. L7's inimitable lead singer slash guitarist Donita Sparks responded by removing her tampon and returning fire by throwing it into the crowd with the immortal words, "Eat my used tampon, f***ers!" Rock'n'roll history was made.
That time they rocked a camel toe for John Waters
L7 were personally selected by John Waters to cameo in his iconic movie Serial Mom. The band appear under the name Camel Lips playing at a fictional venue called Hammerjacks. Water's told them he didn't care what they played as long as the track was called Gas Chamber. Oh and he made them leggings that had faux camel toe pussies in the crotch.
That time they raised money for pro-choice groups before it was a thing
In 1991 L7 teamed up with The Feminist Majority Foundation to co-found Rock for Choice. The organisation put on benefit concerts to raise money for pro-choice groups. These weren't your average fund raisers though, the first one featured L7, Nirvana and Hole on the line-up, with the band roping in just about every 90s 'it' band to play subsequent shows. Though L7 weren't aiming to be the face of pro-choice, Rock for Choice attracted a lot of positive attention towards the abortion rights cause.
That time they invented millennial style before you were even born (probably)
L7 are true style icons. Donita's washed out blue hair and Finch's super red locks made them originators of the home-dyed crazy colour look. L7's general rejection of stereotypical feminine beauty standards was in part a shield against their gender distracting from the badass music they played. Instead of the baby doll dresses favoured by the likes of Courtney Love, L7 wore their jeans ripped, their hair messy, little if any make-up, oversized T-shirts and shirts. Put it this way, Darlene from Roseanne would definitely have been an L7 fan.
That time they were a voice for the disenfranchised youth.
Their songs were a voice for outcasts and the disenfranchised. Case in point is their anthem Shitlist, a song which unashamedly celebrated the idea of making enemies. With lines like, "When I get mad and I get pissed / I grab my pen and I write out a list / Of all the people who won't be missed / You've made my shitlist," the track is a contender for most teen angst lyricism of all time. The bratty track would later make a notable appearance on the Natural Born Killers soundtrack.
That time they dropped trou on live telly.
Whether they were head-banging like pros, lamenting the Republican National Convention or traditional family values, L7 always said and did exactly what they wanted and they were a riot. When the band played Channel 4 TV show The Word, Sparks pulled her jeans and pants down stripping her lower half on live telly. To give it some context, this is when live TV really meant live and there was no safety delay for the network to censor anything. It caused a public outcry and further cemented L7's status as give no fucks heroines.
That time they influenced, well, mainstream pop music.
L7 weren't strictly part of the Seattle grunge or riot grrrl scenes. Falling somewhere between them and the rock and metal scenes of the 90s, they were mostly out there doing their own thing. Their music and politics had a huge influence on the riot grrrl movement and subsequently a generation of women-fronted bands. L7 proved that women could rock as hard if not harder than their male counterparts, that they didn't need to apologise for not conforming to stereotypes -- Donita's deadpan delivery of "say no to individuality" echoed with the 90s notion of rejecting cultural conformity. They carved out a space in popular music that would eventually make way for other badass females -- think Shirley Manson, Courtney Love and Gwen Stefani.
The London Premiere takes place 5.30pm Sunday 19 November at Hackney Picturehouse