"I do have a sketchbook but it's all dick pics" - we talk masseduction in st vincent's pink box
With the release of her fifth album MASSEDUCTION, St Vincent has come into her own — showing us a harsh sounding, slinky looking new side of herself.
|
09 October 2017, 12:30pm
This article was originally published by i-D UK.
I'm really excited because I'm going to meet St Vincent — it's a fucking boiling hot day and I'm wearing a white t-shirt and I haven't brushed my hair and she always has great hair but hopefully that won't be a problem because my hair usually looks great when it's not brushed. I'm making this about me, but really it's about her, a musician, a woman, a multi-instrumentalist who has her own line of breast-accommodating guitars, who has recorded an album with David Byrne, played with the Polyphonic Spree, performed dressed as a toilet, and who has fingered Kurt's guitar part in Lithium while introducing Nirvana to the Rock and Roll Hall of Fame. Ten years ago she released her debut album Marry Me, showcasing her musical ingenuity: her credits include vocals, guitar, bass, piano, organ, Moog synthesizer, clavietta, xylophone, vibraphone, dulcimer, drum programming, triangle, and percussion. Then came 2009's Actor, and 2011's Strange Mercy. In 2014 she released St Vincent: A trumpety, triumphant, and confident album that sharpens her prog-rocky outerspace angular otherness. As per the business of a musician, she has grown more into herself with each album, clothes changing from simple grey dress to queen-like gown, hair morphing from innocent curly mop, circa Marry Me, to sculpted curly grey cloud to its current state: a very straightened black bob. Given the natural wave of her hair, it looks like the hot tongs have had a sisyphean task on their hands, and accomplished it.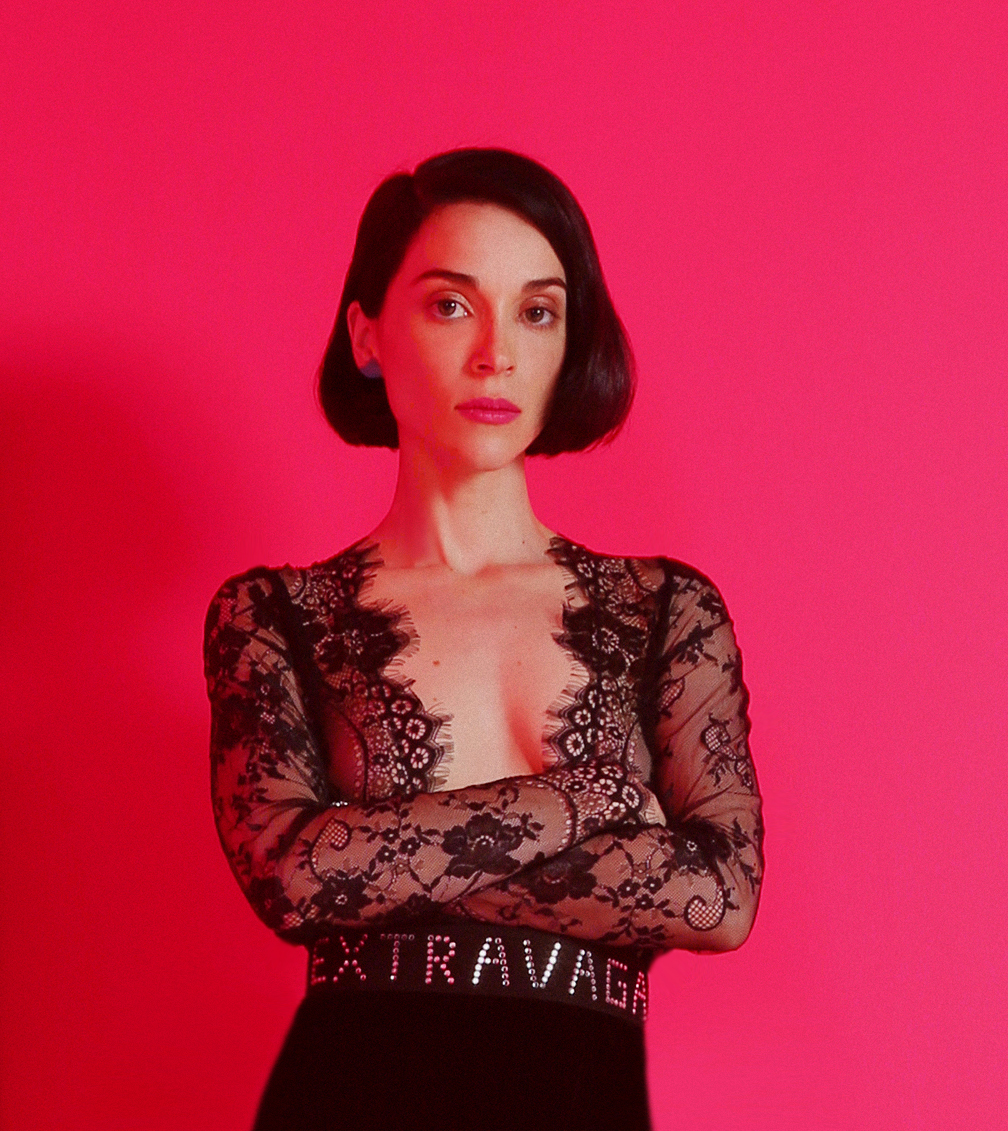 Today her hair is as under control as ever, and she's in control of me. I am made to sign an NDA — it's a luminous pink photo of her arse bent over in a leopard print leotard printed on A0 paper. Then I have to bend double and crawl, quite literally into her box: a four-walled space she has created, where she sits at a table, oil burner puffing out some citrus waft to cover up the tang of fresh pink paint.
Sitting straight backed in her chair, in a black PVC dress with optical glasses, there's a sparkling humour behind her eyes. "I presume," I start, taking a seat opposite her at the table, "that your live performances are going to be like this too. "Yes, half an hour per person, but I'm going to insist on constant eye contact throughout. Have you ever had someone have an acoustic guitar in close proximity to you and sing a song to you looking directly in your eyes? It's as uncomfortable as you can imagine."
"Have you ever had someone have an acoustic guitar in close proximity to you and sing a song to you looking directly in your eyes? It's as uncomfortable as you can imagine."
Her fifth album, MASSEDUCTION, was partly recorded in LA, with man of the moment Jack Antonoff, where she built a studio and partly lives. I hope it is also a fragrant pink box and not like, a garage. "It's not wholly dissimilar," she says with a wry smirk, "It's very clean but there's the art of mentally extreme people on the wall. So there's more chaos. It's work that I love from a gallery in Oakland called Creative Growth".

MASSEDUCTION is even more futuristic than St Vincent. While St Vincent highlighted the mundanities of life ("Take out the trash and masturbate") and questioning if she's the only one in this world after stripping off in the unbearable heat of the desert (Rattlesnake), MASSEDUCTION, charts the slow burning pain of heartache, ("You and me, we are not for this world" -- Hang on Me, "I have lost a hero, I have lost a friend, but for you darling, I'd do it all again" -- New York). It's full of frisson, but it's also very sad, twisting between the agony and the thrill of being in love and feeling loved and it's fair to assume it's about her relationship with Cara Delevingne. Does she hold anything back or do all those emotions go into songs? "I put everything in, it's hard to hold back." Anyone who has a heart and has broken up with someone knows that it can take a hot moment to work out how they feel. Is she the same? Is she… one of us? "I've become a person who like, more or less, has a bird's eye view of my feelings as they are happening." Oh. "I know, it means I'm less instantly reactive to things that would be stressful. But I really mostly find out how I really really really feel in music, or in writing... It's like when you almost get into a car crash, the nerves are awake and then suddenly there's like... you're just totally calm and then suddenly there's just a wave of all the adrenaline that hits you."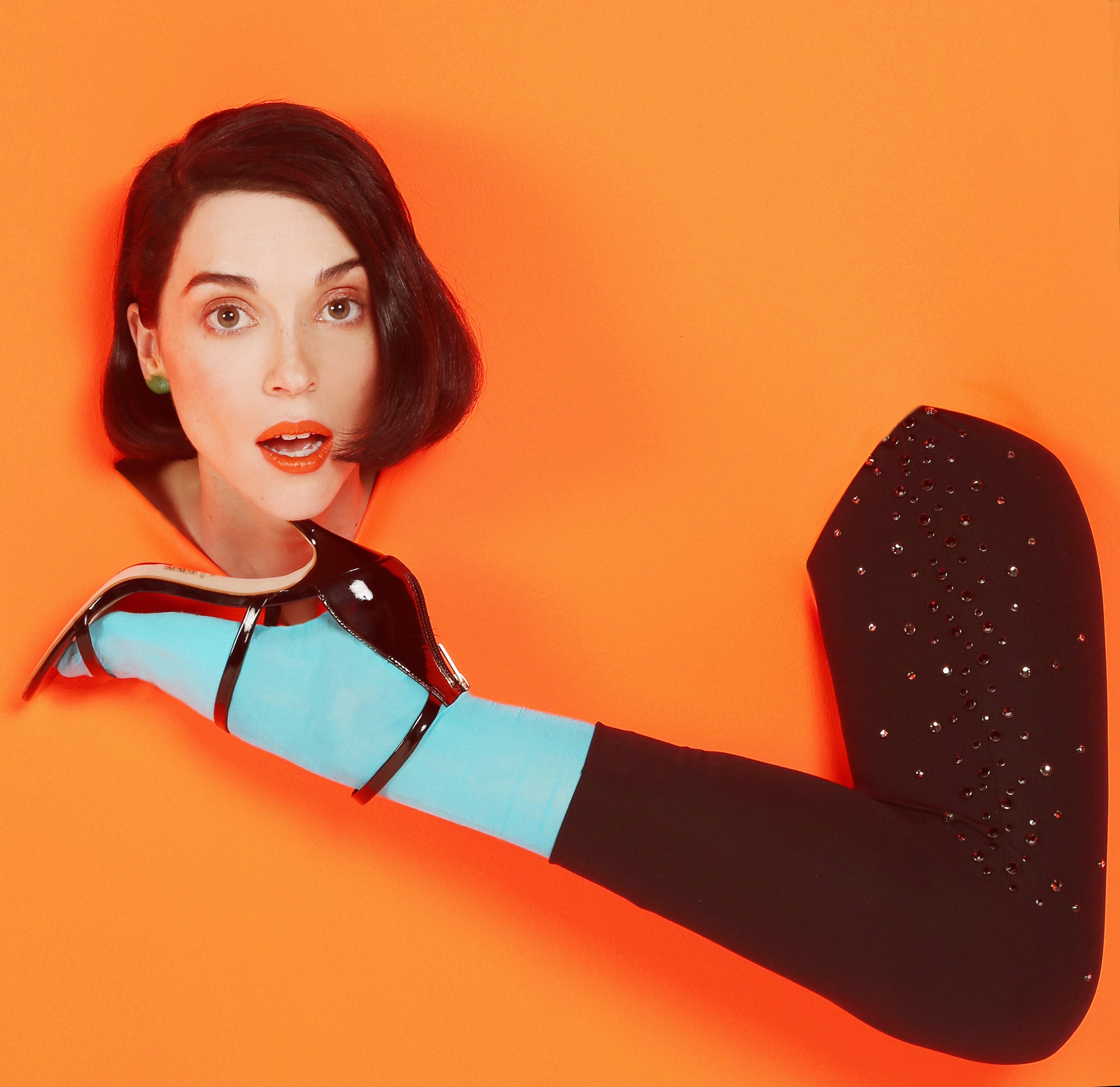 Most interviews with celebrities take place in beige hotel rooms or quiet corners of restaurants. Not everyone offers a custom made pink box to humble journos. "The idea is this, you are a journalist, you probably interview people all the time," actually, I came out of semi-journalistic-retirement for this, I tell her. "You came out of retirement for my box? So, collectively, pretend like it's not artifice. We pretend like, we're having a super meaningful conversation but what's happening is transactional and that's fine, but if it's going to be that, why don't we both have more fun?" She's right. There's no escaping her -- you are forced to drink in the details, the charms hanging from the legs of her glasses, ("I like the noise they make, it keeps me on my toes"), her flawless and glowing skin. "I don't have any vices at the moment. I had some champagne to celebrate finishing the album but I didn't like it. Hangovers are time consuming. And I don't have the time. I feel a certain amount of shame for being so square, but pilates is way more enjoyable than a hangover. I'm not sober — I'm just reprioritizing."
Other than re-prioritizing the curvature of her hair, she has pivoted her aesthetic. MASSEDUCTION is sexy flat neon colors, thigh-high patent boots, video vignettes of her produced by Carrie Brownstein, answering the inane questions female musicians are posed time and time again, filmed against solid color backdrops. How involved is she in the look of her output? "I do have a sketchbook but it's all dick picks." "Naturellement," I say. She laughs.
With her last record she wafted off the air of an imperious near-future cult leader and while there was not a huge amount of humor on the face of it, she was sitting on a pink throne. "I'm sure people will have their own opinions of this record, but I think it's sexier and sadder than other records. And while it is sexier, I'm not a person who can make a face for a selfie. I'm too angry to take myself that seriously, so it's sexy but kind of fucked up too. So the color scheme, fluorescents — I mean, on the face of it they seem very… bright and sort of happy and then when you really look they're so aggressive to your eyes that they're actually painful. So that made sense to me. As an analogue to the music. And then to just," she trails off looking for the word, "It is just — girls and boots."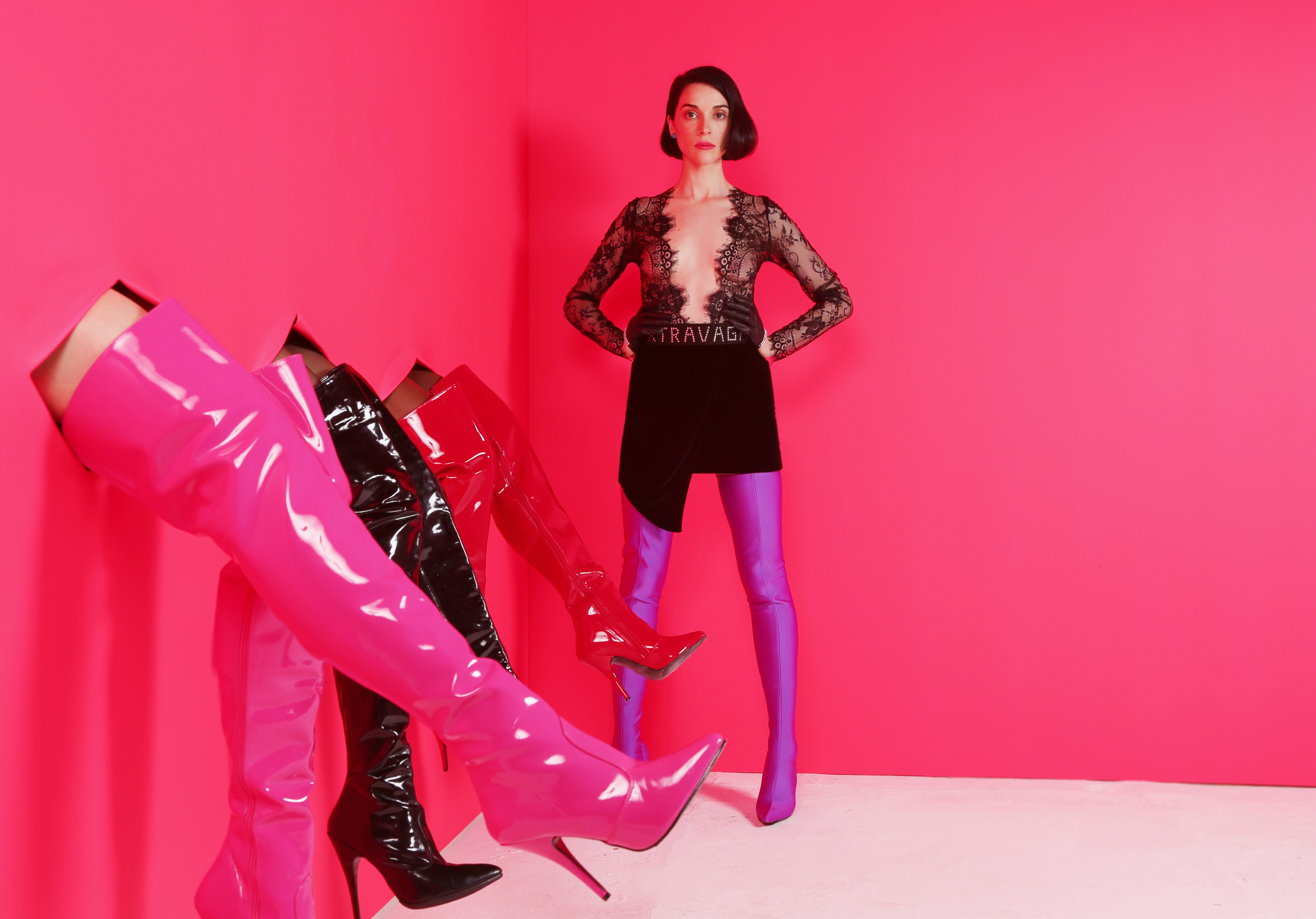 What else is there to life than girls and boots? Living partly in her home state of Texas, as well as spending time in NY and LA, she does not have a pink box at home. "But I do have -- I shot a video to announce the tour that is this colour pink and has a lot -- it's a podium with a lot of microphones, and I do have that in my house. It's in the kitchen-y area, next to the piano." I muse that it's quite Elton John of her. "Oh it's deeply Elton John, the piano's white." What else does she have at home. "I have a bust of Janet Jackson." When I ask her why, the answer comes with an eye roll so deep she probably saw 2002. "You know why."
Musicians tend to take themselves fairly seriously — and rightly so, in an interview situation they are being asked by a legit stranger to spill their deepest secrets and re-itch the raw pain behind their new album. But Annie Clark isn't like everyone else, thank god. We spin through whimsical avocado tattoos before skittering through her maybe using The Secret to play with David Lynch, then bouncing to that time she cried when she met Dave Navarro and whether or not I have my tongue pierced. "I don't feel particularly scrutinised," she says. "But this is an interview that I prefer to have. The only thing that gets tricky about [doing press] is that, is the uh, the room that you see here -- the fact that it is so artificial and the way that you are sort of charged with making it intimate and conversational as if it's not like transactional or something, and I just wanted to, I wanted to sort of acknowledge and then throw away the transactional part of it."
Who knows if Annie Clark, musician, woman, space oddity could have made MASSEDUCTION ten years ago. It's so very intimate. And by creating that space she is unwittingly allowing a larger, life changing conversation to take place. How does it feel, sitting here in a pink box, to know that? She breathes in and out. "It makes me feel great. I mean, the best things that have happened to me in my life have been people saying that they were gonna kill themselves and they decided not to because they heard a certain song. It's not great that they were at that point but... I felt that way too, as a kid, you know?" I do, I tell her. "Or as an adult, you know… It saves you."