prada and moschino fight for the female cause
"We have change the world. Especially for women, because there's so much against us, still."
|
22 September 2017, 10:07am
This article was originally published by i-D UK.
After grounding her heroic Prada spring/summer 18 men's collection in comic book depictions of real, human stories, Miuccia Prada narrowed the narrative further by immersing her spring/summer womenswear collection in depictions of women, by women. For the graphic elements that decorated the show space, Prada collaborated with eight female artists, spanning the generations.

Each of whom has illustrated women in a uniquely empowering way — Brigid Elva, Joëlle Jones, Stellar Leuna, Giuliana Maldini, Natsume Ono, Emma Ríos, Trina Robbins, and Fiona Staples — and with the archive of Tarpé Mills, creator of the first female action hero, Miss Fury. This was a comic book call-to-arms because there is much to be furious about, but there's hope for a better tomorrow if we come together...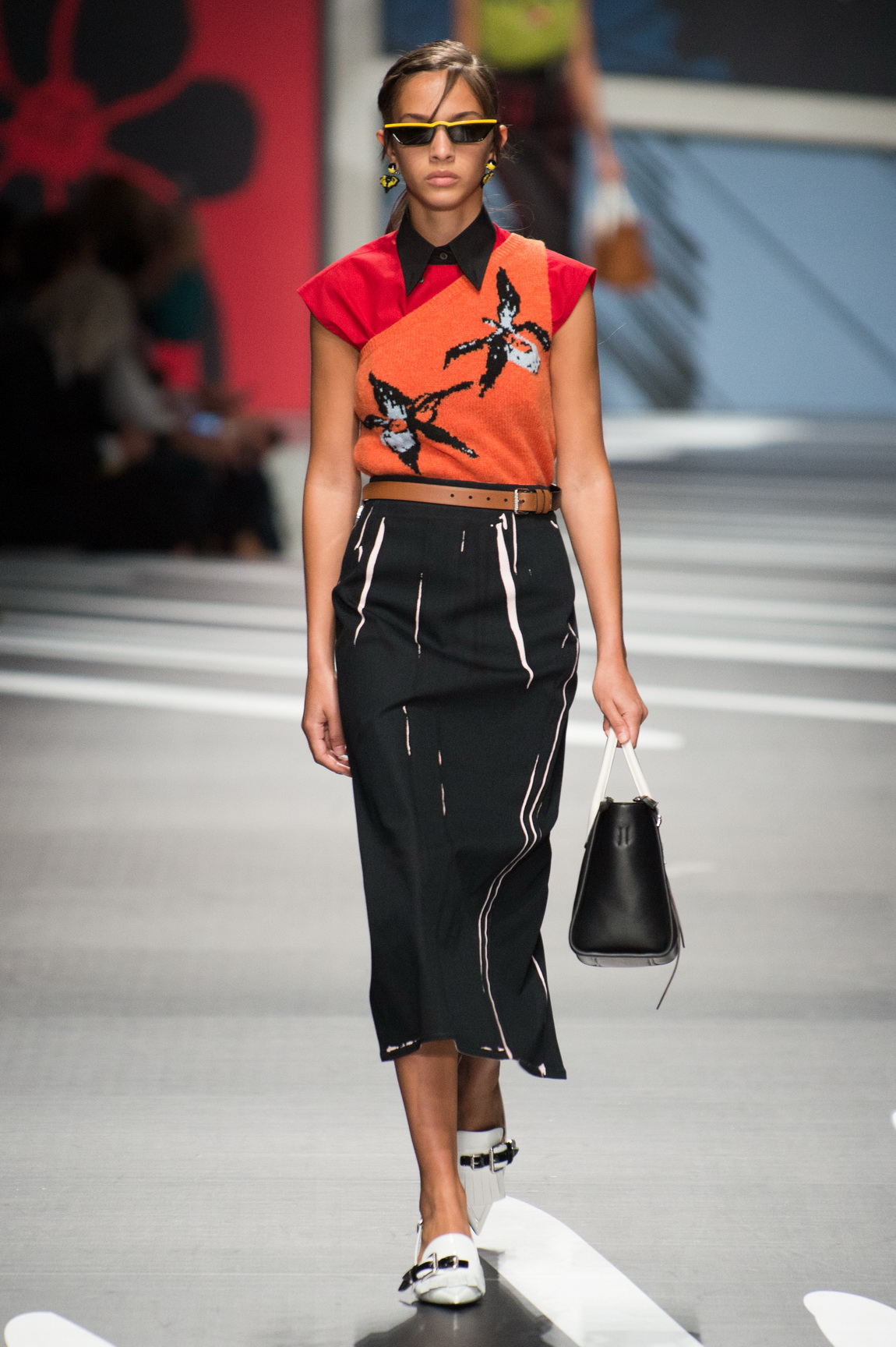 "We have to change the world. Especially for women, because there's so much against us, still," Miuccia declared backstage, surrounded by a crowd of iPhone and dictaphone wielding editors. Throughout society and across the globe, the regression of female rights is very real but it was arguably the election of the man President Trump and the rhetoric he represents which has brought an urgency to the fight. Inside the 2x4 New York City designed space, we were reminded of the Women's Marches, a day of solidarity, defiance and peaceful resistance, as millions of people across the world joined together to protest.
"When it feels like things are regressing, we need to be reminded that the fight continues," the Polish film maker Dagmara Kodlubanski explained around the announcement of her upcoming Women's March documentary, We Still Rise. She said we need "to not be disheartened, and to realise that 'ordinary' people really can make a huge difference." Miuccia Prada echoed these sentiments throughout the collection. "I'm suggesting a militant woman in a very practical way, through clothes because that is what I do," she explained.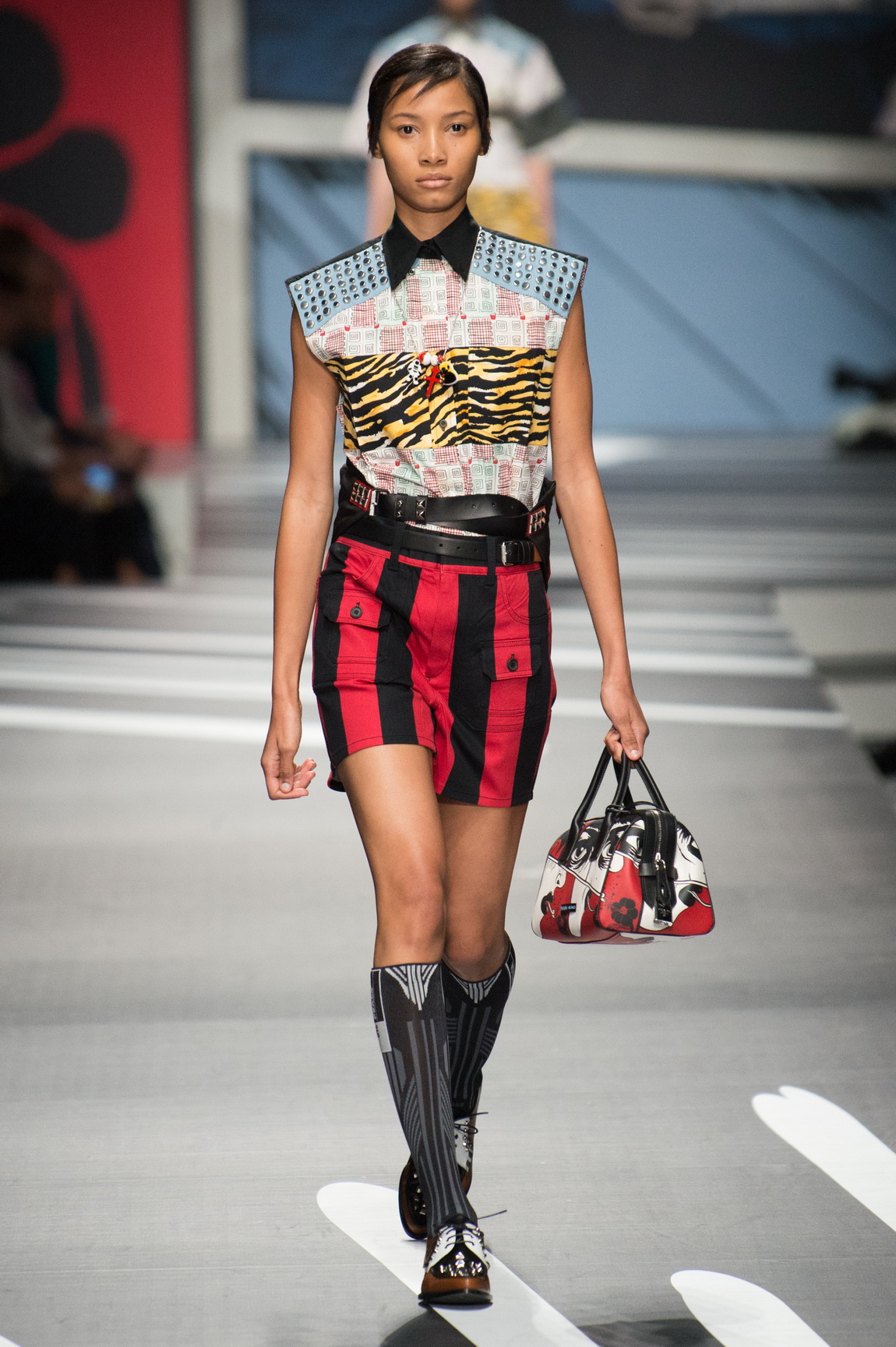 Women's fashion inherently tries to evaluate the depiction of femininity and feminism, looking outside itself to tell its own story, but Prada has resisted, and continues to resist, season after season. "You could say elements of the collection were masculine but I don't want to say that," she noted. "Whenever men describe a strong woman they say that. Why can't we call them strong women? They are strong women."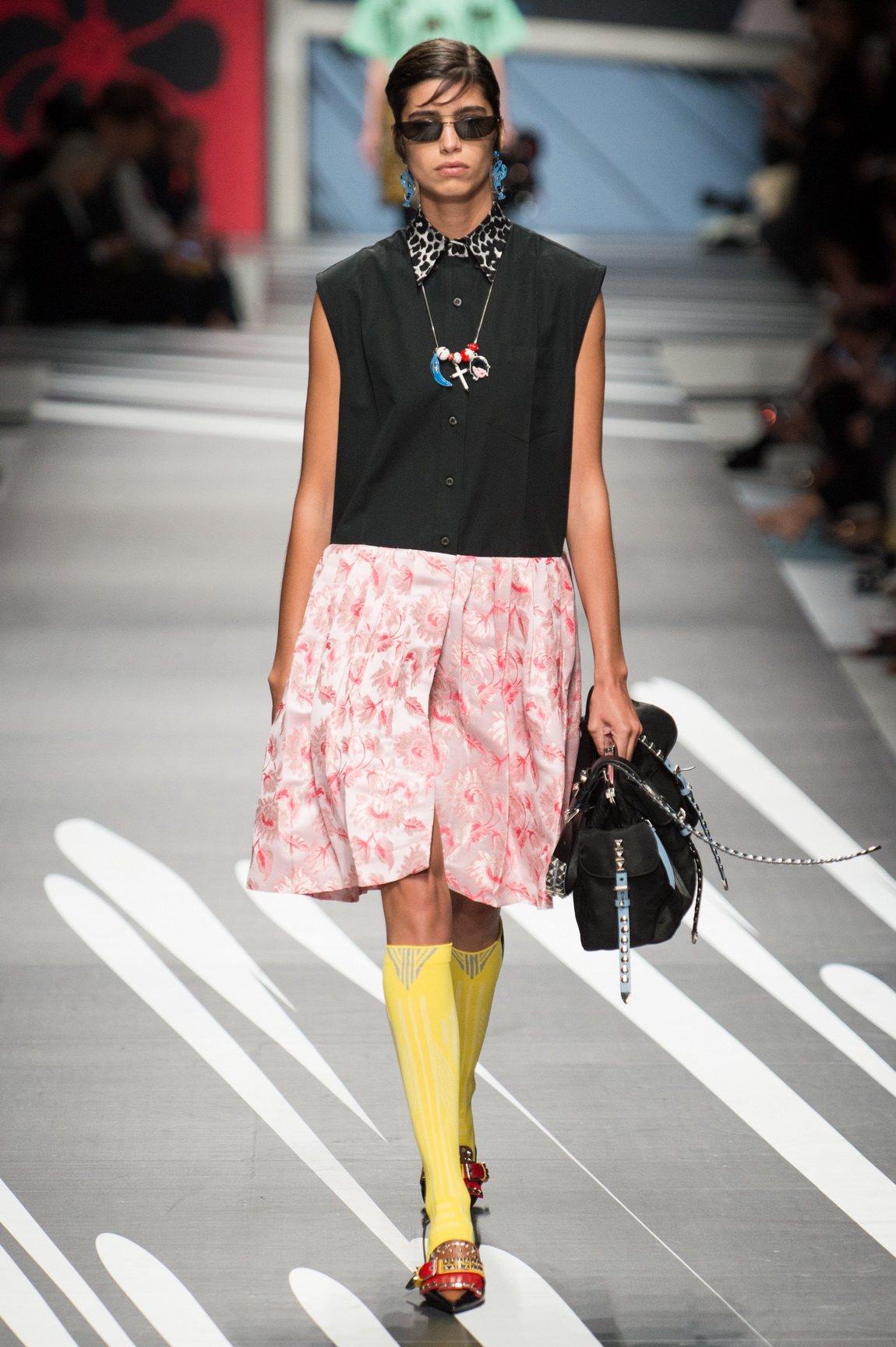 The soundtracked moved through Lana Del Rey to KD Lang, Nina Simone to Kim Deal and Suzanne Vega, for women, by women was the message as the comic strips jumped from the walls and onto screen-printed tailoring, shirting, and accessories. Miuccia fused beatnik, Teddy Boy and New Romantic, a new wardrobe for a woke generation.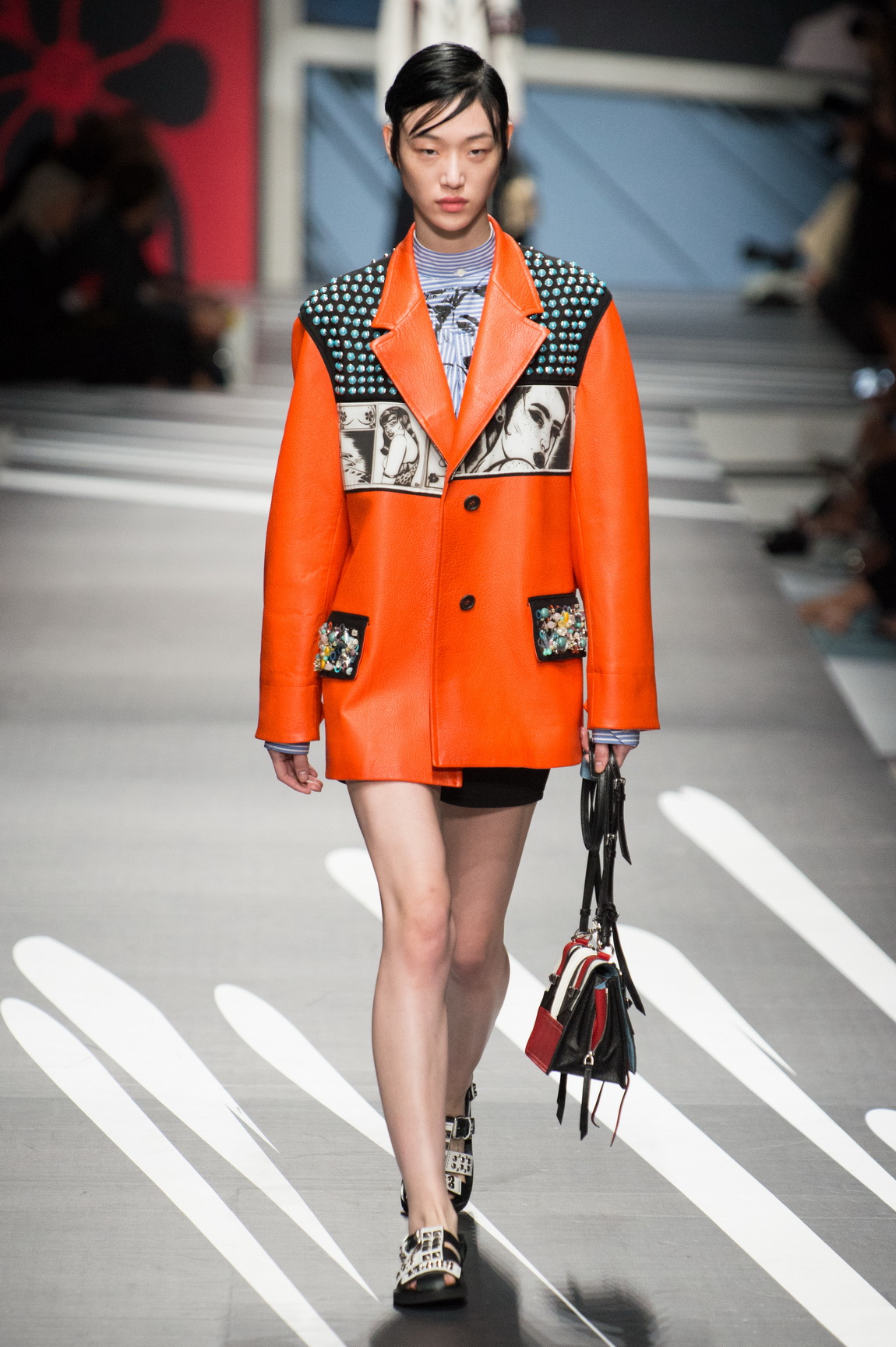 During the chaotic scenes of celebration — models chanted "Miuccia, Miuccia, Miuccia," post show — alongside the scrum of critics and thirsty Champagne hunters —Prada explained how the collection literally started as a blank canvas of all-white dresses. Of course, they didn't stay white. Beyond the doodles, a kaleidoscope of embellishment, print, and texture was added, from animal print to brocade and studs to buttons. This was Miuccia's fighting uniform. "In our condition as women I feel we should really stand combative," she explained. "Encouragement and strength are always needed but particularly now."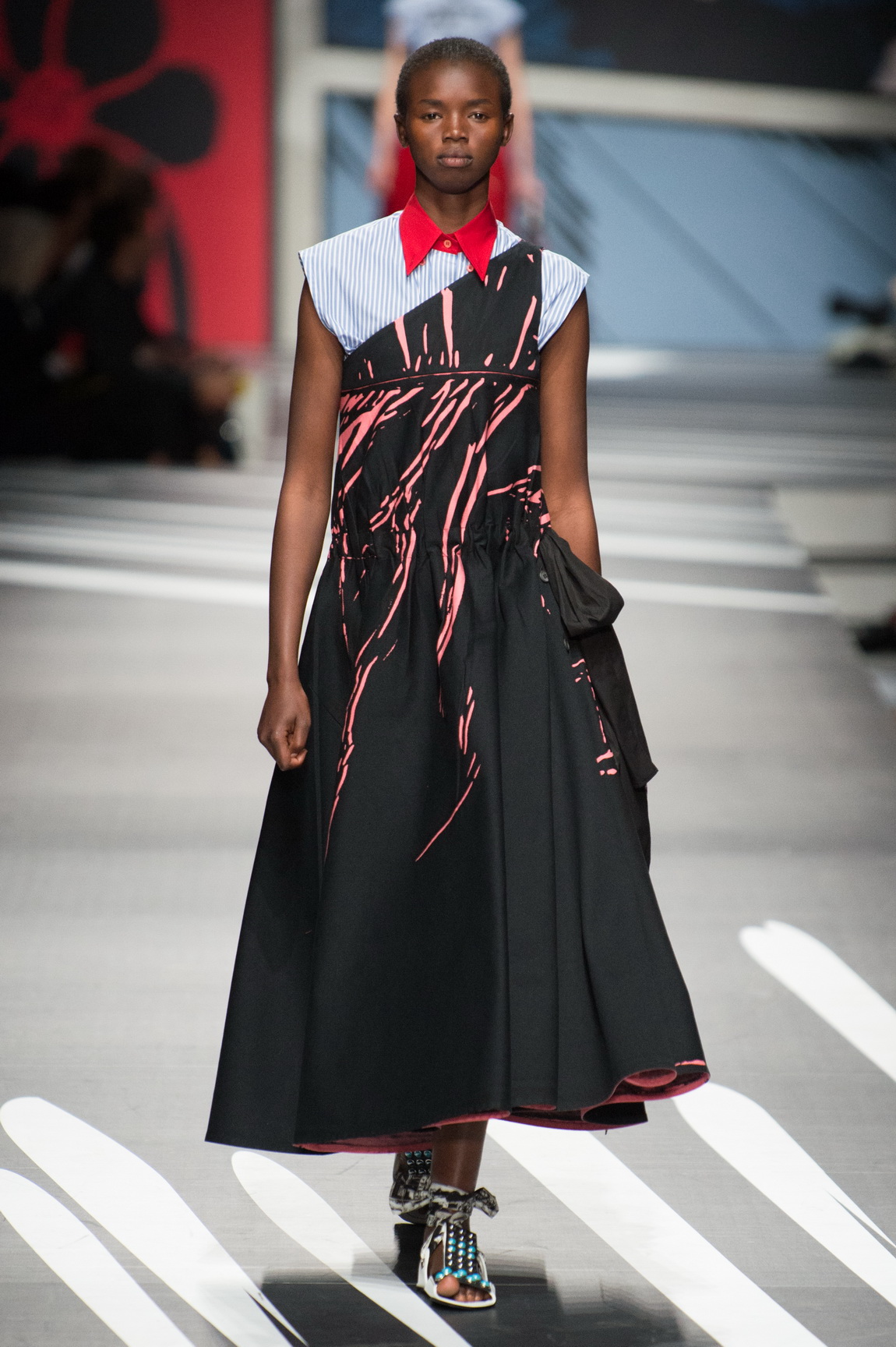 Although worlds apart in regards to aesthetic and approach, it was a message echoed by Moschino. For spring/summer 18, Jeremy Scott choreographed a dance through Moschino-flavoured feminine archetypes — from the ballet dancer to the biker chic to the prima sophisticate — which shapeshifted to the rhythm of transformative growth. "This is a collection about how far you can go, and how high you can leap," he explained. Now, as this small town Kansas born-and-raised boy celebrates 20 wonderfully colorful years in fashion, this statement had added truth and hope.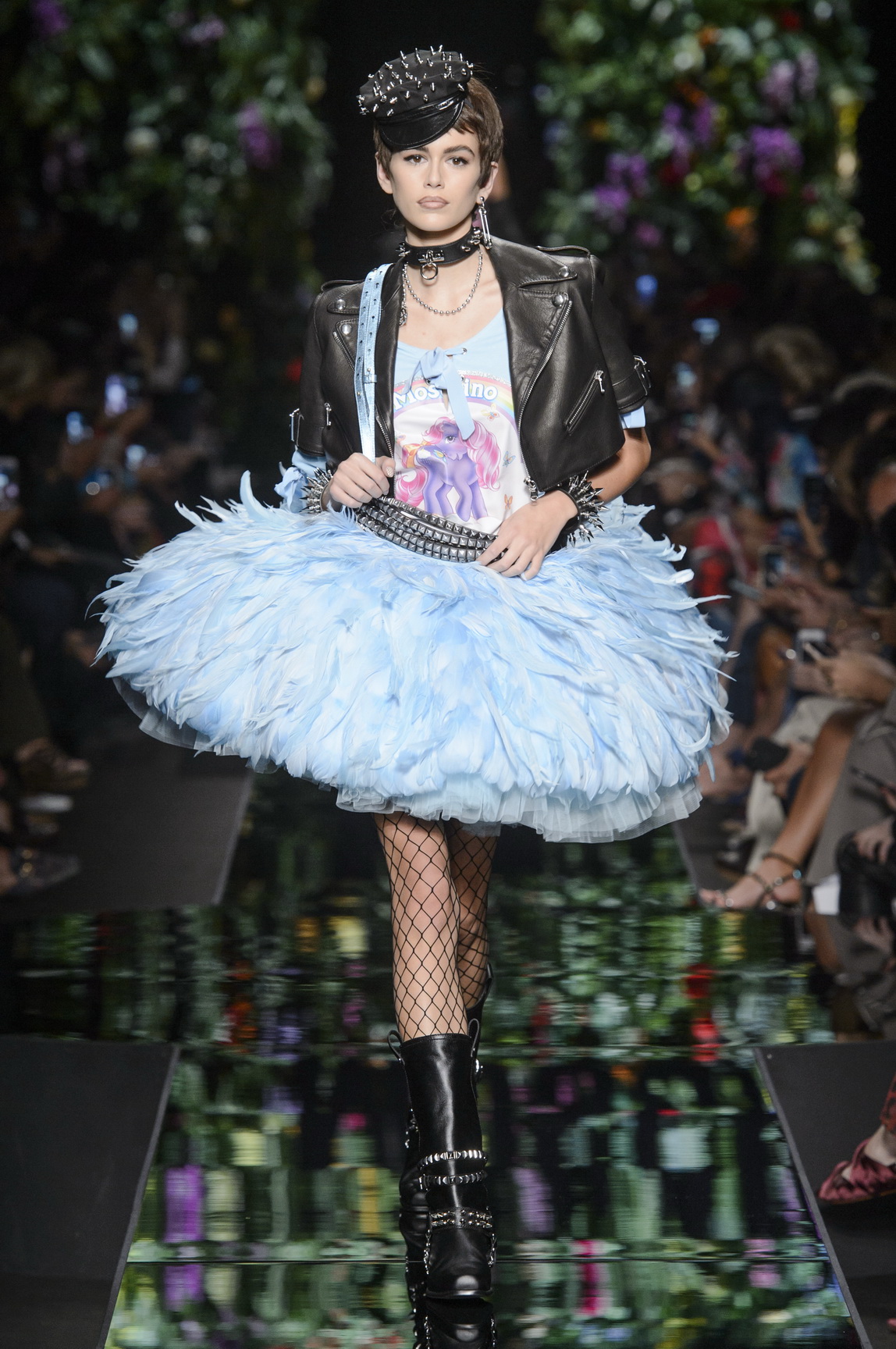 However, rather than focus on his own story of transformation, he focused on the narrative on women and the message was, be who you want to be! As tulle-charged skirts met leather and safety pins before giving way to bountiful blooms, everything was exaggerated, fun, and positive. From the "shirt happens" DIY T-shirts to the collaboration with My Little Pony and Anna Cleveland picking petals from her bust and throwing them onto the catwalk, the audience was smiling throughout. Even when Scott is saying something serious, he still does it with a smile and it's infectious. "I have to stay super positive, because I have to give that positivity to people," Jeremy explained. We love him all the more for it.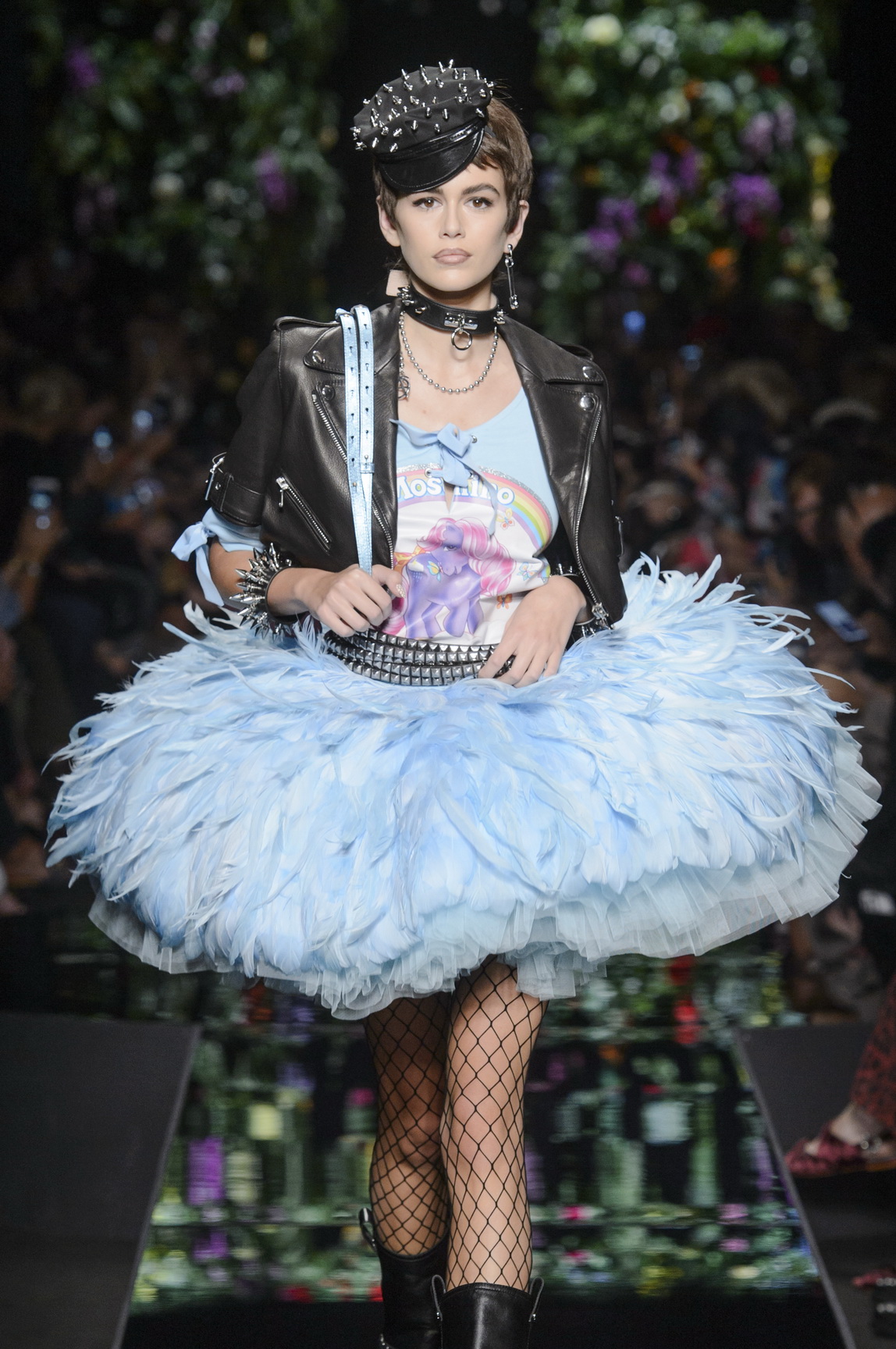 While Moschino took us on a trip through feminine archetypes, Fendi transported us to the Caribbean as Italian Futurism met tropical travel. After Karl Lagerfeld focused his sketches around stripes, checkerboards, and triangles, the Fendi team created a graphic play of diaphanous layers of sheer symmetry which were soon softened by scenes from the natural world.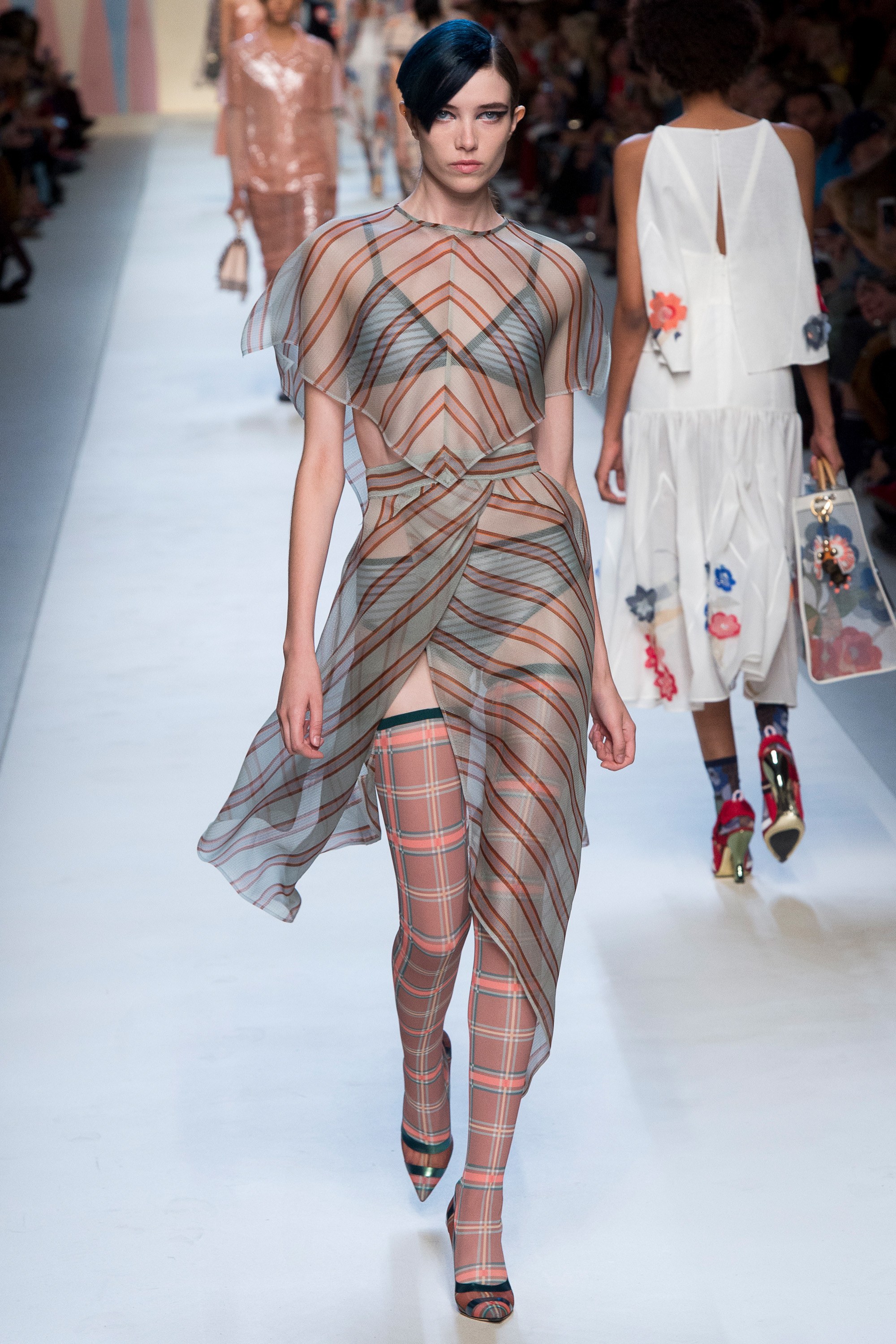 With its shades of ocean blue washing against seafoam greens, coral pink, and sand, the collection was reminiscent of Chris Ofili's recent collaborative tapestry, Weaving Magic. Where the British-born, Trinidad-based artist continually explores the narrative of its mythology, this Fendi collection invited us to lose ourselves in the landscape. As nude sequinned separates shimmered, moments demonstrating the house's craftsmanship unveiled themselves in delicate palm leaf broderie anglaise and floral leather marquetry. There may not have been any activism or message on Fendi's catwalk, but there was plenty of beauty in its offer to escape.