giddy up! five ways to smell like a cowboy
The Beauty Algorithm makes all your chap-wearing, horse-riding, boot-clipping dreams come true. Well, kind of.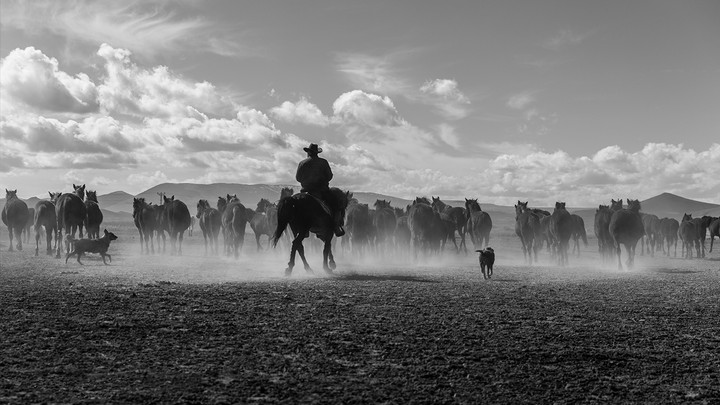 Unsplash
Welcome to The Beauty Algorithm , i-D's fortnightly column in which beauty editor, Shannon Peter, answers the internet's most niche beauty queries. Want to know how to smell like the cola-scented gel pens of your pre-teen pencil case? Or where to find an eye shadow the perfect shade of EU blue? No request is too specific! This week, the algorithm time travels to the Wild West and brings back a saddle-load of perfumes fit for a cowboy.
What does a cowboy smell like? I'll be honest, it's not a question I've spent much time considering, but this column has led me to mull over more unusual conundrums -- so when I read u/ScoobyVonDoom's post on the r/indiemakeupandmore Reddit forum last week, I decided to just go with it.
"Howdy… help me smell like a cowboy," read the user's plea. First: let's decode exactly what constitutes the scent of a cowboy. The original poster had a few ideas of their own, listing "sagebrush, hay, wood, grass, a dusty road, whisky, suede, but most importantly, GUNPOWDER" on her wish list of smells. There has to be the scent of worn-out leather in there too. Maybe cowboy scents don't seem so wild a request after all; there's just something so much more satisfying about strong, full-throttle perfumes like this that wishy-washy florals just can't match. I'm yet to come across a fragrance that ticks every single ingredient box for this rather specific request, but these are the ones that come pretty close.
Byredo's Rodeo is as cowboy-y as they come. I mean, it's in the name, but this one consists of a leather note that's so dirty, it almost smells like pepper, and there's also a generous serving of violets to take off the bitter edge. It is heavenly. Shame it's near impossible to get hold of: it was a limited edition for the UK market, but it's still available on the brand's US site.
Failing that, D.S. & Durga's Cowboy Grass is great too, although it focuses more on the dusty fauna of the cowboy's natural habitat. There's a lot of dry grassy notes alongside herbaceous basil, thyme. The whole effect is softened slightly by a few light floral notes, because cowboys can like florals too, you know?
If it's the full pelt of worn chaps you're after -- let's face it, why wouldn't you be? -- Malin + Goetz Leather Perfume Oil is like a leather cordial, in that there are no watery or citrusy notes diluting its effect. We musn't overlook the cowboy's liquor of choice either, so if you wanna smell like a saloon interior, try Jo Malone's fancy Whisky and Cedarwood Cologne. It's a little boozy without veering into grim hangover territory. And finally, to hit that gunpowder note, try Comme des Garcons Amazingreen, which somehow smells smoky and spicy in equal measure. Yee-haw!