trailer: an la hipster conspiracy thriller from the director of it follows
Get your tinfoil hats on for Under the Silver Lake.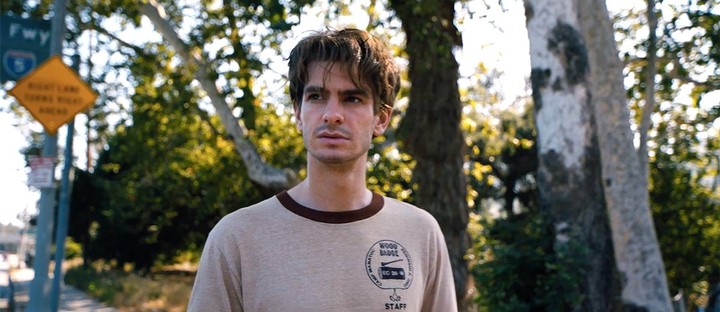 You know that meme with Charlie from It's Always Sunny in Philadelphia and his crazy conspiracy-filled board? Okay, well mix that with Andrew Garfield, Riley Keough and that other meme where the woman tries to work out a complicated math problem in her head, and you're pretty much at Under the Silver Lake. Following? No, me neither.
Released later this year, the film from acclaimed indie director David Robert Mitchell (the beautiful mind behind ominous horror It Follows) sees Andrew Garfield play Sam, an aimless cardigan-wearing, vinyl-listening stoner in his 20s floating through life in LA, before things are turned upside-down by the sudden appearance of mysterious femme fatale, Sarah, in their shared swimming pool, played by Riley Keough.
The pair fall beautifully, hopelessly, predictably in love, before Sarah disappears in the middle of the night, moving out all of her things in the process, and setting Sam on an increasingly paranoid, obsessive mission to find his lost kind-of-love. Along the way he encounters a more sinister conspiracy than he could have ever imagined, one that involves celebrities, subliminal messages, urban myths, billionaires… basically everything you can expect from a Los Angeles-based mystery.
Under the Silver Lake isn't released until 22 June, but until you can check out the trailer here and try to unravel the confusing saga yourself.
This article originally appeared on i-D UK.