this instagram account celebrates the best of original london street style
Now an IRL exhibition, Ruffnecks, Rudeboys & Rollups takes visitors through the origins and influences of London street culture from 1989 to the early 00s.
An Instagram account celebrating street style, jungle and garage culture, explores roots of this very British look in a brand new photography show.

Created by writer and curator Angela Philips, Ruffnecks, Rudeboys & Rollups takes visitors through the origins and influences of London street culture from 1989 to the early 00s.
Focusing on important details such as finger-wave hairdos, cult labels like Chipie, Chevignon, Moschino and Iceberg, as well as street style's relationship between dancehall, jungle and garage; it features photography taken both from Angela's own collection, or shared with her over Instagram.
"The images feature key pieces that have become firmly ingrained in the memories of those who, not only took pride in what they wore, but also how they wore it," she says.
Angela wants to show visitors the subtleties of streetwear: little signifiers that she believes only OGs truly in the know would be aware of. "Fashion and music go hand in hand," she says. "So, for example, garage and jungle were very designer heavy: Moschino, Iceberg and Versace were the garments of choice during that time.
"Dancehall had a similar braggadocios element, with the matching fabrics, dripped in gold and the sharpest hairstyles or 'trims'," she continues. "It was an essential requirement. It has always been this way, even tracing it back to its sound system origins."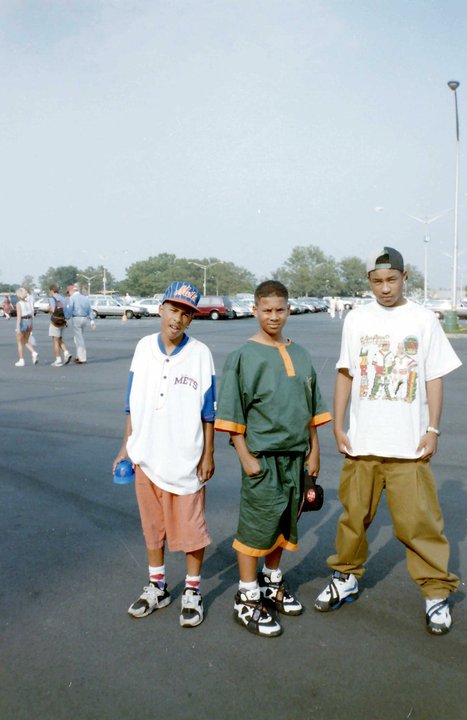 Roots and origin stories are at the centre of Ruffnecks, Rudeboys & Rollups, and why Angela thinks the streetwear story is important. The popularity of Clarks shoes within street culture, for example -- especially the Wallabee and Desert Boot -- is a direct result of the popularity of the British brand in Jamaica. It's histories like these that Angela wants to tell, ensuring that the culture's heritage is both known and appreciated -- and respected.
"It's the right time to put on this show. There is a huge interest in street culture -- for example reselling Supreme and vintage clothing. But I really feel that it is important to understand and pay homage to the origins of the people who started this. For me it's so interesting to see it all come back again, as I can remember certain pieces of clothing the first time around. It's even more interesting seeing the big amounts of money that people are now paying for these garments."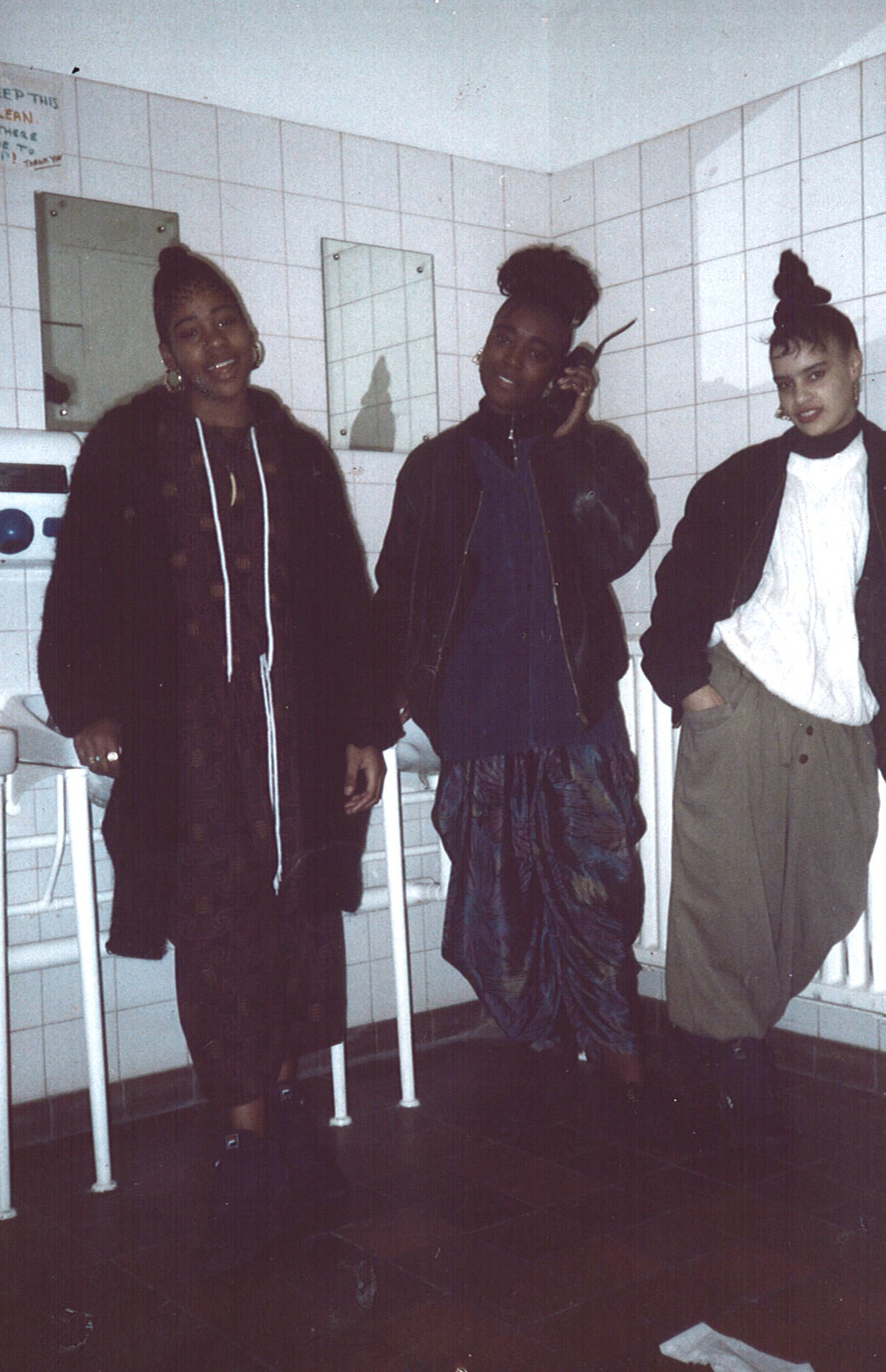 Two images are particular highlights for Angela, and really snapshot what it meant to be immersed in the era and culture of Ruffnecks, Rudeboys & Rollups. The first is from 1994 and a photo of an artist called Slick Don at his 3rd birthday party standing in front of his father's Saab, wearing shades, a tanned waistcoat. "This image is the epitome of Ruffnecks, Rudeboys and Rollups, I absolutely love everything it represents," says Angela. "It's like watching a style icon in the making."
The second is a shot of three girls wearing suede Fila F13 kicks: their effortless and slightly androgynous aesthetic neatly summing up the liberating nature of street culture. Sneakers and baggy trousers weren't just for men -- they were for anyone that wanted to cop them ("My boyfriend prefers me to wear skirts, but I prefer clothes like this," a young woman was quoted as saying in a Chipie fashion editorial in The Face magazine in 1991. "In fact, most girls prefer to dress like this but boys won't let them").
It's a look that Angela wore herself back in the day. "I remember one of the first occasions my mother allowed me to go shopping with friends," she recalls. "I came back with a men's size 42 waist pair of black corduroy trousers. They were massive. But they were essential in order to achieve the perfect 'rollup'. I wore them with my Nike Air Trainer SC's, Naf Naf tee and classic bamboo hoops.
"For me this signified independence -- freedom of expression with a hint of rebellion. My mum just couldn't understand why my trousers were so huge!"
With the resurgence of London streetwear and popularity with young buyers -- via sites like Wavey Garms and Depop -- as well as rising interest in garage, jungle and rave culture, the Ruffnecks, Rudeboys and Rollups exhibition is more than just a trip down memory lane: it is an education on an important part of British culture.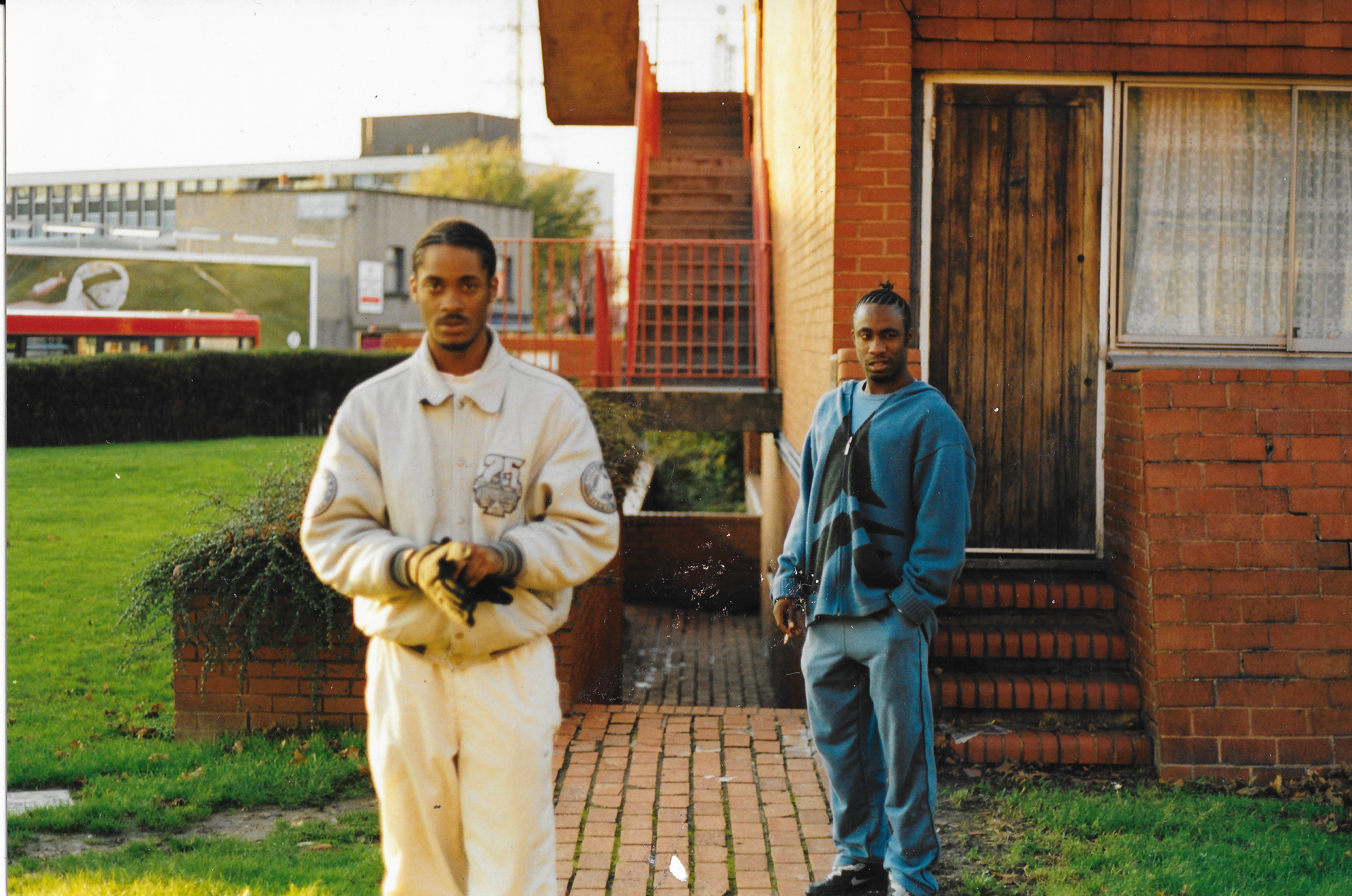 Ruffnecks, Rudeboys & Rollups launches with a press view this Friday 20 April, before opening to the public on 21 -- 22 April at Amar Gallery , 48 Penton Street.