ian alexander of 'the oa' is breaking new ground for trans representation
Ian Alexander talks to i-D about growing up playing male roles and making his big screen debut in The OA.
|
28 December 2016, 2:10pm
Still from The OA
Through a miraculous set of circumstances, Ian Alexander has had an incredible year. He landed a lead in one of the most hyped TV series of 2016, making him the only Asian-American trans actor on screen, according to GLAAD. He became a trans-activist in May when he responded to a homophobic protest on a college campus with a darkly funny rebuttal that was retweeted over ten thousand times in a week. And, he met Kanye West.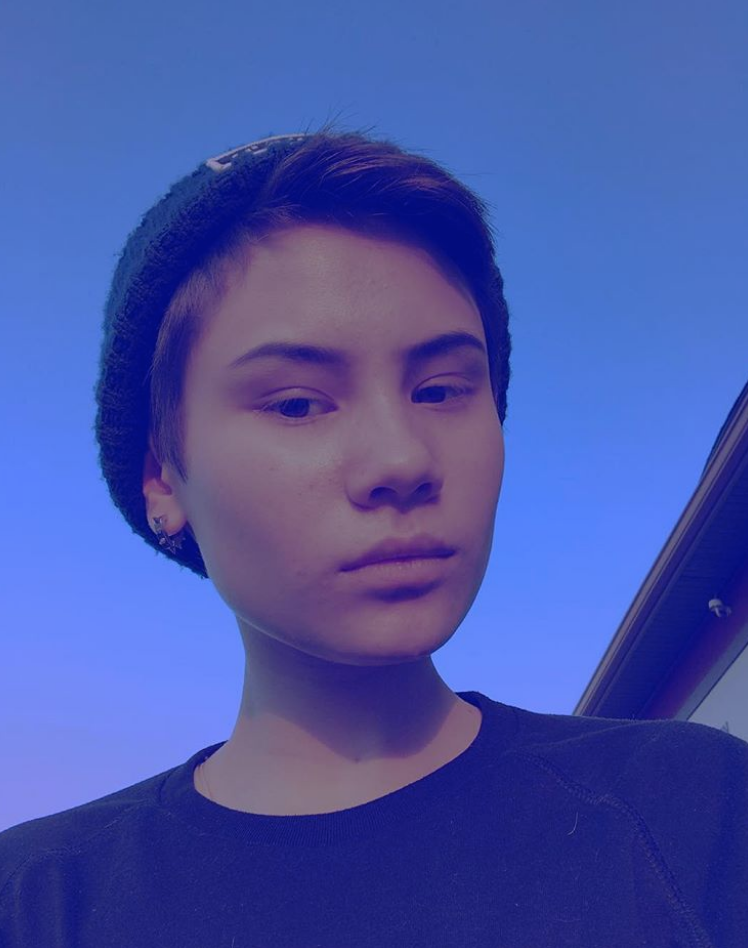 It's fitting. The Netflix show Ian stars in, The OA, is a sci-fi thriller about miracles, serendipitous meetings, and dual selves. Even the meaning of the title is an otherworldly plot twist. The lead character, a woman who claims to be a dimension-traveling angel, is played by Brit Marling who co-wrote and produced the series along with director Zal Batmanglij. Ian plays Buck, a suburban teen who joins a ragtag group searching for their invisible selves — each character has a visible self they show the world and an invisible, true identity — under the guidance of this supposed angel. Buck, Ian asserts, "is me, just like me": an Asian-American teen, roughly his age, with a supportive mother who buffers him from a father who still struggles with the basics of his queer identity — pronouns and first names. (The character's father refers to Buck as Michelle.)
Ian says he was "able to connect with Buck really easily because we are so similar — not just in our personality and our interests but also the situations we're in." "The show has really helped me to understand myself," he explains, "And that family can be made from strange places and broken parts and different homes, and be something very beautiful and supportive." Finding new families for additional support is a need common to many members of the queer community; Ian found his online. "Online groups, online chat rooms, reading other people's experiences on blogs." It started when he was 12 or 13, "before I even really knew I was trans. I was just intrigued by the trans community online. I stumbled on these YouTube videos of female-to-male transition, testosterone updates, surgery updates. For some reason I was fascinated by it. Then, when I started coming to terms with my identity, I found that community again. I found people my age going through the same things, a network of support." A year later, at 14, he realized his identity, as a pansexual transgender male still working out the details of gender nonconformity and whether or not he's nonbinary.
The OA is Ian's first experience acting professionally, but he spent years in community theater, performing male roles. "It was funny because I was a shy kid. I didn't approach people or socialize much." But on stage playing male lead roles, Ian felt a "rush of confidence and sense of pride that conquered my anxieties and fears." These were opportunities for him to perform his gender without judgement.
Ian is quick to say that both his Mormon parents have grown more supportive over time. "My mother has been really great through all of this, with everything she's sacrificed for me" — so he could dis-enroll from his Washington, D.C. school and move to New York City, where the show was filmed, he explains. "She's still coming to terms with my gender identity and struggles with noun and pronoun usage" — Ian uses he, him, and his exclusively — "but she loves and supports me and that means so much to me."
Ian found the casting call through a popular Tumblr post. "It was just sort of circulating because everyone was really excited that Netflix was looking for an actual trans actor to play a trans role," which is rare in Hollywood. "The call was so specific: a 14-year-old Asian trans male. And I was 14. And trans. I didn't expect to get the role, though. I was humbled when I did."
Ian saw the opportunity as an "adventure." "I knew for my mom having to uproot and give up so much stuff was a big deal, but I was excited and saw it as a great learning experience," he says. The OA team gave him an acting coach who helped him channel his real life experiences into a sensitive portrayal of the deeply layered Buck, a character who is now inspiring viewers across the country to boldly defend their own identities. Within months, Ian earned an international platform for queer activism.
When we first met last April, Ian was collaborating with The Network, a nationwide organization based in New York City and run by queer youth with the goal of supporting other queer youth. Since then, he's been rubbing shoulders with major industry names that also loudly support the queer community — not only Marling and Batmanglij, but also, accidentally, Kanye West (who famously attacked the hiphop community in 2005 for being homophobic, and later championed queer talent like Frank Ocean). "It was weird because they were playing his music at a [Network event], and he was [in the same studio building] going to a room on our floor. I was with some friends and we were walking to the elevator. The doors just slide open and Kanye West is standing there with security guards. It was perfect timing because if we had left five minutes later, we would have missed him. I remember him saying hey to us and asking us how we were. We were so shocked we didn't say much!" he explains.
There will be many more opportunities for Ian to share his message, alongside young queer activists like Rowan Blanchard and Amandla Stenberg; his social accounts on Twitter and Instagram are quickly amassing followers and he's articulate beyond his years. Right now, Ian lives at home in D.C. with his mom and dad, attending school, and hunting for new roles. He knows for sure, though, that he wants to move back to New York. "D.C. is pretty progressive," he says, but "there's so much diversity, and input [in New York]." It's the perfect place to nurture a bold message.