'patti cake$'s danielle macdonald on the importance of breaking the mould
Fresh from her stellar performance in Geremy Jasper's new coming-of-age film, 'Patti Cake$,' Australian actress Danielle Macdonald reflects on the politics of body image.
|
01 September 2017, 7:00am
This article originally appeared in i-D's The Acting Up Issue, no. 349, Fall 2017.
"When you're a teenager you're still figuring out who you are," muses 25-year-old Australian actress Danielle Macdonald. "You're learning to be an adult, you're trying to feel accepted by your friends and society, and I think it takes a moment to go through all of that before you finally get to self acceptance." Danielle's had that moment; she's got an air of confidence about her that most people spend a lifetime searching for. She comes across as being totally at ease with herself, and completely comfortable in her own skin, a quality that permeates her incredible performance in Geremy Jasper's new coming of age film, Patti Cake$.
Set in the somewhat downtrodden district of Bergen County, New Jersey, Patti Cake$ is a story of success against all odds, following the journey of unlikely hero Patricia Dombrowski — a.k.a. Killa P, a.k.a. Patti Cake$, a.k.a. (but only sometimes) Dumbo — as she tries to make it as a rapper. It's a classic underdog story that tackles timely topics of racial appropriation and body image. But for all the big issues, the film's genius lies in its subtlety. Patti is not your average hip-hop superstar, with her frizzy strawberry-blonde hair and curvaceous figure, but the film doesn't hammer her differences home. For instance, Patti's weight is only referred to once, used against her during an impromptu clash with a male rapper, who also head-butts her and calls her ugly. In the face of such adversity, Patti remains fearless. There's no maudlin self-pity here.
In fact, so real is Patti's stoicism, it says as much about Danielle IRL as it does the character she plays. "Patti just felt like a genuine person to me," Danielle explains. "I could really identify with her passion, with the way she struggles to try and make it in an industry that doesn't readily accept her." Much like her character, Danielle operates in an industry that typically shies away from those who don't fit neatly into the mould. But, like Patti, Danielle is the kind of person determined not to let anything stand in the way of her dreams.
"I've just never really let things get me down," she admits. "I'm not always confident, I have doubts — I think that's natural. But I enjoy living and challenging myself." When it comes to insecurity about her own body image, Danielle is more direct. "I'm pretty sure everyone experiences it at some point. When I was a teenager I had friends of all shapes and sizes. It was something we all went through, but I think as you grow up you just learn to accept yourself more."
Born in the northern coastal suburbs of Sydney, Australia, Danielle grew up wondering what life was like on the other side of the world. "I love traveling and experiencing new cultures," she exclaims. "Growing up in Australia there is this strong feeling of wanting to travel and explore once you finish school." After studying at the Australian Institute for Performing Arts, Danielle set her sights on LA. She nearly got her big break when she landed a role on the ABC series Huge, about a group of teens sent to a summer weight-loss camp, but her US visa didn't come through in time, and she was forced to pull out. It didn't stop her, though. She eventually she made the journey, landing a series of small roles in shows like Pretty Little Liars, Two Broke Girls and American Horror Story.
"The cool thing about being a 'character type' is that it's all about your physicality," Danielle says candidly, of the kind of outsider curvy girl role she's used to playing. "The characters are really quite different and often a lot of fun. They are usually supporting roles though, so it was pretty unique to get a role like Patti Cake$ where you're in every scene."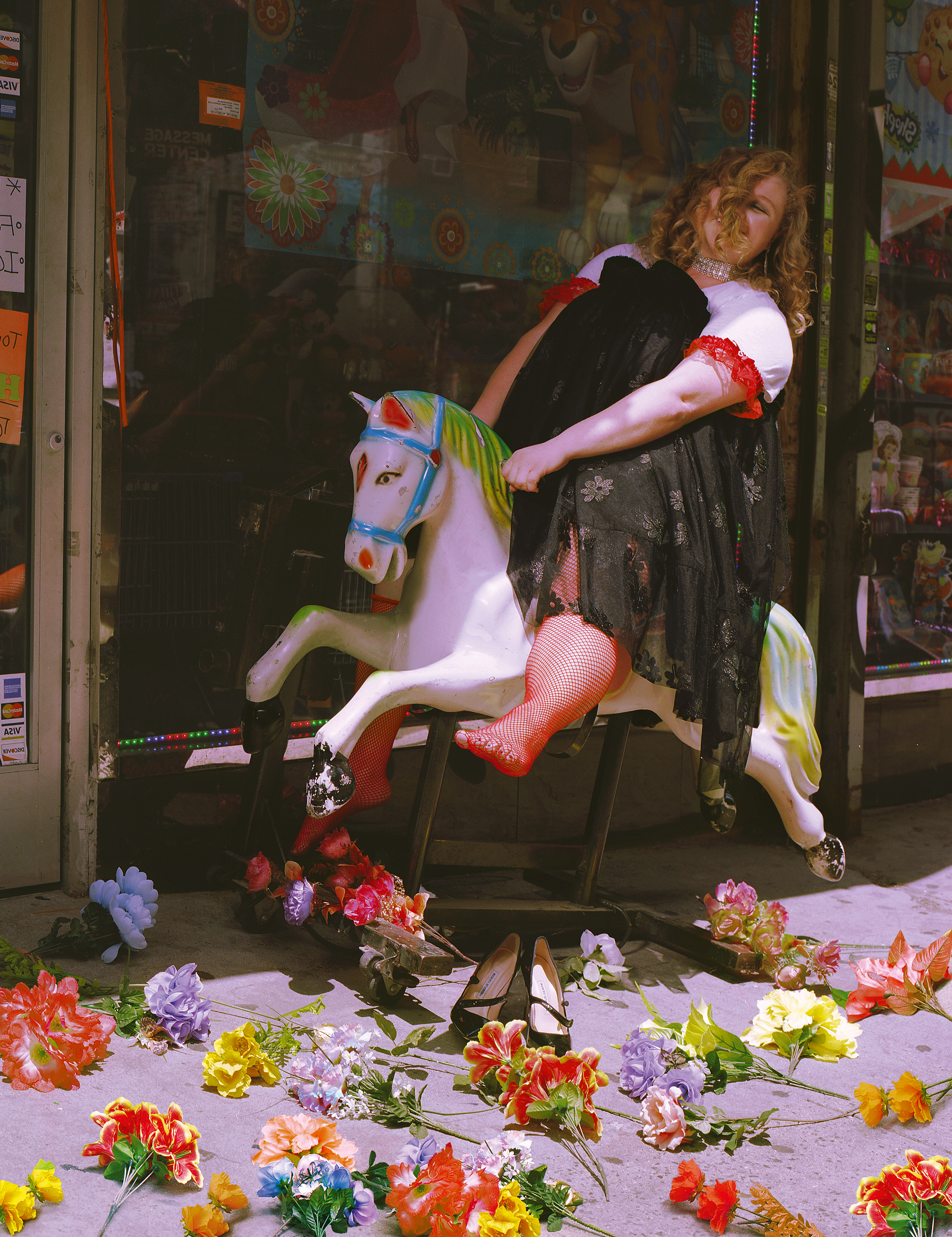 Up next, Danielle will be starring opposite Jennifer Aniston in the film adaptation of Julie Murphy's 2015 novel Dumplin'. It's another coming-of-age story about a girl who doesn't fit in with society's strict beauty and body image ideals, this time set in Texas. Danielle will play the role of Willowdean Dickinson, an overweight teen who dreams of becoming a small-town beauty queen, just like her mother.
"I think it's very relatable to everyone, especially at that age where you're experiencing things for the first time and where you're discovering who you are," Danielle explains. "I haven't started filming yet but it's a project that I fell in love with instantly, based on a book that I couldn't put down."
Danielle has some other major projects in the works, too, including a part in Greta Gerwig's new film Lady Bird, starring alongside Saoirse Ronan, and a leading role in upcoming drama Skin, based on the life of white supremacist Byron "Pitbull" Widner, who famously deserted the neo-Nazi movement to start a new life with a mother of three.
As these upcoming films show, there's no limit to Danielle's range. She's full of charm, wit, and emotional intelligence, which shine both on-screen and off. To stereotype her would be to grossly underestimate her talent, but it's not something she would let happen, regardless. "I would never want to do projects that focus solely on weight," Danielle asserts. "While that is something I can relate to, and I'm proud of the industry for talking about these topics and showing these stories, it's only a small side of me." Showing no signs of slowing down, and no desire to let anyone slow her down either, it looks like we'll be seeing many more sides of Danielle Macdonald.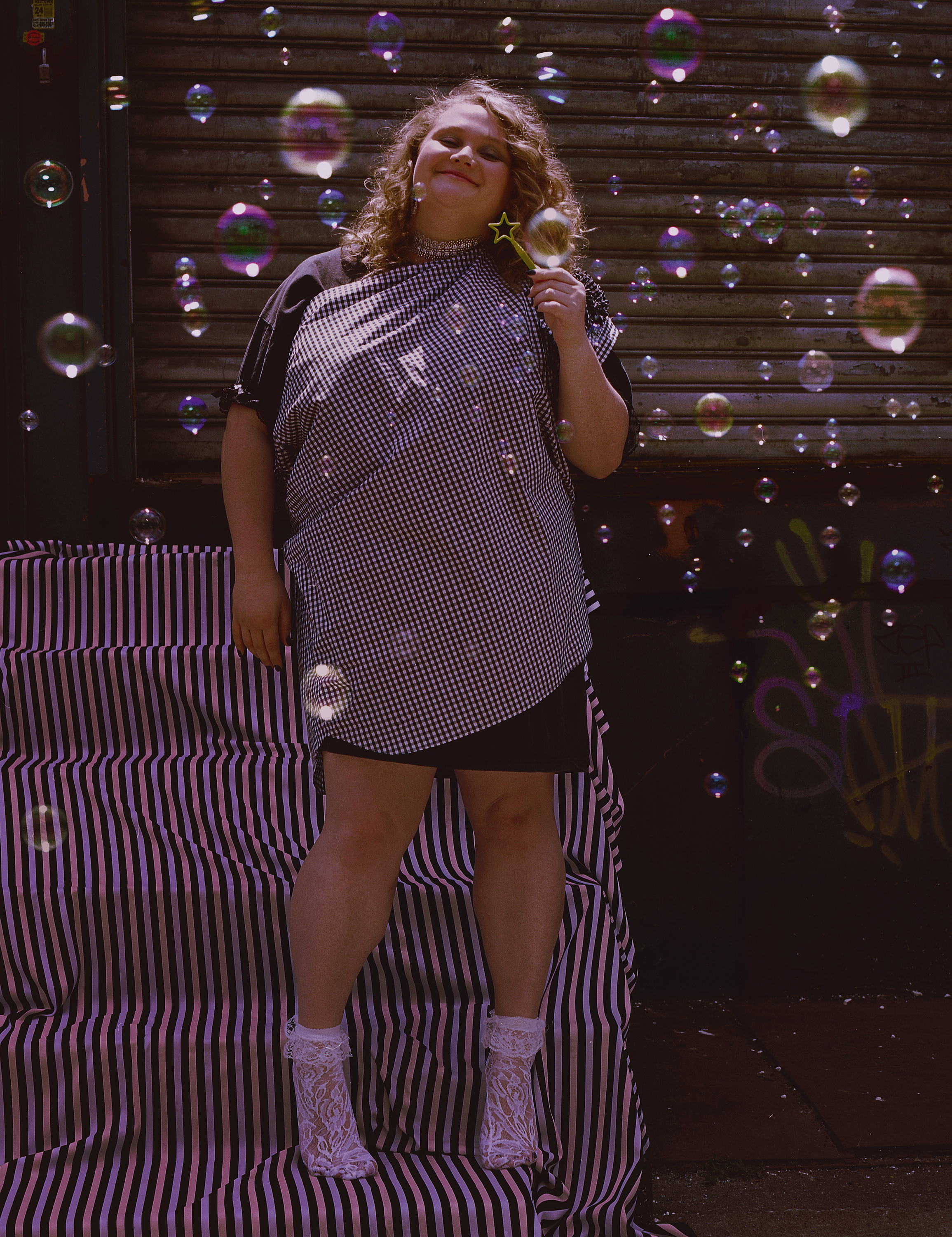 Credits
---
Text Tish Weinstock
Photography Zachary Chick
Styling Mark Jen Hsu
Hair Takisha Sturdivant-Drew for Exclusive Artists using TSD Hair. Make-up Natasha Smee for Exclusive Artists using IT Cosmetics. Set design Shelley Burgon at Magnet. Photography assistance Colin Caufields.