Photography Joyce NG. Styling Mowalola Ogunlesi.
mowalola: the nigerian designer setting london on fire with her seductive fashion
Get to know the latest designer to join the Fashion East family.
|
14 November 2018, 8:00am
Photography Joyce NG. Styling Mowalola Ogunlesi.
This article originally appeared in i-D's The Superstar Issue, no. 354, Winter 2018
"Sex. More Sex. More Sexy," Mowalola Ogunlesi says with a laugh, when asked to give a hint about the aesthetic direction of her next collection. It will be her first since dropping out of Central Saint Martins, and her first on the London Fashion Week schedule. "More sexy" will be quite a feat, considering her BA graduate collection was pretty sexy. Titled Psychedelic, and taking inspiration from 70s and 80s Nigerian rock music, it included tight leather trousers cut low with lacy lingerie peeking out, nipple-grazing crop tops that skimmed the body and glistening abs. It was a riot of intense color and sensuality, a joyful exploration of African male sexuality, cut free from the stereotypes that so often cloak it.
The industry stood up, took notice, and immediately wanted to know more about this young designer. So Mowalola dropped out of her MA at CSM and decided to focus on building her brand instead. This year she's been selected to join Fashion East, and she will show her first standalone collection as part of their menswear showcase in January 2019 at London Fashion Week Men's. "It's been really exciting," she says, "I'm just figuring out how to do everything. They don't really teach you that at CSM. I guess they're working more on your mind than on building your business skills." Currently working on all aspects of setting up her own label, Mowalola is doing her own PR and taking business classes, though it's hard to fit it all in. "I don't really know how to do everything at once, like do the designs, do the business... and also have a life," she says. She is 24 after all – you need time to party, have fun, and enjoy yourself. "I'm not going to look back on my twenties and be like, 'Yeah you were building your brand, but then you didn't do anything fun.'"
We're in her flat-slash-studio in Dalston with her friend Trey Gaskin, who she met at CSM – he's a multi-hyphenate who acts as fit model, muse, life coach and studio assistant for the young designer. "Trey's amazing, he's helping me to plan things and is working on the email side of stuff." Answering emails can basically be a full-time job, and Mowalola could do with the help.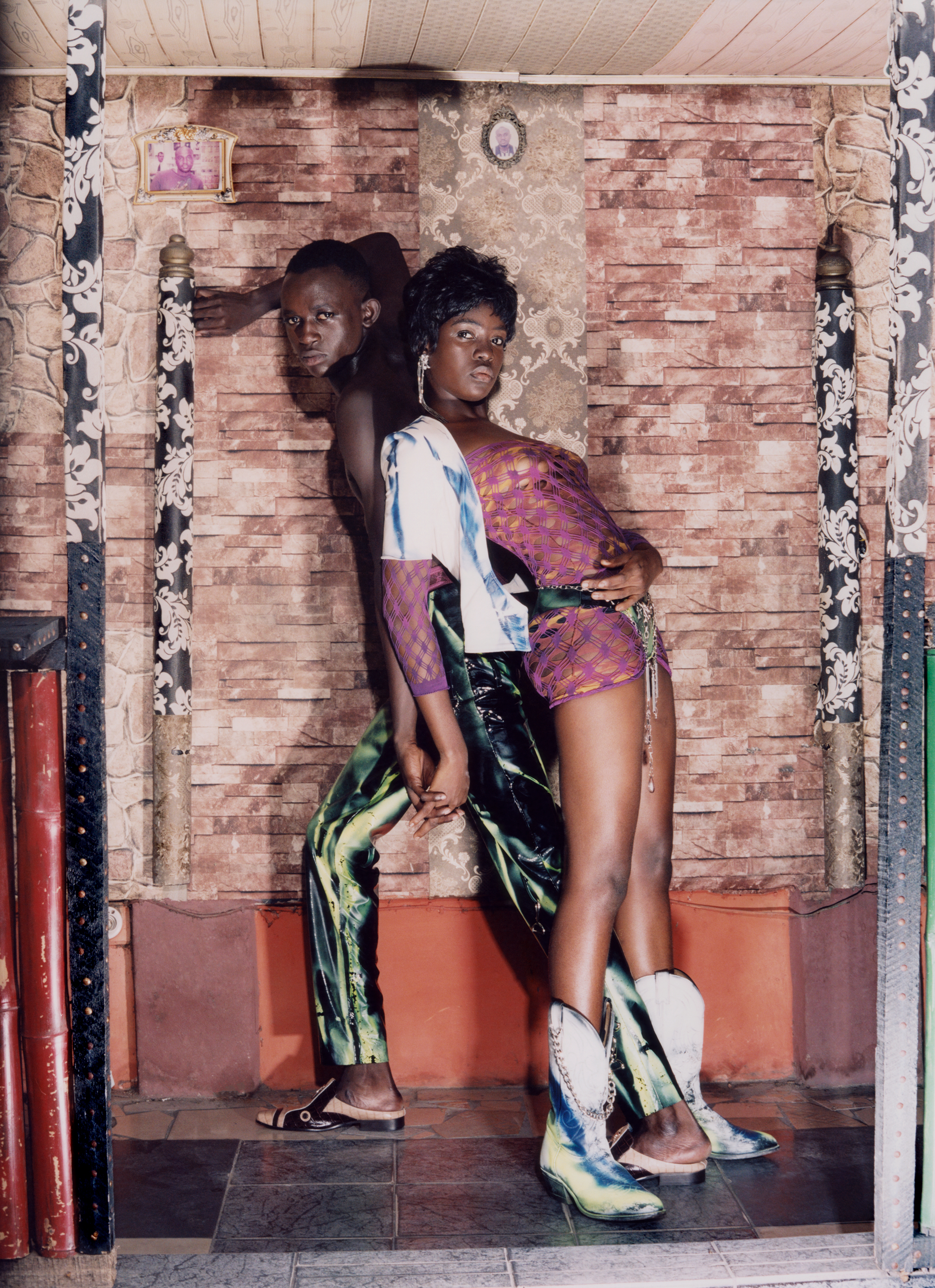 The designer grew up in Nigeria and moved to the UK at 12 to go to boarding school in the Surrey countryside. Her parents, who still live in Nigeria with her brother, are both fashion designers, so it's in the blood. "My mum's a childrenswear designer, though she used to do womenswear with my grandma. My dad makes traditional Nigerian menswear. He's always trying to tell me about designing, but we have different tastes. I love the way he dresses though, he wears whatever he wants. He's always buying things and personalizing them. He's a big inspiration to me."
Mowalola is not one for working in isolation; she loves the energy generated from sharing ideas with others, and is building a global community of like-minded creatives around her, from Lagos to London, New York to Toronto. They include the men who are her muses and collaborators, like Trey, and Tawan KB – who she connected with over Instagram five years ago and who worked with her on boots for her graduate collection – and musicians like Canada-based La Timpa – Mowalola is music-obsessed – who is also Nigerian-born. For her Fashion East show she is hoping, if possible, to have a full Nigerian cast on her runway.
To create a lookbook for her graduate collection she collaborated with Yorkshire-based photographer Ruth Ossai, also originally from Nigeria, and i-D Fashion Editor at Large, Ib Kamara, who styled it. Both are known for work that peels away stereotypes of both gender and blackness. "It's super important for me to work with people who understand what I'm doing so we can create something on the same wavelength," she explains. "I'm really lucky in London because there are so many people who get it. It doesn't just have to be people of color who appreciate my work as unapologetically black, it could be anyone of any color, as long as you understand that it's about owning who you are and not being sorry about it. That applies to everyone."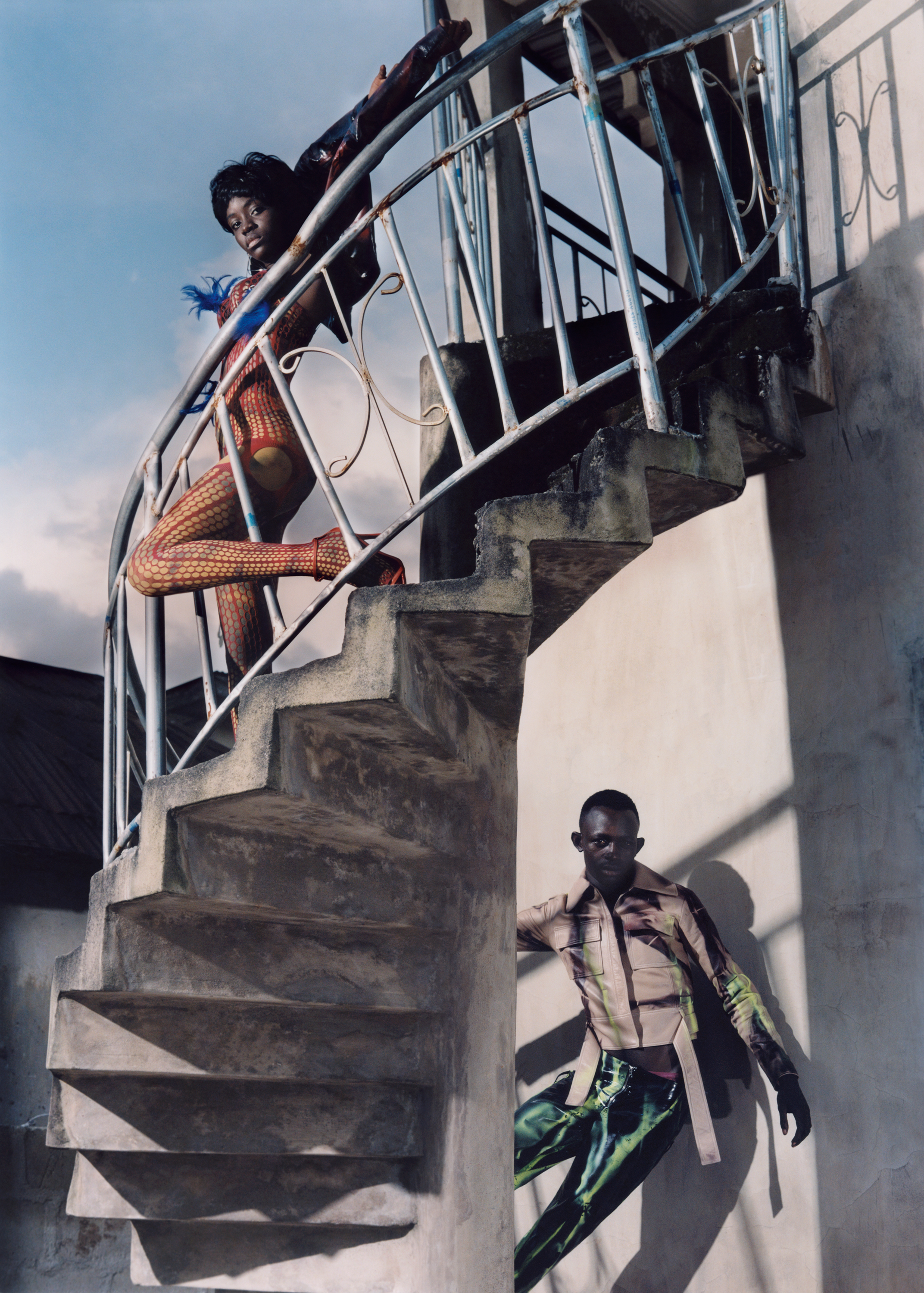 For her first Fashion East menswear collection in January, Mowalola will also be showing womenswear. Her designs are gender-blurring anyway, so it makes sense. "I know how I want to present it, I know how I want people to hear about the show, even. I want the clothes to feel super exposed and to explore different ways of being exposed, whether that's internally or emotionally. It's not always to do with skin, it's about being sexy in diverse ways." So that's how she's going to up the sexy stakes.
Gender fluidity comes through in Mowalola's pop cultural inspirations – she's thinking about Prince and André 3000 when it comes to star power. "I feel like those kind of men are very confident with who they are. I love that and I want that to be in everyone. We get so caught up in these social divides that boys must be this way and girls must be this way. I feel that everyone's on the gender spectrum, so the more we can break it down and get back to individual wants and desires, the more we can push society forward."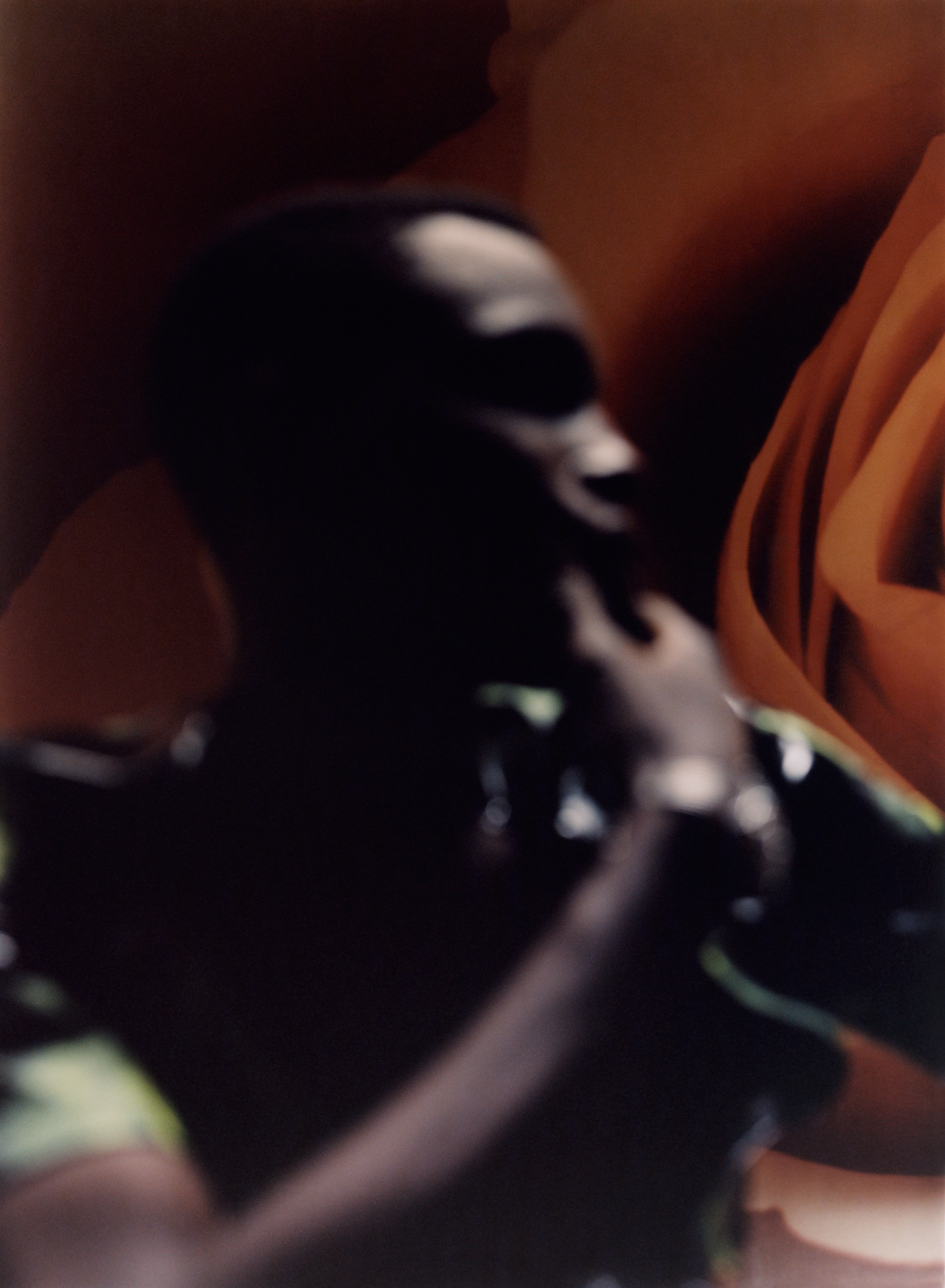 Mowalola has a knack for unfolding the narrative of her work beyond the catwalk. In fact, the catwalk is just the starting point for her when it comes to exploring a collection, and for someone who says she has no PR experience, she has an innate understanding of how to get her vision across. "When I finished my collection the first thing I wanted to do was shoot the lookbook. I wanted people to understand exactly why I was doing what I was doing. So I worked with people that inspire me tremendously. I went to do a film in Nigeria, and I feel because I kept on going deeper and deeper to communicate with people, they got excited about my work and they understood it."
"As designers, we need to be able to communicate with the world and tell a story," she concludes. "We shouldn't think 'Oh I need to be in i-D, or I need to be in this'. Create opportunities for yourself first, because that's what makes people notice you." We're noticing, and we cannot wait to see what Mowalola serves up in January.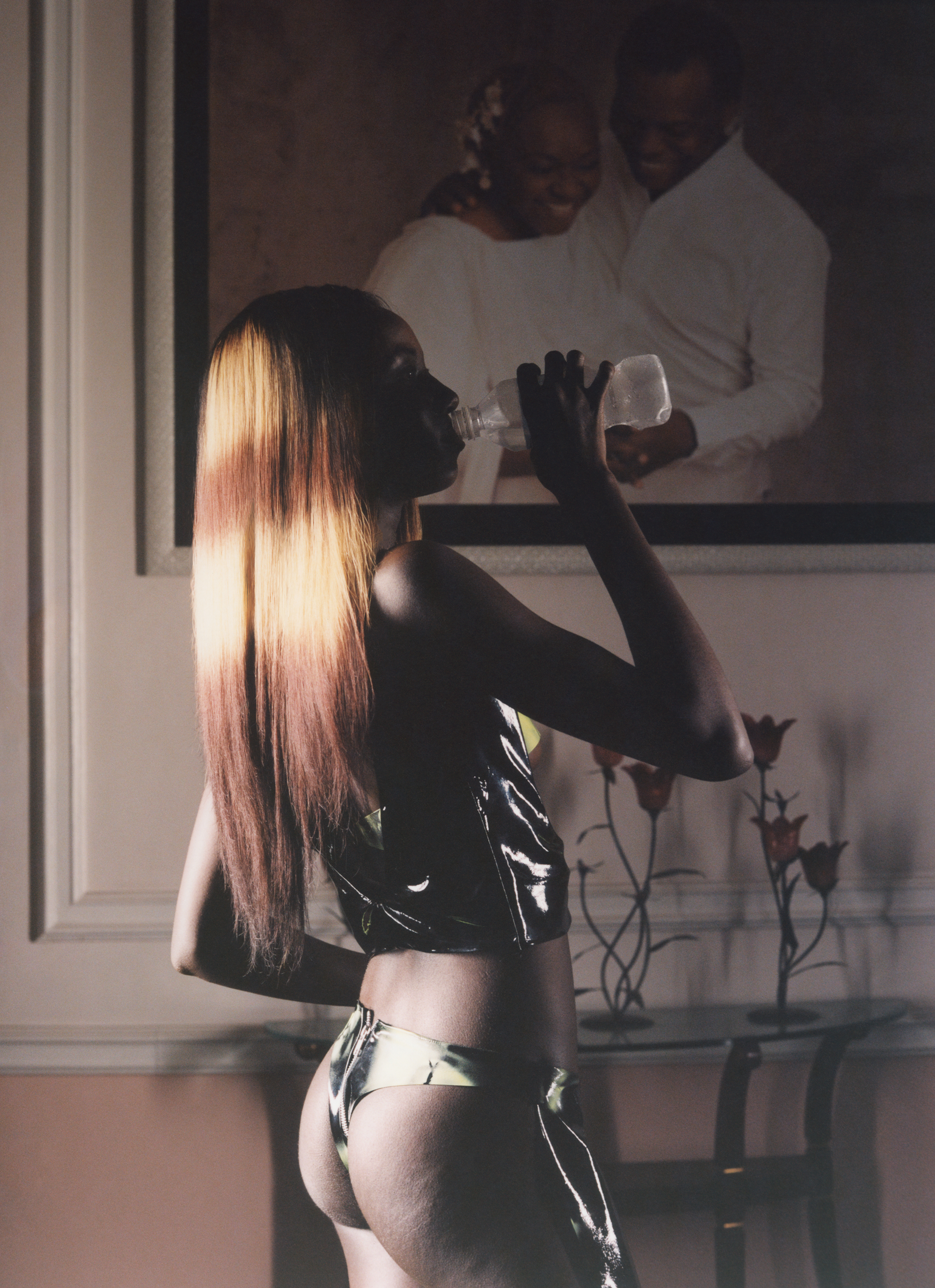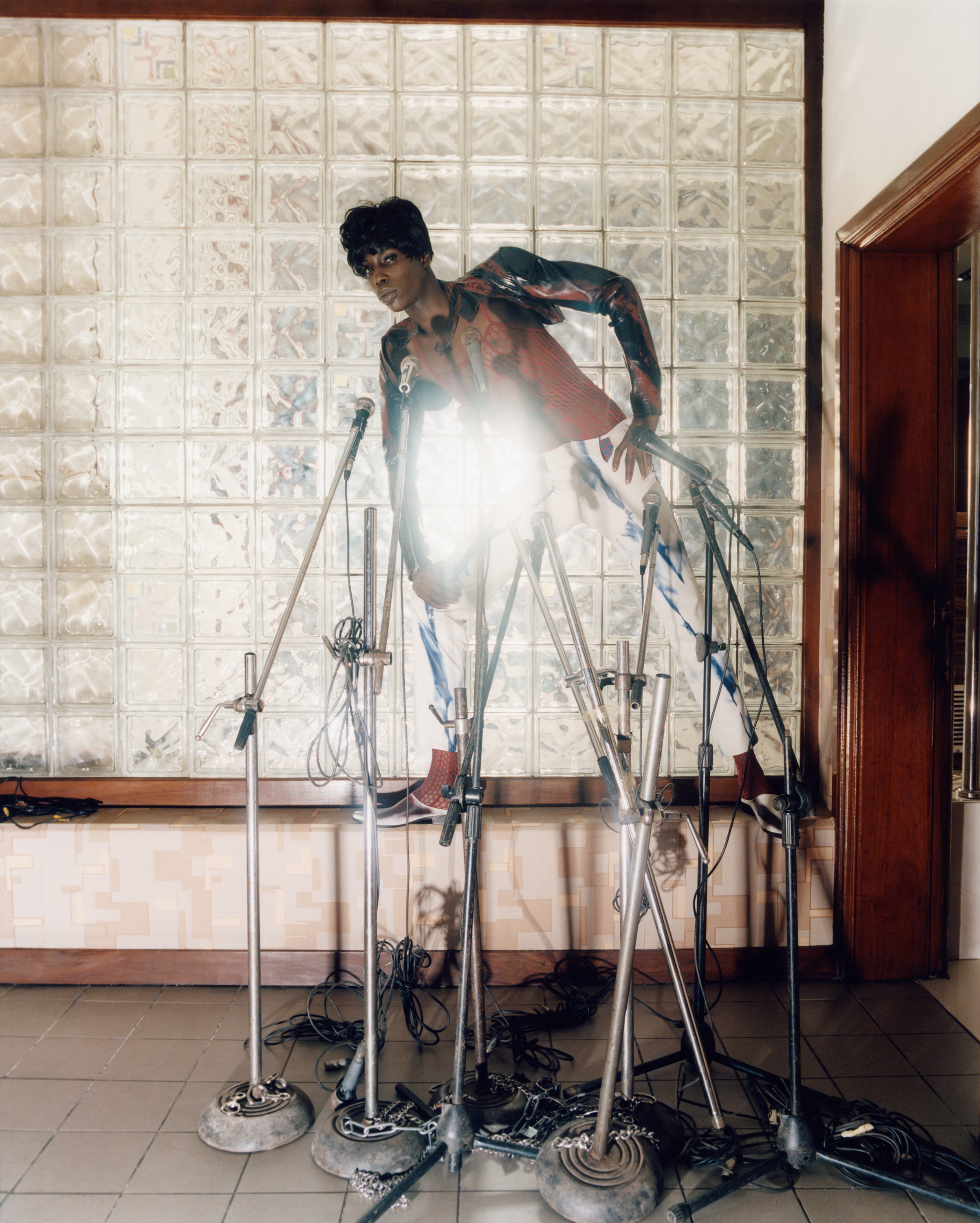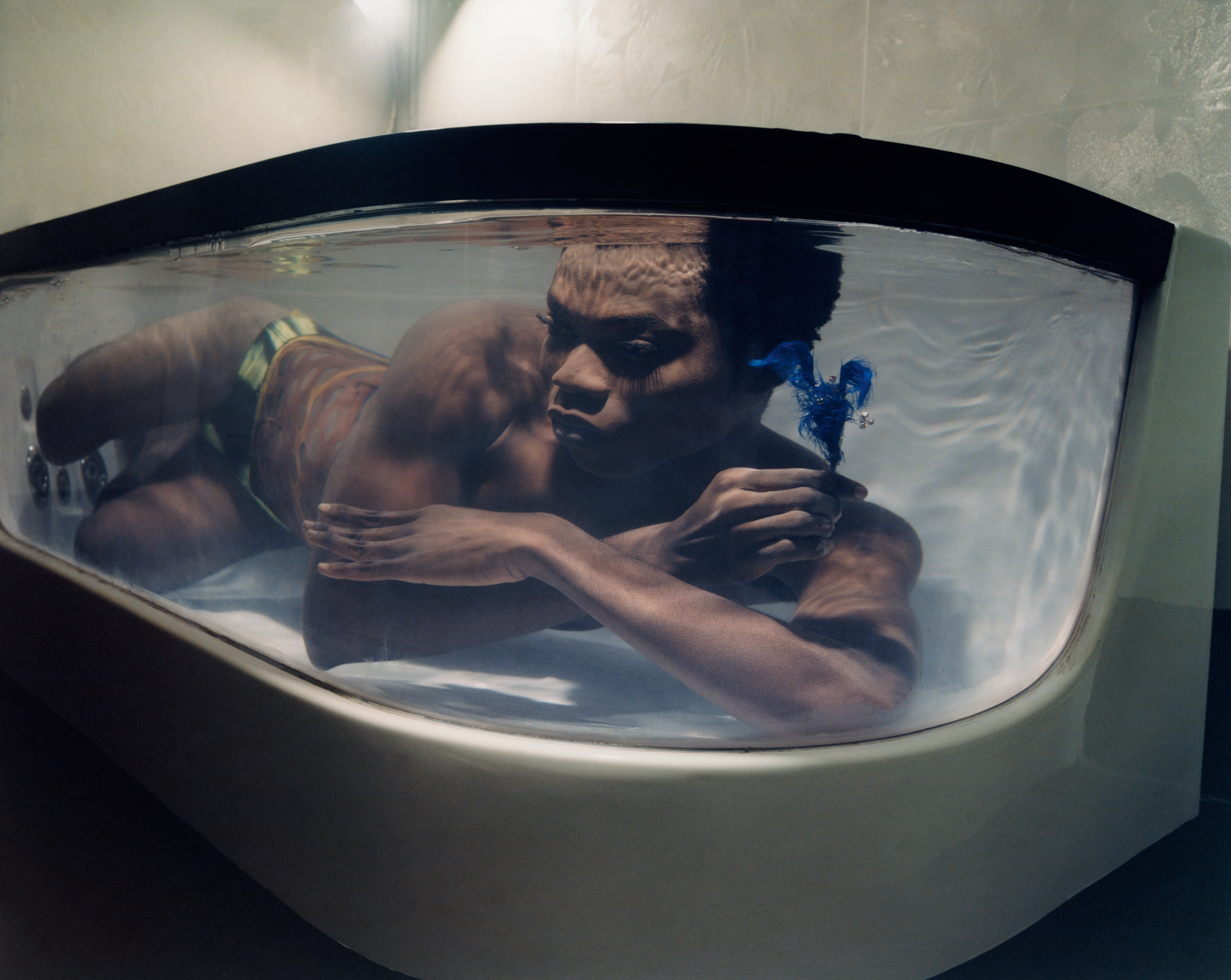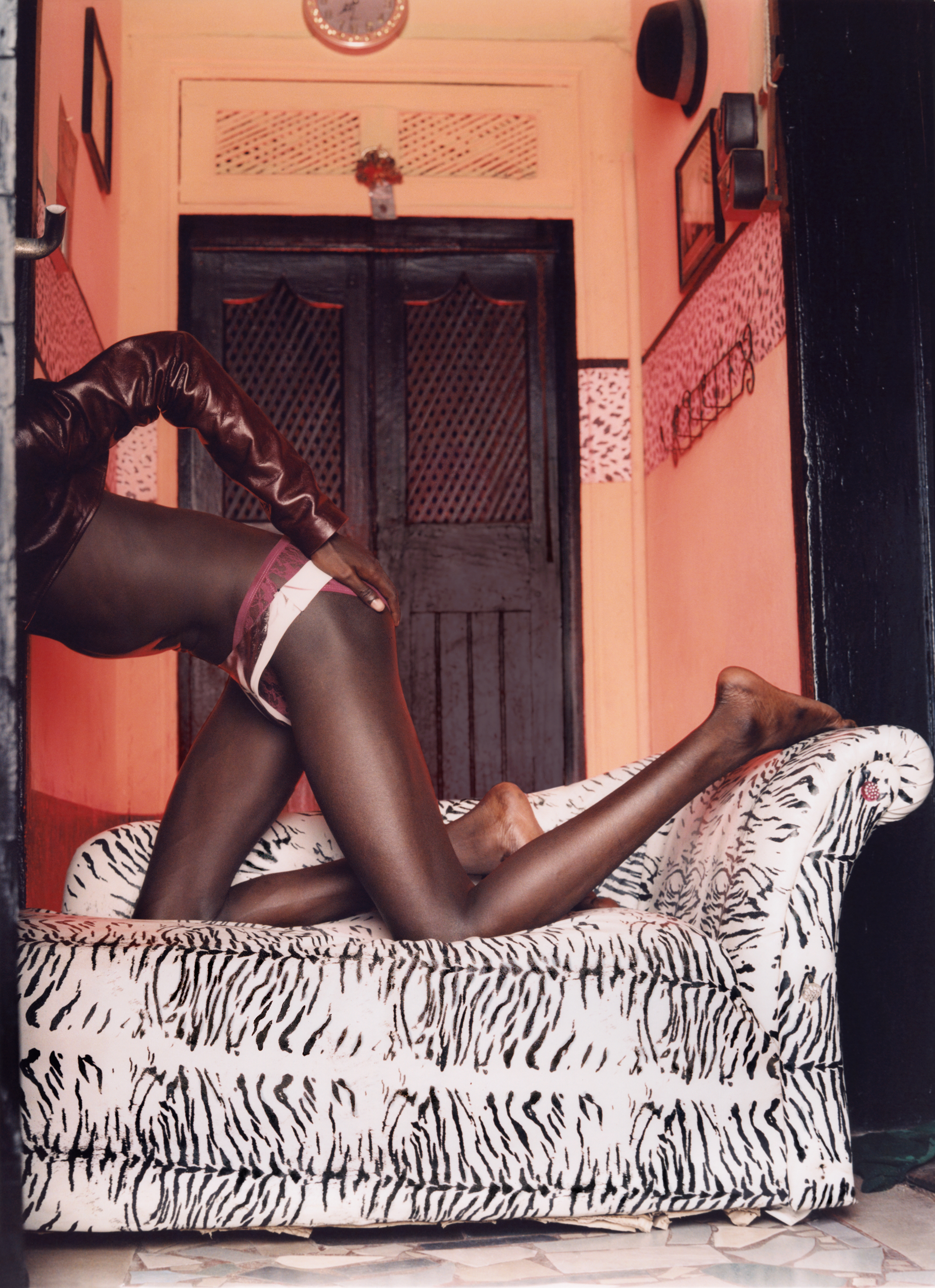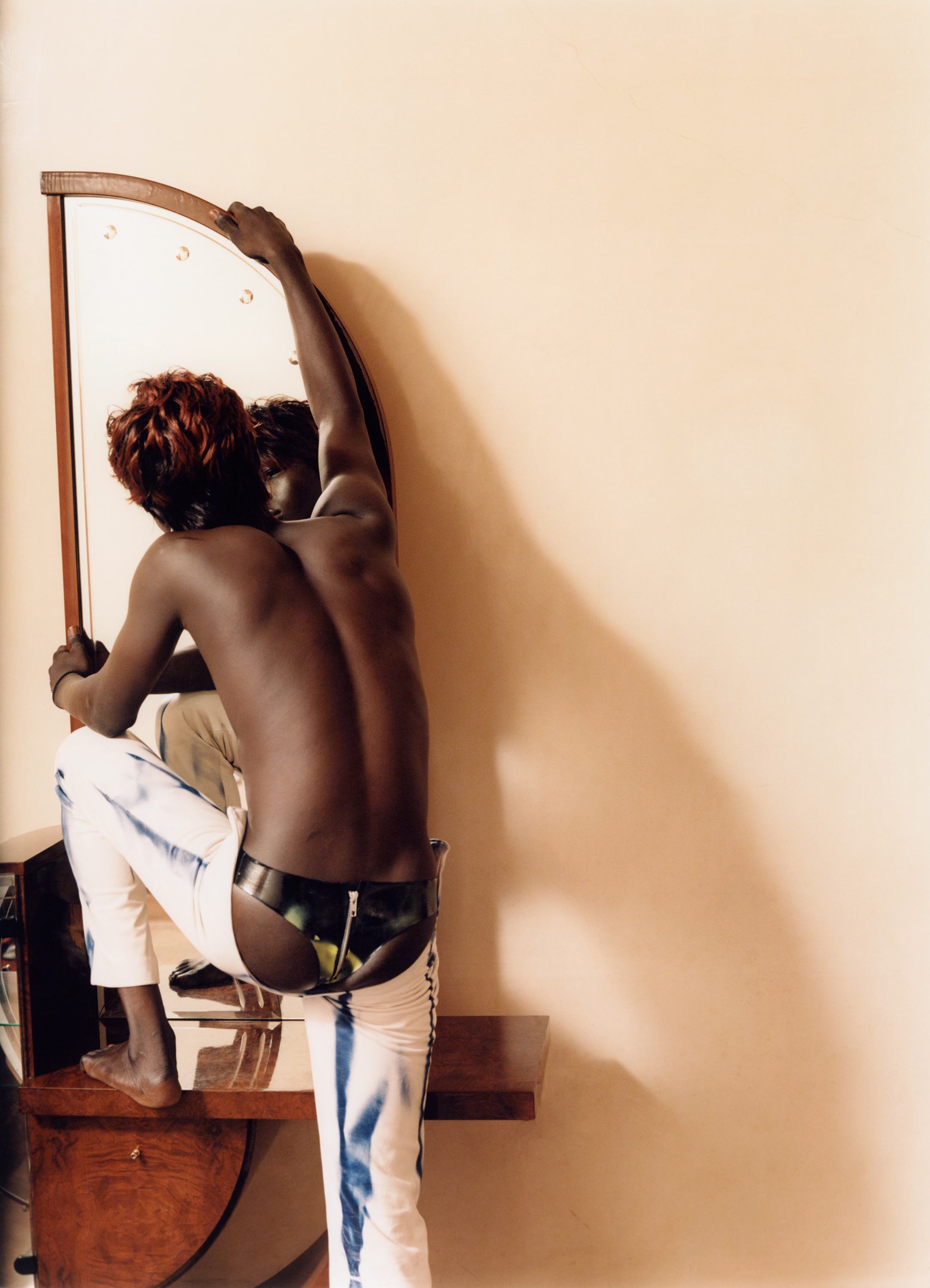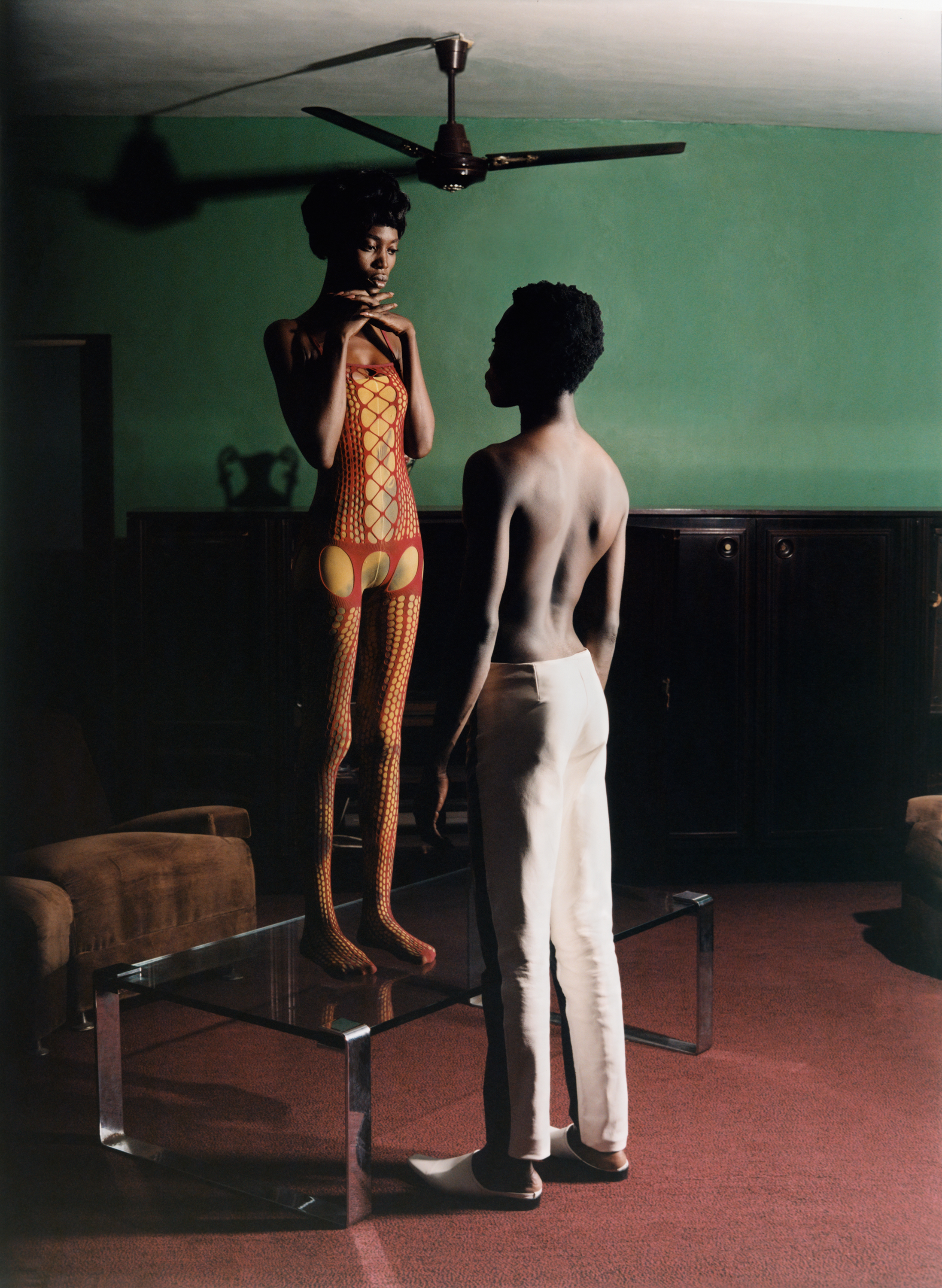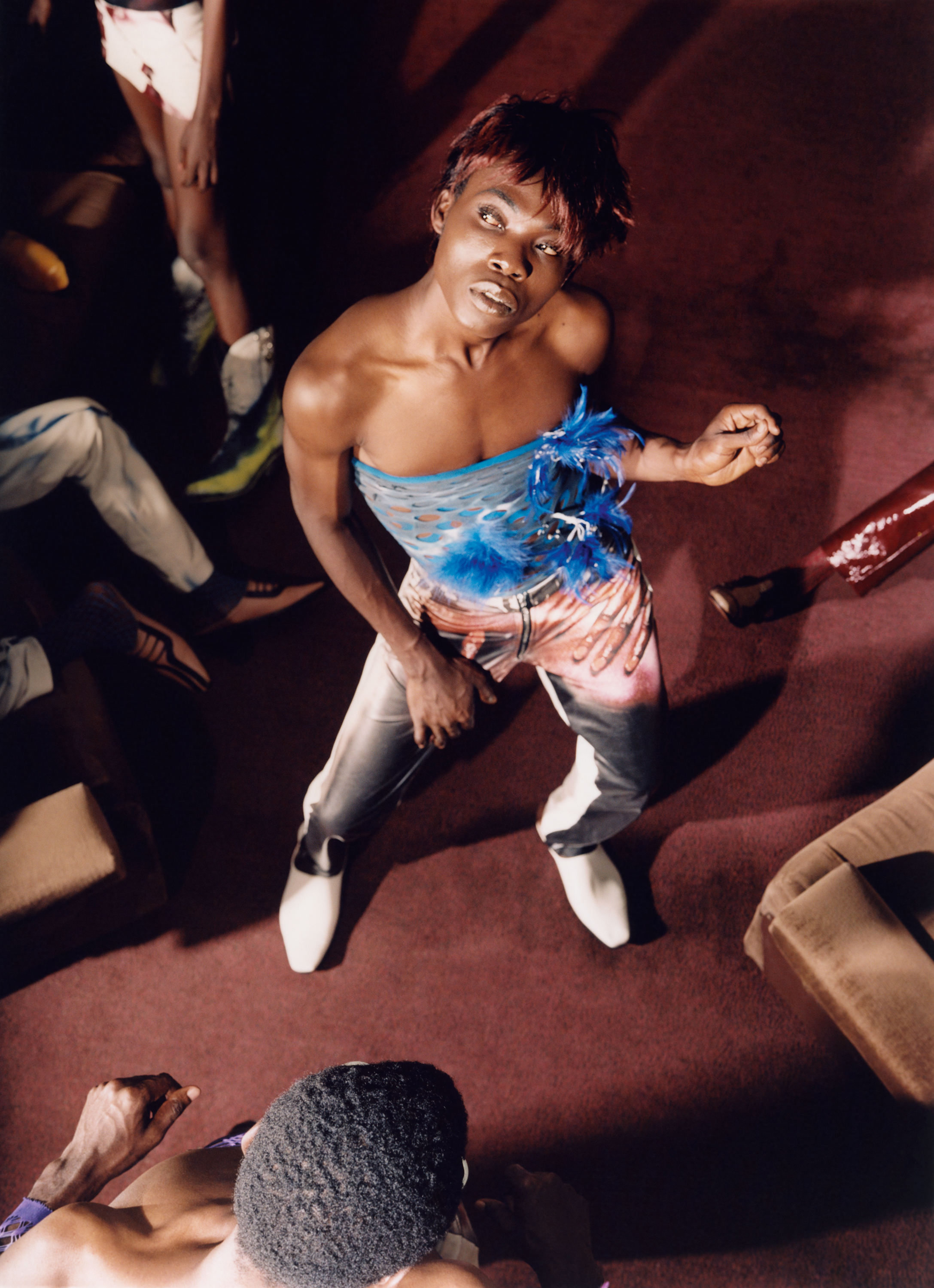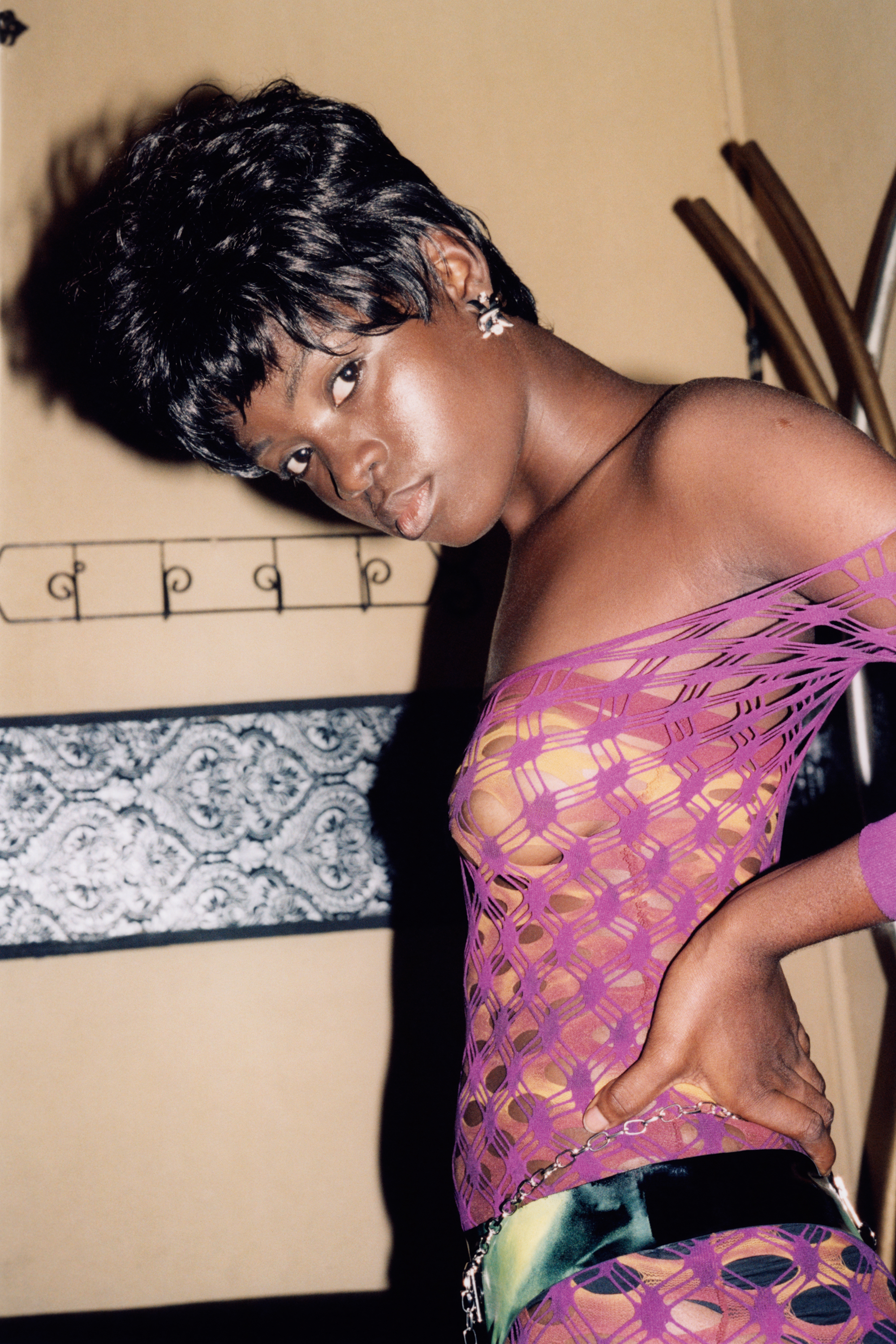 Credits
---
Photography Joyce NG
Styling Mowalola Ogunlesi
Hair Ferdinands Hair. Make-up Deto Black. Lighting assistance Chuku Ndubisi. Photography assistance Oluwafunminyi Edward Kayode. Casting director Dafe Oboro. Models Models Idowu Alison. Olasunkanmi Abayomi. Temitope Oloto. Smart Song. Sani Muhammed. Blessing Mbanefo. Muzybha Baruwa. Benita Ango. Tabiloba Subomi. Sharon Ubong. Taiye Atunde and Temi Ogunsola. Special thanks to Adenike Ogunlesi, Ade Ogunlesi, Lanre Ogunlesi and Modupe Ogunlesi. Rose. Mr Tony. Mr Wale and Mr Samuel.
Models wear all clothing Mowalola Ogunlesi
This article originally appeared on i-D UK.