celine will have their first ever men's fashion show
As Hedi Slimane reveals details around his sophomore collection, Nicholas Ghesquière confirms that Louis Vuitton's next cruise show destination is New York.
|
19 November 2018, 4:40pm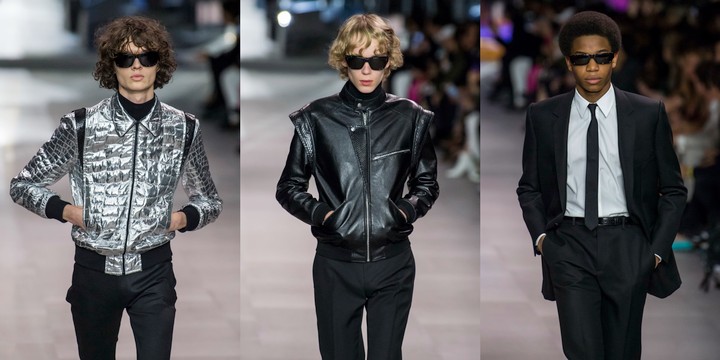 Photography Mitchell Sams
With fashion house power moves and new creative director power plays, 2018 has seen the fashion calendar become increasingly filled and progressively scrutinized. While the industry has been in a state of flux for the last few years, forward-thinking minds have continually challenged the fashion system. From cancelling shows to combining them, conquering far-flung destinations to retreating inside local markets, the next generation of industry leaders are questioning the present and possible future of fashion shows. Among them is Hedi Slimane. After presenting one of the year's most hotly anticipated shows, a co-ed debut in September, Slimane has revealed that Celine will join the Paris menswear calendar in January 2019.
As Celine are still in talks with Fédération de la Haute Couture et de la Mode, we're unsure as to what the house will show and when. Celine could be following Givenchy in announcing a standalone menswear show, might just be continuing its co-ed path, or could be proposing something new entirely — as the debut proposition saw every men's look available to women and wider luxury fashion continues to hint at a genderless tomorrow, anything is possible. We shouldn't have to wait too long for clarity. Given that we were all teased by paparazzi shots of Lady Gaga with the new it bag, Insta reveals of the first leather menswear look and a rare interview with the designer long before Hannah Motler opened the show in a polka pouffed dress followed by 95 looks celebrating club culture and blurring the binary, this announcement will likely be the first of many from the house. As late 2018 belonged to the Slimaniacs, it's fitting that they'll be kickstarting the 2019 agenda with Slimane in a disruptive mood.
In other fashion news, Nicolas Ghesquière has taken to Instagram to reveal that Louis Vuitton will stage its cruise 2020 show in New York. With Chanel and Versace set to close the 2018 fashion calendar in New York, Louis Vuitton will invite the fashion set back to take another bite of the Big Apple. Now, thanks to its luggage-based beginnings, the Paris luxury house has long been synonymous with travel but with Nicolas leading it, insiders have been treated to unforgettable, globe-trotting cruise collections inside the Oscar Niemeyer-designed Niterói Contemporary Art Museum in Rio de Janeiro, the John Lautner-designed house of the Bob Hope Estate in Palm Springs, and the I.M. Pei-designed Miho Museum in Kyoto. With details scarce, we expect that Ghesquière and co will put on a New York show quite unlike any other.
With next year's diary already filling up, 2019 is going to be a busy year of fashion. If you're already struggling to keep up with the industry's movements, we don't blame you. No one has the answers and there doesn't appear to be a simple one-size-fits-all fashion week solution, but this trial-and-error era is fun, right? If you think otherwise, please reply with your proposal in the comments and relieve this fashion week scheduling headache.
This article originally appeared on i-D UK.