drake's 'in my feelings' is full of celebrity cameos
From Mrs Huxtable to Big Freedia.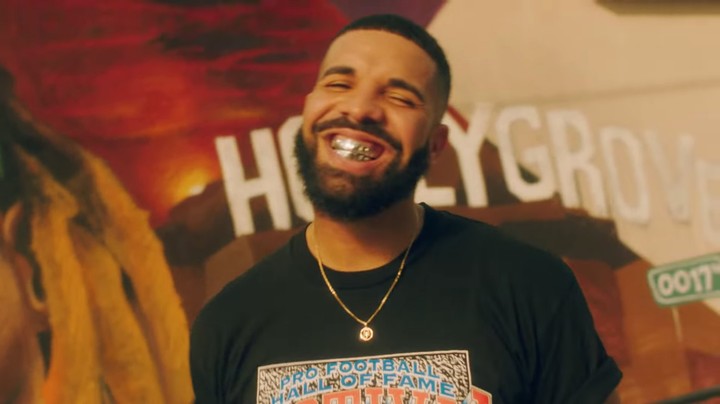 It's been out less than a day, and already Drake's "In My Feelings" is on its way to becoming the video of the summer (okay maybe number two after Cardi's "I Like It"). Even Drake haters have to admit that's it pretty epic, starting off with the ultimate fuccboi pleading with 'Keke' at her bedroom window, with Keke played by none other than La La Anthony. And Phylicia Rashad plays her furious mother(!), which goes to show that she will always be America's #1 Mom.
The track blasted off thanks to comedian and rapper Shiggy's #InMyFeelings dance challenge, which has dominated Instagram, and our hearts, ever since BTS's J-Hope had a go. Well, good news, K-Pop fans, J-Hope pops up in the video as the credits role, alongside Dua Lipa, the Queer Eye guys, Will Smith, and an actual camel. Shiggy himself turns up half way through dancing in a streetcar, and reappears at the end to harass Drake a little in his trailer.
The video was directed by Karena Evans, the woman behind "God's Plan", "Nice For What", and "I'm Upset". Set on the streets of New Orleans, it also features a brief (too brief if you ask us) cameo from the city's most iconic resident, Big Freedia. Various dancers wear 'Free JT' t-shirts, in reference to the incarcerated rapper Jatavia Johnson from the band City Girls, now infamous from the "JT, do you love me" lyric — it's left to the other half of her duo, Yung Miami, to drop a verse halfway through. Following tried and tested music video norms, Drake wakes up at the end — and seemingly what he's most disturbed about is the fact he was wearing grills throughout.
Watch here:
This article originally appeared on i-D ES.