hiball are the new queens of experimental fashion film
Stanton Cornish-Ward and Alexandra Kirwood are telling important stories via beautiful scenes.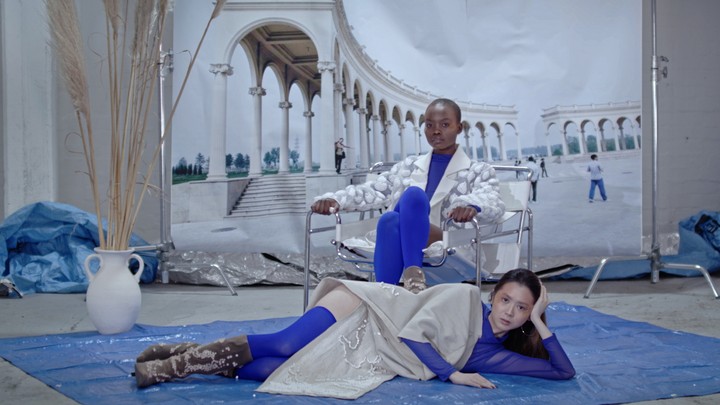 HIBALL is an exciting new fashion-led film project by RMIT graduates Stanton Cornish-Ward and Alexandra Kirwood. Together they make beautiful, atmospheric work that demonstrates their innate love of fashion, style and storytelling. From the pink-hued, stylised romance of their music video for Jessica Says to the cool, meditative exploration of their short film Packing Pearls, the pair's devotion to the medium is undeniable.
Right now HIBALL is in the production stages of a new short called A Nice Place to Stop. Inspired by the pair's own experiences growing up in small coastal towns, the film will feature a cast of local Coffs Harbour talent and merge traditional cinematography and stylised production in an intimate and honest portrait of youth culture. We caught up with Stanton and Alexandra, keen to know more about the work and plans of the duo who might just save Australian fashion film.
i-D: What inspired you to start HIBALL?
Alexandra: During or Bachelor of Fashion Design course we both took a fashion film class, and knew this was an area we wanted to work. After graduating I think we were both a bit creatively frustrated and defeated by the fashion industry job market and wanted to look at alternatives that included our interest in film.
Stanton: We'd both made fashion film a large component of our graduate thesis work, and felt drawn to film as a way of expanding on the world building we were already doing in our respective grad collections. I guess it was a natural progression from passion into something more developed and polished.
What is your creative mission?
Alexandra: We take a multidisciplinary approach to our work, working across design, film and art. We believe in collaboration and are dedicated to providing representation and opportunity for women and marginalised demographics in the creative fields.
Stanton: A huge part of starting HIBALL was to provide diverse casting and collaborate with more gender balanced crews. As two female filmmakers working in a primarily male dominated industry, we saw this as a opportunity to bring something to the table we hadn't seen represented for ourselves.
How would you describe your aesthetic?
Alexandra: I think we actually have quite different aesthetics, Stanton is definitely a 'more is more' person and I'm a bit more subdued and detail oriented. We tend to meet in the middle and balance each other out.
Stanton: Our work mainly explores concepts of memory and place, displaying them in surreal situations. We're both really into watching people and seeing how we can build something authentic and engaging around them. Our aesthetic tends to be concept driven and each project is different, but in general we are interested in the ideas of repetition, non-linear storytelling and finding beauty in the mundane.
What have you made to date?
Alexandra: Our first film together was Packing Pearls, a fashion film based around the simple beauty of the polystyrene ball. Followed by a music video for a Jessica Says song called Brand New Thing, based around the idea of fabricated memories and shot on 16mm film.
Stanton: We've just completed a music video for Mosquito Coast's new song Skipping Girl which will be released mid September. We also did a collection of 35mm photographs for Strateas Carlucci's Art Series, which recontesualises garments off the body, for which we made large scarecrows for and dressed them in the TRANSIT collection.
Can you tell us a bit about A Nice Place to Stop, the new film you're making?
Alexandra: This project is an ode to the places we grew up in, and how they have shaped us as young creatives today. It's a short film that contrasts the experience of growing up in a small coastal town to merely passing through as a visitor. We wanted to showcase home-grown talent so the cast includes my sister—model Lydia Kirwood—alongside Benjamin Imani, from Coffs' renowned live act The Brothers, and local African creative collective Blacc Staff.
Stanton: Shot on 35mm film, it'll utilize this nostalgic format to explore the idea that physical spaces cannot be divorced from the people that inhabit them. The film is a meditation on place and belonging, dealing with the themes of boredom, isolation and the importance of strong relationships. Structurally, the film takes cues from the style of hyperlink cinema, which works with multilinear connecting storylines. The project received the Coffs Harbour Cultural Development grant, and we're currently crowdfunding the remaining production costs on Pozible, for which we created a small capsule collection as rewards in exchange for support.
Who's the one musician or band you'd most love to work with on a music video?
Stanton: I guess internationally, G-Dragon, once he gets out of his Army service. K-pop videos are just on a whole other level.
Alexandra: Australian wise, we'd love to work with Corin. Her sounds is just so new and exciting. Good late night editing music.
Help HIBALL fund their new film here.