see inside depop's irl new york store
The thrifting app's latest physical space features merch from Venus X, Sandy Liang, and Brian Procell.
Last month we decided that Depop's hottest sellers are essentially teen CEOs. Now the secondhand shopping app is making it easier, at least for coastal kids, to join the ranks of world-class grail flippers. After opening its first-ever IRL location in Los Angeles in March, Depop has set up shop in New York's Nolita neighborhood. Both stores function like community spaces where budding entrepreneurs can learn how to take beautiful photos, develop a brand identity, and even navigate the living nightmare that is the United States Postal System. Yes, there are Dior Saddle bags and a whole rack of rare vintage New York tourist tees, but the store isn't exactly overflowing with clothing. There's the app for that.
"The whole purpose of the space is to strengthen our connection with our community, and to experience Depop in real life," Maria Raga, Depop's actual CEO, told i-D during a tour of the New York store with Depop founder Simon Beckarman. "Different styles, different subcultures, and introducing different designers in a new light is really important to us. It's fun for our community too because they get to be inspired by the possibilities of what they can do with their Depop shops." One of the coolest features is a photo studio where you — or one of Depop's trained professionals — can shoot your goods against a proper backdrop instead of on the dusty floor of your bedroom.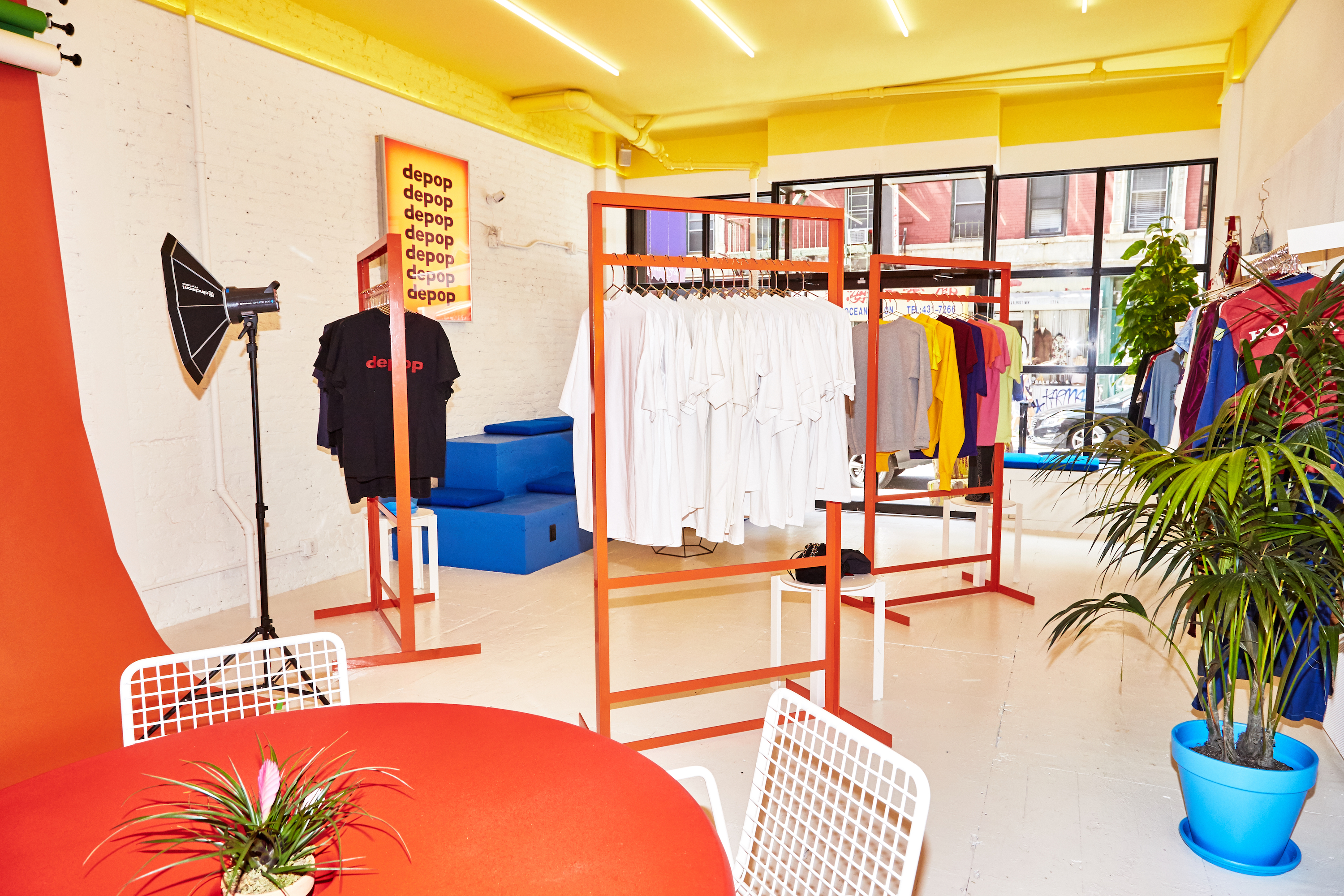 The clothing at Depop New York is curated by the city's most massive vintage fiends, including Venus X, Brian Procell, and Luke Fracher. Fracher is responsible for much of Depop's New York City tourist merch, including rare shirts from both the Yankees and the Mets. Venus, who recently closed her own store in the same neighborhood, offered the Dior Saddle bag and a selection of Comme des Garçons she collected over the years. Sandy Liang actually purchased a bunch of stuff through the Depop app and reworked it into a special collection. Queens artist Slumpy Kev painted his iconic 90s cartoons on Levi's and Dickies classics, and gave a pair of Air Force 1s a Powerpuff Girls makeover.
Raga explains that the collaborations are a collage of all the things Depop loves about New York — the whole collection is actually called Depop Loves New York — but also aims to inspire young shoppers' own Depop stores. Procell, who has sold private archive Aphex Twin T-shirts to Frank Ocean, is "setting a benchmark of what our young community of vintage thrifters, sources, and designers can aspire to be," Raga says. "Our community is just a little sponge of very thirsty entrepreneurs, and creative entrepreneurs at that. I think it's just getting that first taste of what it is to make your own wealth, while having fun and creating your own brand." Sure beats racking up student loan debt learning how to conduct boardroom meetings.