33 waistcoat alternatives for gareth southgate and his england stans
When you know it's coming home but you want to make it fashion.
Photography Mitchel Sams
Guys, it's coming home. You all know that, right? Why is it finally coming home? Well, while Harry Kane's pinpoint penalties, Harry Maguire's slab-head power, Kieran Trippier's guided missile crosses, and Jordan Pickford's goal-repelling wrists have all played a part in the team's sure-to-be-successful attempts to end 52 years of hurt, we all know who the real England World Cup hero is, right? Of course you do, it's Gareth Southgate's slim-fit, low-cost, no-nonsense waistcoat. "Tights, capes and masks are so last season," the Guardian declared over the weekend, "Heroes in 2018 wear Marks & Spencer waistcoats."
Ok, so it's initial release might not have sparked the level of must-have hysteria that Nike's Nigeria did -- despite Middle England's love of queues, none politely waited outside M&S for the first drop of FA collection suiting -- but it has slowly and steadily captured the St. George's cross-embossed hearts of a nation. This "smart and stylish" waistcoat has become the sartorial symbol of this England squad. Just like the It's Coming Home resurgence started out as a meme-fuelled laugh, this much maligned menswear item has steadily been taken more seriously. With Three Lions on loop, we're starting to believe, but have we all lost our minds?
Gareth Southgate is undeniably the stand-out sartorial sensation of the sidelines at Russia 2018 and M&S themselves have reported that demand for waistcoats has risen 35% thanks to what they describe as "the Gareth Southgate effect". But we're struggling to fully embrace the waistcoat because of its connotations with snooker players and Mumford & Sons -- who remembers the band blaming their on-stage love affair with tweed versions for criticism they described as "reverse snobbishness"?
With our level of patriotism in doubt, we've looked at the spring/summer 19 men's collections for inspiration, and from A-Cold-Wall's utility vests to Margiela's shapeshifting corsets, Raf Simons' beer-can webbing to Virgil Abloh's "accessomorphosis" harnesses at Louis Vuitton, there's a high fashion version for everyone, including Gareth Southgate. Guys, you don't have to look like snooker player or a Mumford anymore. Here are 33 options, grouped into 3 Gareth Southgate-inspired makeover categories for you all to follow.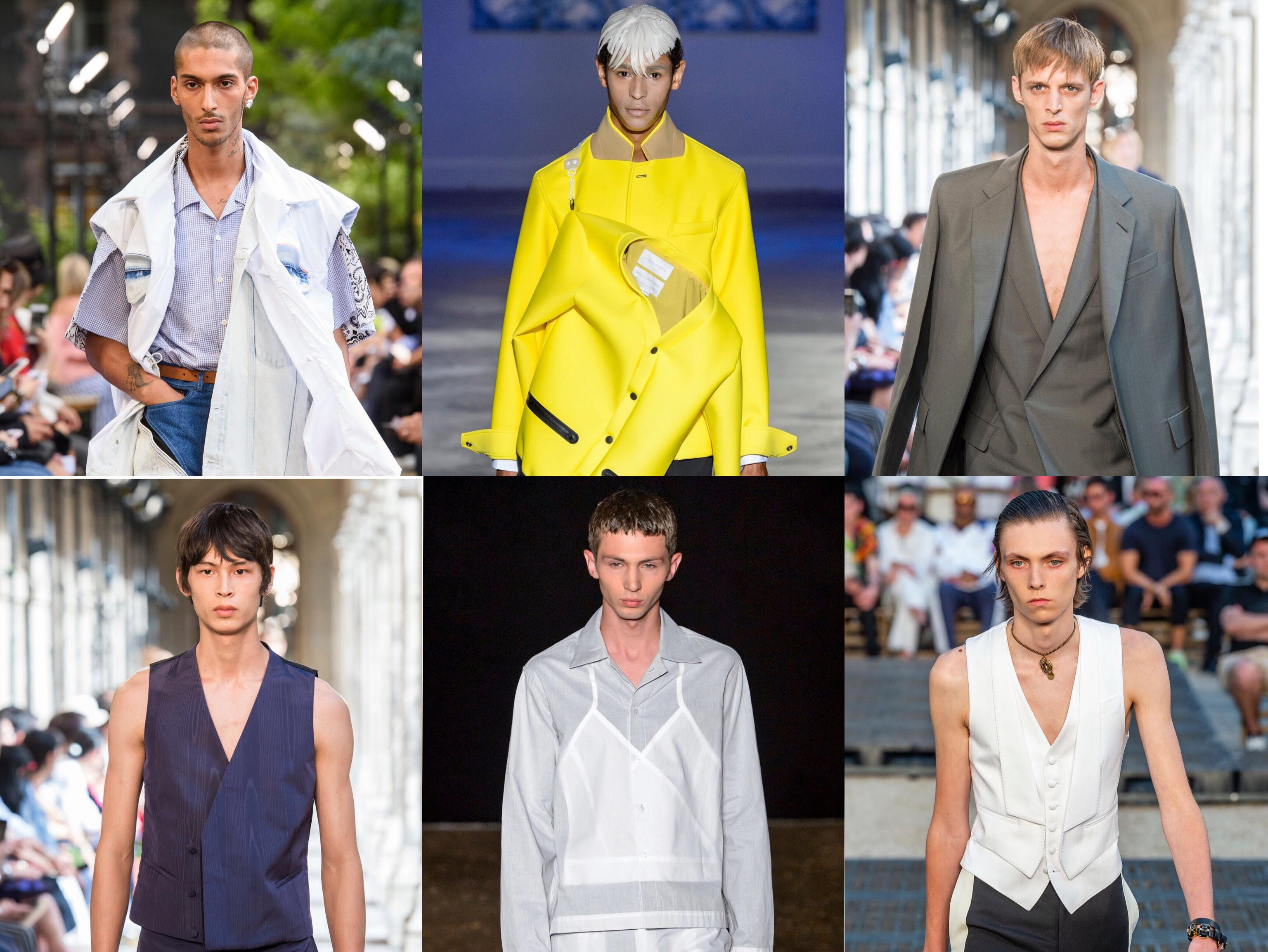 When Gareth wants a subtle update…
Southgate has become inseparable from his signature dugout look. As that navy wool waistcoat, light-blue shirt and striped tie combo are now a second skin for him, his impersonators and stans, let's start the spring/summer 19 makeover conservatively. Luckily for them, as tailoring 2.0 was a familiar sight in Milan and Paris, so too were waistcoats. At Alexander McQueen, they were worn both over bare chests and free-flowing shirts alike. At 1017 Alyx 9SM, they were lengthened and teamed with cross body bags. At Versace, there were worn open and over bright florcore shirts and fake newsprint T-shirts. At Rick Owens, there were melded with tight-fitting long sleeve T-shirts. At Lanvin, they were layered and at Comme des Garcons, although shredded, they would still be smart pitch-side. At Hermes, the three-piece suit look was achieved by two jackets. At Y/Project, traditional versions were wrapped in lycra while others came in surprising fabrics and were layered. At Craig Green, imprints of the uniforms of "everyday heroes" -- cleaners, surgeons, postal workers -- transformed shirting, and when the time finally comes for Gareth to remove his waistcoat, he'll leave his own everyday hero echo. Or, if he's as reluctant to let it go as we expect him to be, he could always follow Ganryu's lead and pin it to his look.

When Gareth needs more pockets...
Southgate strikes us as something of a minimalist. While other managers spend their time on the sidelines scribbling notes or tapping at an iPad plotting tactics, the England manager just watches the game unfold. However, there may come a time in which he needs to carry something more than the hopes of nation on his sharply tailored shoulders. If it does, the utility-obsessed menswear designers of 2018 will come in handy. How many multi-pocket vests, harnesses and chest rigs (see reimaged fanny packs) did you see on the spring/summer 19 catwalks? The answer is higher than the number of VAR-assisted penalties at this year's tournament. Personal favourites include A-Cold-Wall's nylon puffa pockets, Cottweiler's holster harness, Junya Watanabe's military-inspired vests, Per Gotesson's smashed royal wedding porcelain-adorned sleeveless trench-bags, Matthew Miller's accessory-covered leather tunics, and of course, the holsters, harnesses, and protective zippered vests that were such an integral component of Virgil Abloh's Louis Vuitton debut.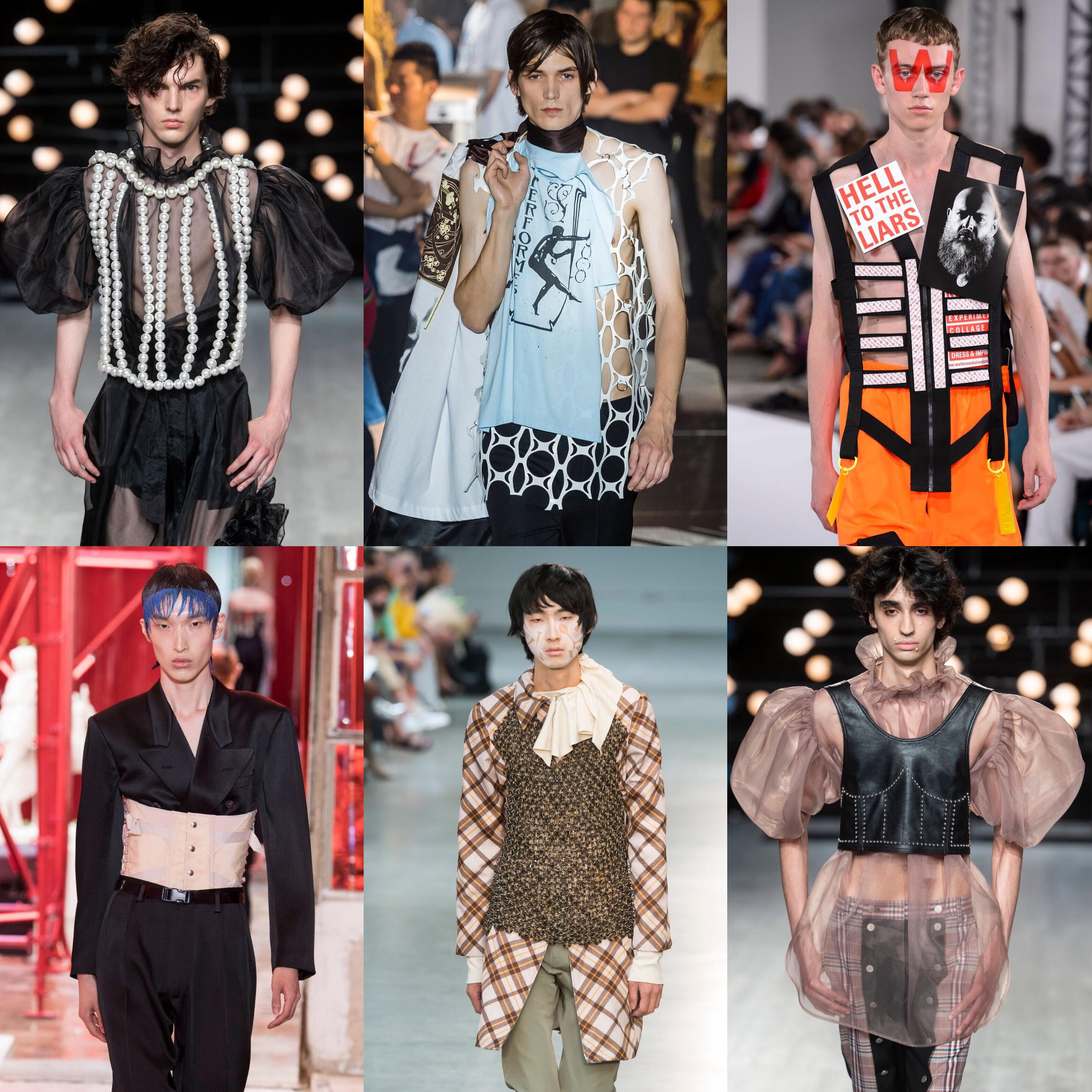 When Gareth wants to make a statement...
Up until now, Southgate has let the football do much of his talking. However, after he brings it home, this quiet paragon of old-fashioned civility might just bring the noise. When he does, he could look to Walter Van Beirendonck's message carrying skeletal waistcoats. If the Belgian bear can wear an image of himself, why can't Southgate? Alternatively, he could upgrade the waistcoat for a Margiela Artisanal corset and blur the binary. Or he could throw on Blindness' pearl embellishments and embrace the South Korean brands gender-fluid romanticism. If that's all too fancy for this no-nonsense winner, then he could tap into the DIY and make-do-and-mend message at Stefan Cooke who crafted vests out of buttons -- he could even use the squad's winning medals. Or, given the amount of beers that will be consumed when England win (or even if the unthinkable happens and they lose), then he could just follow Raf Simons lead and fashion a six-pack mess vest.