Photography Andrés Navarro.
sauna is the mexican t-shirt label with a sense of humor
Their 'mildly wild' graphics take inspiration from bootlegging culture.
Photography Andrés Navarro.
"I spent two months between Tokyo and Seoul last year, trying to take a break from Mexico City," says Cheryl Santos of the genesis behind her new label, Sauna (she was also inspired by "drinking Japanese beer and soju by night," which sounds fun). Sauna takes a K-pop aesthetic, and marries it to Mexico City's bootleg culture, creating a new take on streetwear. Santos, who's the editor of i-D Mexico, and our go-to for all matters Korean, took the time to tell us about the label's first collaboration, what it means to be "mild not wild," and how the creatives of Mexico City make it work.

What inspired you to create Sauna?
I often designed t-shirts for myself, of specific references that helped me express what I liked at the moment and that didn't exist — like the logo of a new anime, or the photo of the Korean actor Park Bo Gum wearing Prada in a press conference in Seoul.
The inflection point was when I dived into K-pop a few years ago, the always beautiful Mexico City bootlegs, and my friend's fashion sense — I wanted to show it all. I decided to do it more diligently by opening an online t-shirt store that develops collaborations with designers and artists. The first collaboration is Tea Baby, designed by myself and Carla Valdivia. The way we see it, it doesn't really matter what streetwear is evolving into these days, t-shirts are just plain fun (and fashionable), there's no need to take them so seriously.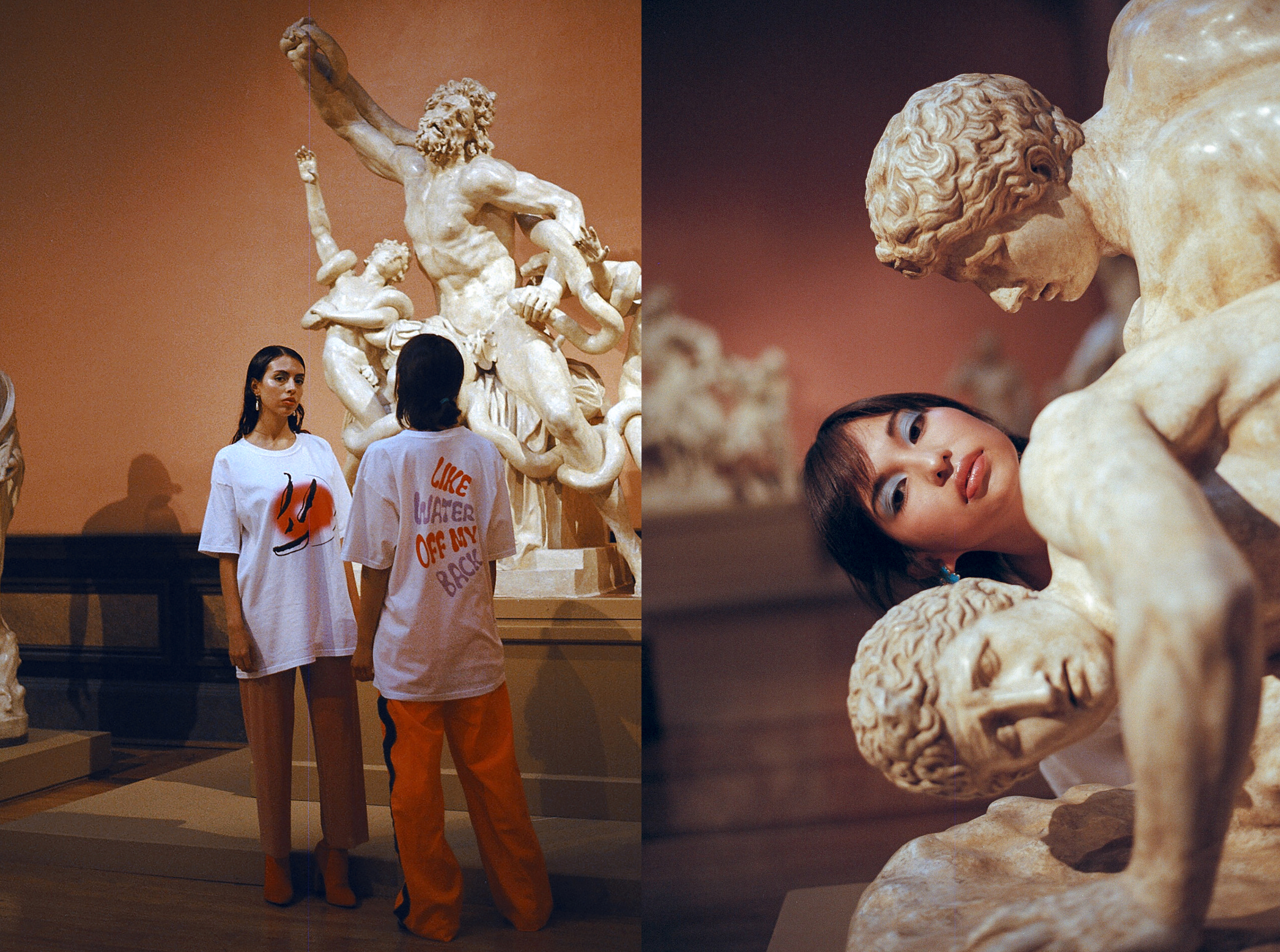 Why did you call it Sauna?
It has nothing to do with an actual sauna! I spent two months between Tokyo and Seoul last year, trying to take a break from Mexico City, by working remotely by day and drinking Japanese beer and soju by night. When I arrived in Seoul, I sadly noticed that a Korean artist I like very much called Hitchhiker had a performance two days before and that I obviously missed it. The posters were still on the streets of Hongdae, so I grabbed a pair, brought them back with me to Mexico and put one near my apartment's exit door. His performances are called "Sauna Room," so it's a word that I see every day and a nice memento of that trip.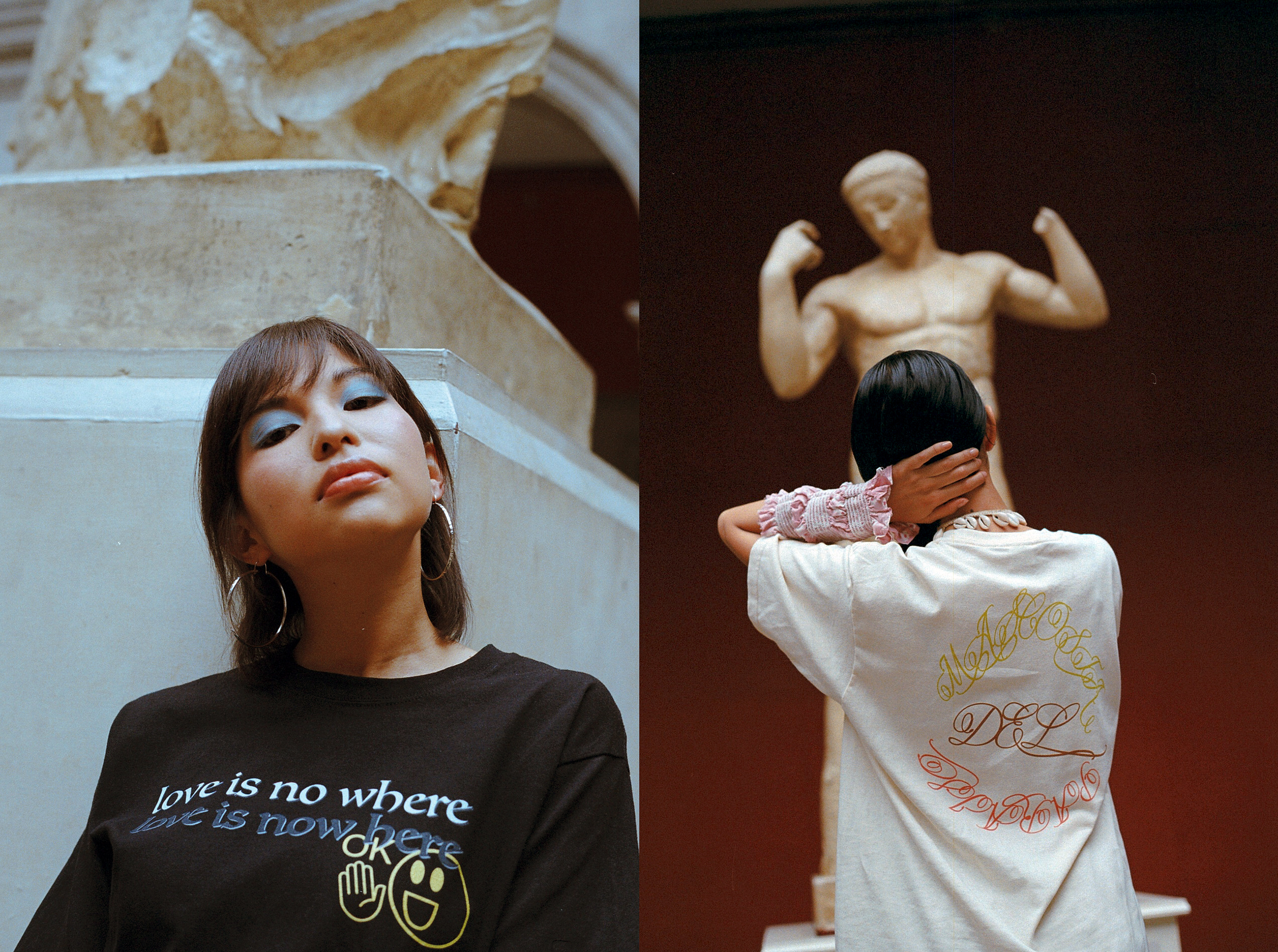 Talk me through some of the slogans — what does "Born to Be Mild" mean to you? Or "Love Is Nowhere?"
For me, I think all of them are a direct opposite of the "Fuck You, You Fuckin Fuck" T-shirt. Our designs for Tea Baby are an expression of our shared sense of humor — a little dark and optimistic all at the same time. Like me and Carla, we are not "wild," just "mildly wild." The "Love Is Nowhere" T-shirt says "Love Is Now Here" on the second line, because you can transform a despairing message into a fun one very easily. There's another one that reads "Mascota del Paraíso" (Paradise Pet) as a play on the cheesy names of 1950's men-only bars here in Mexico City.
What is the mood of the collection? How did you want the art on the t-shirts to look?
Dark and uplifting graphics, but without falling into the inspirational phrases territory, because I'm tired of the 'anxiety aesthetic' that pop culture currently prefers. I wanted them to look like old Japanese graphic designs but as if they were bootlegged for the Mexico City streets vendors. Like if you change the "?" of the Guess logo to a "!," makes it more fun and looks naive and cute at the same time.
Who are the women in the photos?
They are both friends, Mayte is a talented graphic designer and Emilia has a fashion brand called Turbo. The idea of this shoot was two friends that are in constant contact but they struggle to meet IRL because they are always too busy to do it. It was inspired by all my friends who have to do a thousand things to make ends meet here in Mexico. Creative work pays nothing and the lines between a producer, translator, creative director, curator, casting director and so on are very blurry. But at the end, when you finally get to meet your friends, it's total bliss.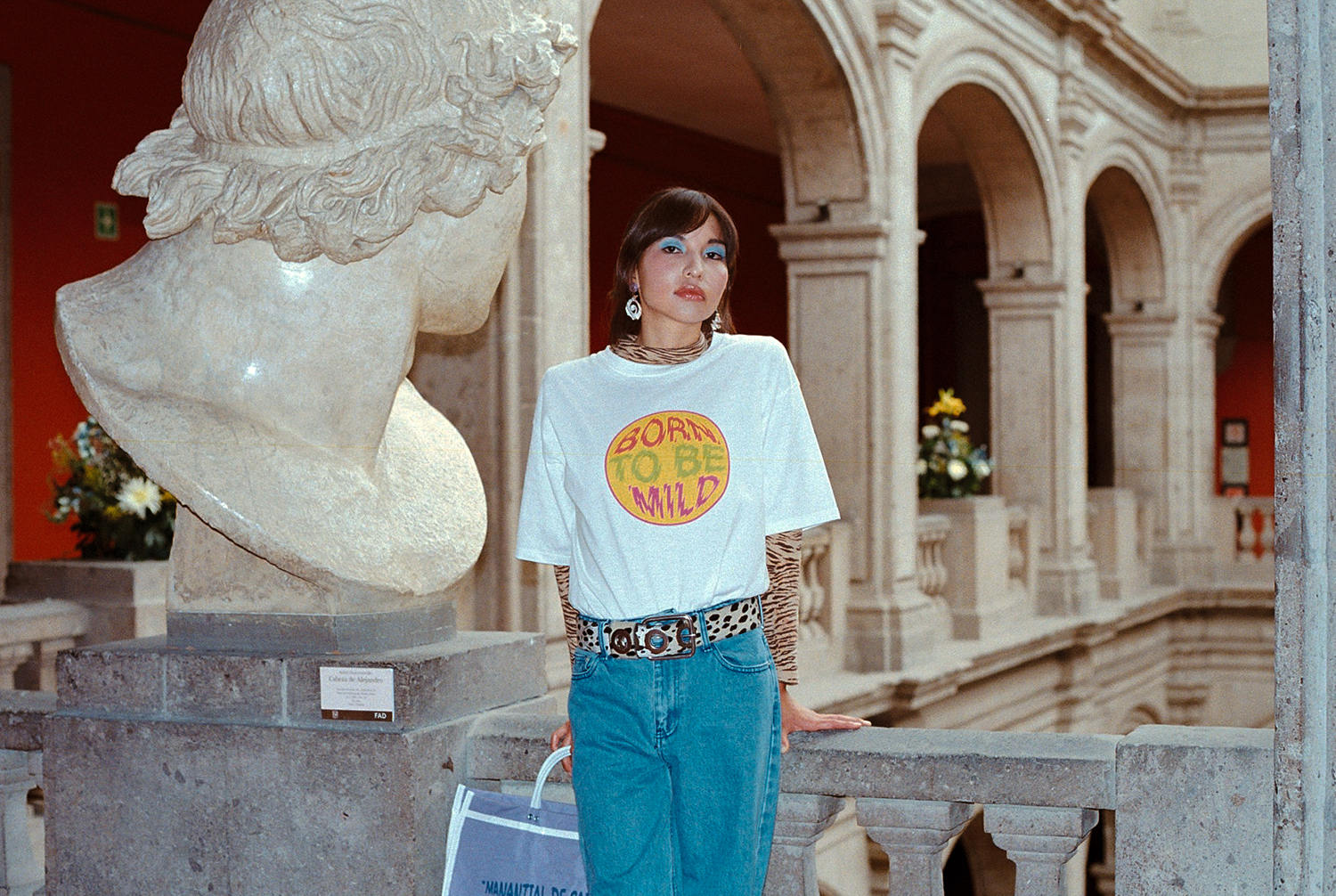 Tell us a little about the images you shot — we love the neoclassical statues!
After London, Mexico City is the city with the most museums in the world, so with 170 art venues, it gets pretty weird. This place is an extension of the art and design college of UNAM — you can take a short course on fashion photography or oil painting there. The current exhibition is made up of copies of the great sculptural works of the classical age that you can see in the Louvre or the Vatican. I chose this place because it is naive and endearing, unintentionally subtracting the solemnity of the classics — very in sync with the collection's homage to bootlegs. The lookbook was shot by 21-year-old photographer Andrés Navarro, that along with stylist Zaid Osuna and makeup artist Adrián González, made it look hyper-colorful.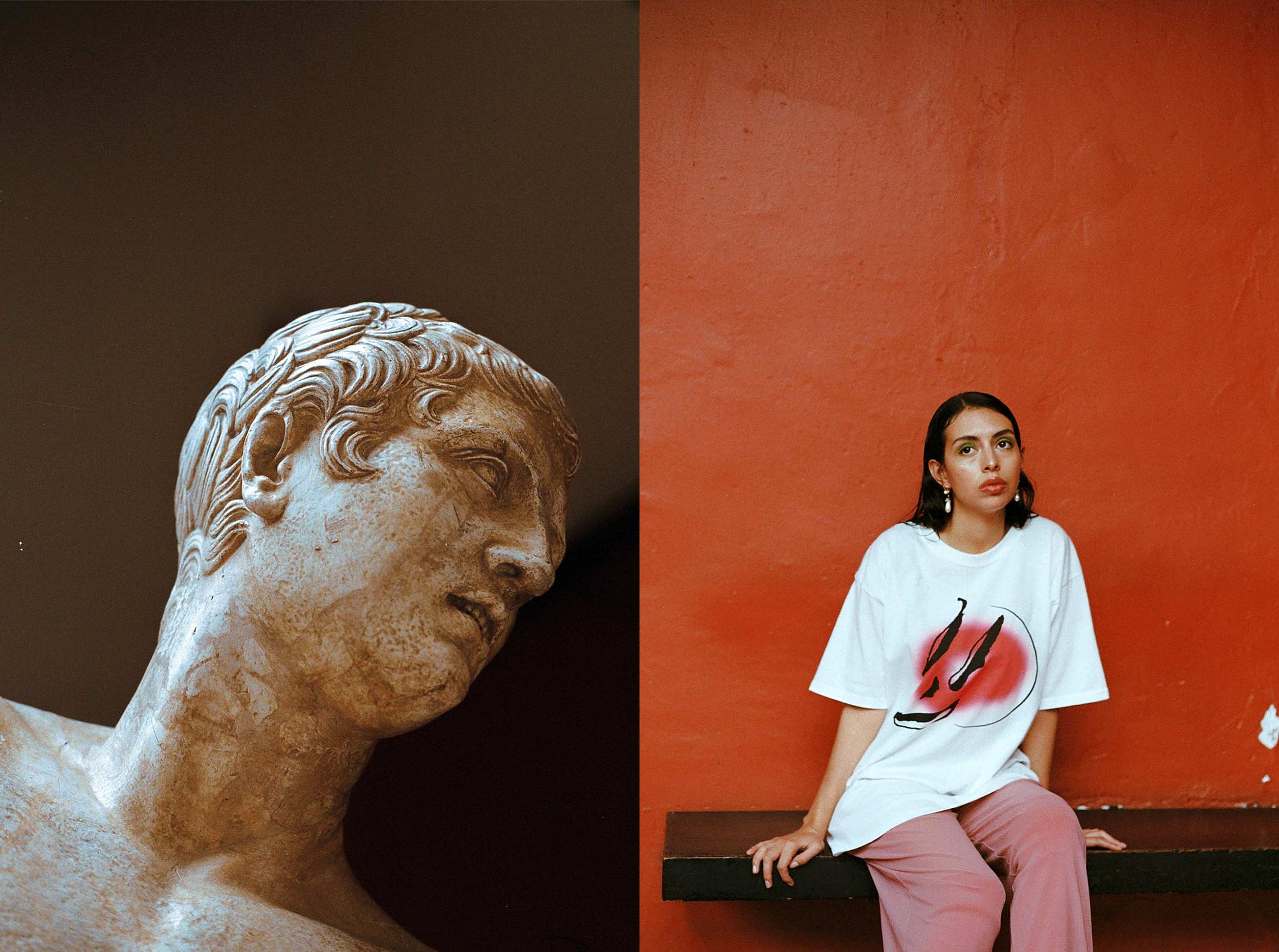 Where can we buy it?
Well, you can buy the Tea Baby collection online or through Instagram, or if you are in Mexico City, at Hi-BYE — opening this fall.