cindy sherman is collaborating with supreme on some skateboards
Start queuing folks.
|
06 November 2017, 3:30pm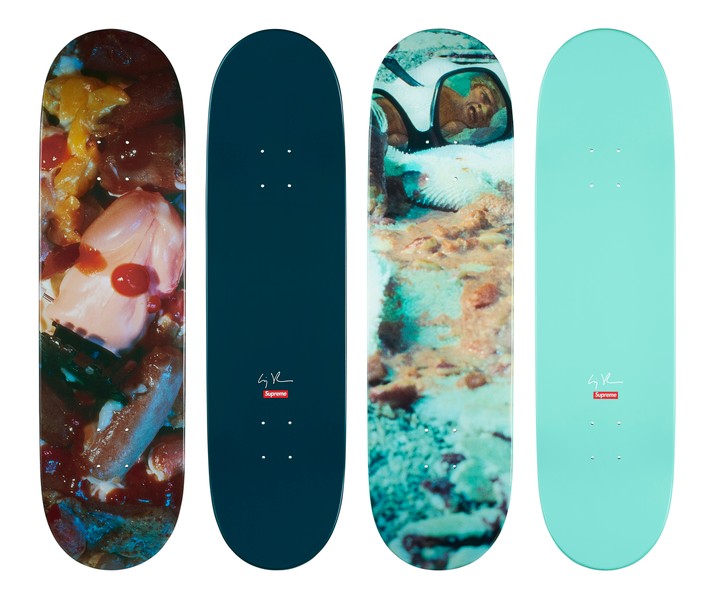 Supreme wearers like taking selfies. Social media is, after all, a large part of why people buy Supreme (if you don't gram it, do you even own it tho?). Cindy Sherman also likes taking selfies (if you want to be a lil reductive about it). She's spent the last forty-odd years making art about how the world views women by creating elaborate, thought provoking self-portraits: as noted in Supreme's press release to announce their collaboration, her imagery "explores the stereotypes of female iconography in popular culture and female identity in society".
Both are among the most influential, in demand and instantly recognisable in their fields. So Supreme x Cindy Sherman makes sense. And Supreme x Cindy Sherman is what we're getting.
It's an interesting collaboration, but then again, interesting collaborations are what Supreme excel at. There was the Louis Vuitton one that saw hypebeasts fork out $150,000 USD for a trunk, the time their branded MetroCards caused stationwide chaos on the New York subway, and the accidental unofficial Kmart one full of four dollar fun.
The work that will be gracing a selection of Supreme skateboards is from Cindy Sherman's Grotesque series, a title that will also serve as an apt description for the inevitably exorbitant resale prices. Meta.