how do you make a fake brand authentic?
Eytys know how.
Image courtesy of Eytys
Five years ago, Stockholm-based Eytys launched with a single sneaker, a canvas upper sitting atop a chunky sole — it quickly amassed a cult following. Fast-forward to 2018 and the company's product range encompasses everything from chunky trainers, skater shoes, and Chelsea boots to coated jeans, incense, and now, a fake beauty brand that kind of became real. "Everything we have done has been born naturally from a combination of naivety, lack of strategy and an urge to create products we crave but can't find elsewhere," Eytys co-founder Max Schiller explained over email. Their cravings cannot be quelled, and today they're launching Purple Velvet, a capsule merch collection designed around a fictional beauty brand, with a real beauty product.
"We were on the lookout for an interesting brand of tops to style with our jeans and footwear in our stores," Max explains. "Unable to find the perfect match in fit and graphics, we ended up creating what we desired. That's how the idea with the fake brand was created — in order to think like a late 80s beauty brand you must first become a late 80s beauty brand. Almost like method acting gone too far, we suddenly had a palm full of lotion with a soothing violet scent. In the process of creating Purple Velvet Midnight Special Body Lotion, it developed into everything we want a beauty company to be: sexy, with humor and great ingredients."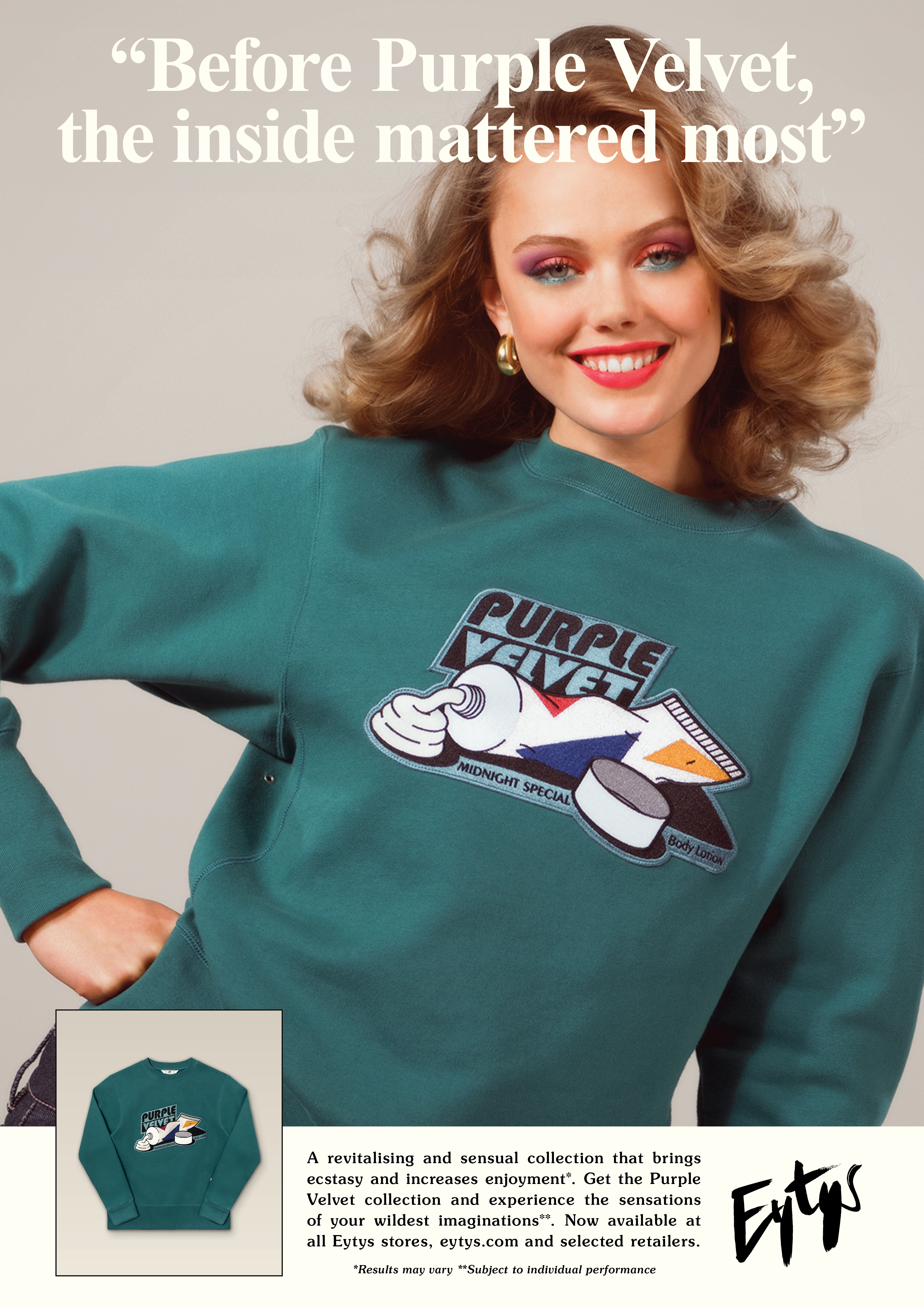 Ultimately, it's all a playful nod back to the era of Team Eytys' favorite vintage T-shirts finds, back when German Eurodance supergroup Snap! were turned up to 11 on a boombox during aerobics classes, and owning a tanning bed was the top priority in life. The Eytys capsule collection is designed around the bestseller product of the fictional Purple Velvet company, Purple Velvet Midnight Special Body Lotion, with its colorful and playful branding inspired by the aftermath of the late 80s fitness and beauty fever.
To keep the fake brand authentic, Eytys, in collaboration with north Sweden-based eco-luxury beauty brand Björk & Berries, went ahead and created the Purple Velvet Midnight Special Body Lotion. Might as well, right? "When we were working on the graphics a scent started to take shape," Max explains. "Björk & Berries create the best eco-conscious beauty products in Scandinavia, so we turned to them. They embraced the idea and we started working on it together."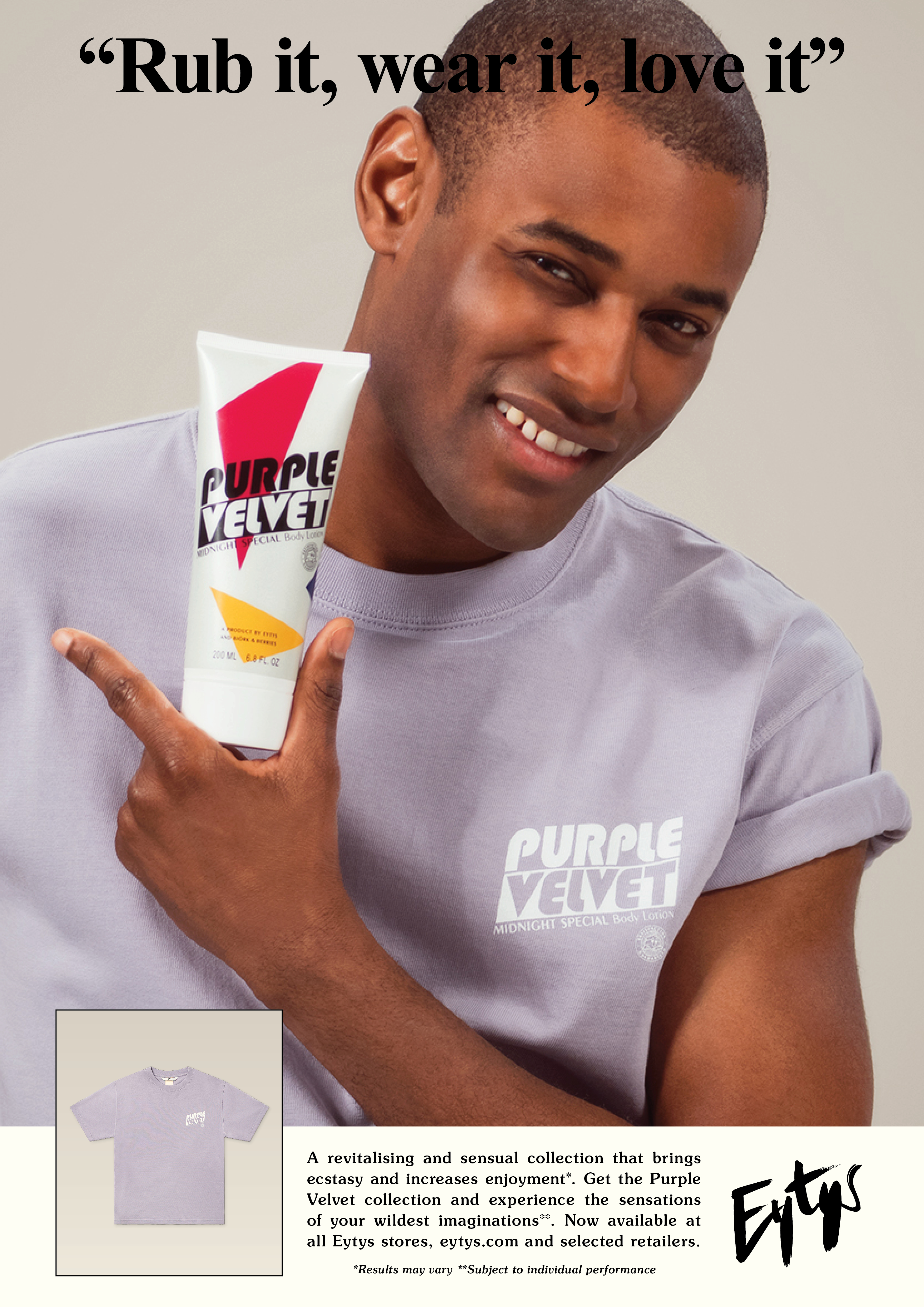 As the lotion and accompanying capsule collection lands in-store, Eytys have created a tongue-in-cheek campaign that pays homage to the 80s and 90s. The Therese Öhrvall-shot campaign stars Frida Gustavsson and Roger Dupé and is accompanied with playfully provocative copy. "Because you need to wear more than lotion," reads one slogan, "Before I could only rub it, now I can wear it", reads another. "Frida Gustavsson was quite involved in the whole creative process, she's fantastic," Max enthuses. "We wanted the vibe of old-school advertising, straight to the point convincing people that 'this is it'." We're convinced, and will happily live inside Eytys' real-fake beauty world. So, what does beauty mean to Eytys in 2018? "Beautiful is boring, we want sexy," Max declares. "I feel sexy when I'm cooking an absolutely perfect Puttanesca in my underwear." Now there's a beautiful image.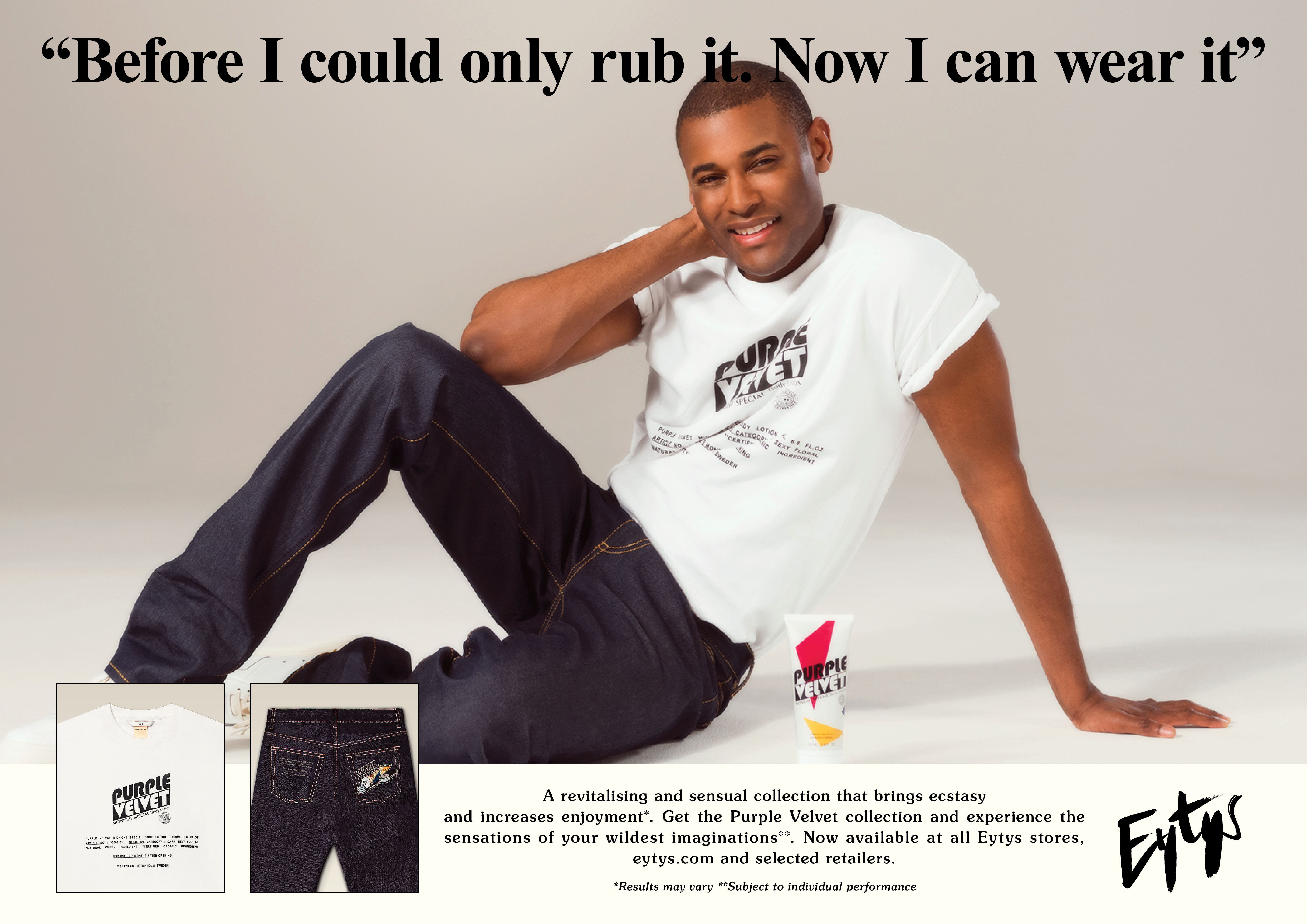 All products are now available at eytys.com, Eytys stores and at selected retailers
This article originally appeared on i-D UK.
Tagged: