jaden smith's take on the met gala theme? self-worship, baby
If you can't love yourself, how the hell you gon' love somebody else?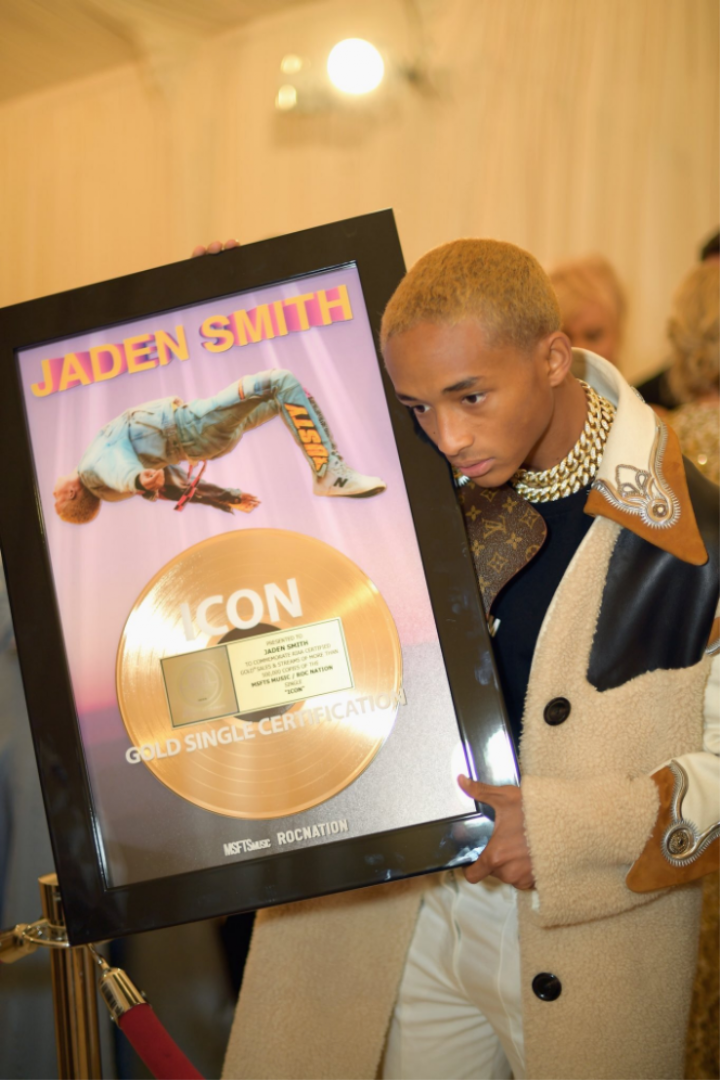 It's always intriguing to see how the celebrities that hit the Met Gala red carpet interpret each year's theme. Last time around, we saw dozens of famous faces reject the 'Art of the in-between' brief, inspired by Rei Kawakubo's audacious and avant-garde legacy. Some did kill it, though: Rihanna (of course) gave us that punkish Comme look, Solange wore the meme-worthy Thom Browne sleeping bag dress, and our fave pint-sized rap star, Jaden Smith looked dapper in LV, but made headlines aplenty for bringing his cut-off dreads as a date.
Never one to be upstaged, or remembered for something crazy that happened a year ago, once again Jaden became a Met Gala talking point. This time, it was for his abstract take on this year's theme, 'Heavenly Bodies: Fashion and the Catholic Imagination'.
Instead of draping himself in crucifixes or, you know, dressing like the Pope, Jaden showed up wearing a western-inspired shearling coat and futuristic sneakers from Louis Vuitton, a T-shirt from his gender-neutral fashion brand, MSFTS, and a lot of flash jewelry. It was low-key compared to the high drama most other attendees were sporting… except when it comes to Jaden's main accompaniment. You see, his date to this year's event was the gold record he was given for shifting half a million copies of his killer track Icon. Of course, the 19-year-old wunderkind is no stranger to embracing weird trends, but why did he choose to lumber this massive frame down the red carpet at this year's Gala?
If you thought he was just too stubborn to stick to the dress code and wanted to show off his own achievements instead, think again. While everybody else's outfits seemed wrapped up in archaic religious imagery — we could spend hours trying to pick apart — Lana Del Rey's reference-heavy Gucci dress alone — Jaden turned himself into his own, very 2018 kind of deity. Instead of jumping on the idea of worshipping Christ (which is so 27AD), he opted to worship himself and his own work first.
For the evening, Jaden Smith was his own heavenly body, and proved that he's more ahead of the curve than the rest of us. In a time where we spend so much scrutinizing ourselves and bowing at the feet of our favorite Instagram stars, perhaps we should be taking a leaf out of his super-confident book, turning off our phones, looking in the mirror, and telling ourselves that we are, in fact, as fabulous as RiRi or any Kardashian-Jenner on planet earth right now. Amen to that.
This article originally appeared on i-D UK.