Jehu-Cal Lookbook Three. Photography Azeez and Emay
how to start a streetwear brand with no experience
See also: how to make bank from your bullies.
Jehu-Cal Lookbook Three. Photography Azeez and Emay
Ghosts are real, and they are your high school bullies. Their taunts manifest as insidious insecurities long after graduation, squished into identikit Ikea boxes shoved to the back of our minds. Until someone forgets to invite you to something and you're 15 again, weeping and speed dialling mum.
Unless you do as Jehu-Cal Emmanuel Enemokwu did and turn what you were bullied for into a business. At primary school, Jehu-Cal was mocked for his first name. So he retaliated, was suspended a few times, and finally expelled. Then his family upped sticks to the home of Geri Halliwell and the Warner Brothers Harry Potter Studio Tour -- Hertfordshire.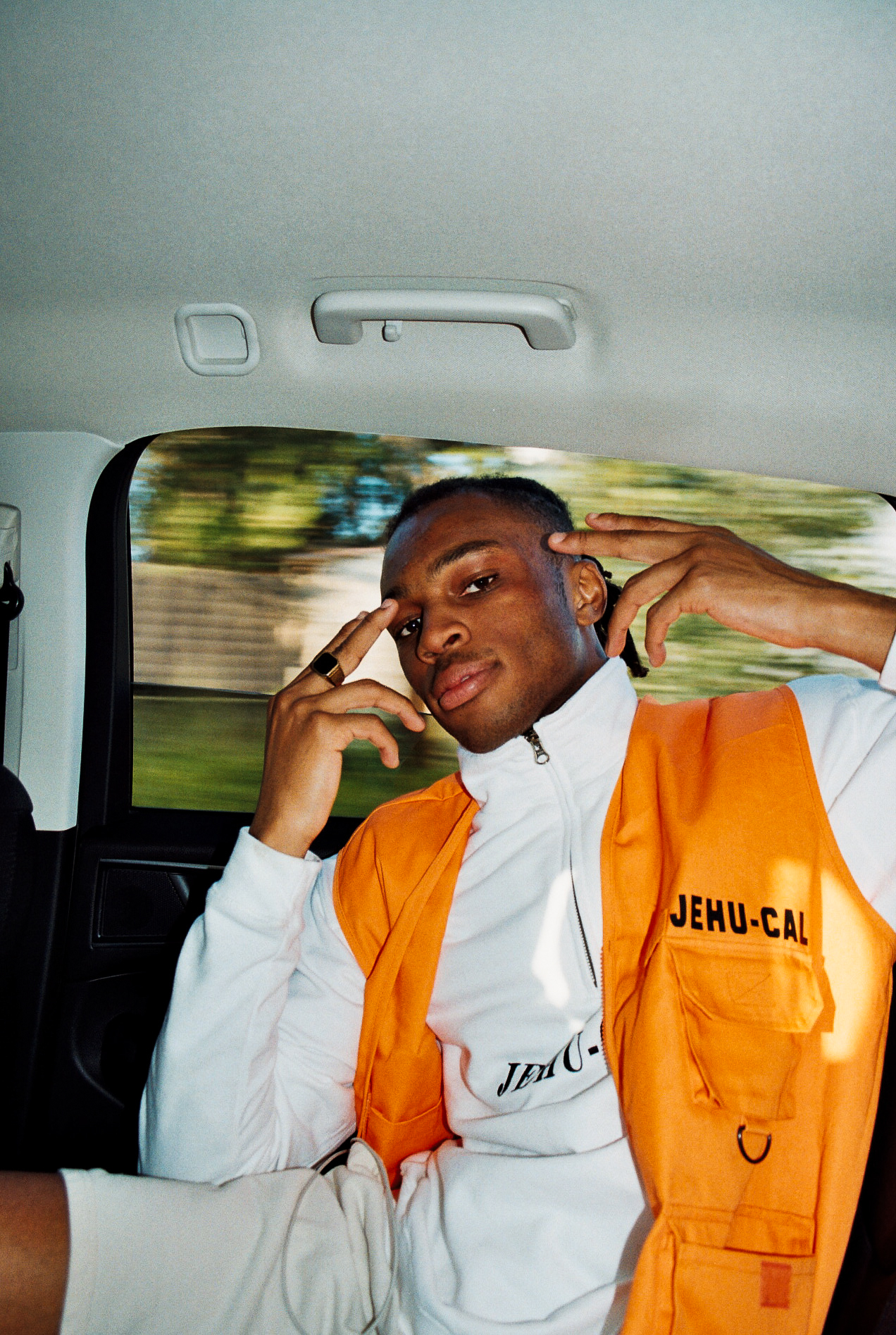 "I told them to stop calling me Jehu-cal," he says of the clean slate, "kind of like Ace in Paid in Full when he told his mum to stop calling him Lucky." He chose Emay instead, derived from his middle name Emmanuel. But kids are as curious as they can be cruel, and his new classmates soon excavated his given name, and the mocking resumed -- alongside a slew of equally cheap shots about his race, appearance and lack of clothes dripping in legitimised logos. "Ralph Lauren, Moncler, Lyle & Scott, Ed Hardy, Gucci belts etc were the brands to have during high school," he says. "But my dad wasn't buying me that -- he had me kitted out in Vans and Uniqlo."
"I wanted to take the name I was bullied for and turn it into the greatest thing I can."
In the same way that Vans are now lining today's most hyped stores, and Ed Hardy the recycling bin, Emay's flipped the narrative. From being punished by the cool kids for not having the right clothes, he's now conjuring up the ones they want. All emblazoned with the same name he was at pains to shed -- Jehu-Cal. "I wanted to take the name I was bullied for and turn it into the greatest thing I can."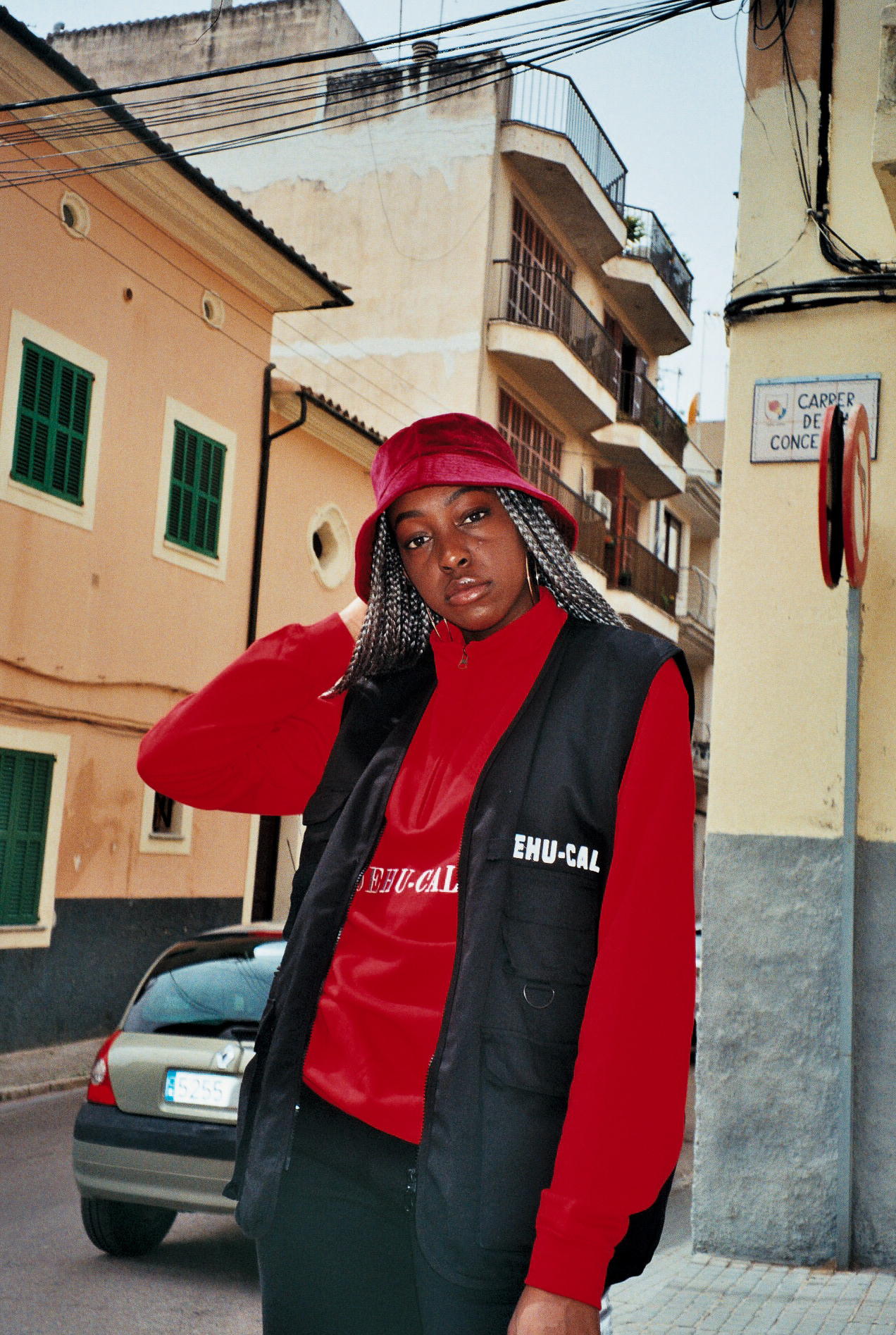 But with no professional training, how does a 19-year-old in their first year of an accounting degree start a bonafide street style business? To quote Emay quoting ASAP Yams: "DO UR GOOGLES MY G." He did his Googles -- how to start a fashion label, how to finance it, how to strategise. Then he did his YouTubes, binge-watching interviews with designers, researching the shit out of his favourite brands -- Supreme, Margiela, Raf Simons, BAPE and his old hangups, Vans and Uniqlo. "I didn't appreciate it enough when my dad first put me on, but I been sipping my green tea and my third eye is open now. I understand how great Uniqlo is now. The socks are essentials and when winter comes around all I gotta do is get the thermals from Uniqlo and I'm blessed."
"Emay's umbrella ethos seems to be: if it's broke, fucking fix it."
But Google only gets you so far. So he entered a start up business competition, and won an internship at The Dune Company with its multimillionaire founder Daniel Rubin. "I came, like, 5th place in the competition, but I tell myself it was because I wore my durag while presenting to him that made him offer me the internship." While high street shoe juggernaut Dune is more synonymous with strappy stilettos than streetwear, it schooled him on the fine print of running a fashion brand. "The time I spent interning in The Dune Group changed my life regarding how I run Jehu-Cal. I am forever grateful to the buying, merchandising, PR and design teams I worked with there."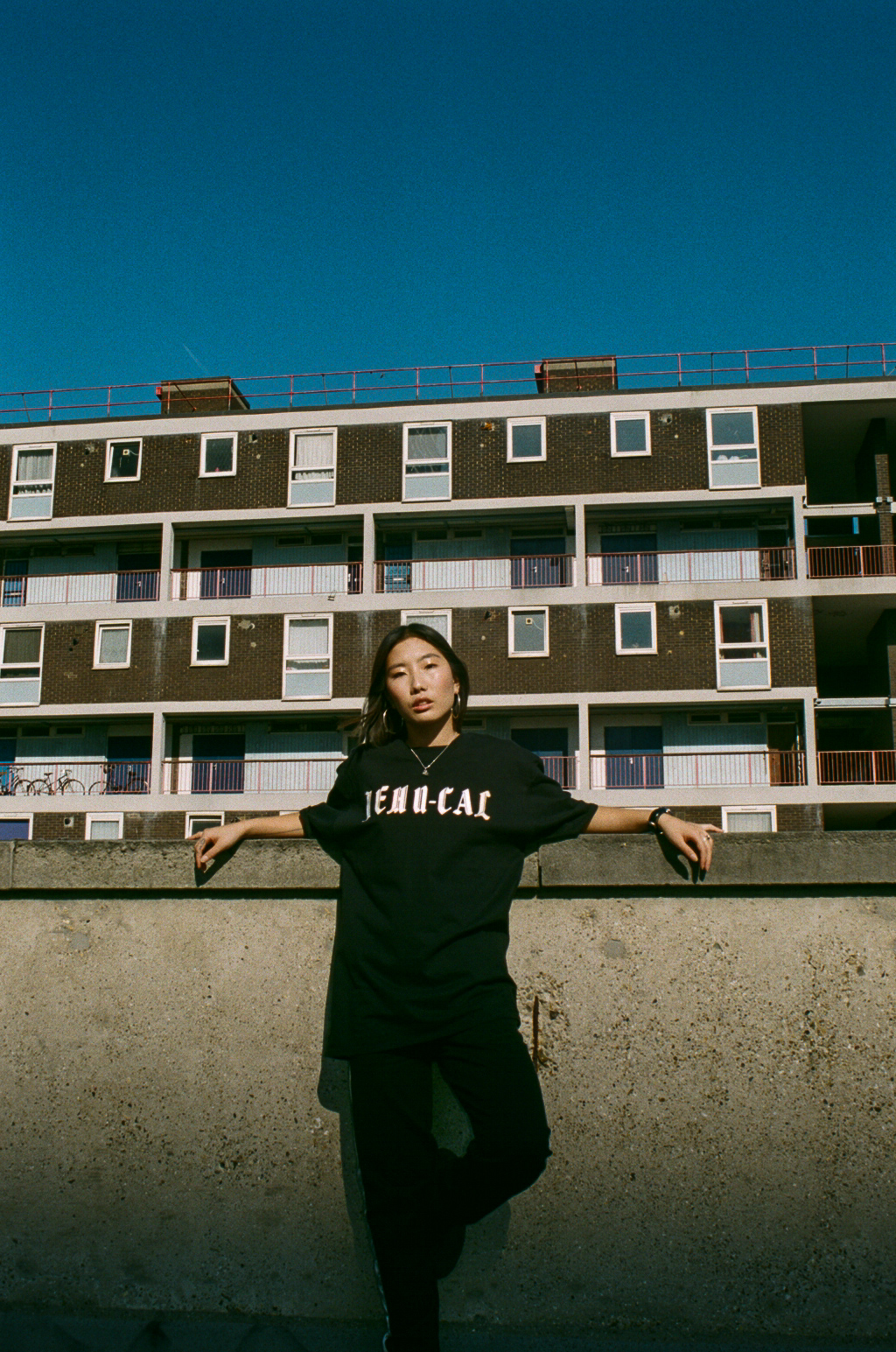 The hardwork and durag clearly paid off. Jehu-Cal is a concise selection of current streetwear staples -- zip fleeces, hoodies, long-sleeve tees and utility jackets. The colours are bold -- paper white, Irn Bru orange and the kind of deep green that makes you feel royal. He's immortalised his name in an intergalactic graphic, championing "Jehu-Cal till Forever." There's a yellow and black tracksuit modelled on the Kill Bill colourway, for when you want to cut your frenemies in comfort. A T-shirt reads, "We Made it This Far, Kid."
He's probably going to make it further too, given his ethos: "One of the fundamental rules of Jehu-Cal is that the next drop must always have multiple improvements." Take the Kill Bill-inspired tracksuit, and it's darker sequel. Following feedback on the first version, he changed three things. First, fit. Second, fabric: the black version is made from 50% recycled materials. Finally, Jehu-Cal reworked the pants to sit better on his Air Force 1s. "This was a more personal improvement."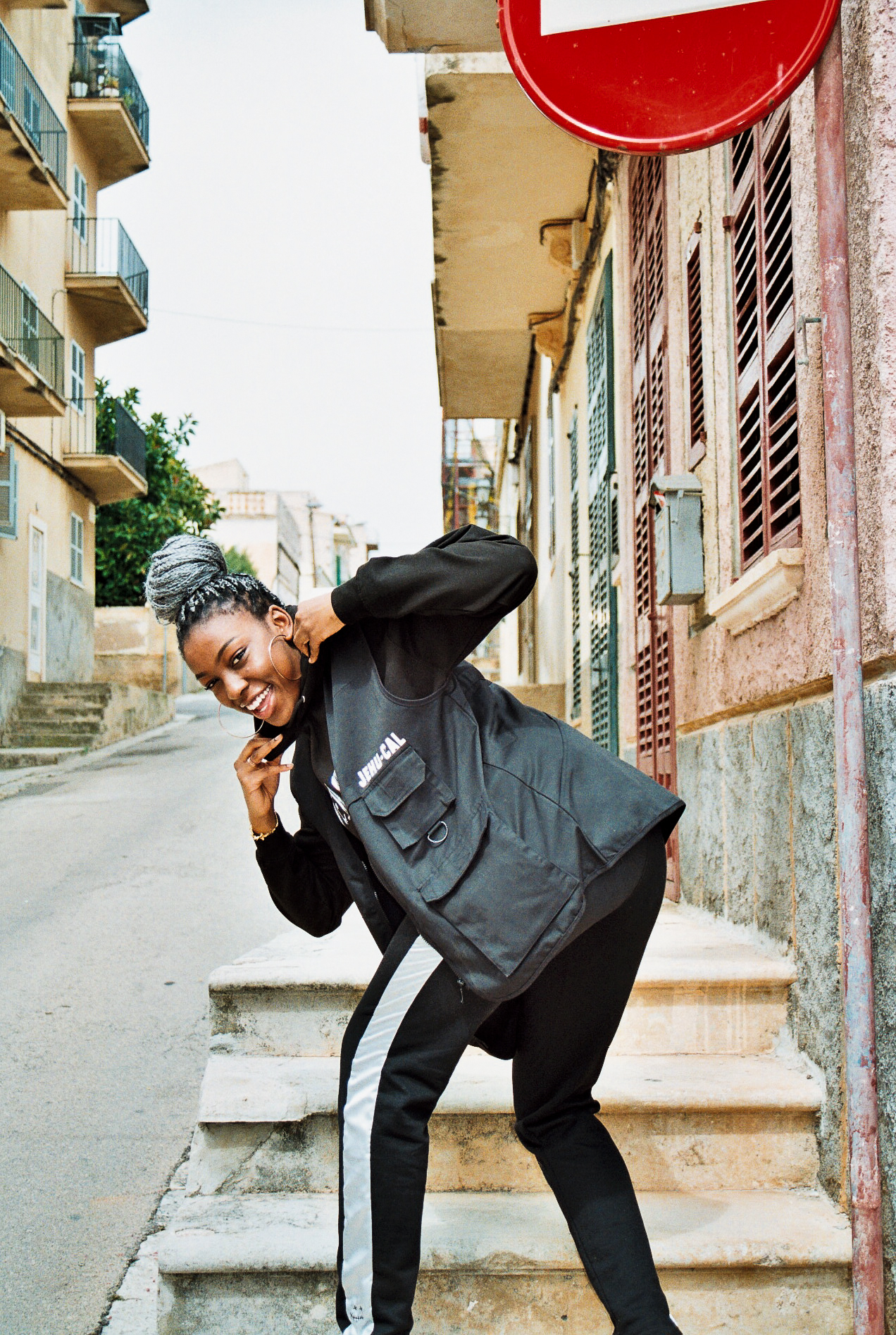 Emay's umbrella ethos seems to be: if it's broke, fucking fix it. There's the 'environment' section on his website that reads, "Fam, we really didn't take this global warming ting seriously until after the movie 2012 came out. We have absolutely bottled it mate." He's spoken to kids at Joined Up Thinking, a non-profit providing mentorship for young people, and is starting to work with Thirst Youth Café, a new charity in his local area of Bishop's Stortford.
So what advice does he give to young kids going through what he did? "Being bullied sucks. I can't sugar-coat it, it affected me mentally and emotionally," he admits. "But looking back now, they were like sandpaper to me -- all that bullying made me into this polished version of who I am." Basically, take what they hate on you for and make it your USP. Then you'll get the last hairflip: as Emay concludes, "My energy towards my bullies is Miss Vanjie's exit on RuPaul's Drag Race in season 10."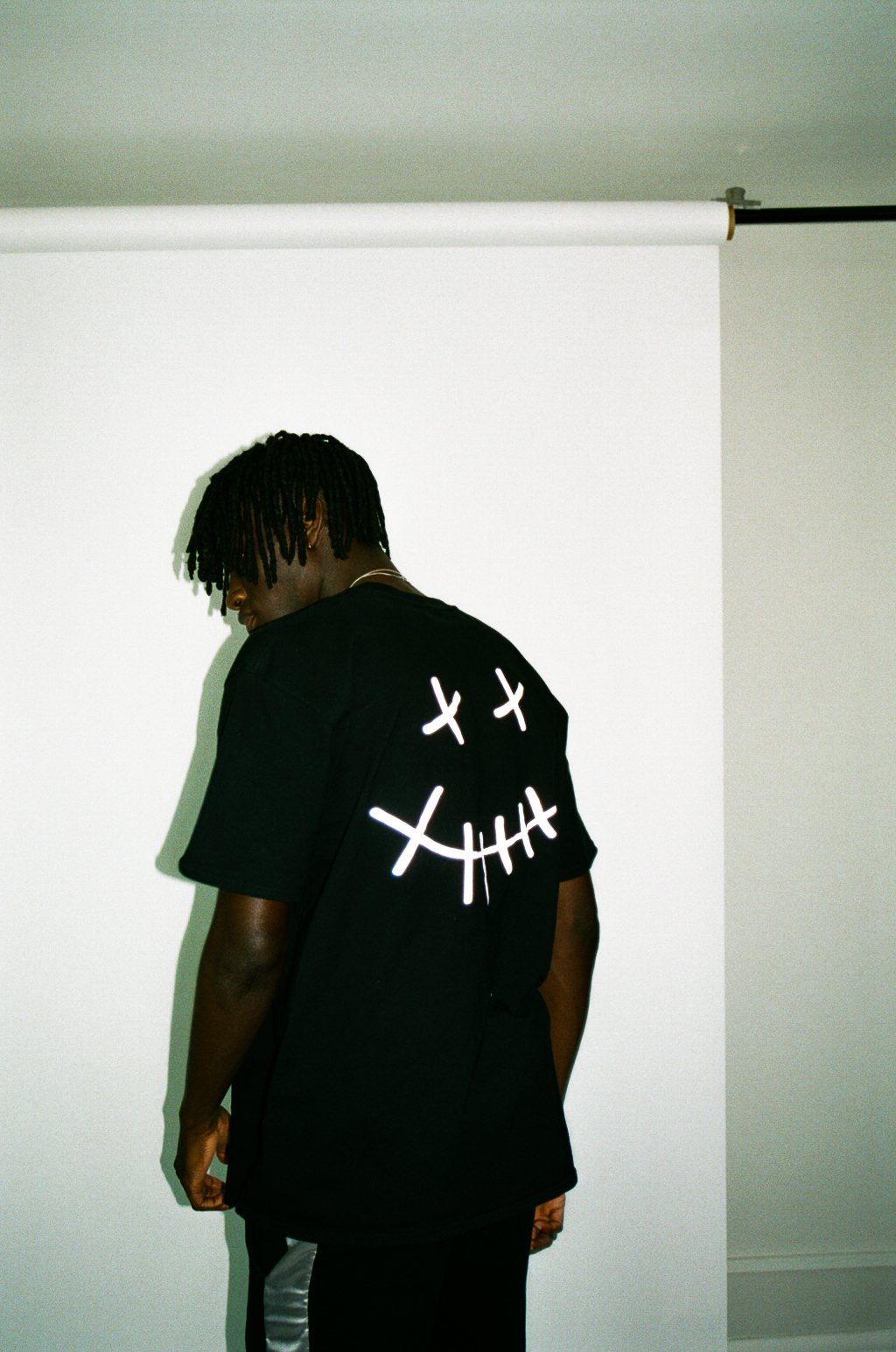 Credits
---
Photography Azeez and Emay
Make up Georgia Hope
Models Michael Sabuni, Mudi Sama at AMCK Models, Jae Woods, Jessica