Dave and Sir David Attenborough are collaborating
Yes, you read that right.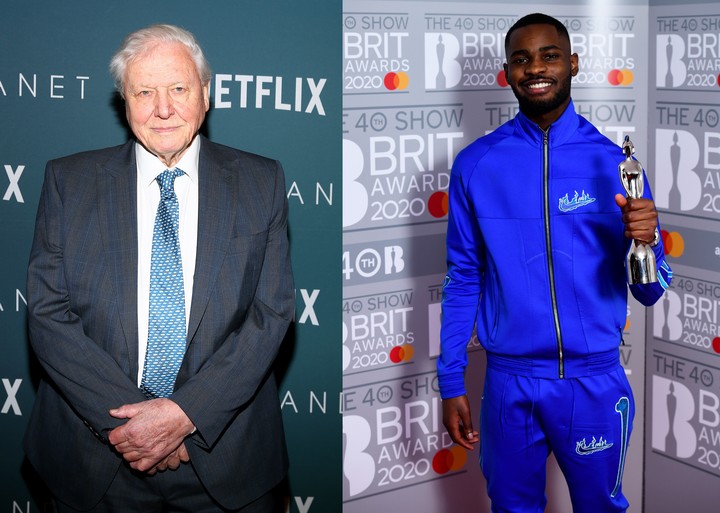 L: Photo by Tasos Katopodis/Getty Images for Netflix. R: Photo by Ian West/PA Images via Getty Images
Throughout the history of the 'Name a more iconic duo' meme, there have been some combinations that have taken us by surprise, but none more so than British rap royalty Dave and everybody's favourite natural historian-slash-man on TV, Sir David Attenborough.
The two Daves, as they shall be colloquially known from this point forward, are both highly revered figures in their own respective games. Dave has won BRIT Awards and the Mercury Prize for his 2019 record Psychodrama. Sir David has won numerous BAFTAs for his shows like Blue Planet and Planet Earth, which act as Sunday night serotonin for many of us after a particularly heavy weekend.
Their crossover comes in the form of a music-based nature documentary titled Planet Earth: A Celebration, that reimagines footage from Sir David Attenborough's previous work into a film "designed to lift viewers' spirits during a time of international uncertainty."
For the film, Dave has collaborated with Oscar-winning composer Hans Zimmer to create the score. On it, Dave will play grand piano while the BBC Concert Orchestra will follow Hans' lead. "I've always been a fan of powerful natural history documentaries," Dave said in a BBC statement. "This is a programme where nature and music come together, so it was only right that I lent my talent, my time, and my attention to this project. It was a pleasure to work alongside Sir David Attenborough and Hans Zimmer."
Sir David Attenborough's TV shows are famous for offering a fairly unflinching look at the realities of life in the wild. But while past series have been like 'Yes, that seal is about to get mauled by a shark, that's just the circle of life ¯_(ツ)_/¯", it seems like A Celebration will offer a more optimistic, positive outlook on how animals have consistently thrived in the face of adversity. Prepare to be stanning hard for a wildebeest or something when this one-off special arrives on the BBC later this summer.