Dior Cruise 2021 was a love letter to the craftspeople of Puglia
Staging a live show for an online audience in the southern Italian town of Lecce, Maria Grazia Chiuri's latest collection was an ode to the magical traditions of her father's home.
Photography Teresa Cioca
With so much already said about the misgivings and virtues of the pandemic-induced age of the digital fashion show, there was something quaintly refreshing about Dior's adamant return to analogue form for Cruise 2021. Admittedly, it wasn't quite the return to full service that so many have been pining after -- for a start, the ensemble of celebrities, influencers and press that usually tag along for the house's far-flung Cruise spectacles were only able to attend via livestream. Still, with a 90-look parade through the _luminarie-_lit Piazza del Duomo in Lecce, a town in the southern Italian region of Puglia, the show was one of the closest returns to "the before times" that we've seen from fashion yet.
The decision to stage a physical show makes sense given Maria Grazia Chiuri's inclination towards the artisanal over the automated. "I am an artisanal designer," she proudly stated in a Zoom preview. "I'm not a digital creative. I don't think it's possible to think that creativity can become only digital. I work with artisanal artists, with artisanal directors, artisanal musicians."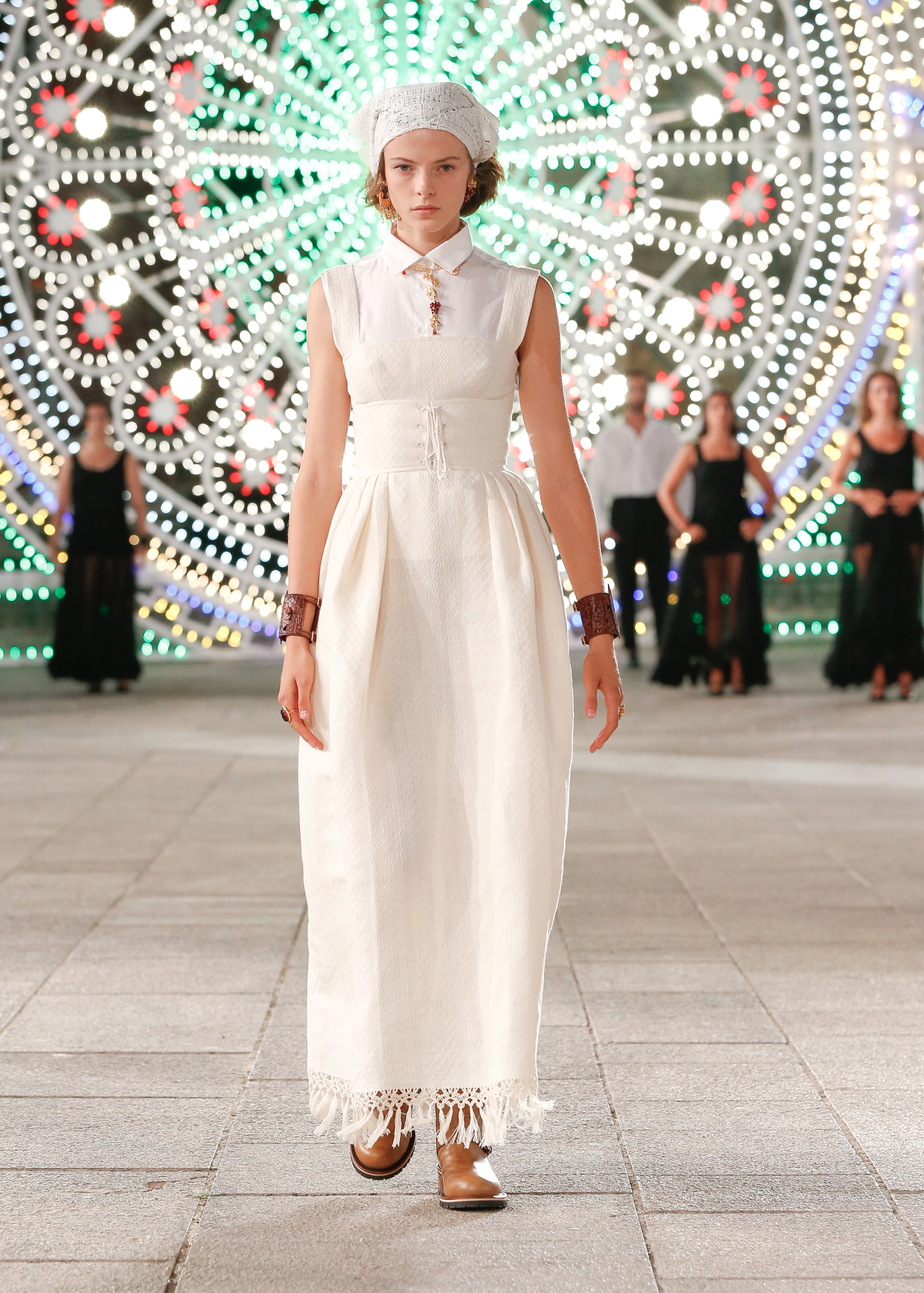 And for her Cruise 2021 collection, that's indeed what she did. The product of an extensive collaboration with the manifold artisans and craftspeople that call the heel of Italy's boot home, it was a love letter to the rich cultural and creative heritage of a region often overlooked. It's one that she has a strong personal relationship with, too: "My father was born here, and I used to come here every year during my holidays," she said, going on to note the significant role that the paternal side of the family played in shaping her approach to fashion. "When I was a child, my grandmother and my uncle used to do all kinds of typical crafts -- loom weaving, and tombolo lace making. These are elements that we don't normally celebrate much, because there's this idea that it's domestic work, something that women make at home for their personal use. But in reality, this kind of work is really artistic. With this collection, I wanted to celebrate it like couture."
It was this hand-wrought touch that served as the collection's backbone, bridging the gap between rustic craft and couture -- and, in many ways, presenting them as one and the same. Dirndl-like square-necked dresses with sculpturally pleated skirts came edged with hand-knotted macramé fringe. They were cut from reassuringly rugged cotton textiles in both white and geometric bicolour patterns, all handwoven by Fondazione Le Constantine, which "helps local women who work with loom textiles and macramé to find jobs in which they can use these skills," Maria Grazia explains.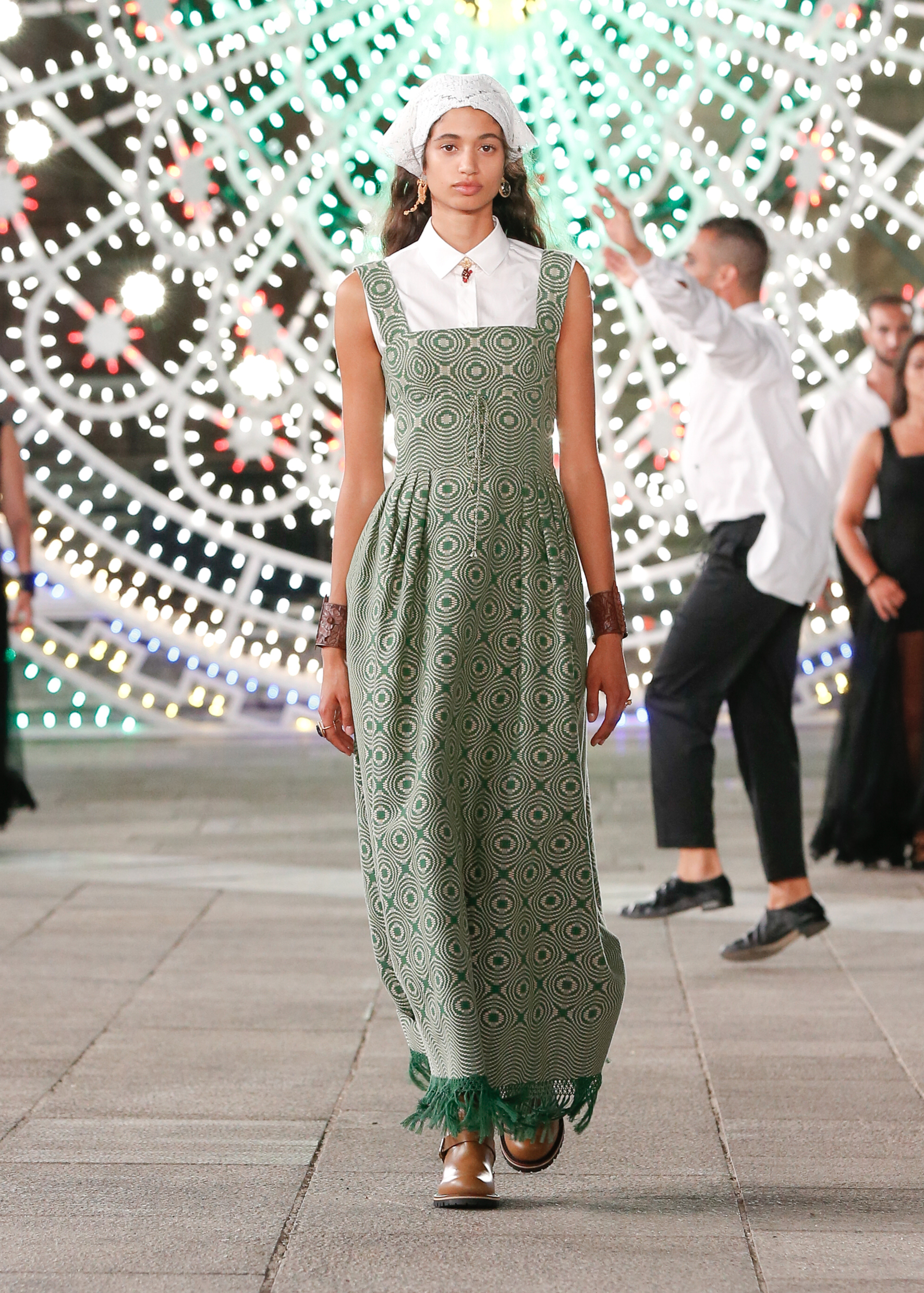 Elsewhere, their fabrics were translated to a series of jackets -- from straight, boxy shapes to the nip-waisted Bar, aptly epitomising the collection's marriage of ancient Pugliese craftsmanship and Dior's house codes. The Book Tote was reimagined in locally-woven satin jacquard depicting flowers local to Lecce, and a Miss Dior dress had appliqué ears of wheat sprouting at the bust, while long-sleeved gauzy gowns -- a keen motif of Maria Grazia's -- were embroidered with mandala-like patterns that echoed the kaleidoscopic light show of the set.
Silhouettes were easy, with tiered chiffon skirts and generously-cut trousers in pinstripe linens and patchwork denim made with movement in mind. It's a subtle nod to the central role that song and dance hold in Pugliese culture -- which was more evocatively expressed in the live dance performance by the Fondazione La Notte della Taranta, choreographed by former Dior collaborator Sharon Eyal, and with music composed by Paolo Buonvino.
Puglia's singing spirit was most extensively researched by the Italian ethnographer Ernesto de Martino, who in his 1959 text Sud e magia (Magic: A Theory from the South) wrote of a "rural area, where the most important thing was to celebrate the new season with this dance and music," Maria Grazia notes. "He also says that there's a necessity, when living in a difficult time, to think in a magic way, and to believe that magic can happen in your life." Perhaps, then, this collection was her way of doing just that.