L: Maximilian SS21. Photography Rafael Pavarotti; R: GOOMHEO SS21. Photography Trinity Ellis
Moving's on the mind at Fashion East SS21
Maximilian, Goom Heo, Nensi Dojaka and Saul Nash share the dynamic inspirations for their collections and fashion films.
|
21 September 2020, 9:11am
L: Maximilian SS21. Photography Rafael Pavarotti; R: GOOMHEO SS21. Photography Trinity Ellis
Of all the physical shows that won't be taking place this London Fashion Week, perhaps the most sorely missed is Fashion East. SS21, after all, marks 20 years since Lulu Kennedy founded the city's most illustrious fashion family (head here for our lookback on some of its biggest and boldest moments), putting on its inaugural group show at the Truman Brewery. Though an IRL catwalk in the building's cavernous hall remains off the cards, in a poetic gesture, an intimate, socially-distanced screening was hosted on its roof at the start of the weekend. There, its four current recipients showed the short fashion films they've powered through the pandemic to create, sharing their SS21 collections with Fashion East alumni and close friends alike. With their digital group presentation now live for all to see, here's the lowdown on what four of London's most dynamic rising talents have in store for the season.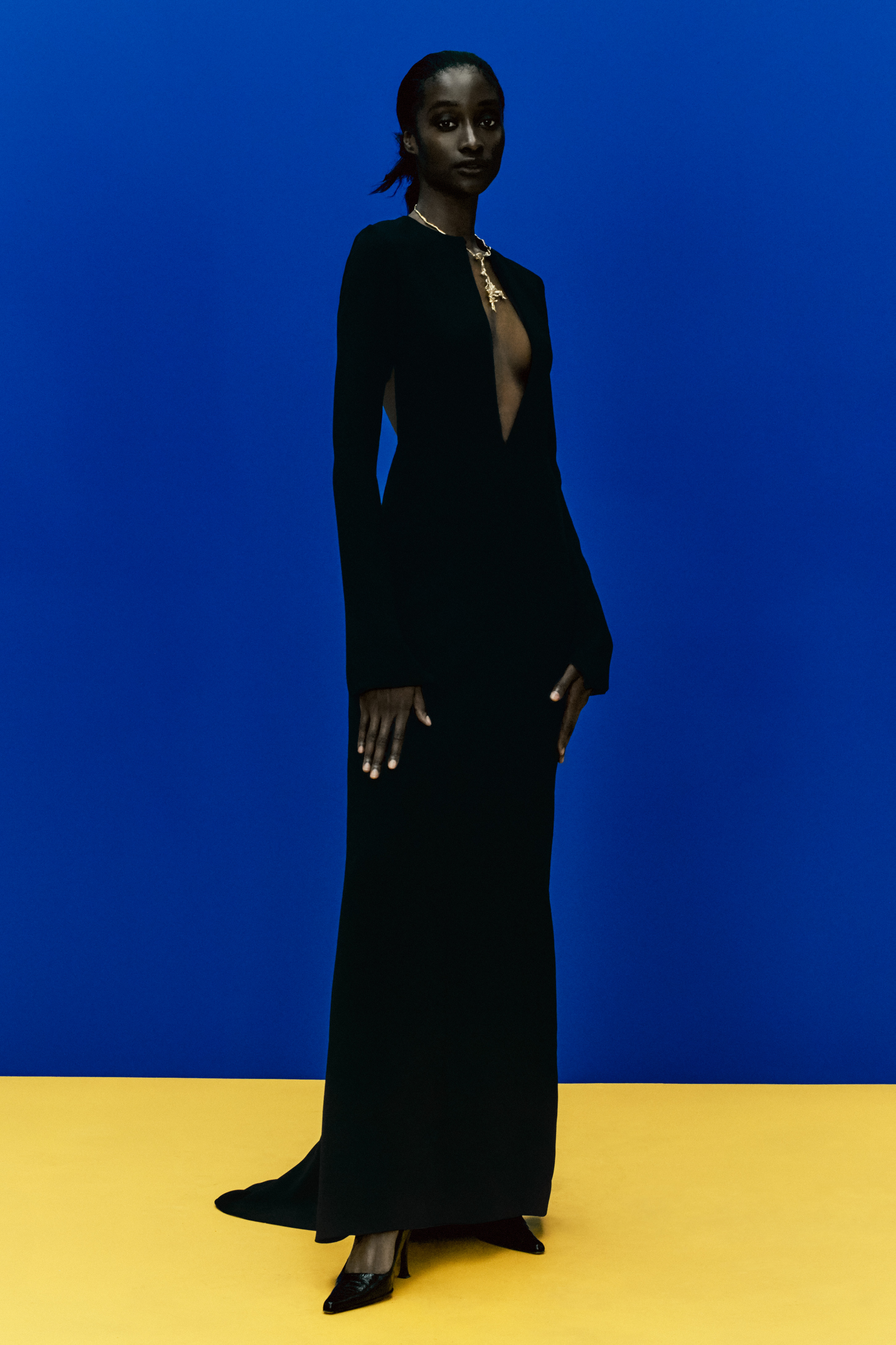 First on the showreel is Maximilian, this season's newcomer to the Fashion East fold. Though he may not have yet had the chance to make a physical debut, he remains undaunted by the prospect of doing so digitally. "I've always watched music videos and film for inspiration, so I was excited to use this opportunity to create my own," he says, working with filmmaker Akinola Davies, photographer Rafael Pavarotti and i-D Senior Fashion Editor at Large Ib Kamara. "With film, there's more space to communicate my full vision for the collection with a wider audience. People have the chance to hear the music created, to see the models move and perform."
In J'ouvert, "which means dawn/day-break" in Antillean Creole, that chance is just what we're given. Drawing inspiration from the visual extravagance of Trinidad's Carnival, particularly his grandmother's love for the music and the regalia that accompanies the annual event, both the film and collection offer a bells and whistles immersion into the party that comes after the parade. Slashed suede dresses and slinky halter neck tops cling to the humid skin of their wearers, and there are pleated micro miniskirts and satin shirts with goose feather trim, too. The extroverted sexiness is subtly tempered by a more regal reading of glam -- think floor-sweeping harness-backed long-sleeved gowns and princess-seamed blazers. It's Maximilian's way of showing "the history of carnival and the reason for it, taking references from the 19th century and trends from the noughties" to create a body of work that presents and celebrates Black cultural heritage in all its nuance and refinement.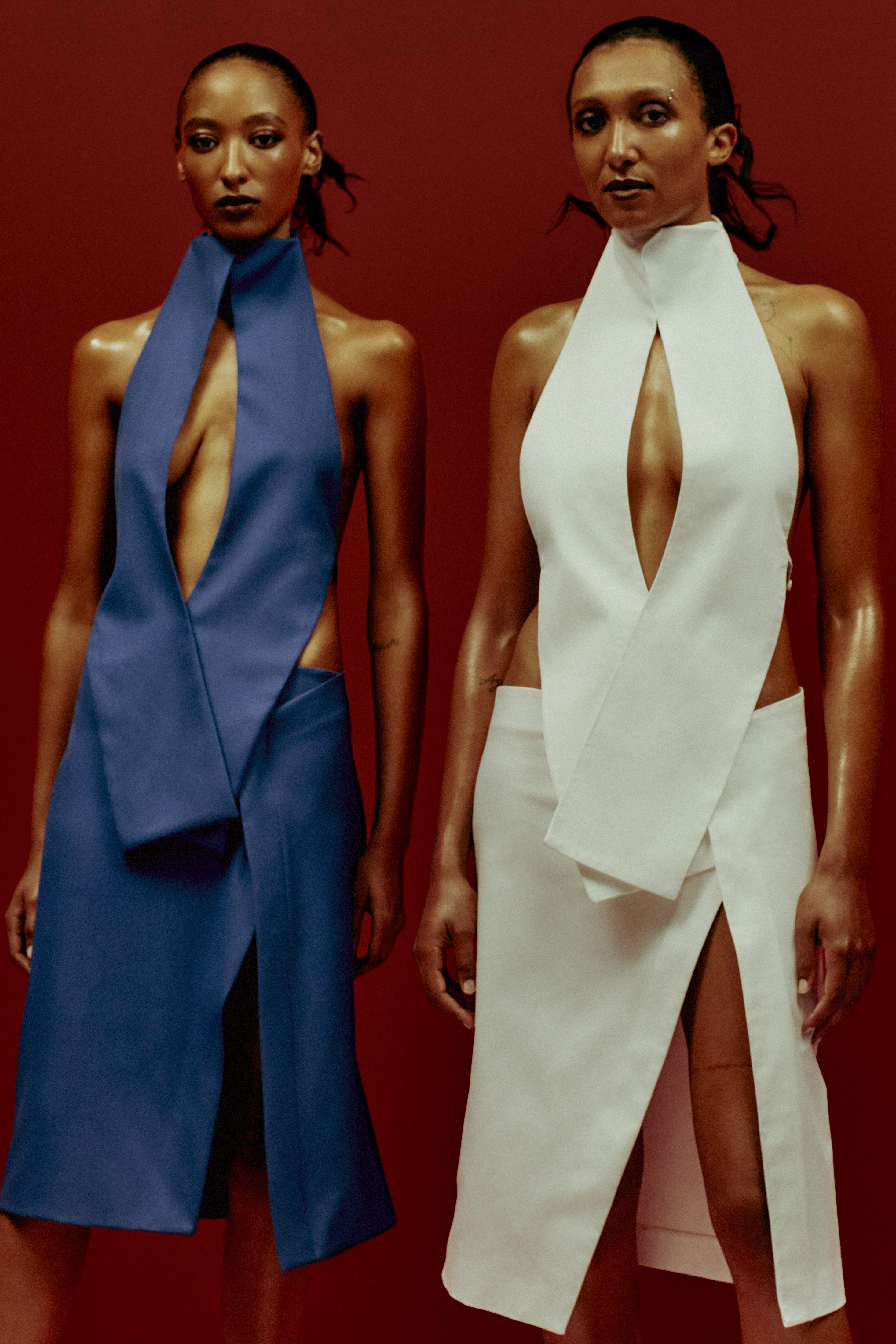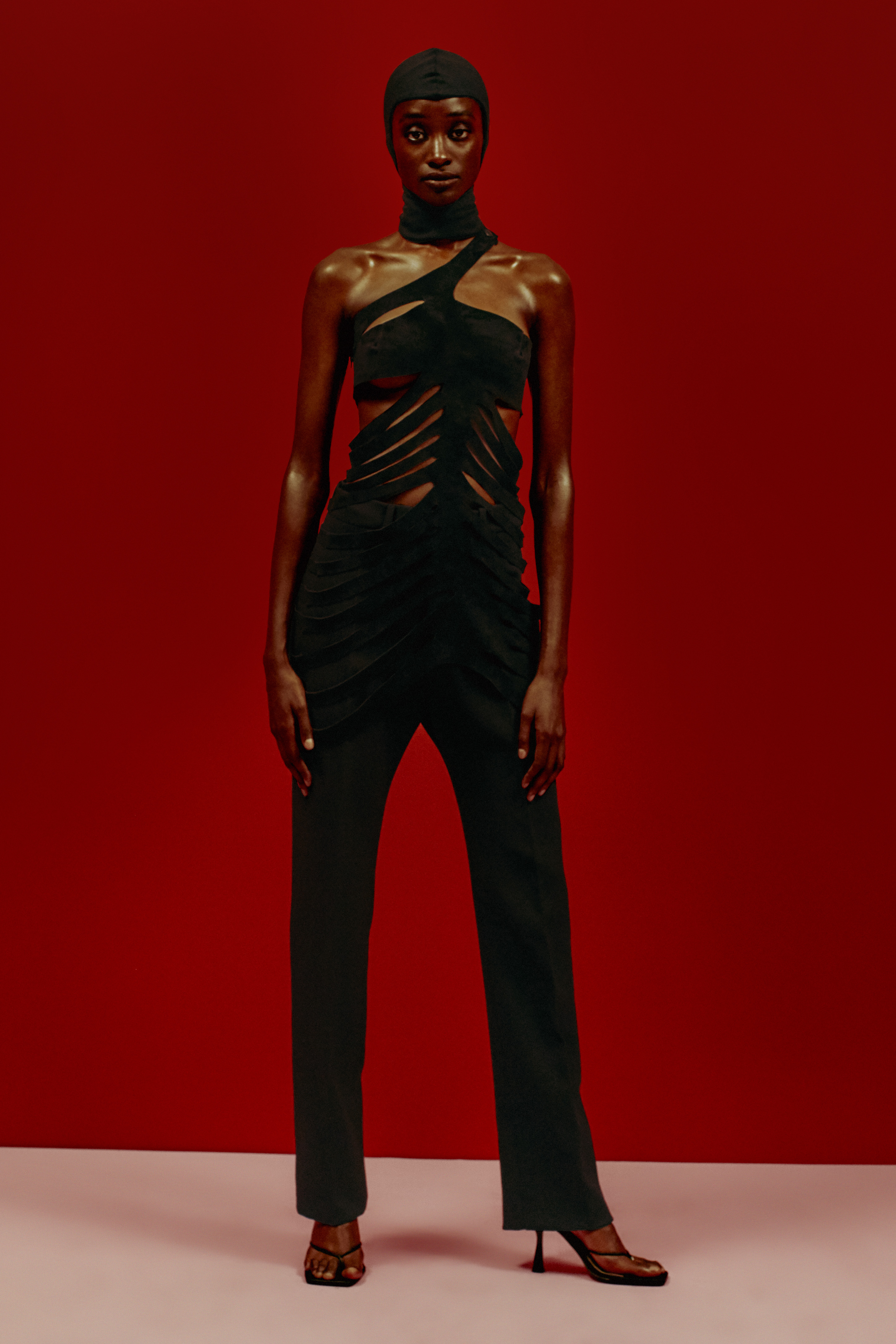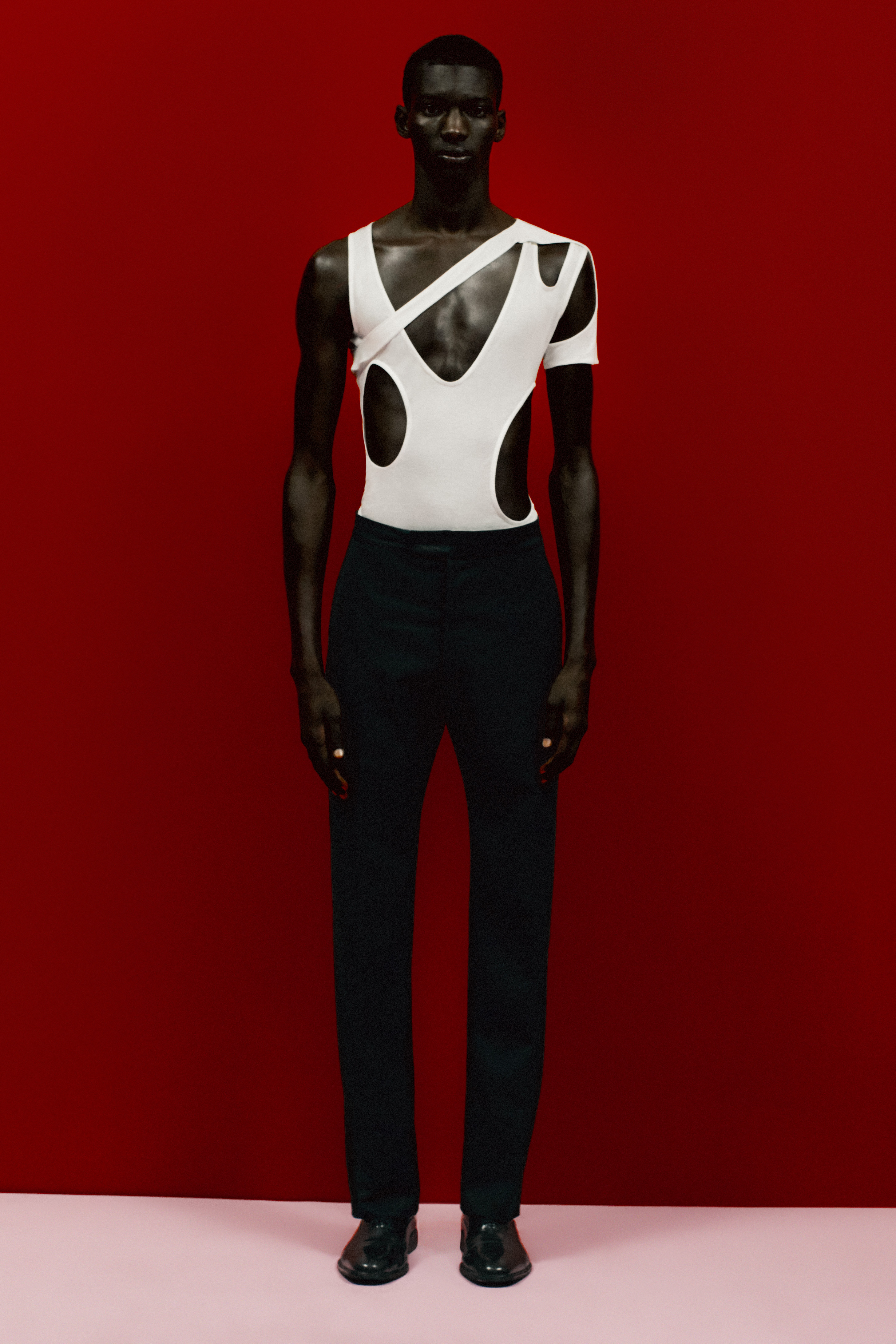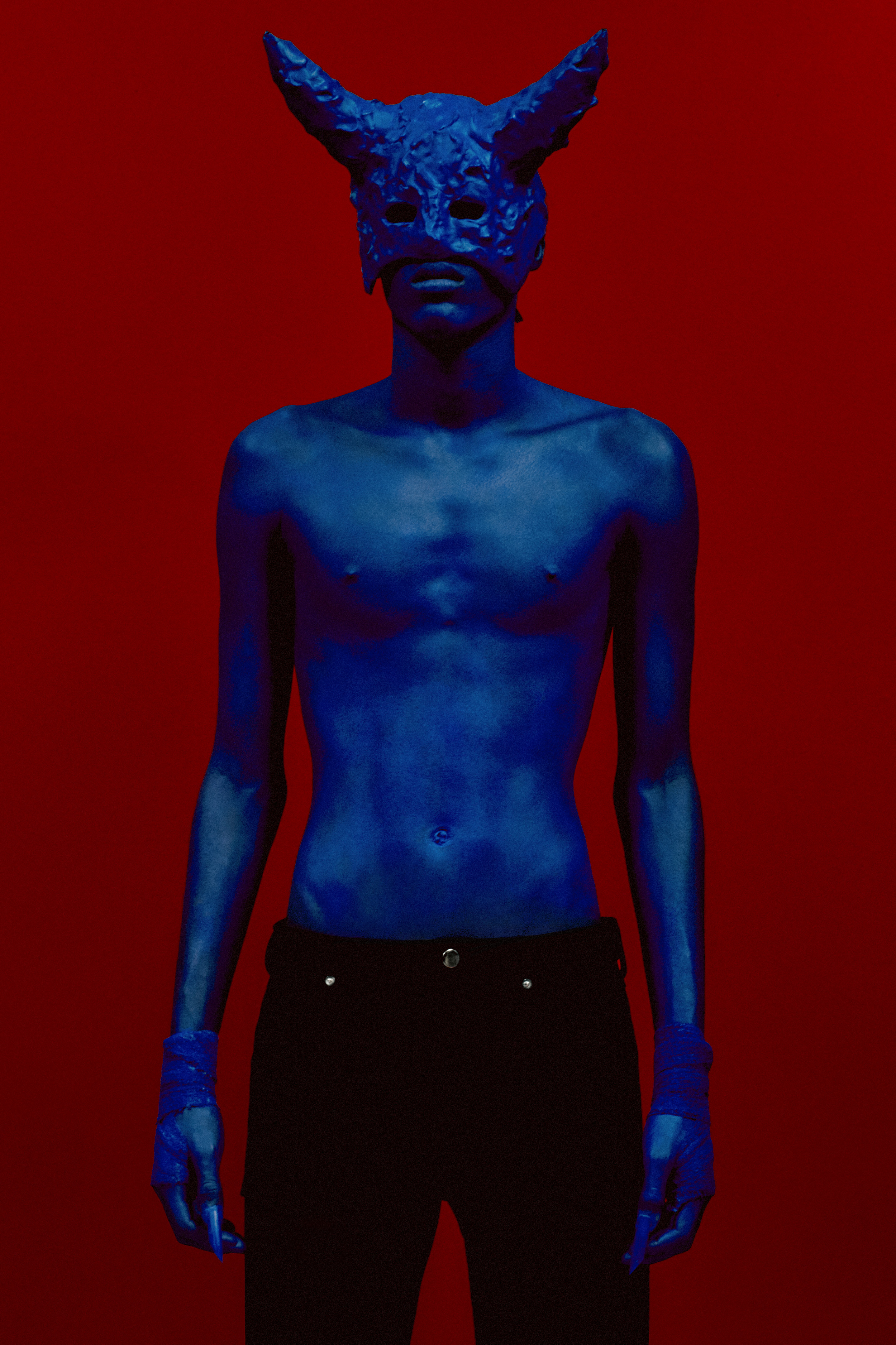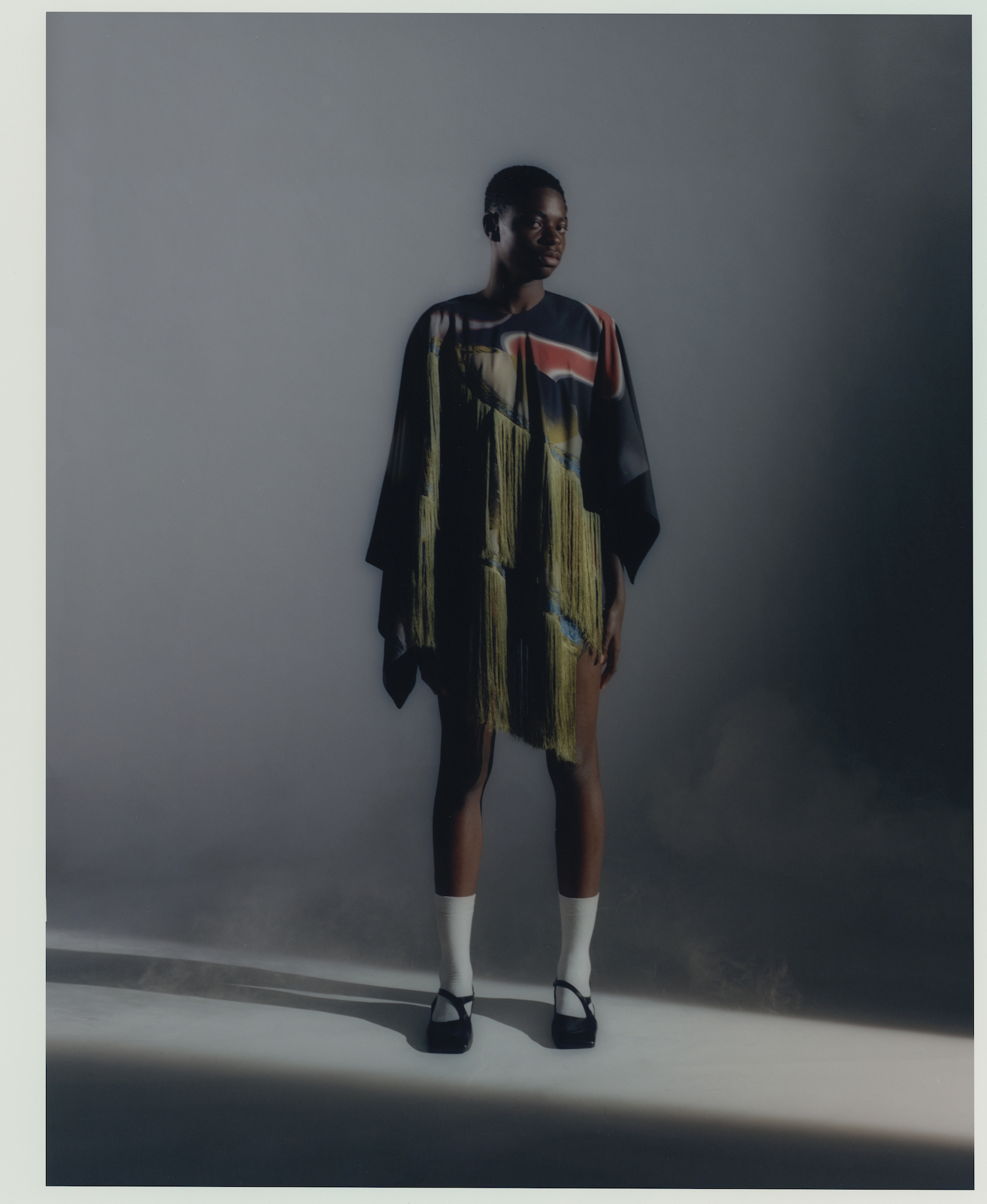 For GOOMHEO's sophomore season, we see a darkening of designer Goom Heo's gaze. While in her previous collection it was all about the floweriness and whimsy of falling in love, in Voyeur the feeling is that of being watched, offering an exploration of "how we respond to becoming the objects of another's attention". Drawing upon the curvilinear forms and sombre hues of German artist Paul Wunderlich's erotic paintings, Goom has expanded on the hallmarks she's been developing since her showstopping CSM MA show. The trails of silk chiffon that were previously attached to garments by geometric embroideries are now wrapped roll-neck crop-tops, or billowing flares that puff about like clouds of rising smoke. There are curtains of fringe, too, that both obscure and seduce your view.
In her film, the focus is squarely on the kinetic elements of the collection. "As we were not doing a runway show, I wanted to show the movements of garments through film," says Goom, noting the benefits of the medium when it comes to showing how the pieces "play on the body", their dynamic energy activated by the wearer.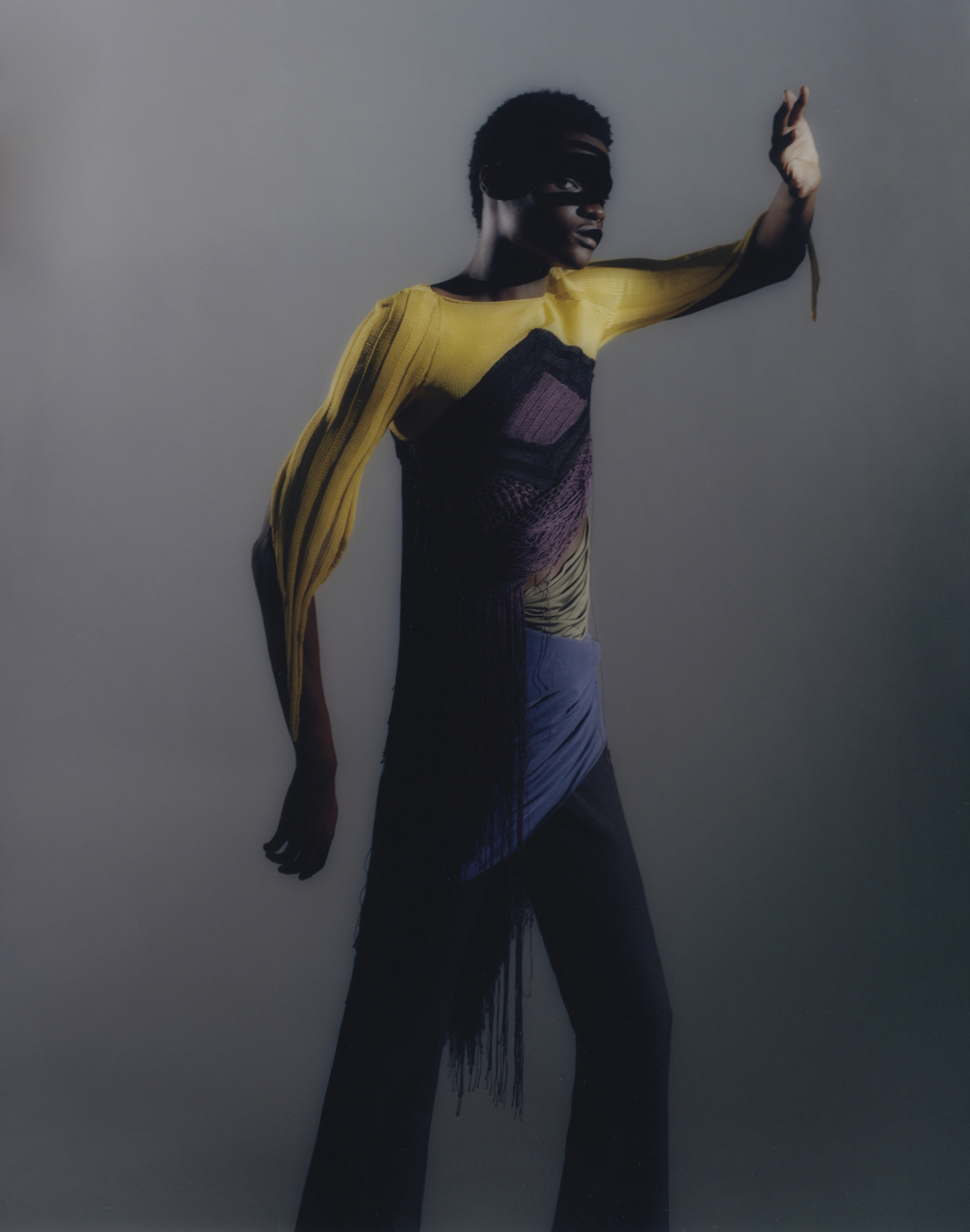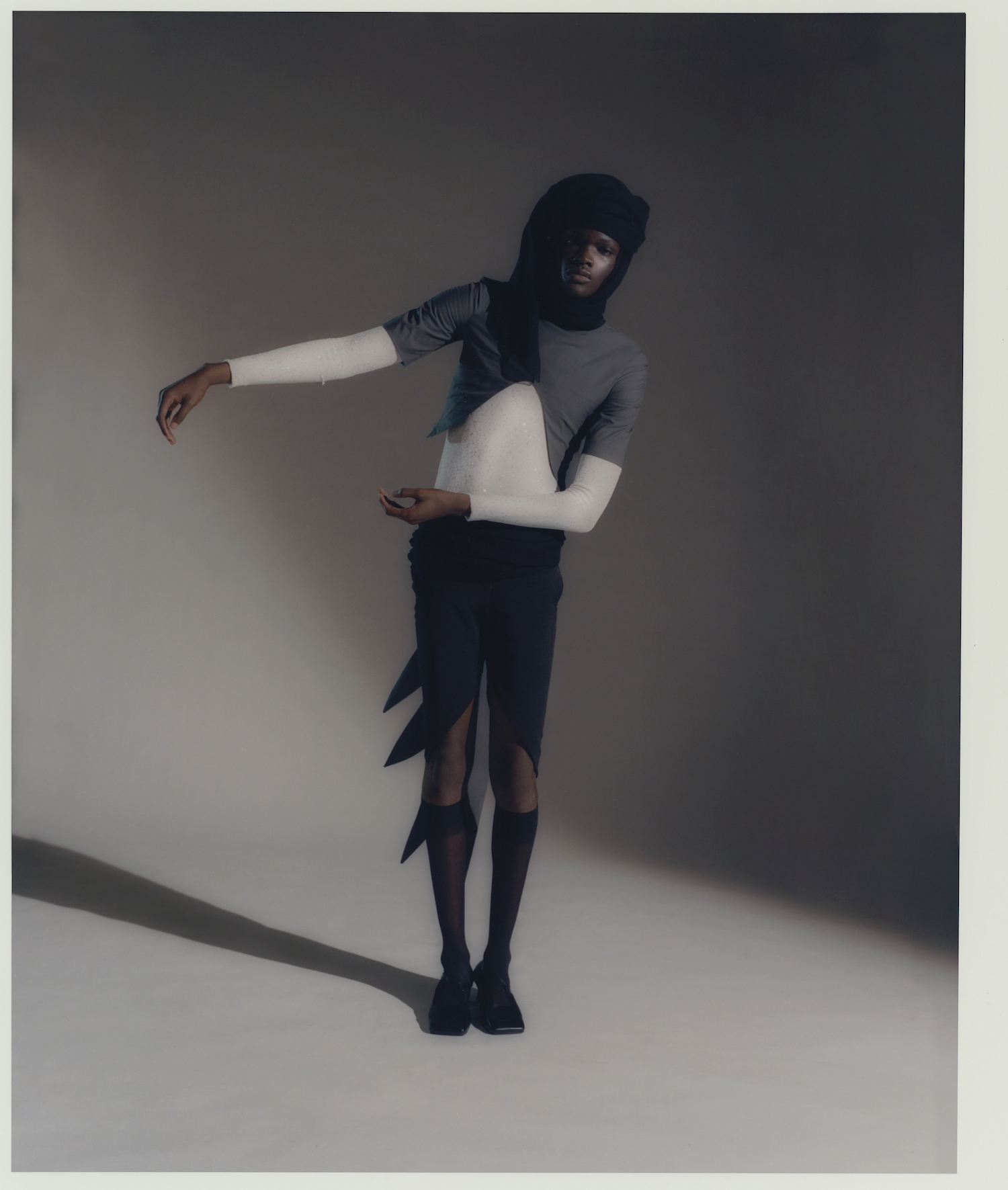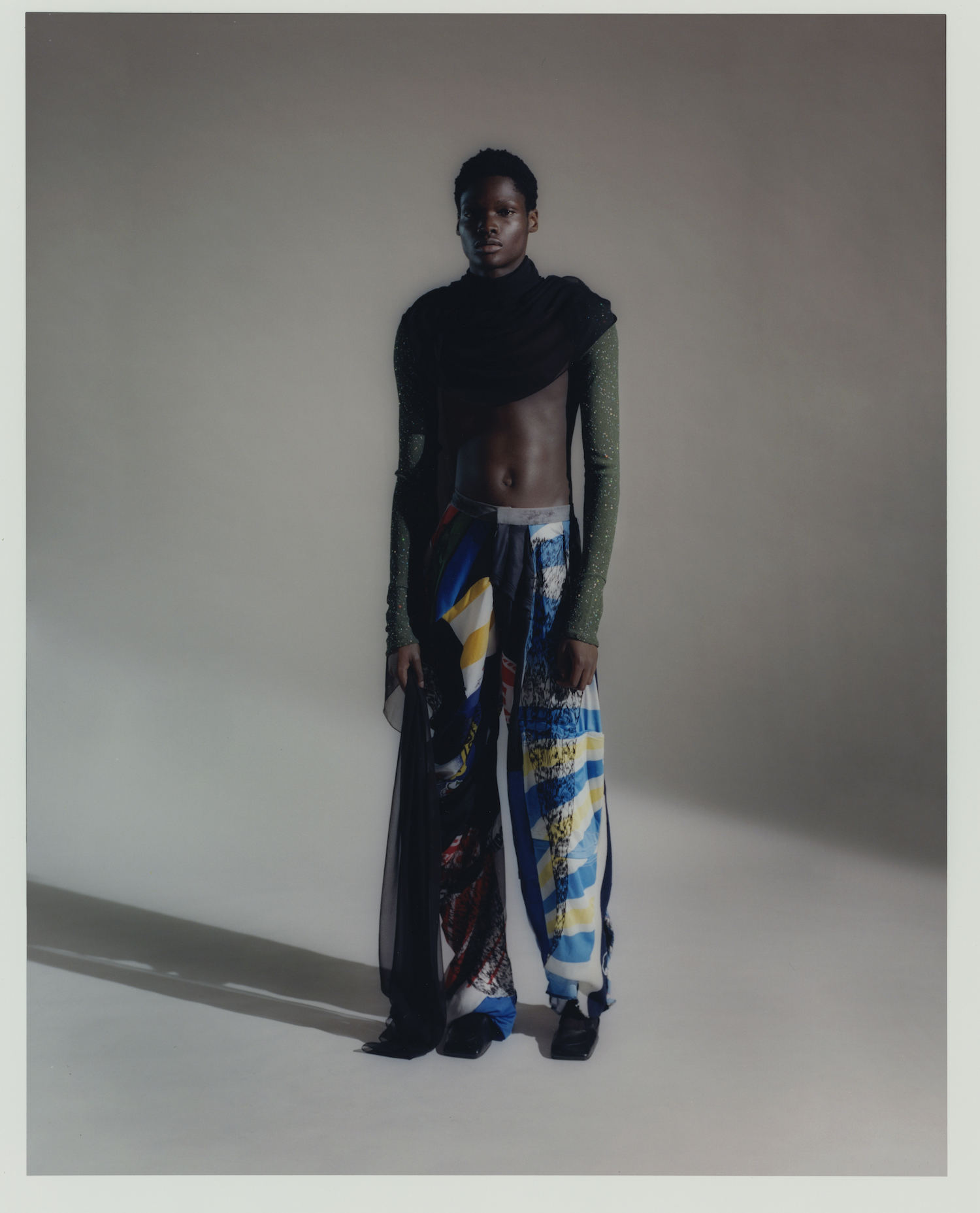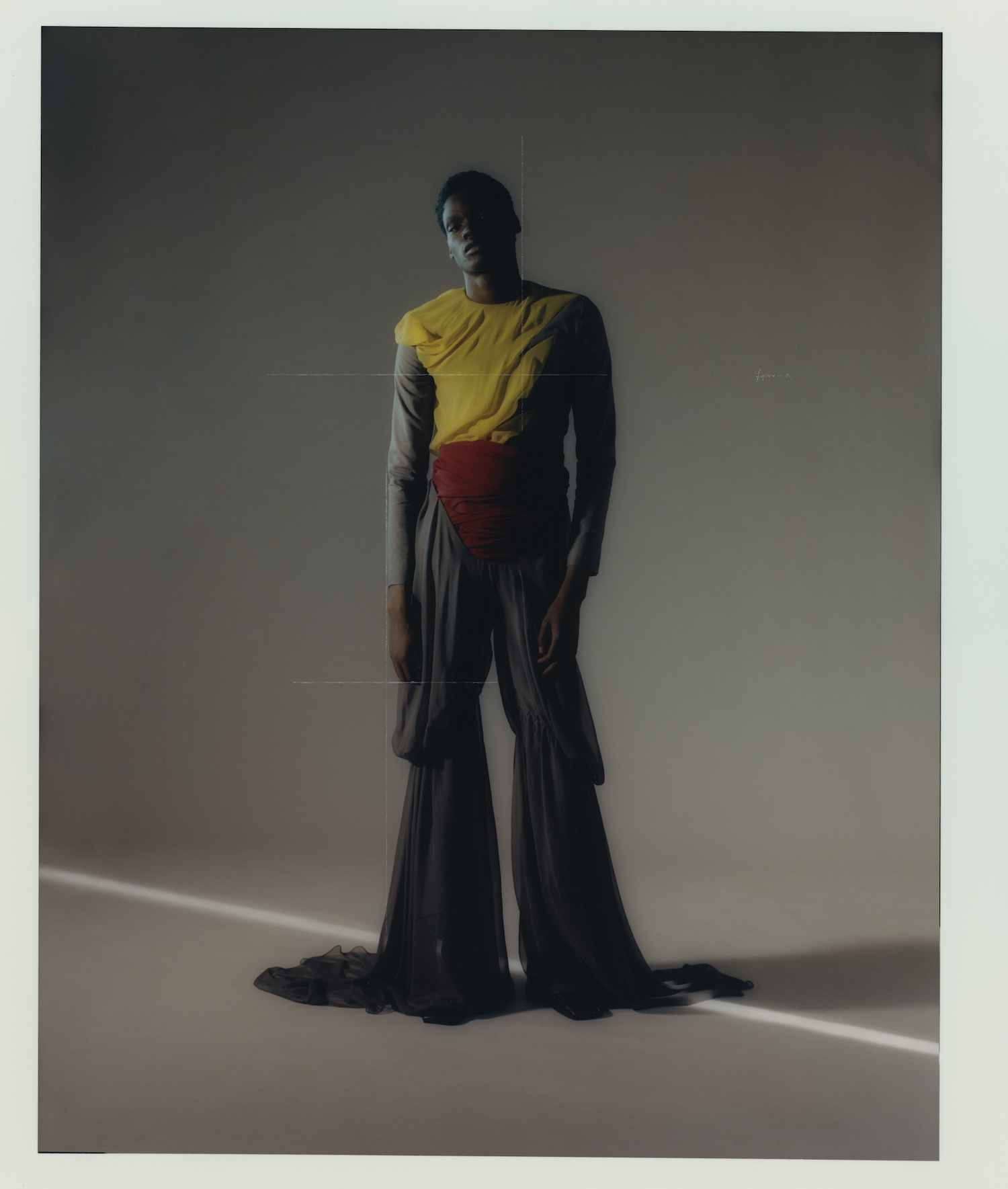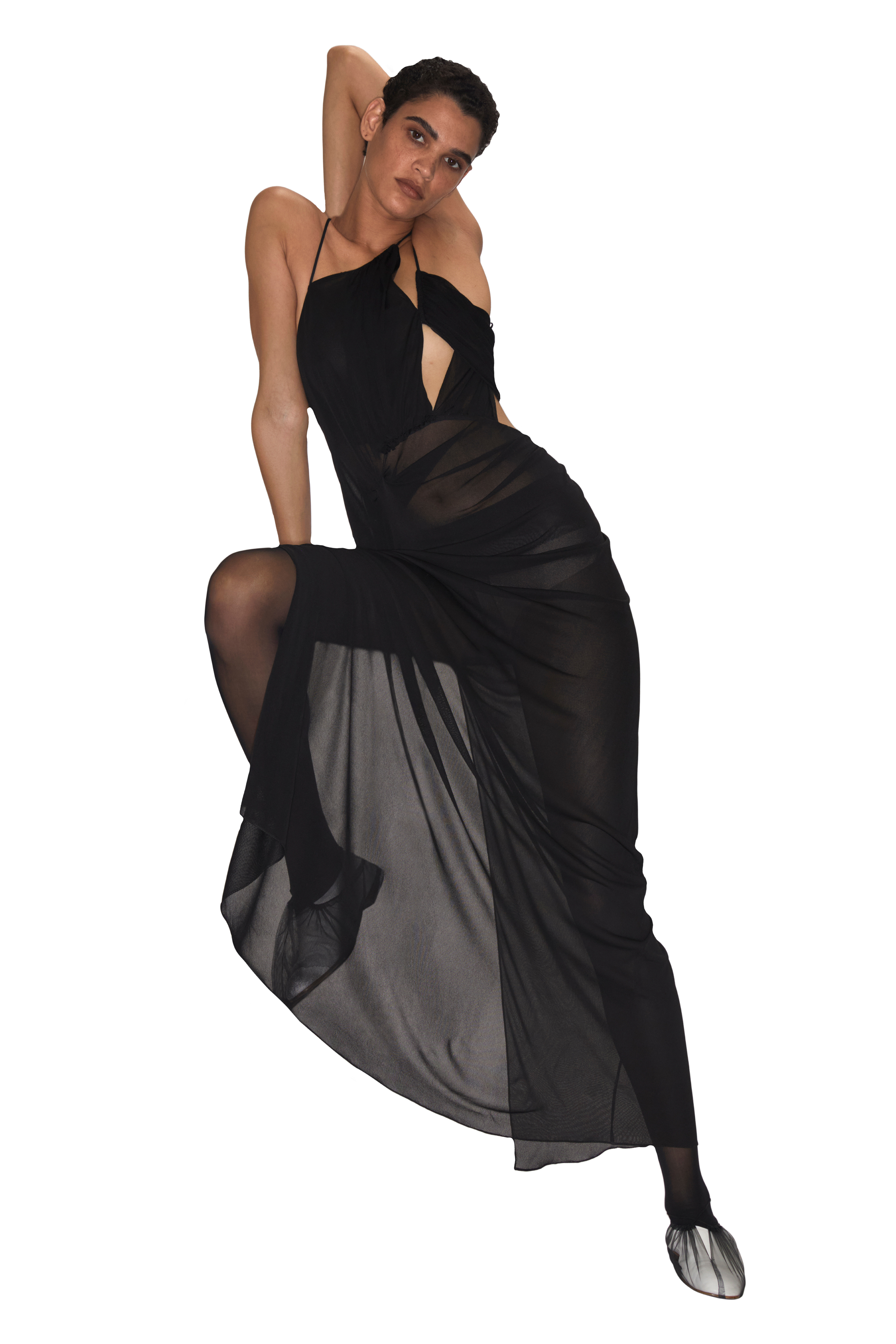 Nensi Dojaka takes a different tack with her presentation, placing cutouts of a single model sporting her diaphanous collection against a montage of bustling cityscapes in London, New York, Paris and Tokyo. The pared-back nature of the film, however, belies the inspiration for the work on show -- dance, specifically ballet. "I started by looking at In The Middle, Somewhat Elevated by William Forsythe," she explains, "it really stuck with me because of the abstract nature of the movement while still reflecting a beautiful delicacy."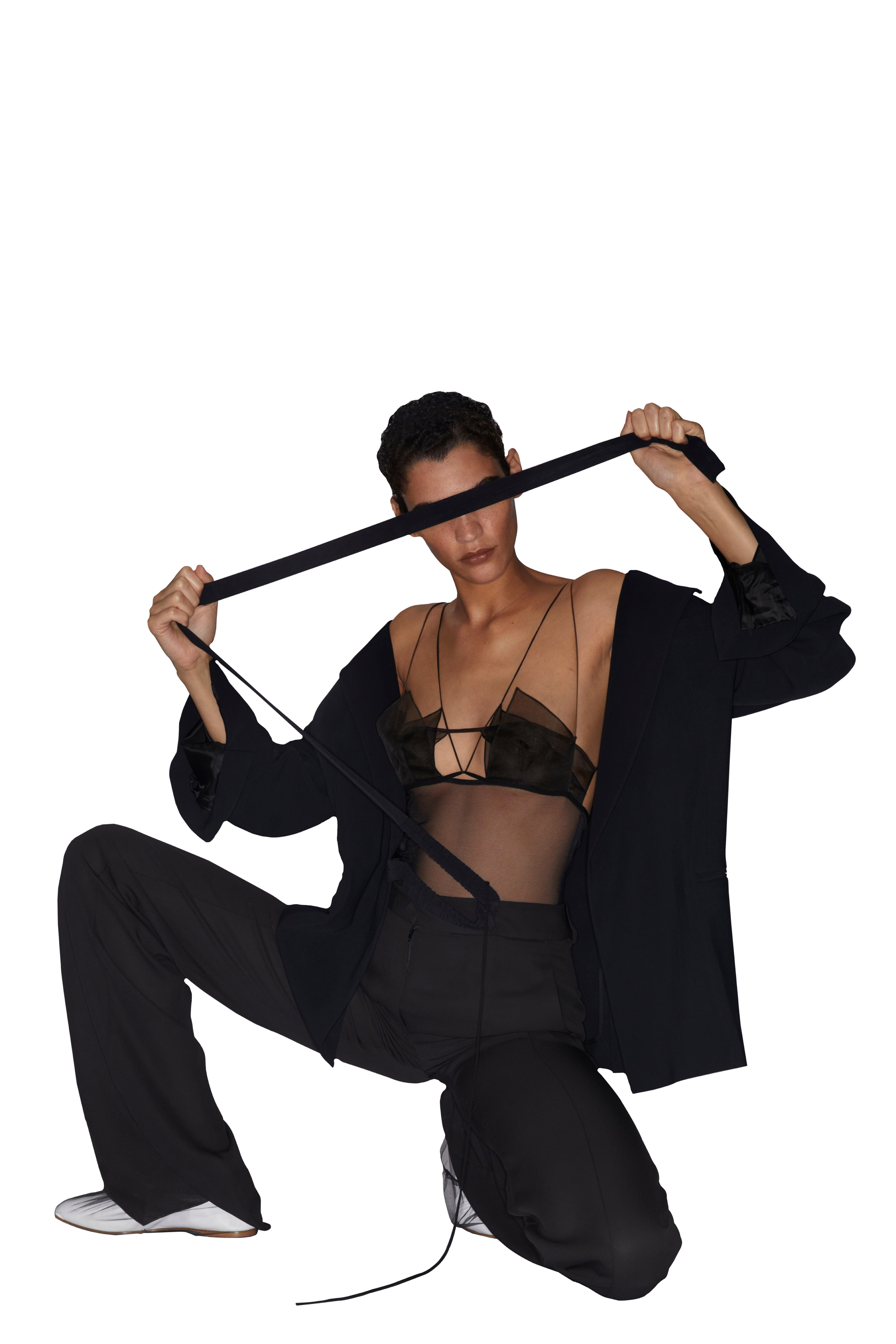 This balance of poetic fragility and bold severity has been a defining feature of Nensi's work since graduating from the CSM MA back in 2019. This season, this is perhaps best exemplified in the asymmetrically draped, figure-hugging LBDs composed of dusky webbed swatches of silk georgette, jersey and chiffon. A particularly exciting development for SS21, though, is the introduction of casual tailored pieces -- generously cut crepe trousers, for example, and black organza shirting, too.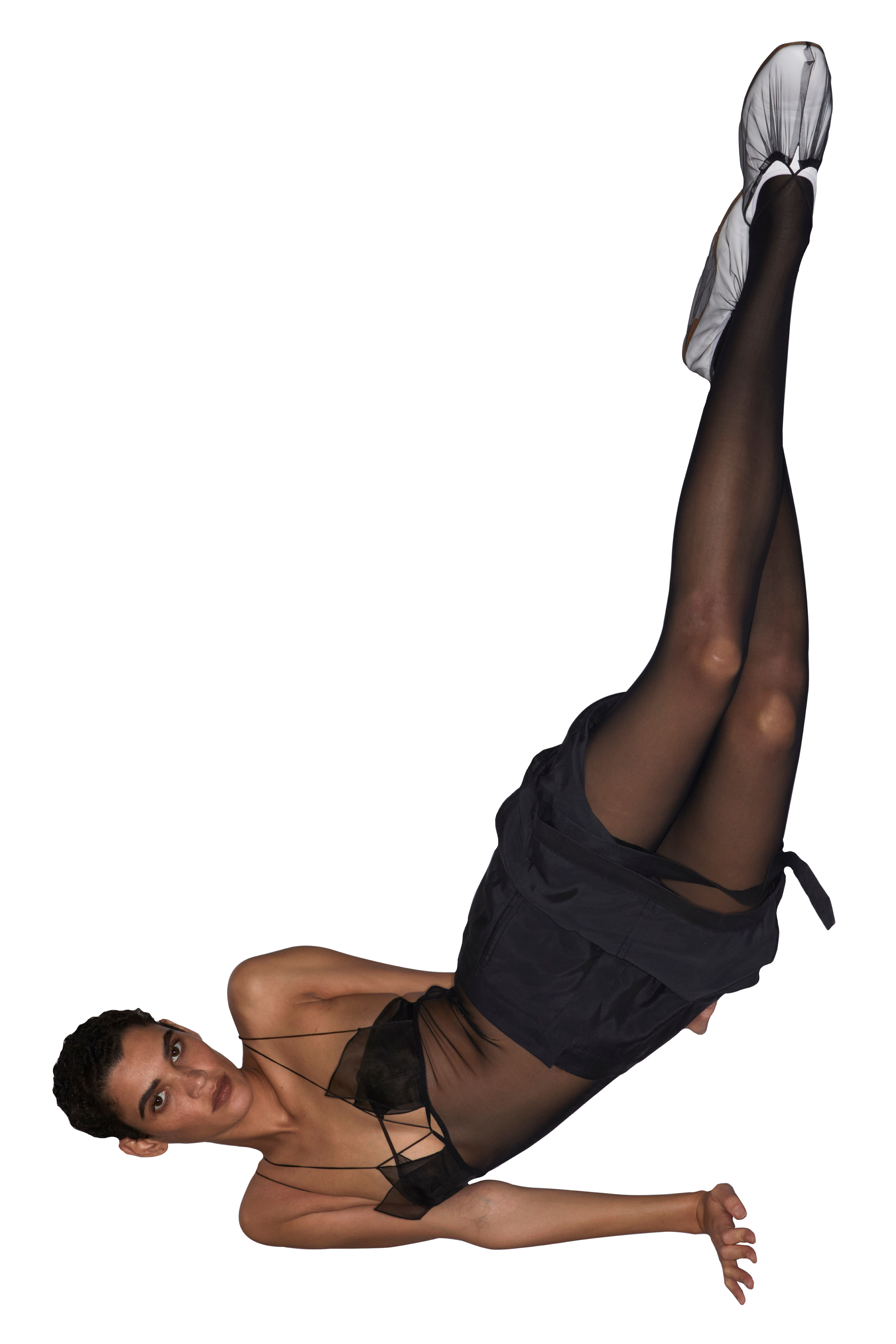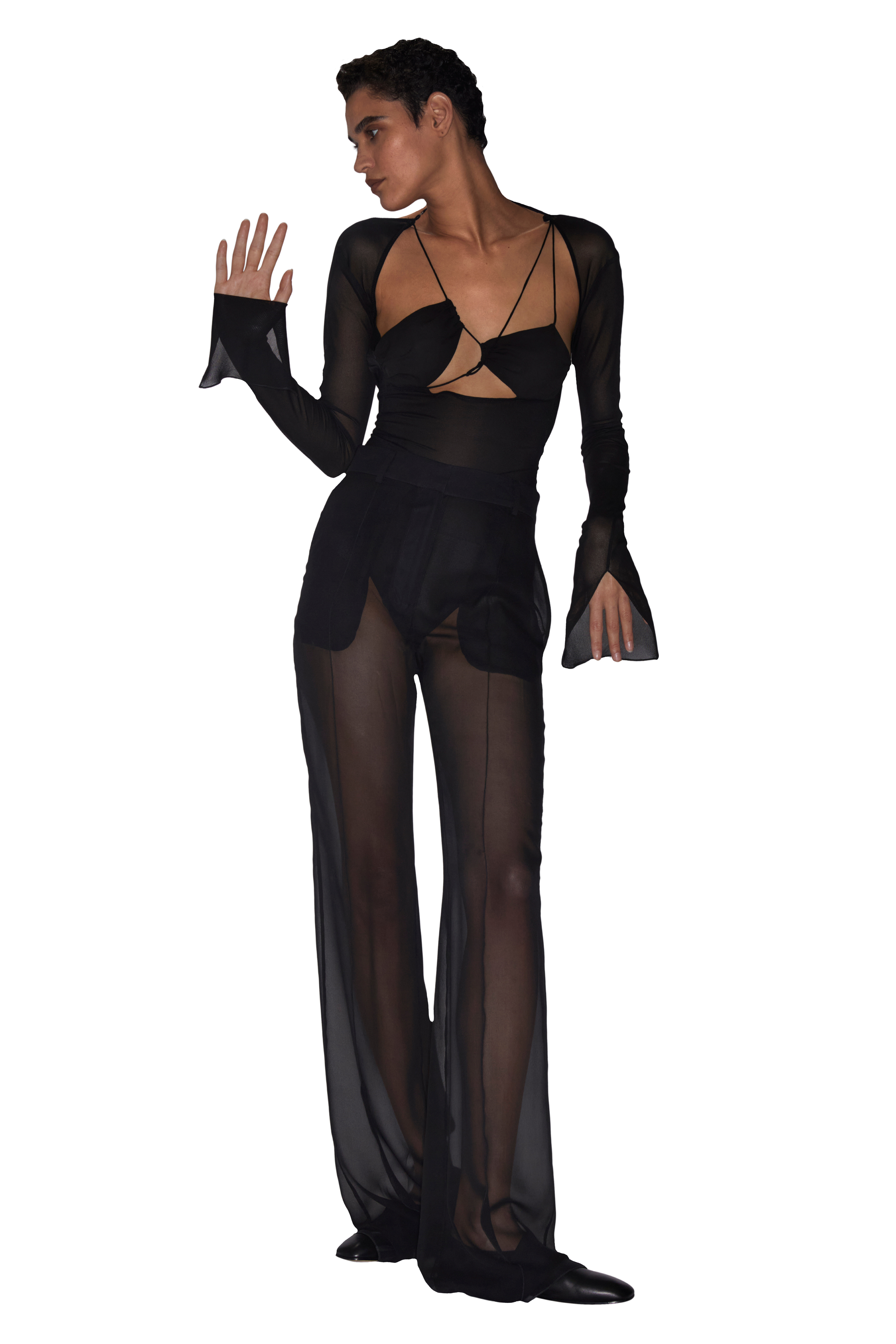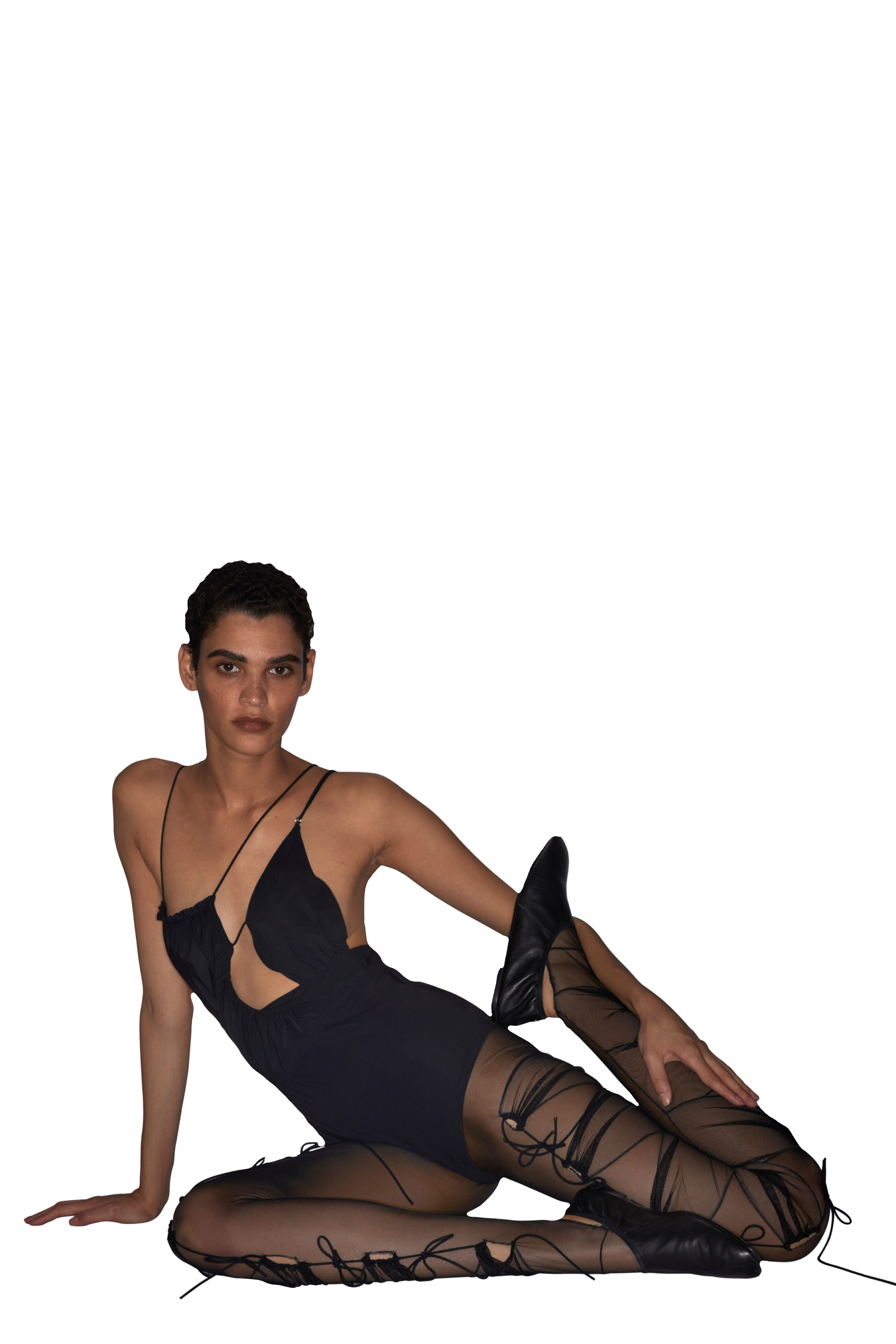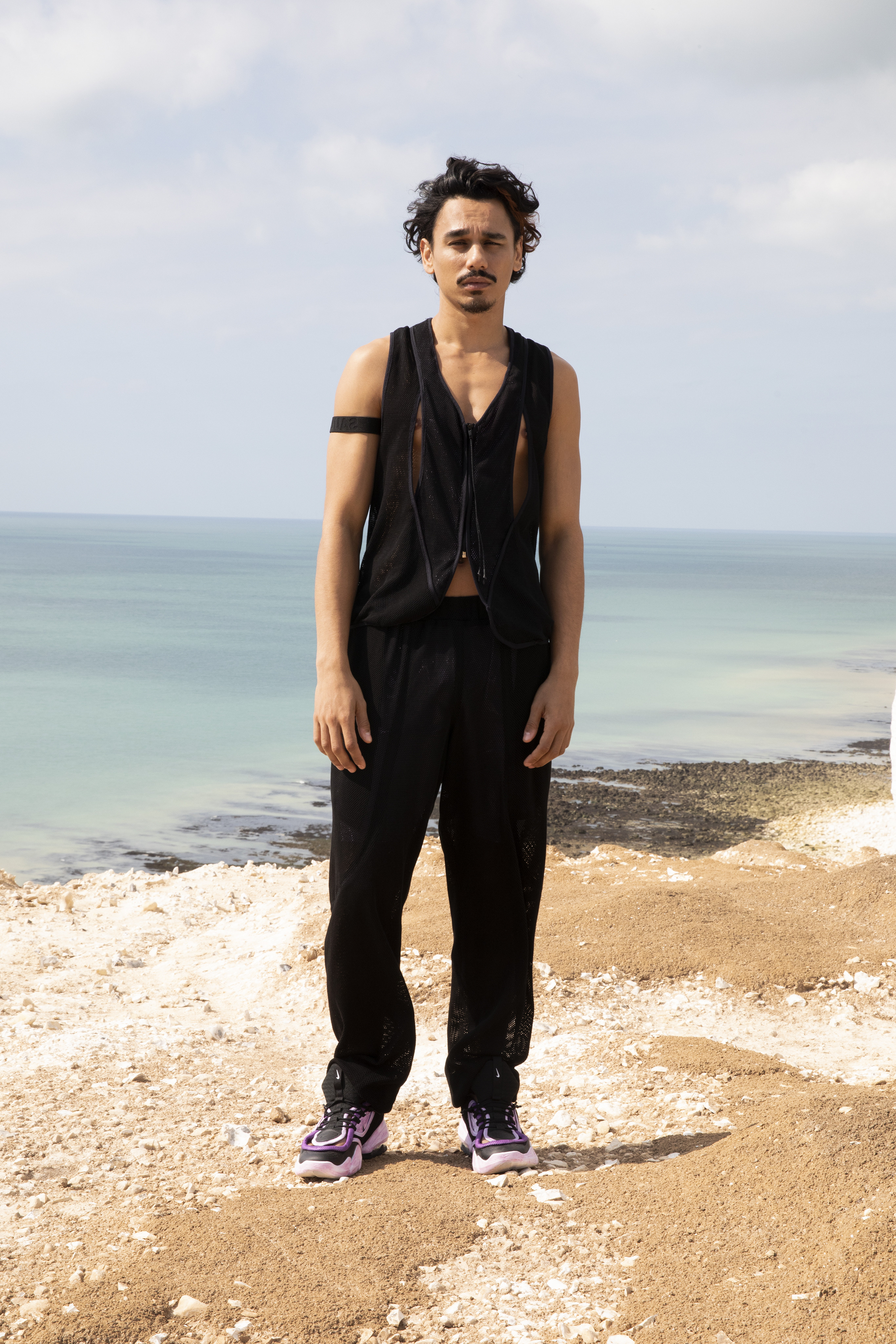 The veteran of the current crop, Saul Nash presents Flipside, his third Fashion East collection. Like his three co-recipients, dance and movement were front of mind for the designer, choreographer and dancer. Anyone familiar with Saul will hardly be surprised there -- choreographed movement has been his work's primary means of expression since his London Fashion Week debut for AW19. Here, however, there seems to be an even more enhanced sense of freedom and escapism. "Flipside is about transformation," he explains "It's a further investigation into self-liberation through movement," an exercise in "transformation to reveal our true selves." Themes of expansion and metamorphosis are built into the clothes -- track jackets have quick-release zips built into the seams, transforming into capes when pulled apart; mesh tees and sport shorts are fully reversible.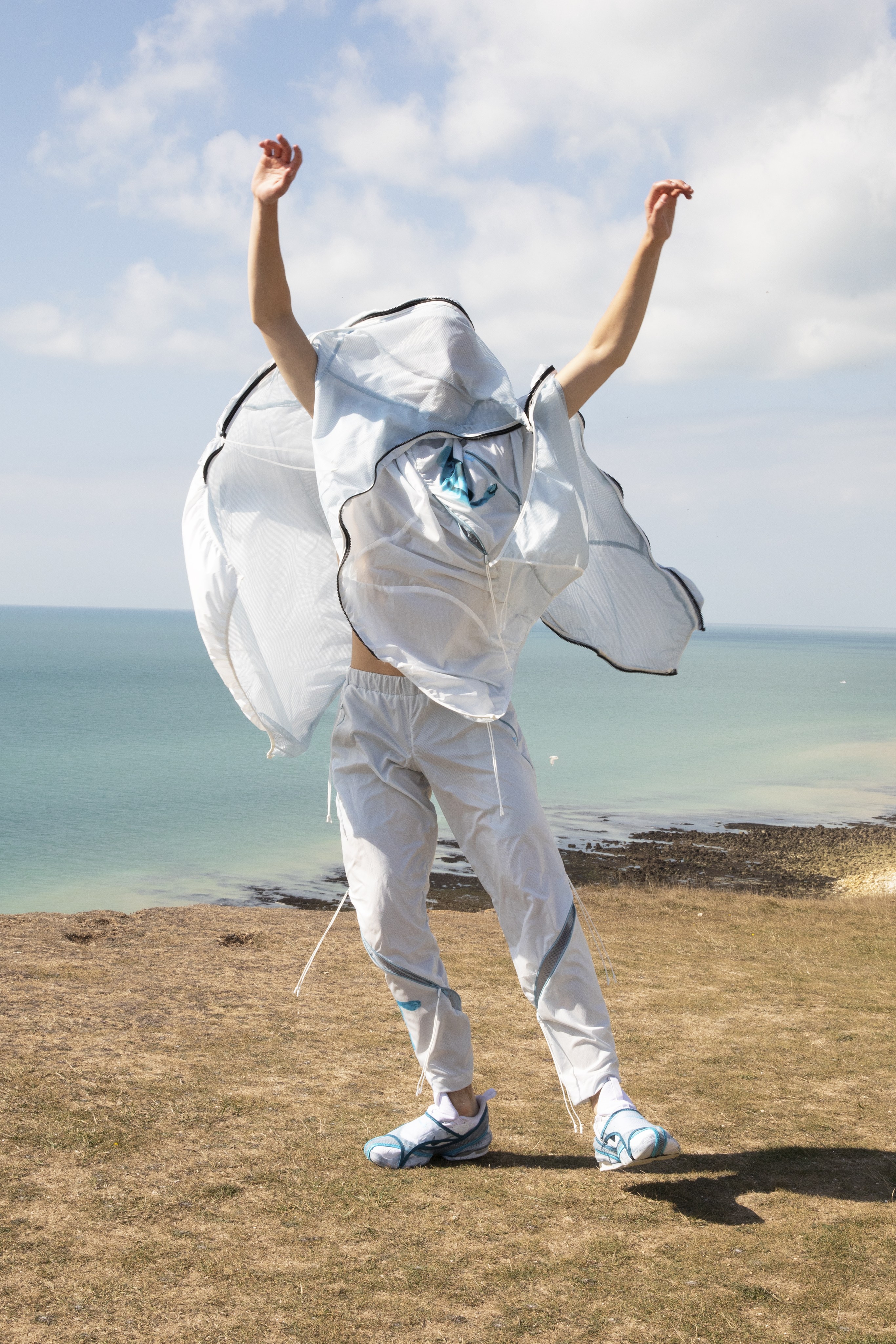 Inspired by the Sufi whirling dervishes, Saul and a group of friends who have previously performed in his shows took to tops of the chalk cliffs close to Eastbourne, where they dance, finding freedom in the wide-open space. Hues of lavender and sea green mirror those found in the landscape, while harsher "neons and slightly artificial tones echo the brand's origins in the city", says Saul. "The film really reflected what I have been feeling over the past few months, there are so many layers to it," he explains. "There is the idea of self-liberation and embracing the man that you want to be, and there's also the feeling of escapism in a time where we have been confined for so long."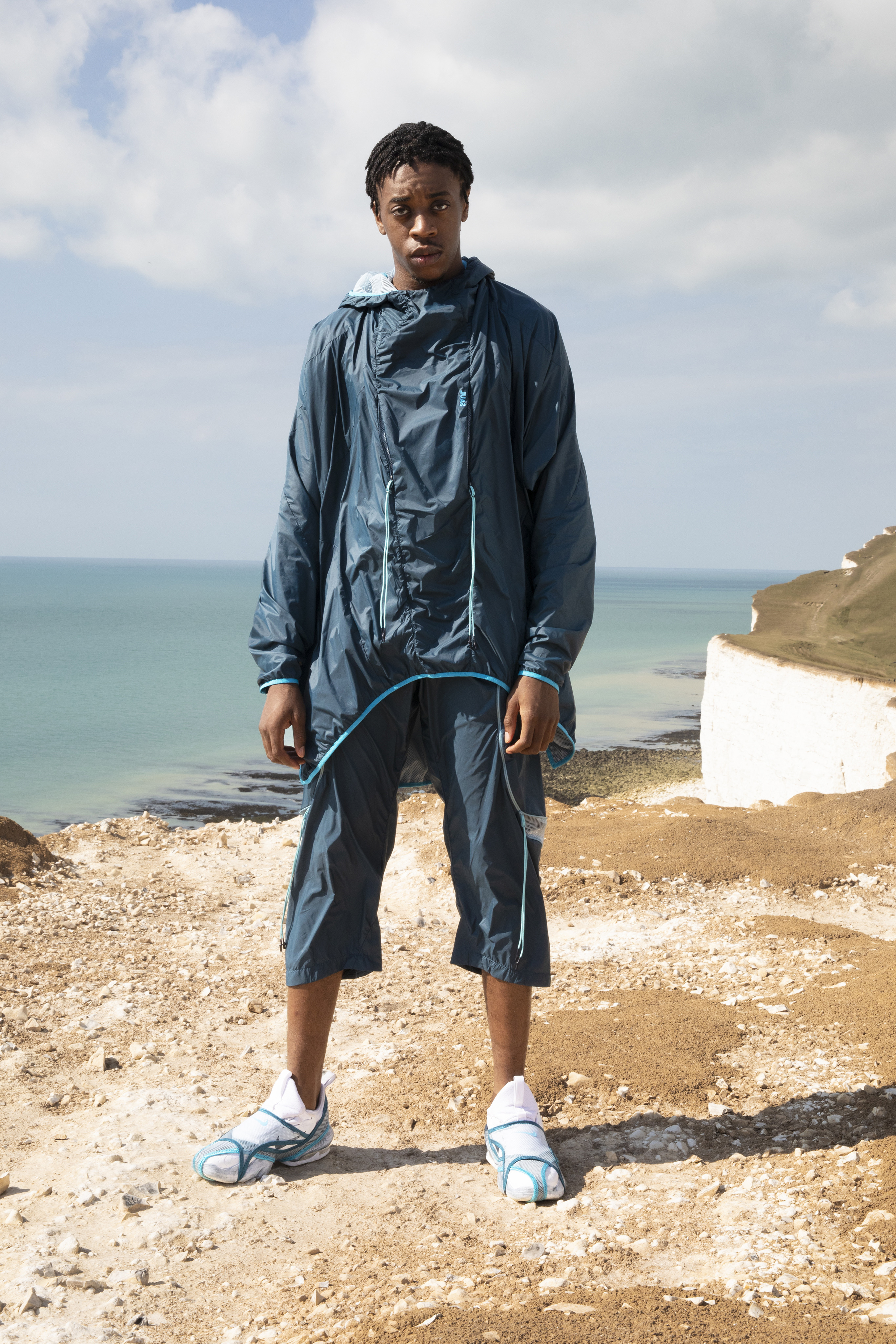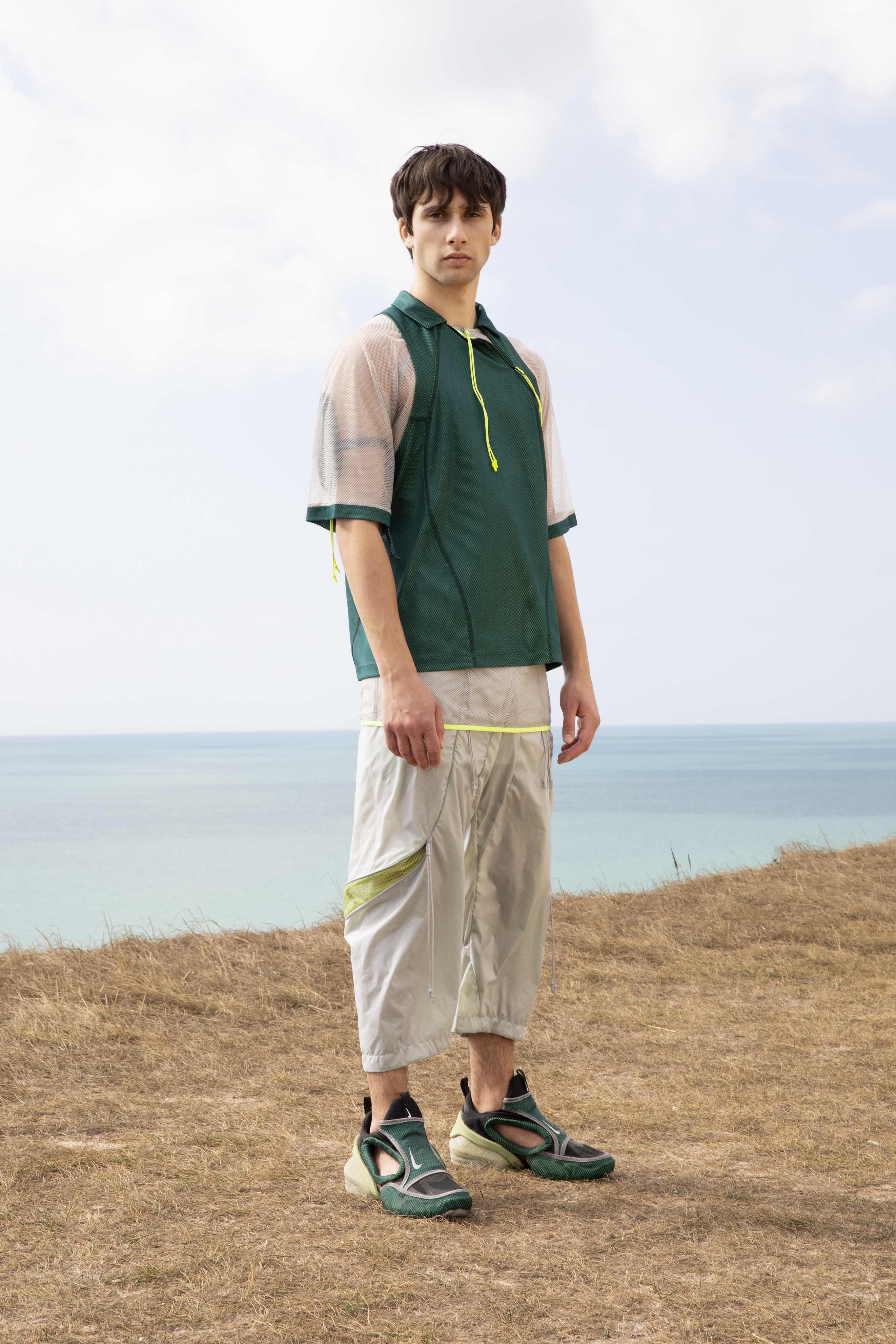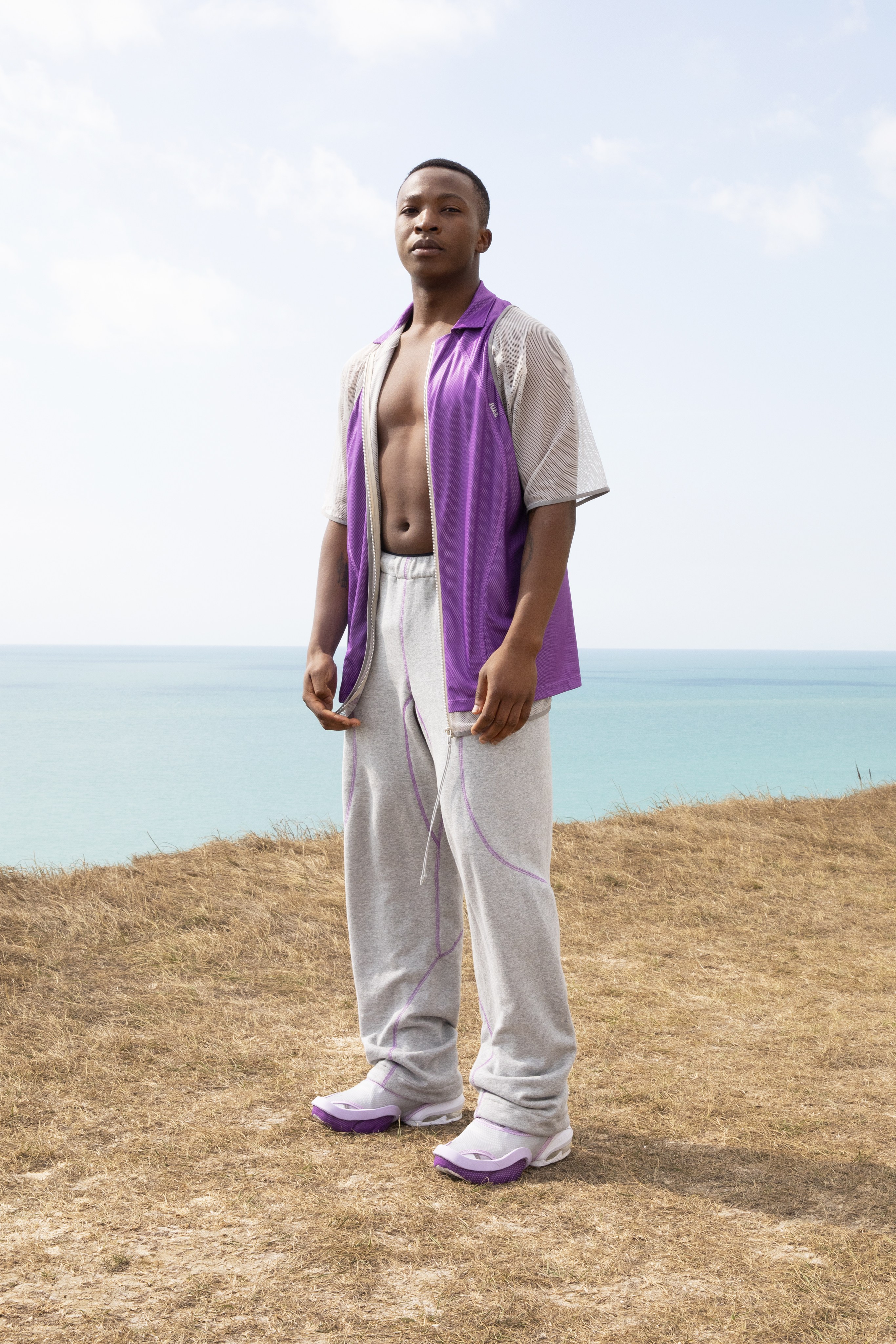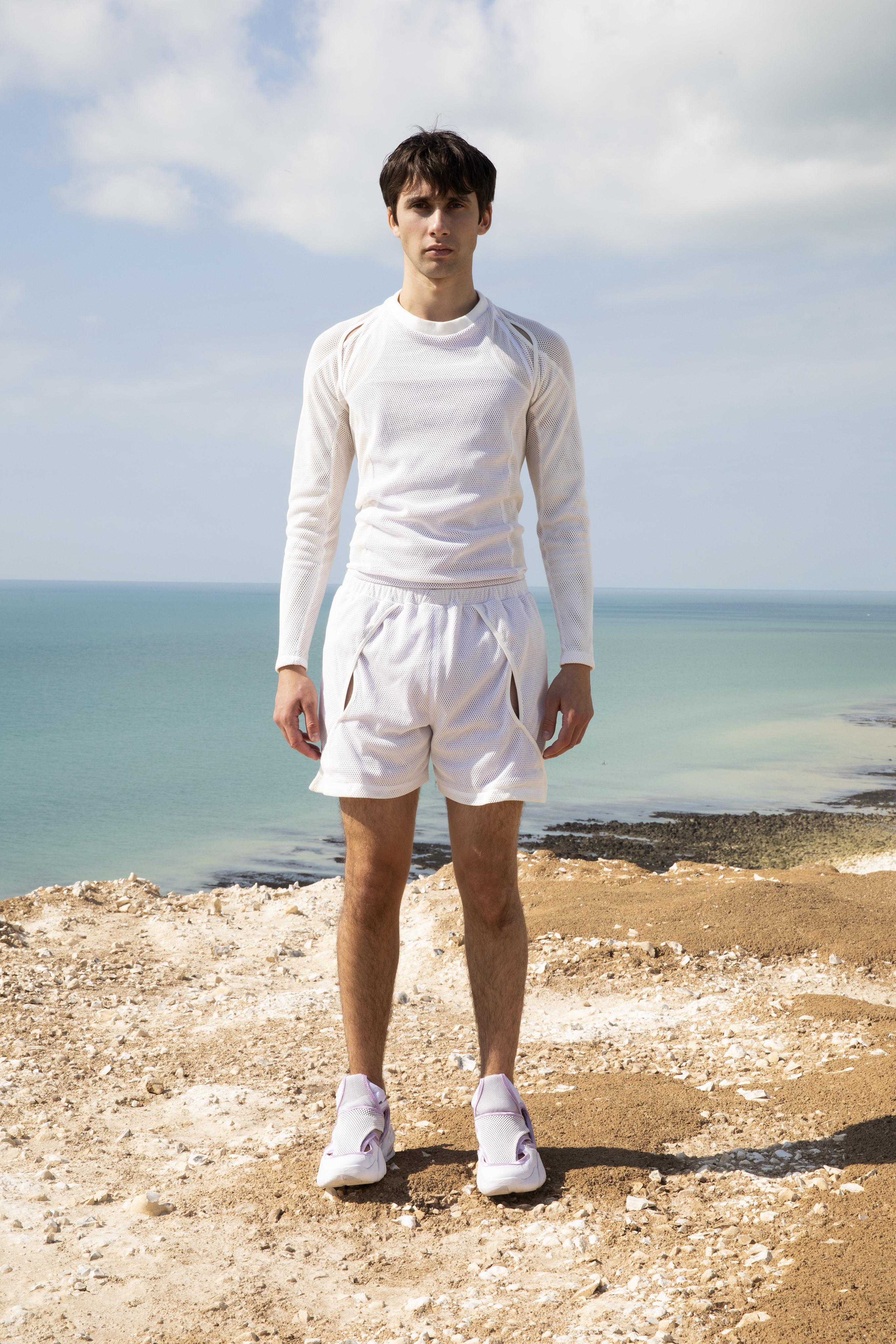 See the full film here:
Credits
---
Maximilian
Photography Rafael Pavarotti
Styling Ib Kamara
GOOMHEO
Photography Trinity Ellis
Styling Felix Paradza
Nensi Dojaka
Photography Harley Weir
Styling Fran Burns
Saul Nash
Photography Carly Scott
Creative Direction Saul Nash
Tagged: