Violette Villeneuve, Xiaowei Hua, Matia Kyengo, Caio Falocci Gomes de Oliveira
Meet the class of 2020 participating in the first ever online global design graduate show
ARTSTHREAD are giving students the opportunity to showcase their portfolios online this summer.
Violette Villeneuve, Xiaowei Hua, Matia Kyengo, Caio Falocci Gomes de Oliveira
i-D has teamed up with ARTSTHREAD to give students of the class of 2020, in any art or design undergraduate or postgrad program, a chance to showcase their work this summer, as part of the first ever online global graduate showcase. Now, we've got some of the first entries to share with you, with students from all over the world, from Kenya to Brazil. The competition is open to all creative disciples from visual communication, art and fashion to product design, photography and film.
You can still enter, and ARTSTHREAD will be accepting portfolios until the 31st of July. For more information on the competition details and how to make the best creative process portfolio please go to the competition page here for GDGS 2020.
Here are some of our picks - talking from their temporary workspaces in their homes -- meet Violette in London, Wooter in Breda, Matia in Nairobi, Stephanie in New Brunswick, Caio in São Paulo and Xiaowei in New York. They are the future, whether it be fashion, animation, or industrial design, on what seems like the cusp of a whole new era. As Violette notes, "We need to think about the bigger picture, why are we here, how can we fix it." Read their stories and see their work, below.
Violette Villeneuve, 24, BA Fashion Design Womenswear, Central Saint Martins, London

Has the pandemic changed your graduate project? If so, how?
It has definitely got a huge impact on my original plan. A part of my collection was constituted of screen-printed hemp fabric backpacks that I would have done in the CSM print room. Screen-printing is such a joy for me. But I had to move on from the idea of having a perfectly hand printed print. As we had to shoot a video for our first hand-in, I created a set and it has been one of the most creative time of the lockdown, as I have produce different paintings/prints with spray paint and cardboard to furnish the wall. Looking back at them I realized that they are so much stronger that any of the prints I originally planned for the collection. And I am so glad I made those new ones, I am so much more proud of those pieces of spray painted cardboard, than any of the prints I spent hours to develop back in the CSM studio.
What's it like working without your university's technical support? Have you had to innovate left to your own devices?
As I said earlier, it has definitely been a challenge, as final year, we can finally reach this "professional look of excellence" by using any facilities in the school (not allowed in 1st year, and party allowed in 2nd to give space to final year) so, we came back from the summer in a mindset where we could use and achieve anything, finally. But with this lockdown, it was like going back to foundation again: DYI system. First frustrating, and then it became fun because at the end of the day it is better to laugh about it: casting my boyfriend legs with tape, fill them with fabric scraps to create a leg mannequin to drape on, struggling fixing some patterns and hope for the best (it worked!), cutting stencil for prints and spray paintings as great as I could (big fail on cotton fiber).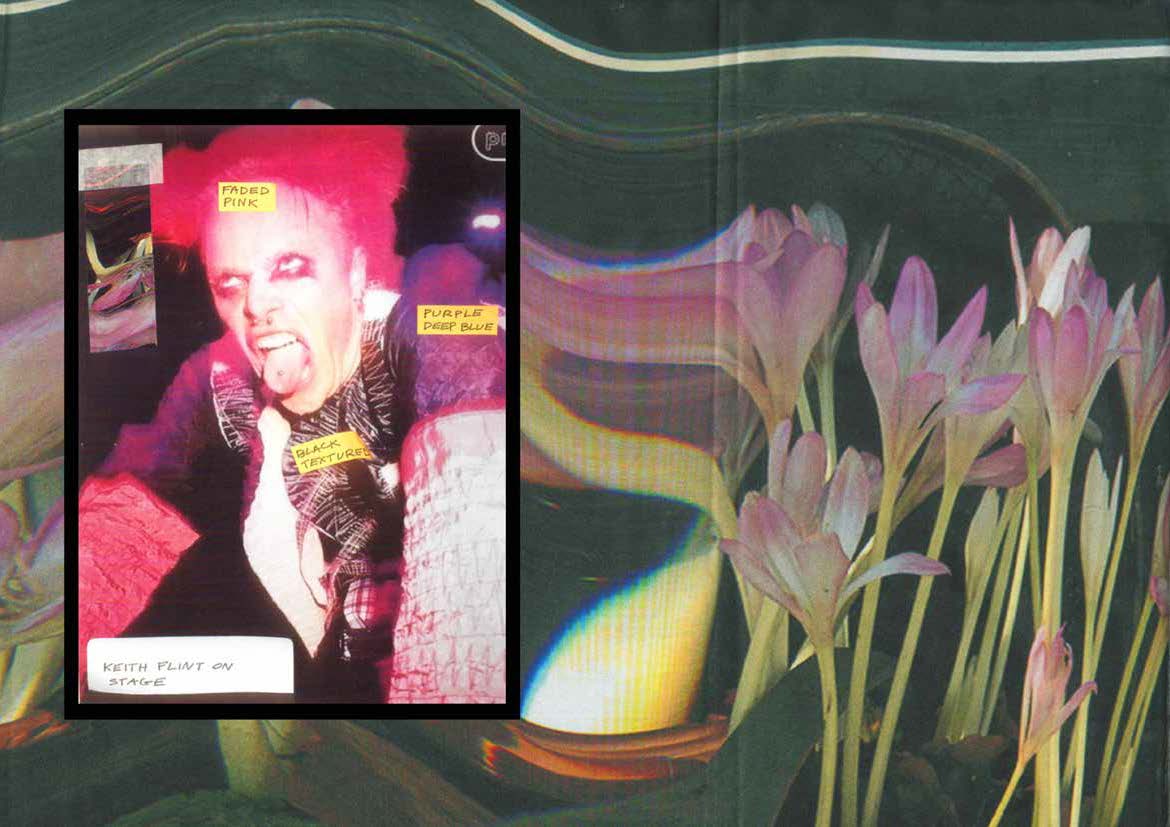 What are your hopes for the future?
With this collection, my hope was always that fashion slows down drastically. I only used waste and existing materials.
I've wrote my essay on how the principles of the Readymades by Marcel Duchamp can be applied on an ethical consumerism in Fashion: a study of fast and high fashion though the process of upcycling (and the use of sustainable materials).
In 2019, "the global textiles and clothing industry was responsible for the consumption of "79 billion cubic metres of water, 1 715 million tons of CO2 emissions and 92 million tons of waste" (Global Fashion Agenda, Boston Consulting Group, Sustainable Apparel Coalition, 2019).
Therefore, I hope we can rely on the resources we already have, and cherish them like we cherish our personal memories. We are evolving into a self-centred society. We need to think about the bigger picture, why are we here, how can we fix it. The fashion industry needs to do a psychoanalysis.
Behave and be aware!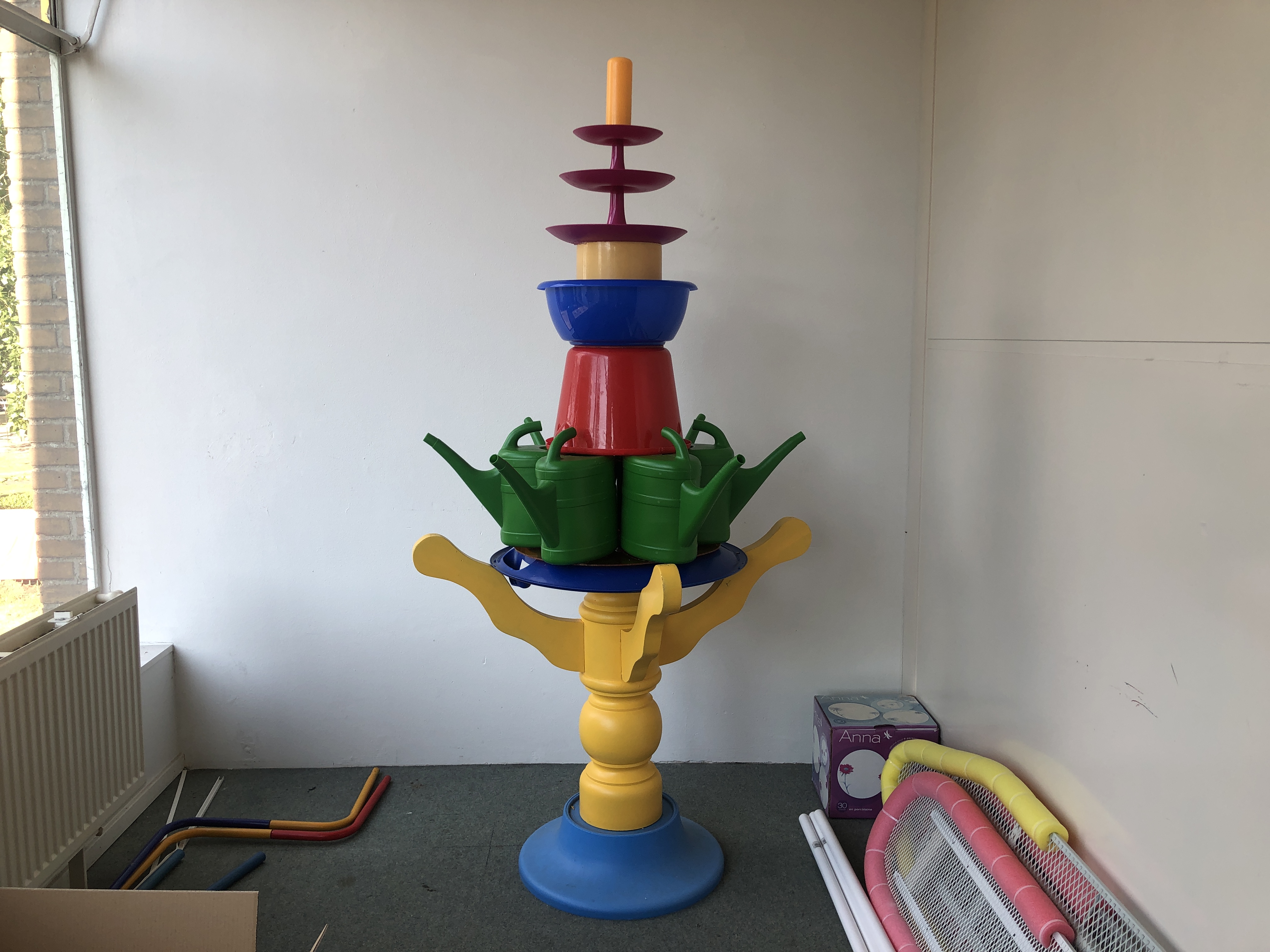 Wouter van der Giessen, 24, BA Fine Art, Academy of Art and Design St. Joost, Netherlands
Where are you? Describe your work space.
I live and work in an old school building. In the building I have got a whole classroom and for this project I used the old director's office next door to work on some bigger pieces. When the weather allows it I mostly go outside and work in the schoolyard. At the start of this COVID-19 pandemic I was so happy with having this amount of space to work. The work I make are mostly sculptures with big proportions, so I really need a lot of space to create new work. The sculptures are made with colorful object which I find on the streets and in thrift shops. I'm quite a good hoarder I must say. Because of that my working place mostly looks like a playground.
What do you wish someone had told you at the start of your graduate project?
Nothing actually. It's nice to be surprised and give room to the unexpected. To be sure, the surprise of the pandemic in general isn't good at all! I hope they will find a vaccine soon and this will all be over. But for my graduation project it changed a lot in a good way. Because I had to make quick changes to my project to even finish it in time, I think it brought me to the core of my practice. My work just needs to be visible and connectable for as many people as possible. Everybody is looking from a different perspective and that's something we forget sometimes.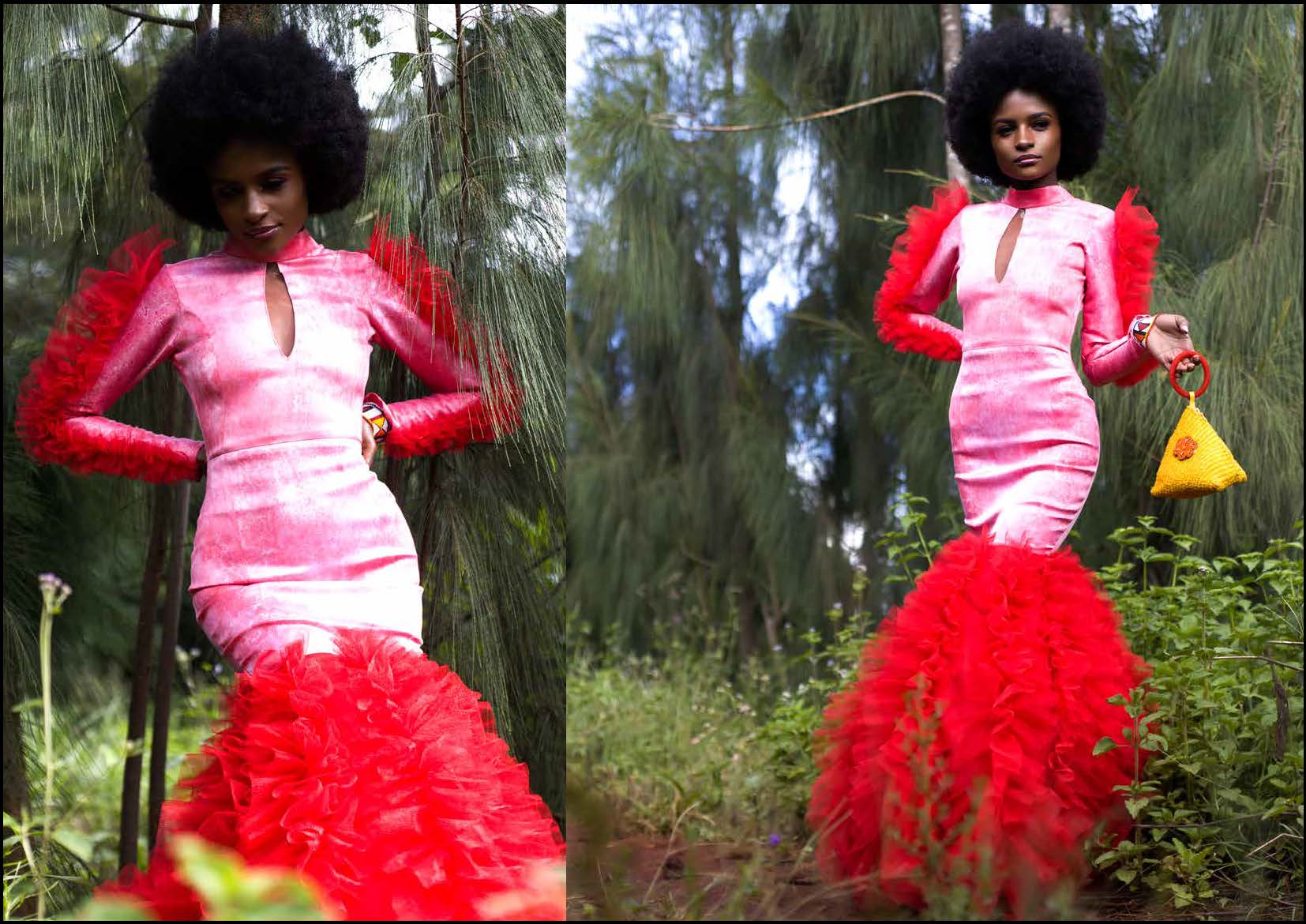 Matia Kyengo, 30, BA Fashion Design, The University of Nairobi, Kenya
Where are you? Describe your work space.
I am based in Nairobi, Kenya. I work from my son's bedroom. It is a small room with his bed on one side and two of my sewing machines on the opposite side of his bed. I work with one industrial jack machine and a four thread overlock jack machine. I have a steam iron, I press my clothes on the floor with a piece of cloth over the floor. I have one dress form and a plastic mannequin. My sewing threads are tucked away in a plastic basket. Extra fabric is stored in rolls or folded and stored in bags piled on top of each other in the same room. I draft patterns from my dining table in the living area, cut my fabric from the same table or sometimes from the floor if the fabric is too long or too wide to fit on the dining table. Complete collections are hung on one corner of the room or folded and stored in one of the boxes.
What is the name, theme, concept and final outcome of your graduate project?
The name of my collection is NDUNYU RESORT COLLECTION 2020.
The theme of this collection is LESS IS A BORE. A celebration of the loud unapologetic over the top sense of African fashion.
The concept is based on the open-air market concept in Kenya and across Africa. The open-air market is as old as barter trade is in Africa. Not much credit is given to the structure, order and so much beauty of this continent before colonialism. As a designer I pick stories with my collections to tell the African story on my terms. There is a saying 'Unless the lion tells it's story the hunter will tell it in his favour'. Stories of the market place were told to me by late grand-mother Anna Mbenge Muithi who was a trader herself at the markets across Kenya.
Right from the name NDUNYU this is an Akamba word (Akamba is one of the 42 tribes in Kenya) meaning market. The colour scheme of red, yellow, orange, purple and green is a representation of the farm produce that is the biggest commodity of trade at the markets. The A silhouette a common cone/pyramid shape used to arrange produce at the market, I used the cone shape on skirts, sleeves, tops, pants and accessories. Layering of fabric to mimic the leafy vegetables sold in bundles and the bundles arranged in layers.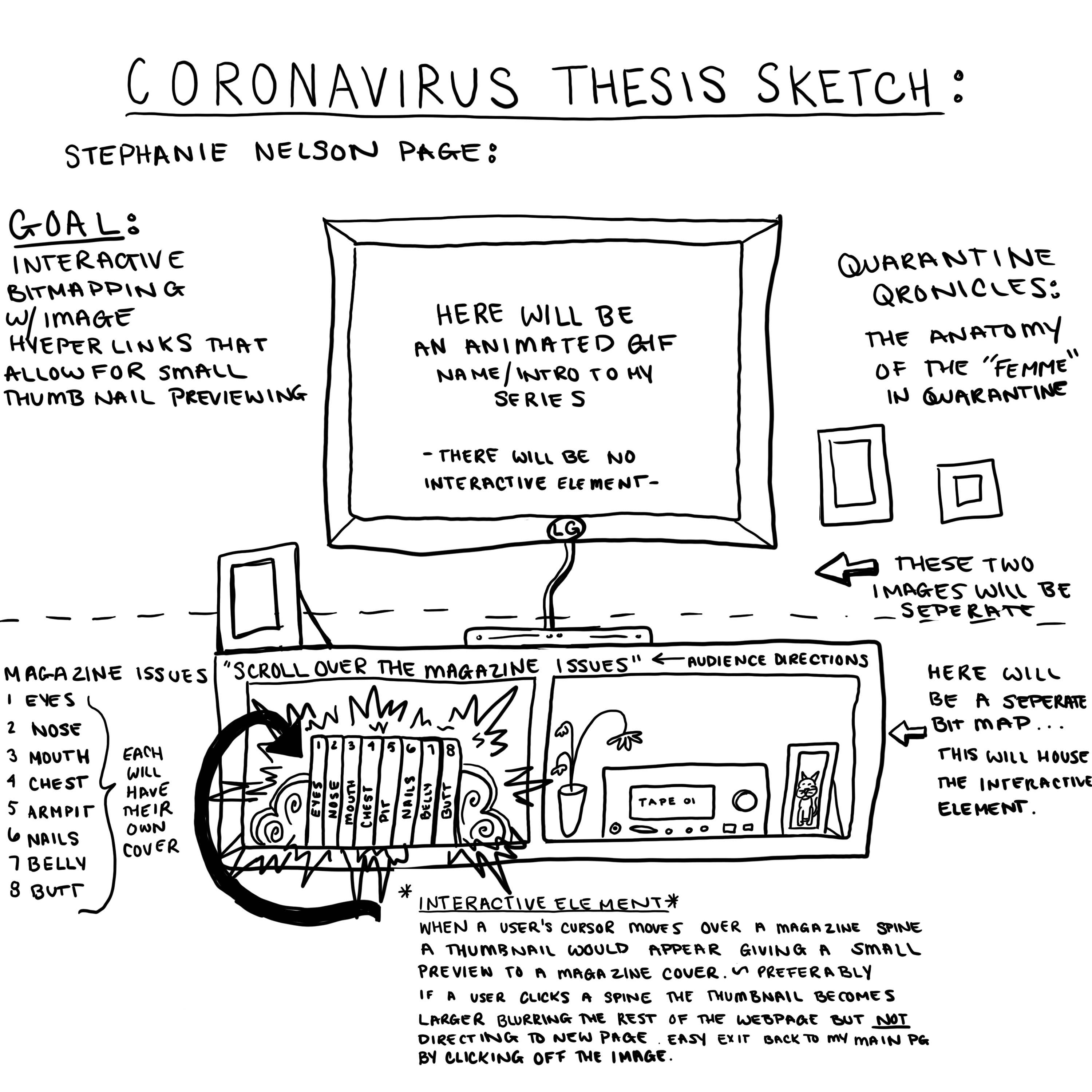 Stephanie Nelson, 24, BFA Visual Arts Media, Mason Gross School of the Arts at Rutgers University, USA
What is the name, theme, concept, and final outcome of your graduate project?
The name of my final thesis project at Mason Gross is entitled The Insider. The Insider is a response to the pandemic by means of comical illustrations of feminine hygiene and beauty standards during life in quarantine. The six illustrations part of the series is presented in the form of an eye-catching magazine cover with outlandish and humorous subheadlines. Each cover is focused on different portions of the femme body, and the renunciation of personal maintenance during the times of COVID. All of the illustrations were based on either personal experiences or those of my friends who shared with me their hygienic diversions.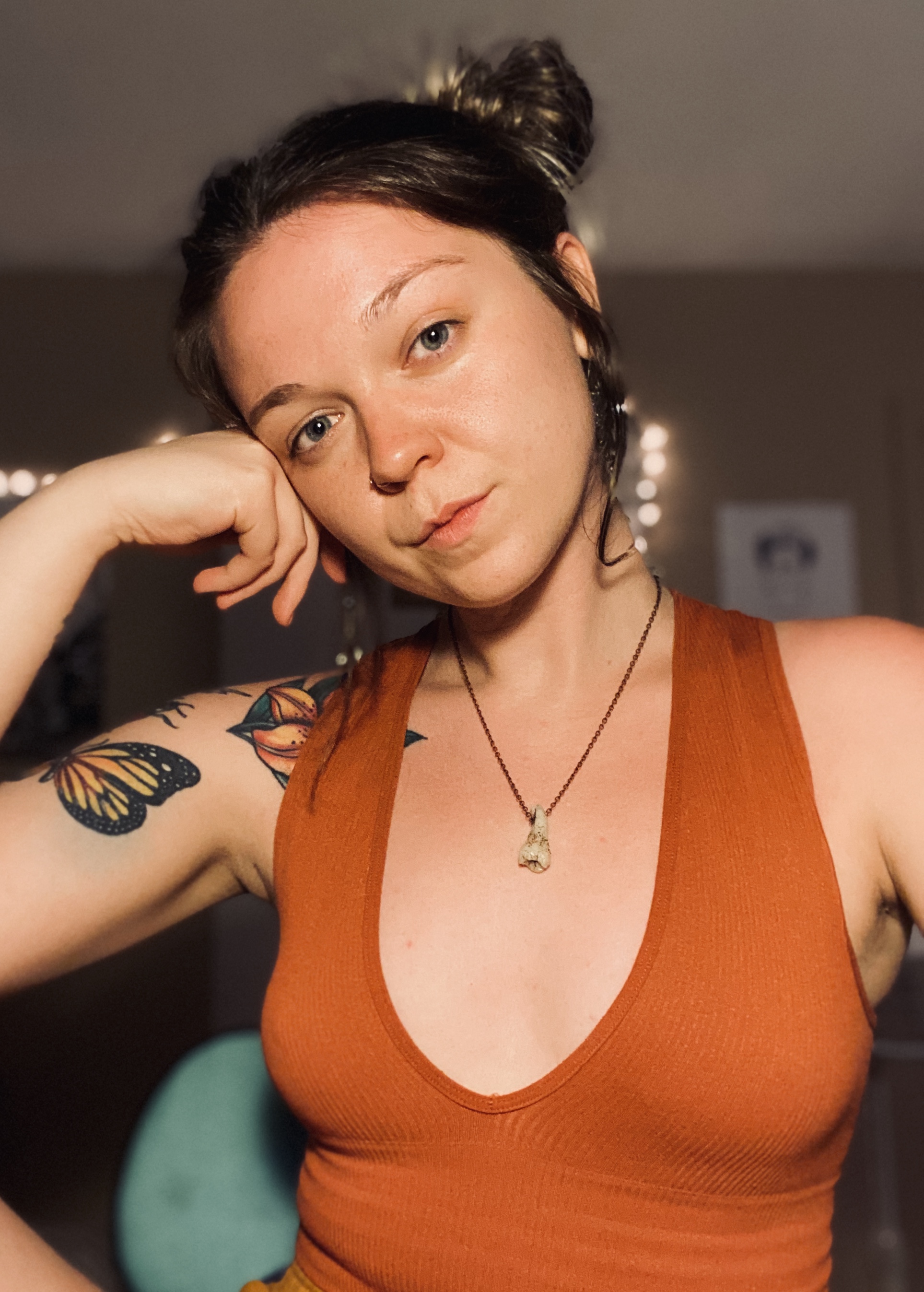 What's one thing that has helped you get through the past few months?
Animal Crossing. And weed.
What are your hopes for the future?
In the future, I'd like to work with a production house as a creative lead on storytelling/writing and production needs. Something that has always been of interest is to work with comedic producers generating TV shows geared toward adult comedy, specifically animation. Adult animation like Bob's Burgers, Rick and Morty, and Tuca and Birdie hold a special place in my heart. The banter between these characters is extremely candid and never ceases to make me laugh. What really draws me to adult animation is the unique platform they're given to discuss topics/issues all while the creativity being endless. I'm working on writing and sketching my own animated short series that I hope to one day produce and air.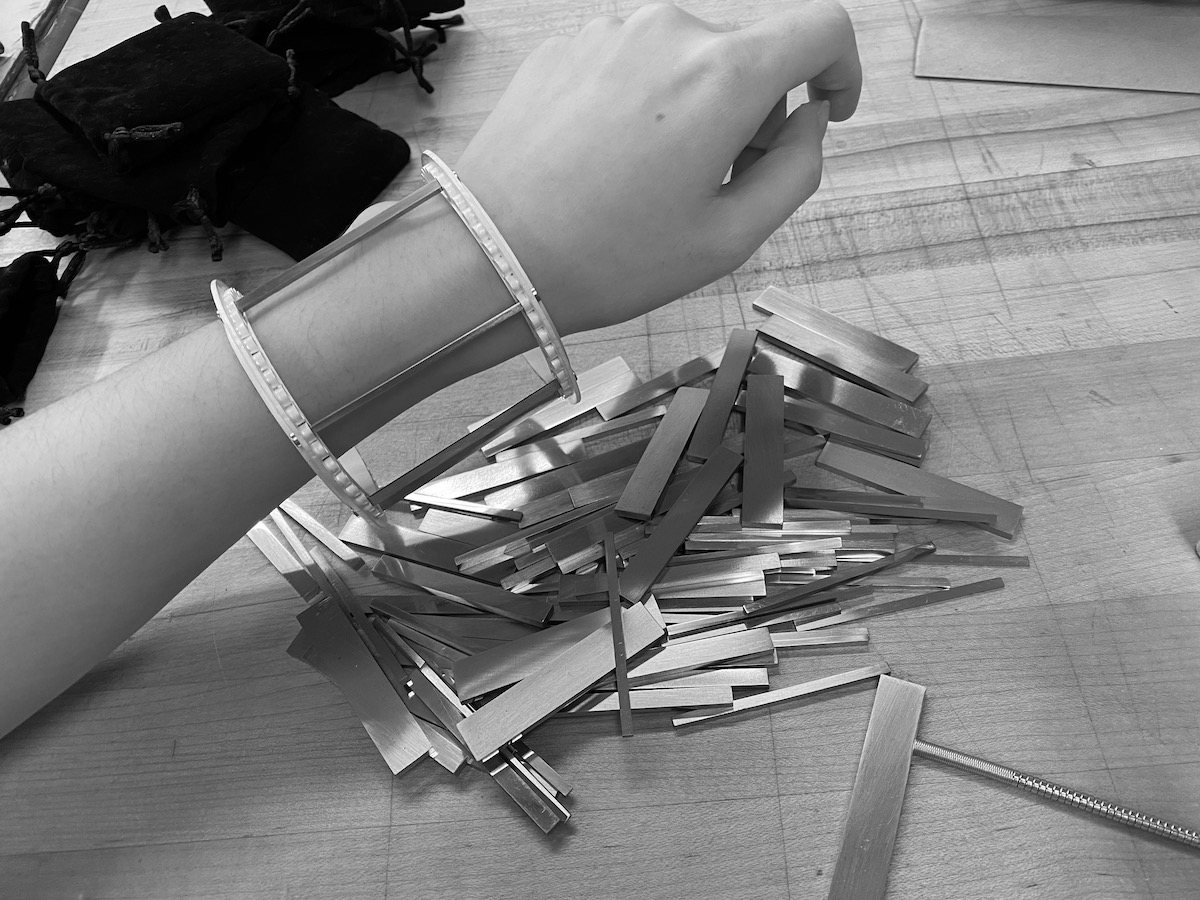 Xiaowei Hua, 23, BFA Jewelry, Pratt Institute, USA
Where are you? Describe your work space.
I studied at Pratt Institute, we had a main studio for all jewelry students and another separate studio for senior students. Both main and senior studio have enough space, sufficient and comprehensive equipment and tools for us to work on. Studios possess over 15 benches for each student, soldering stations, enamelling kilns, powder coating machine, electric welder and so on. After graduation, I returned to Nanjing, China to open my own studio. My current work space is still being prepared and will be completed by the end of June.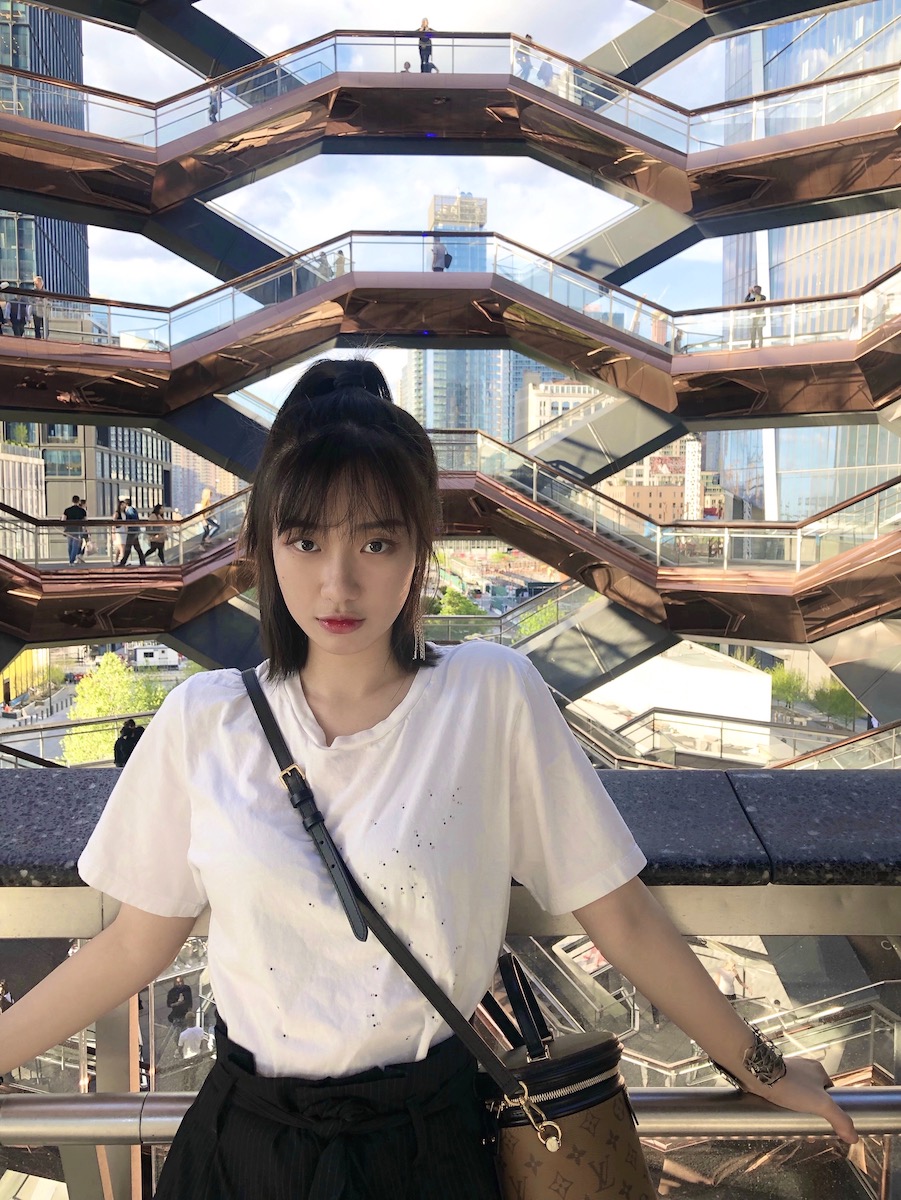 What is the name, theme, concept and final outcome of your graduate project?
WHOOSIS is the name of my senior thesis collection. WHOOSIS is defined as an object or a person whose name is not known or cannot be recalled. This collection comments on how social expectations and peer pressure can force us into unnecessary self-evaluation. Each jewelry piece reflects one phenomenon in current society. My works are expanding from my personal aspect to a general and broader perspective. I am seeking to explore the relationship between wearers and artist by creating jewelry that interacts with wearers. This collection is for people to criticize society and think about their personal values.
What are your hopes for the future?
I wish my own studio can be built as quickly as possible so that I can continue to make jewelry in China. I also hope the pandemic will end soon globally; therefore it allows not only me but also other people to travel around the world (no matter what their purpose is). If this could happen, I would be able to go back to New York to participate the New York City Jewelry Week and some other events.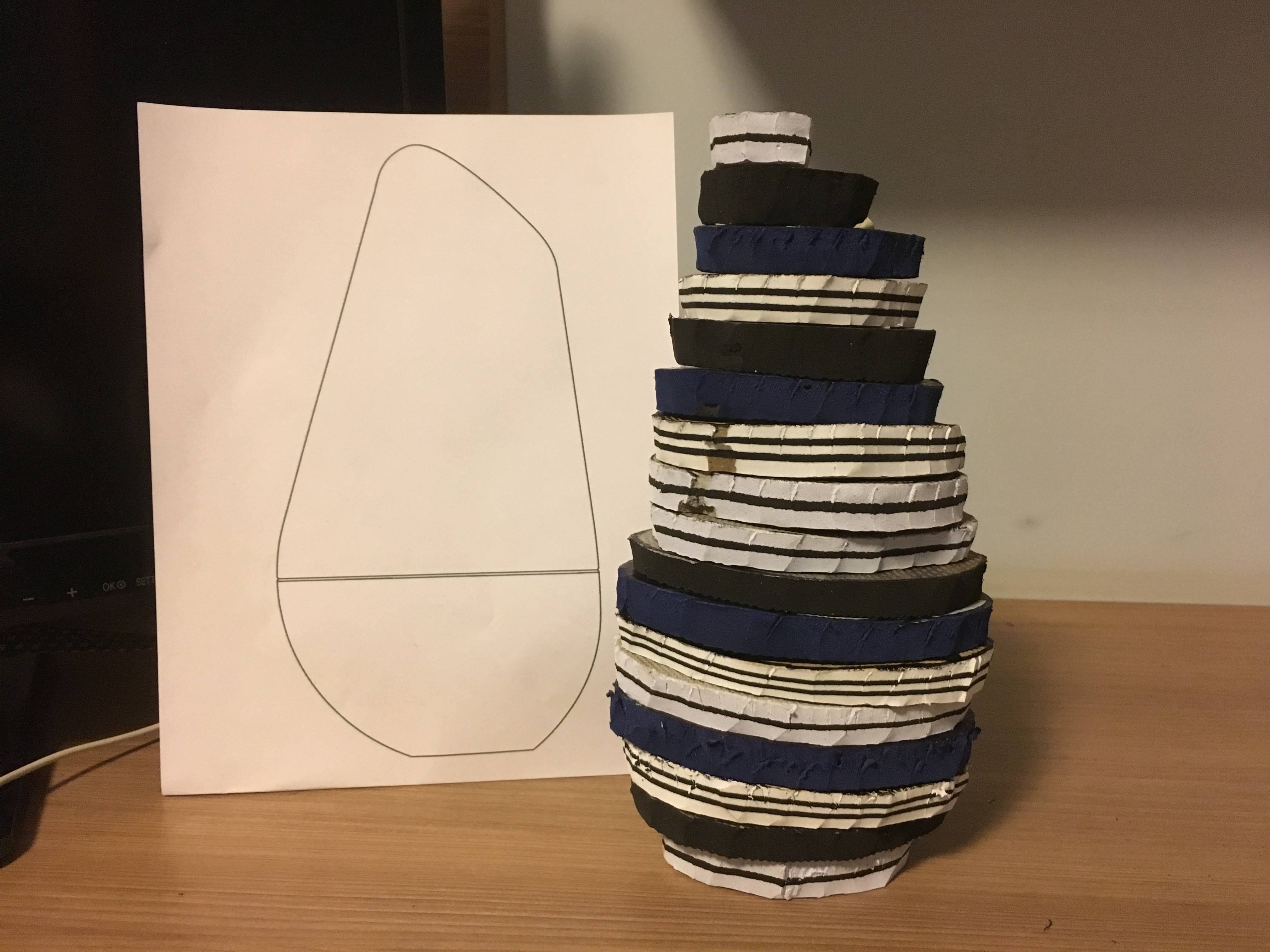 Caio Falocci Gomes de Oliveira, 24, BA Product & Service Design, IED – São Paulo
What is the name, theme, concept and final outcome of your graduate project?
The name of my graduate project is Gaia, named after the Greek goddess and mother nature. The concept of this project is to minimize the symptoms of generalised anxiety in millennials, using non-traditional therapy techniques such as chromotherapy, aromatherapy, sound therapy and yoga. The final outcome was a product service system, which contain an app, a vital signs tracker and a device. The device has a essential oil diffuser, led stripes and a speaker, its purpose is to create a calming and comforting environment inside the user's home using the non-traditional therapy techniques the I mentioned earlier, it can also give meditation and yoga instructions. The app is the way you control the system, and it can also offer you some exercises and comforting sounds on the go. Lastly, the tracker can identify through the user's vital signs when they are having an anxiety attack and suggest some exercises or comforting sounds through the app to help minimize the problem on the spot, it also tracks how you feel throughout the day in order to create a better fitting environment at home with the device.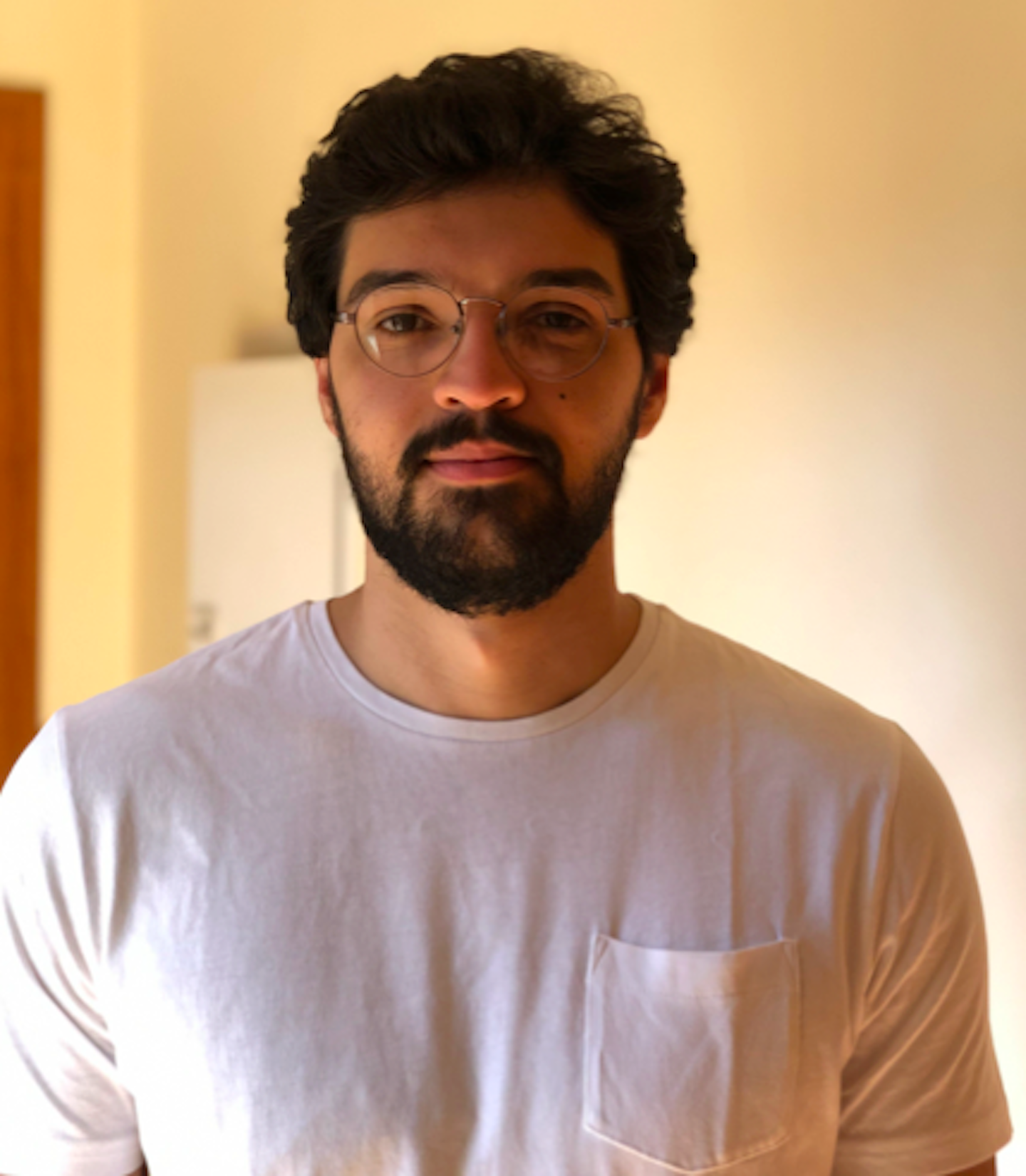 Have you had to produce less work? Has this been a positive or a negative?
Yes, I had to produce less work, I'd say it was negative, I should have finished my graduate project around late May, but I was unable to keep working on it as I mentioned in the previous questions. It's a bit frustrating because it is missing just a few steps to finish it.
What are your hopes for the future?
I hope we as society can learn as much as we can from this situation we are living in right now, and come out of it more emphatic, rethink our consumerism and actually start working as one to make life better for everyone.