The trailer for Robert Pattinson's new movie just dropped
Nope, not 'Batman' -- Christopher Nolan's time-bending 'Tenet' is set to be the first post-Corona blockbuster.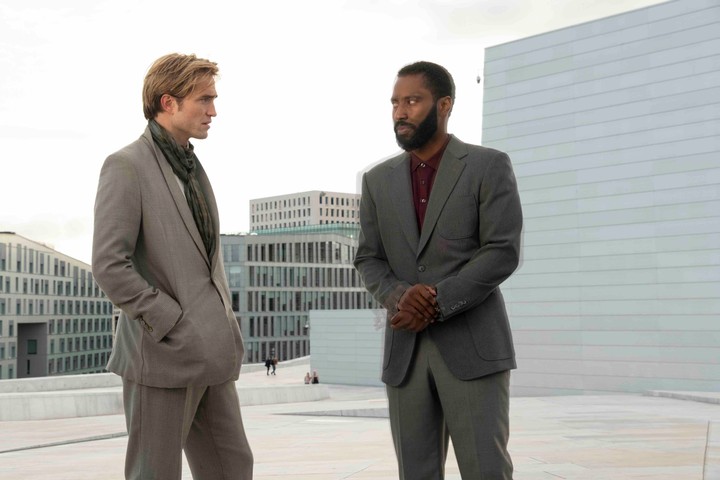 We are all missing that communal, magical experience of sitting back in a theatre and sinking into a new film. Sure, we have Netflix and Amazon Prime and MUBI and Disney+ and all that to tide us over in the meantime, but there's something about enjoying art on the biggest screen possible that's totally unparalleled. Particularly when you're talking about a movie made by Christopher Nolan.
Known best for Inception, the Dark Knight trilogy, and for being the man that brought Harry Styles to the big screen in the war epic Dunkirk, Nolan has always been a huge supporter of the cinematic experience; the majority of his films have premiered on IMAX screens and, more recently, in strikingly realistic 70mm.
This is true of his next feature, the mysterious and hotly anticipated Tenet, starring Robert Pattinson, John David Washington and Elizabeth Debicki (queen tbh). The big budget feature has been kept under literal lock and key since production began. Its stars had to read the script in a locked room, with some of the supporting cast only being handed their pages of the script to read right before shooting. Even the plot-line, released by the film's studio Warner Bros, is vague: "Armed with only one word -- Tenet -- and fighting for the survival of the entire world, the protagonist journeys through a twilight world of international espionage on a mission that will unfold in something beyond real time." Watching the trailer unveils little in the way of plot points, purely offering a little insight into the sheer spectacle of what Christopher Nolan has created.
It's no surprise that, despite cinemas being closed for the foreseeable future, Nolan is refusing to budge to the idea of a digital-only release. The tentpole film for Warner Bros spells big bucks at the box office, and Nolan's movies are experiences that demand the big screen. The film is currently scheduled to be released on 17 July, but apparently that date will only be stuck to if 80% of cinemas around the world have reopened. Otherwise, it might be pushed back until later in the year, which would mean we'd have to wait even longer to see R-Patz on screen. :(
In the meantime though, the trailer should satiate your taste buds for Nolan's megawatt sci-fi thriller. Click play, and prepare to be mind blown.