The tracklist for Lady Gaga's Chromatica has arrived
The collabs! Good god, the collabs!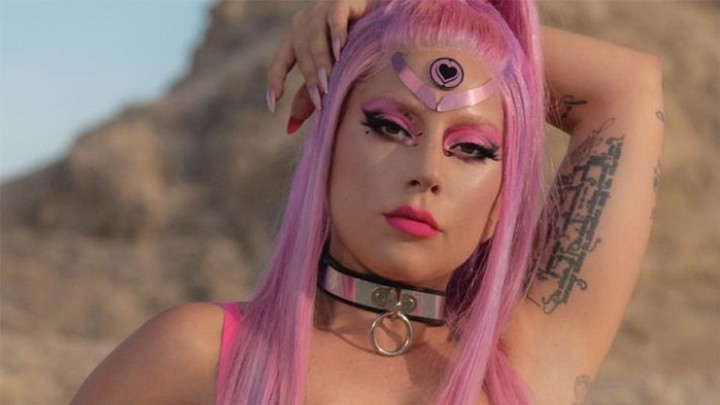 Now, while some popstars suffer as a result of having flimsy passwords for their Google Drive accounts, others just have to sit back and watch labels, retailers and overbearing, tech-friendly fans routinely let them down. When we caught wind of Lady Gaga returning at the top end of 2020, her stans got sniffing and uncovered the name of her comeback single, "Stupid Love", embedded in the source code of her official site. Then, shortly after, the song leaked in full.
Fast forward a few weeks, with the album title Chromatica formally announced, the record's iconic artwork was accidentally leaked after album pre-order bundles were uploaded to her site with the cover on show.
Now, it seems, both good and bad things come in threes: the much sought after tracklist for her record, which has been postponed in the wake of the spread of coronavirus, has been accidentally revealed. This time, Target was behind it.
Yep, America's eighth largest retailer accidentally uploaded the cover of their exclusive edition, with three additional bonus tracks, to their site. On it, a sticker with the full 16-song tracklist can be read, and it's packed with what sounds to us like super-charged bangers. (The page is here, but don't be surprised if it is suddenly deleted at a later date.)
Alongside "Stupid Love", which we already know slaps like hell, there are tracks like "Fun Tonight", "911", "Plastic Doll" and "Enigma" that sound like future hits in Gaga's catalogue. It's rumoured that she's worked with SOPHIE on this new record, and a lot of these titles certainly sound like the kind of things the queen of obscure, spectral electronica would lend her hand to.
The collaborations, though. Christ. The collaborations! Though Gaga has linked up with everybody from Beyoncé to Colby O'Donis (remember him?) in the past, Chromatica seems to feature two of her biggest link-ups yet. The track "Rain On Me" features none other than Ariana Grande, in what fans have framed as the album's second single. How they knew about this beforehand is beyond us, but alas, the stans were right as always. There's also a song called "Sour Candy" featuring K-Pop icons BLACKPINK that you can, quite frankly, pump into our veins in large doses right this second. Magic has been made when BLACKPINK have linked up with western stars in the past. "Kiss and Make Up", their Dua Lipa collab, is a sorely overlooked slice of mega pop music.
There's also a new song with Elton John, because this is Gaga, and nothing is ever straightforward.
Tagged: