15 iconic TV moments that defined the 2010s
Kim Kardashian losing her diamond earring in the ocean, Jesy Nelson's "Jamaican" accent and the most tense Come Dine With Me fight of all time... it's been a crazy ol' 10 years.
|
19 December 2019, 12:00pm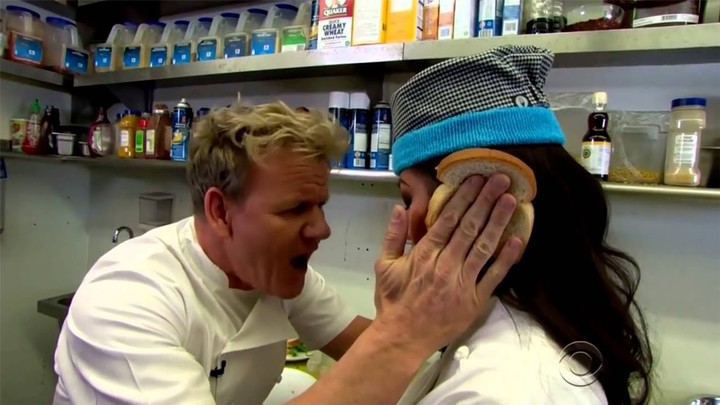 Long gone are the days of shaming people for watching trash TV -- and why should it be shameful, when it's given us some of our most iconic memes and moments of the past 10 years? In the last decade, nothing has become more high art than bad television. It's been political, it's been highly memeable and most importantly it's offered warm refuge from cruelties of our increasingly divided, dumpster fire of an outside world. Netflix became a verified household name and 14 more seasons of Keeping Up With the Kardashians were released (14!) – but which iconic TV moments defined this holy era?

1. When Kim lost her earring in Bora Bora - Kim Kardashian, Keeping Up With The Kardashians
Obviously, nothing is less relatable than one of the world's richest celebrities on earth losing a diamond earring worth $75,000 in the ocean, but Kim K's hysterical reaction resonated with the drama queens viewers worldwide.
2. "I didn't become a little bit of a slag, I became a total slag" - Kat Slater, EastEnders
Kat Slater has always been a soap icon in the UK. Her love affair with leopard print, red lipstick and overstated gold jewellery makes her a total hun. But Kat really became perhaps the most relatable woman on earth when she dropped the iconic line "I didn't become a little bit of a slag, I became a total slag." Not only did this phrase resonate with many, it has since become an actual meme.
3. "Enjoy the money Jane" - Peter Marsh, Come Dine With Me
This cooking show moment is so brutal, you'd be forgiven for thinking it's an ironic comedy sketch. But in a stranger than fiction twist, it's real! Here's what happened: our protagonist Peter Marsh couldn't deal with coming last in the competition, so he berated fellow contestant Jane for winning. The insults are deeply personal and you'll cringe with every fibre of your body. You can now even buy T-shirts with Peter's entire monologue on them. Amazing.
4. When Little Mix's Jesy Nelson said "Balegdah"
The context here was that Little Mix were trying to do different accents for a video interview and Jesy had to do "Jamaican." She came out with a weird noise that sounded like "balegdah" and the clip swiftly went viral. Turns out though, she was actually clearing her vocal cords and it's a thing all Little Mix members do. So that wasn't even her real Jamaican accent! But the balegdah truthers don't buy it.
5. When Harry and Meghan got married
Is it cringe? Yeah. Was it a complete waste of money? Um, yes. Do we stan the monarchy? Absolutely fucking not. But at the same time, can we deny that this was an iconic televised moment, viewed and livetweeted around the world? Nah. Will and Kate got married in 2011 which was nice and everything but I bet you cried more during Prince Harry and Meghan Markle's wedding. Remember when Bishop Bruce Curry quoted Martin Luther King Jr during his sermon? Remember when Harry mouthed "you look amazing" to Meghan and everyone lost the plot?
6. When the most iconic fight on Indian Big Brother erupted
Possibly one of the most dramatic fights in TV history happened on Bigg Boss (the Indian version of Big Brother) when the contestants argued over a plastic broom. "Do you want it? Because you're asking for it. You're DYING for it." Inject it into the veins please.
7. When Gordon Ramsay made an "idiot sandwich" using a human being
Gordon Ramsay is a known savage in the cooking world. So when he shoved a Hell's Kitchen contestant's head between two pieces of bread, no one even questioned it. (The moment was actually from a Late, Late Show with James Corden skit called "Hell's Cafeteria" -- but that didn't hinder its instant memeability).
8. "I was coming back here, to tell you, I loved you" - Amy Hart, Love Island
Love Island has become a global phenomenon -- with several international and seasonal spin-offs, no less -- but nothing matches the moment UK contestant Amy realised the boring guy she was staying loyal to had developed feelings for someone else he barely even knew. This is the moment Amy stood up for herself and every other girl who had been wronged by someone as bland as Curtis.
9. When Bing Bong girl forever upstaged Big Ben's bells
Last week, if anything, confirmed that Britain is a bizarre place. But perhaps it always has been. Remember this moment? In a very peculiar moment of British news, a little girl was invited on breakfast show This Morning to replace the sound of Big Ben when the four year renovation started. What's amazing is how painfully out of tune she is too! Proof you can do anything if you want it hard enough.
10. When Tiffany Pollard thought the wrong David was dead
David Bowie's death was a dark day for music. Perhaps the only light to come out of the sad situation was this wonderful moment from Celebrity Big Brother. Angie Bowie, ex-wife of David Bowie, was a contestant on the show when producers removed her to break the news he had sadly passed away. Angie subsequently tells Tiffany Pollard that "David is dead." But Tiffany thinks Angie is talking about their fellow CBB housemate David Gest and she erupts in hysterics. He was actually just in the other room at the time, so it was fine.
11. When Adele pretended to be an Adele impersonator
Nothing is more wholesome that a room full of Adele impersonators not realising that the real Adele is among them. I'm not crying, you're crying.
12. When this game show asked a question about German skier "Fanny Chmelar"
The producers must have had a real laugh when they wrote one of the funniest questions in the history of game shows. The presenter's facial expressions and high-pitched noises are the best bit.
13. An interpretative dance remix of the BBC breaking news music
Words fail to describe this interpretive dance. The chaotic energy is too much. Why did this happen? Who commissioned this? We just need some answers.
14. When Alexandra Burke thought she brought the phrase "Elephant In The Room" over to the UK
How many times in your life have you decided that you're finally going to be more confident? To hell with imposter syndrome, you're embracing your voice! That's probably what Alexandra Burke thought to herself when she confidently took the credit for this linguistic feat. It's the way she says "it's a very American saying" to the presenter, almost like she deserves a Nobel Prize in Literature for bringing the two cultures together. Phenomenal.
15. And finally, this hilariously interrupted -- and absolutely adorable -- BBC interview
Every person's worst nightmare is something embarrassing happening during an interview. Imagine what it must feel like when it's a live televised interview, on the BBC and the entire world is watching. You'd think one child storming in wasn't bad enough and then the second one comes in as well.
This article originally appeared on VICE UK.