Photography courtesy of Undercover
A conversation between Undercover's Jun Takahashi and musician Mars89
After collaborating on Undercover's AW19 show soundtrack the two developed a fruitful friendship that now spans an album release and apparel collection.
Photography courtesy of Undercover
Undercover designer Jun Takahashi's connection with musician Mars89 began rather simply: as a music recommendation on Instagram. The two quickly bonded over a mutual love for film and music, with their friendship becoming a collaborative partnership when Jun asked Mars89 to soundtrack Undercover's AW19 men's collection. It was the first of many projects together, which now also spans an album release from Undercover Records and an apparel collaboration.
Both eschewing categorisation in all forms, this extraordinarily gifted pair just 'do whatever they want to do', unleashing their talents without inhibition, and giving birth to one intriguing joint project after another. Upon the release of their collaboration i-D sat down with the two Japanese artists to discuss their friendship, creative partnership and how their tastes overlap.
Can you tell us first about how you met? Jun, how did you first hear about Mars89?

Jun Takahashi: I was just digging through a bunch of music and I happened to find his album. I thought it was pretty great, and then I found out that he was Japanese. I sometimes give music recommendations on the Undercover Instagram account, so I did that for his album. And then I heard there was an event in Shibuya where he was DJing, and so I went along. That was our first meeting.
Jun, did you go up and speak to Mars89?
Mars89: I think a mutual friend came up and said, "Jonio's here" [Jun's nickname] and dragged me over to talk with him [laughs]. I graduated from Bunka Fashion College too, so we talked about that, and about films and music as well.
J: Yeah, and we exchanged numbers.
What stage was your AW19 collection at during this time?
J: It was done. And so I got to thinking that it might be fun to have Mars89 doing the sound for it. The theme of the collection was 'A Clockwork Orange' and I started wondering what his take on it would be. I got in touch and asked if he had any interest in doing the music for the show, and he said he'd like to give it a shot, so we arranged a meeting straight away.
Mars89, what was your impression of Jun before you met him?
M: I was a former Bunka Fashion College student so he was pretty much a figure of legend [laughs].
J: When I asked Mars89 I was really hoping that I wouldn't end up being a bad influence [laughs]. Sometimes there's a difference between my motives for doing things and the way it's perceived in the world — when I started out there was a lot of that.
M: And you were the very opposite of a bad influence! Sometimes you find people who need to present themselves as very much the authority figure, but meeting [Jun] in person, I found he was totally unlike that. And there are surprisingly few people I can talk to about music and films and the things I like. It was great.
J: It seems like there should be more of those kinds of people but there really aren't. It's not like mine and Mars89's tastes overlap 100%, but we introduce each other to things.
I see. You two seem like you'd have similar tastes in films and so on.
M: When we met 'Suspiria' had just been released, and we got talking about that.
J: Yes, that's right. I loved that film. For me it's always just a question of letting things develop naturally, and my meeting with Mars89 was a part of that. That's what my life is like, all these dots that get joined up. If I meet an interesting person then I try to nab them. But recently I haven't been running into that many.
When it comes to show music, which will have a worldwide audience, band stuff is tricky because of the lyrics. I felt that Mars89's stuff fit because it wasn't like that. There was no issue in putting it together with the clothes for the overseas shows, and people responded to it.
Why did you decide to re-edit the show soundtrack from AW19 and release it as a 12-inch?
J: We'd said from the beginning that if we were going to do it we might as well release it as a record. We'd been running this fictional record label, Undercover Records, for a while and I wanted to actually release something from it.
You've got some amazing remixes on there as well: Thom Yorke, Zomby, Low Jack…
J: Well, after we did the show, I curated the club night [Jun curated the first instalment of Virgil Abloh's club night, Sound Design], and I thought it might be nice to have the record feature the people playing that night. I asked if we could, expecting them to say no, and everyone instantly agreed. I was like, seriously? [Laughs]
M: Thom Yorke sent his remix straight away along with his reply! [Laughs]
J: When I told Thom I was going to have this musician called Mars89 do the music for my collection he was like, 'Oh, I know him, I like his stuff.' I was like, wow, so he actually knows him!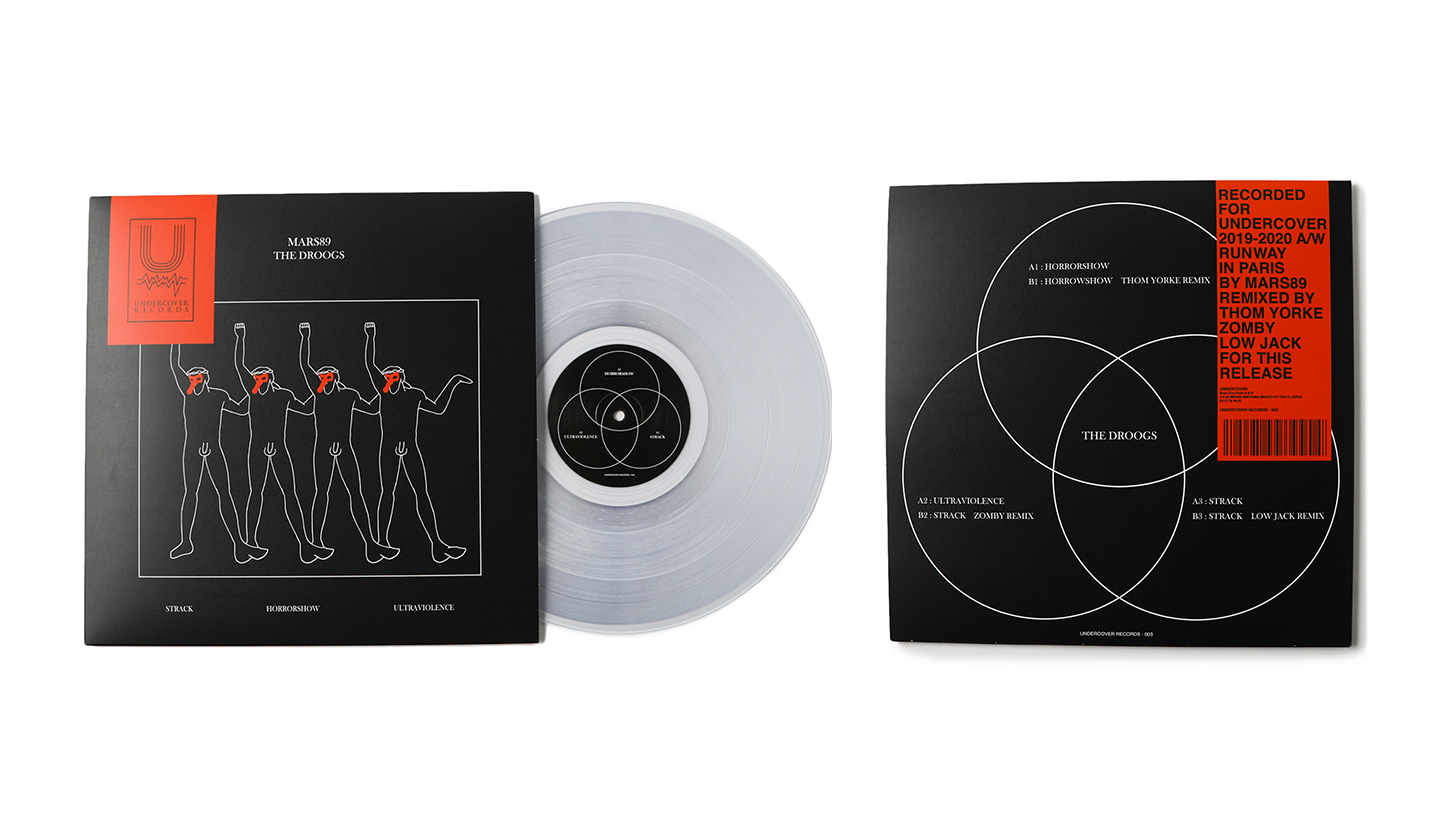 And let's talk about your new project, which is an apparel range you two produced in collaboration. It has a military emphasis, is that right?
M: I think there are a lot of layers of meaning there. From the time that I was at Bunka, I liked deconstructing military and functional clothing, and I was also into mod and punk fashion from the UK. Some of the proceeds from this range are going to an organisation that supports refugees, and by incorporating military wear into fashion items, we also wanted to evoke the punk spirit and anti-war philosophy. Deconstructing military items, using patches on pockets to make them harder to use, deliberately roughing things up, that's our way of manifesting an anti-war sentiment.
J: Yeah. I just said, "I'm leaving this to you. You're a Bunka graduate, aren't you?" [Laughs].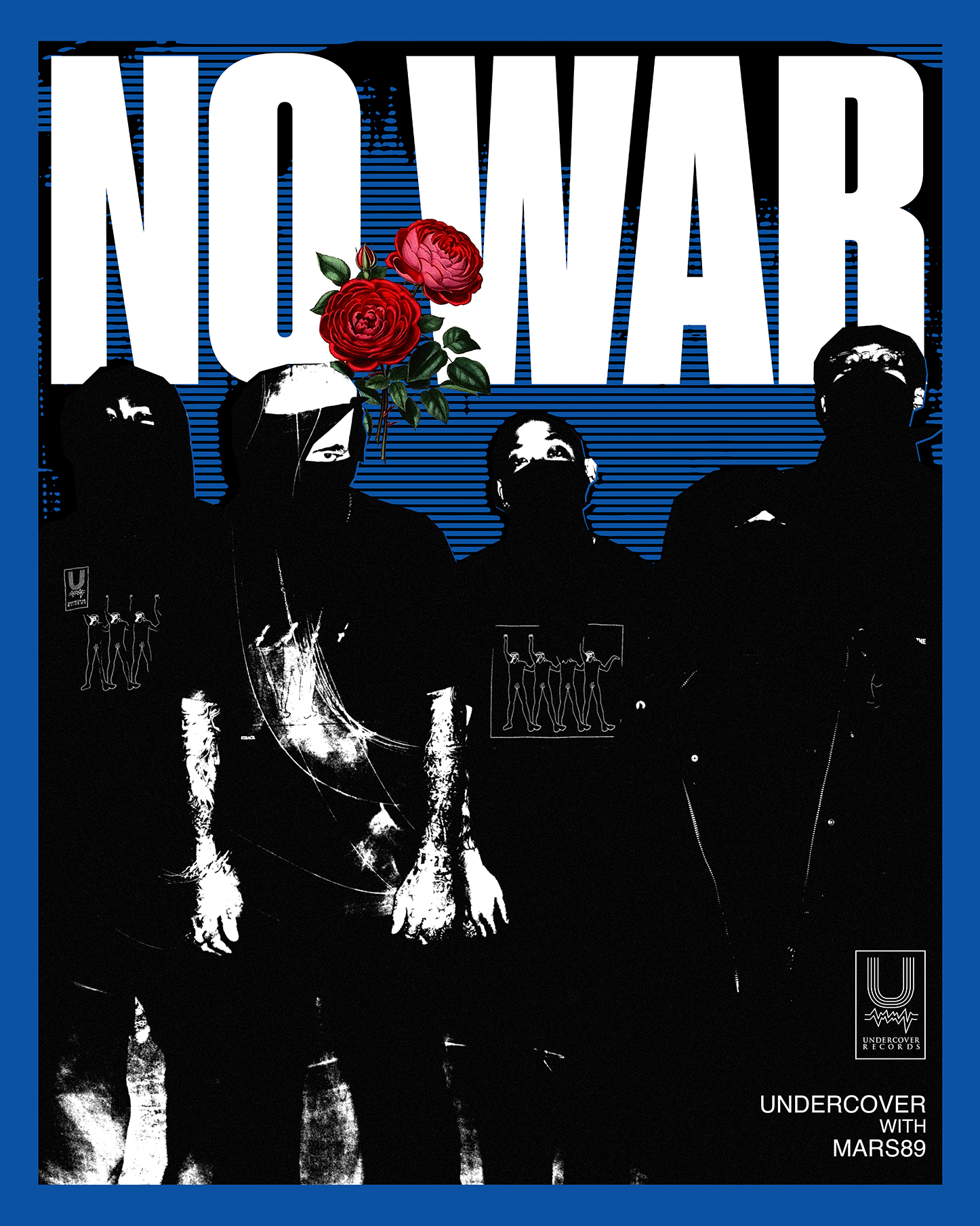 So you came up with the basic designs, Mars89?
M: Yes, more or less. Jun helped me by making suggestions and giving advice.
J: I did the graphic stuff. And we thought about the positioning of things together. Placing a pocket on top of another pocket and so on. And then this cross-shaped USB, too. It's designed so when you plug it in the cross glows red. I think there are lots of people who'll want one. We also made a seven-inch case. And then the clothes are really wearable, can be paired with loads of things. I'm really pleased with them.
M: We got really excited talking about the USB idea, and somehow before we knew it, it was all done. They were very down about the idea at first in our first production meeting. I'm a DJ, so I wanted to use it when I'm DJing. If plug in two, people are like, "Wow, that's a strong look" [laughs].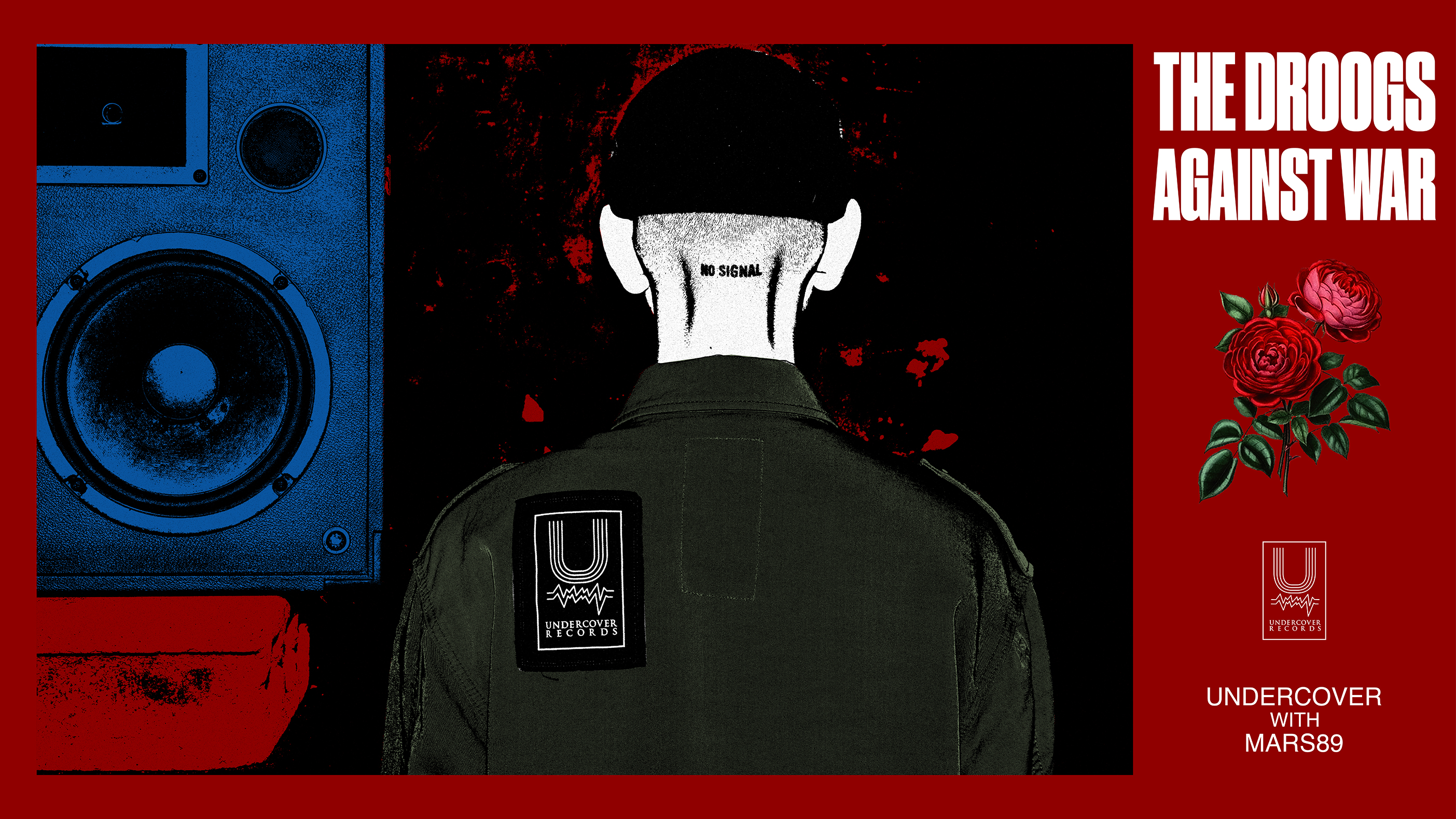 Mars89, it's great that you've gone off and done music and are now coming back to fashion. Did you ever have the sense that as a musician you should stick to music?
M: I've never really thought like that. I just think I'd like to do everything that I can. When you start thinking that you can do lots of different things, you start to have lots of interesting ideas. I think that applies to the younger generation too.
J: They're doing it already, aren't they.
Do you feel like your meeting has led to any changes for either of you — in the way you work, or in any other way?
J: This was the first time in a while I'd asked someone else to do my show music, and through the experience, I really got into the idea of making sounds for the show from the DJ angle. I subsequently asked Ron Morelli and Krikor Kouchian from L.I.E.S. Records to do the music for my 2020 AW show.
Even before I asked Mars89 to do the music for the show I was already really into dance music, and the direction I wanted to go in was already set in that sense. By selecting my own music I can give the show a feel that joins up perfectly with my own personal tastes, but by teaming up with people who do it professionally, the perspective on the show gets wider, and you can reach a wider audience that way. Ron and Krikor just had a lot of fun making the music for this last show. It wasn't a question of wanting whatever would ensue from it. Mars89 is similar to that. It's those kinds of people who simply love what they do with whom I want to link up more in the future.
Jun, do you feel obligated to give a leg-up to the next generation?
J: There's no element of condescension there of like, "Oh, I'll give them a break," or whatever. If I find what someone does interesting then I'll approach them. I want to get to know those kinds of people, to hear what they have to say and just hang out. That might sometimes look like I'm giving them a leg up. If that ends up happening then that's all the better.
M: It's just that there happens to be an age gap between us. You hear people talking about getting 'young' DJs and musicians to play at clubs and parties and so on, and of course, that is important, but I don't feel it has much meaning if what they're doing isn't interesting.
Credits
---
Translation by Polly Barton
This article was originally published on i-D Japan and has been edited and condensed for clarity.